Tombstone
the courthouse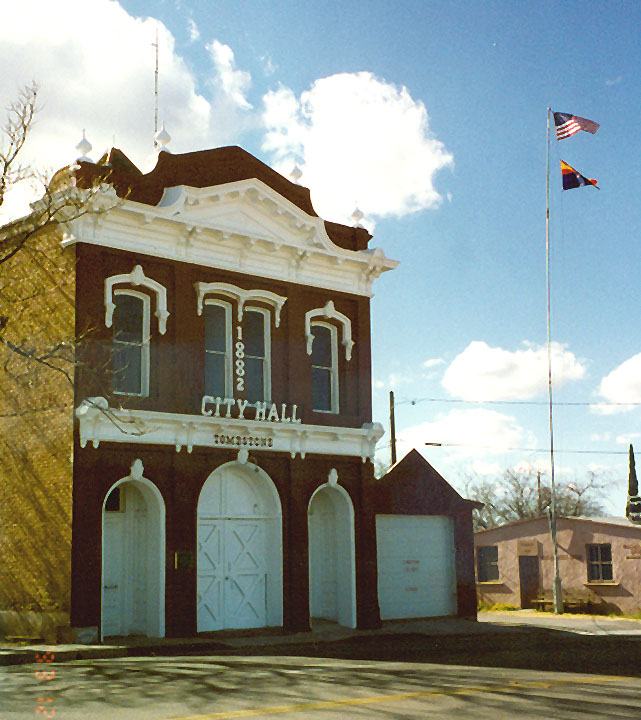 Tombstone City Hall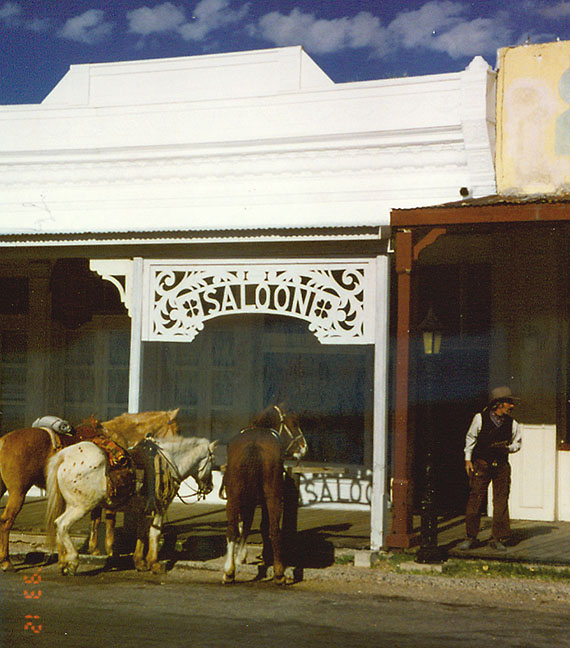 horses tied up at the Saloon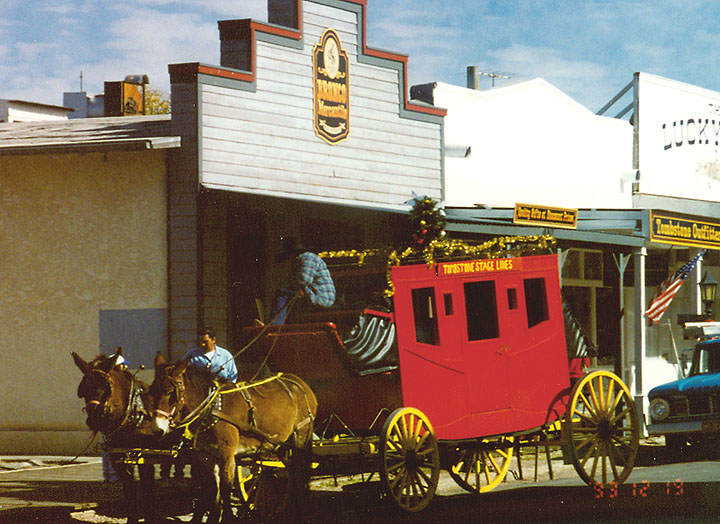 mules pulling the Tombstone stage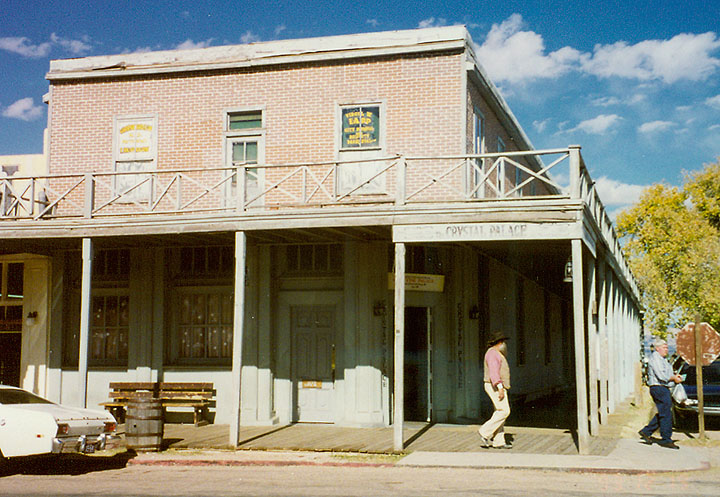 the Crystal Palace Bar
(with the long wooden bar)
---
Photos from 2008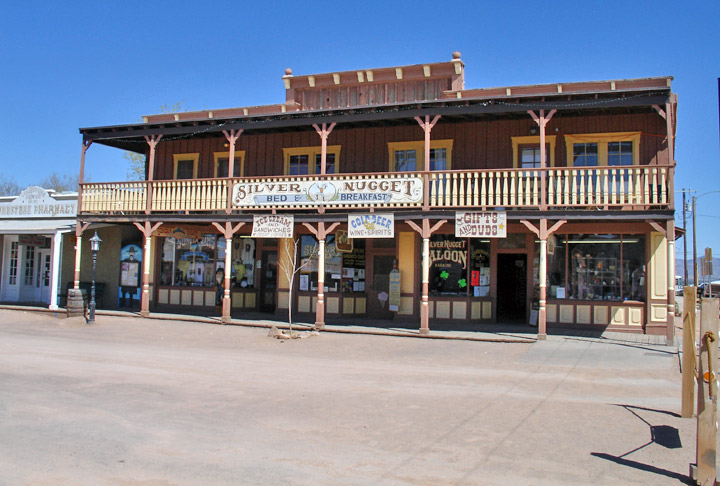 Silver Nugget
Tombstone is a city in Cochise County, Arizona, United States, founded in 1879 by Ed Schieffelin in what was then the Arizona Territory. According to 2006 Census Bureau estimates, the population of the city is 1,569, a decline from its early years.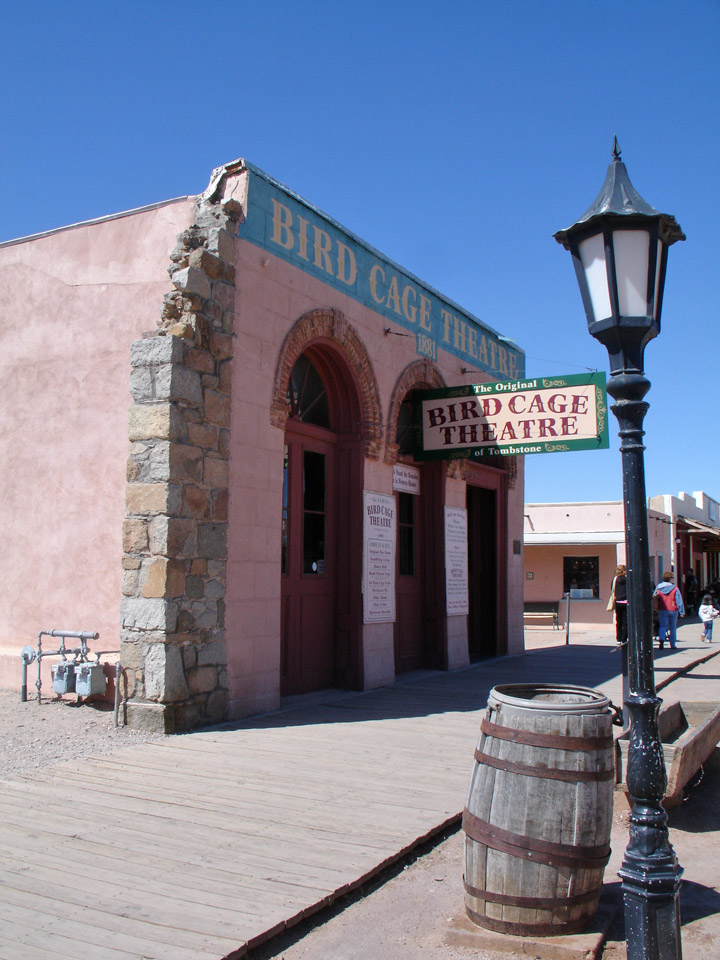 Bird Cage Theatre
In the summer of 1877 prospector Ed Schieffelin was working the hills east of the San Pedro River in the southeast portion of the Arizona Territory, when he came across a vein of very rich silver ore in a high plateau called Goose Flats. When Schieffelin filed his mining claim he named it "The Tombstone", after a warning given him by a passing soldier. While telling the soldier about his rock collecting experiences, the soldier told him that the only rock he was likely to collect among the waterless hills and warring Apaches of the area would be his own tombstone.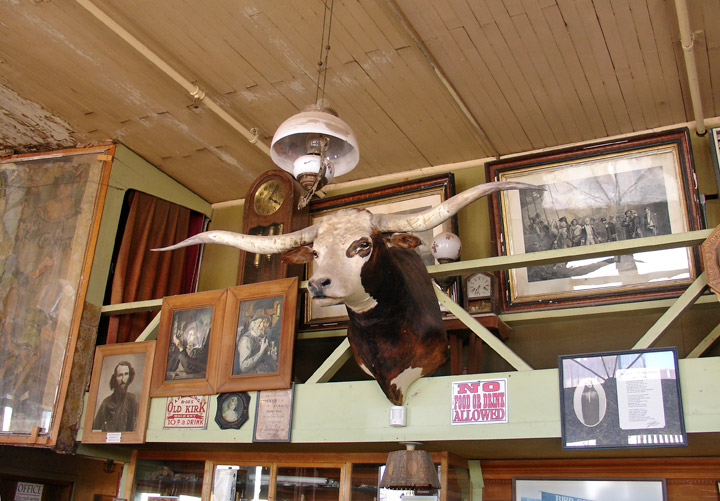 over the bar
The town of Tombstone was founded in 1879, taking its name from the mining claim, and soon became a boomtown. Fueled by mineral wealth, Tombstone was a city of 1000 by the beginning of 1881, and within another year Tombstone had become the seat of a new county (Cochise County) with a population between 5,000 and 15,000, and services including refrigeration (with ice cream and later even ice skating), running water, telegraph and limited telephone service. Capitalists and businessmen moved in from the Eastern U.S. Mining was carried out by immigrants from Cornwall and Europe. An extensive service industry (laundry, construction, restaurants, fine hotels, etc.) was provided by Chinese and other immigrants.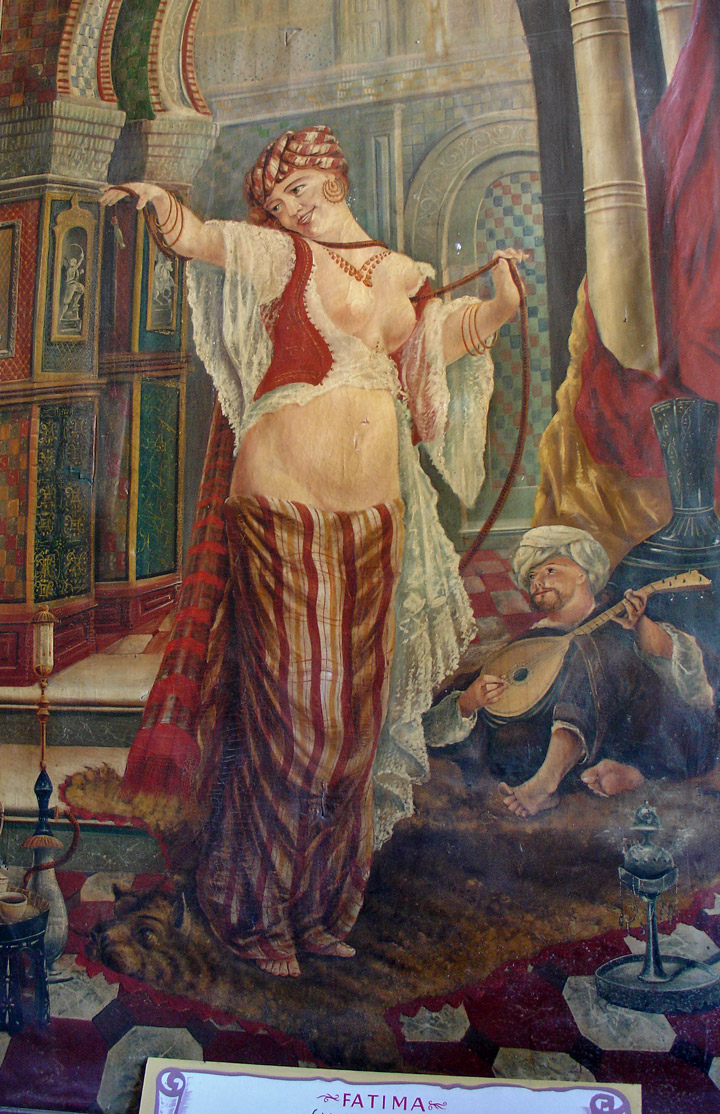 bar singer
Without railroad access the increasingly sophisticated Tombstone was relatively isolated, deep in a Federal territory that was largely unpopulated desert and wilderness. Tombstone and its surrounding countryside also became known as one of the deadliest regions in the West. Uncivilized "southern" gangs from the surrounding countryside, known as "cow-boys", were at odds with the "northern" capitalists and immigrant miners who ran the city and mines. On October 26, 1881 this situation famously exploded in the Gunfight at the O.K. Corral, leading to a continued family and political feud that resulted in multiple deaths.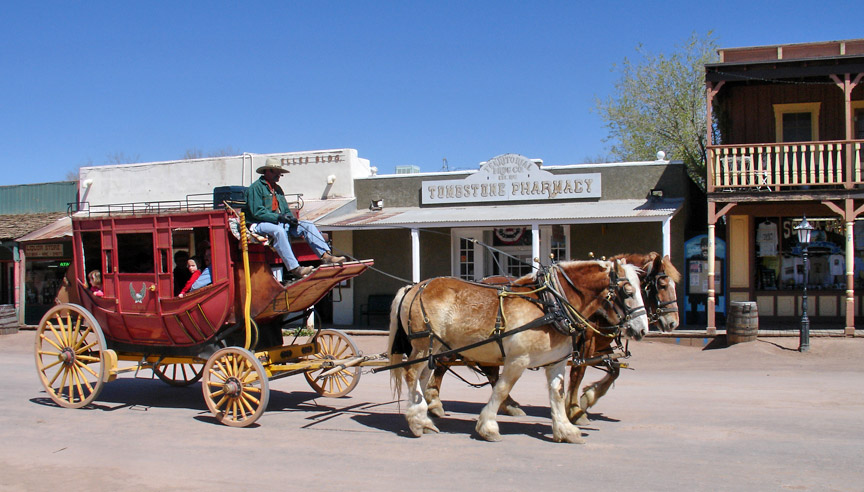 Tombstone Stage
People thought Tombstone would become a major town. Since Tombstone was in the desert, a company built a huge pipeline to supply the town with water. No sooner was this pipeline built than Tombstone's silver mines struck water.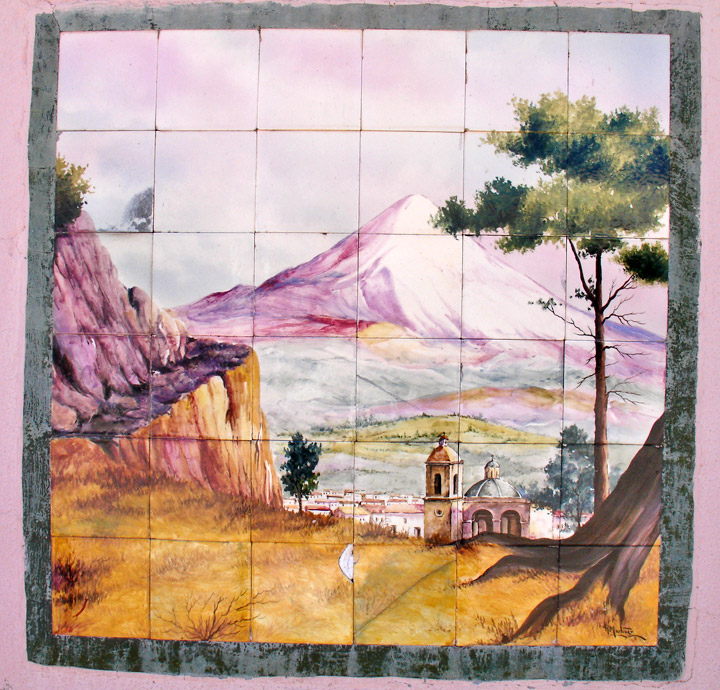 As a result of relative lack of water and quick wooden construction, Tombstone experienced major fires in June 1881 and May 1882. The second fire was particularly destructive and signaled the end of the classic old boomtown mining city. After the mid-1880s, when the silver mines had been tapped out, the main pump failed, causing many mines to be flooded with deep groundwater, and Tombstone declined rapidly, became a ghost town.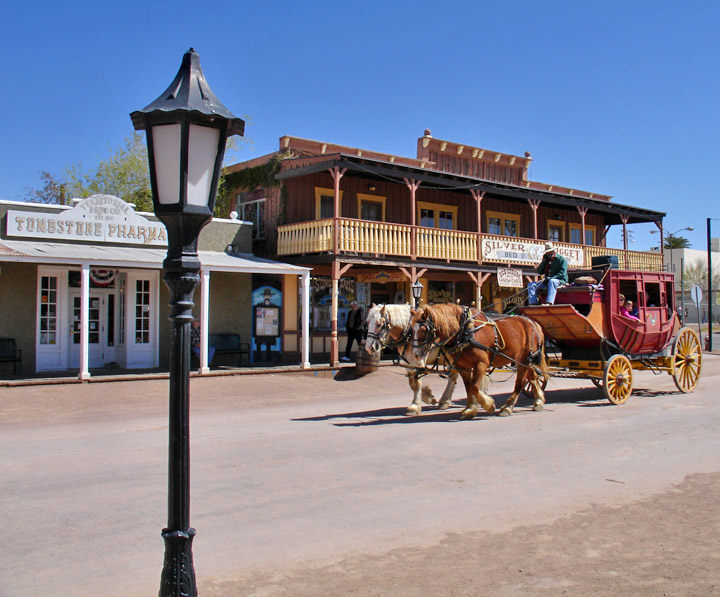 Tombstone nearly became a ghost town after the decline of silver mining there, saved for many years only by its status as the Cochise County seat. Even the county seat was later moved by popular vote to nearby Bisbee in 1929. However, the classic Cochise County Courthouse and adjacent gallows yard in Tombstone is preserved as a museum.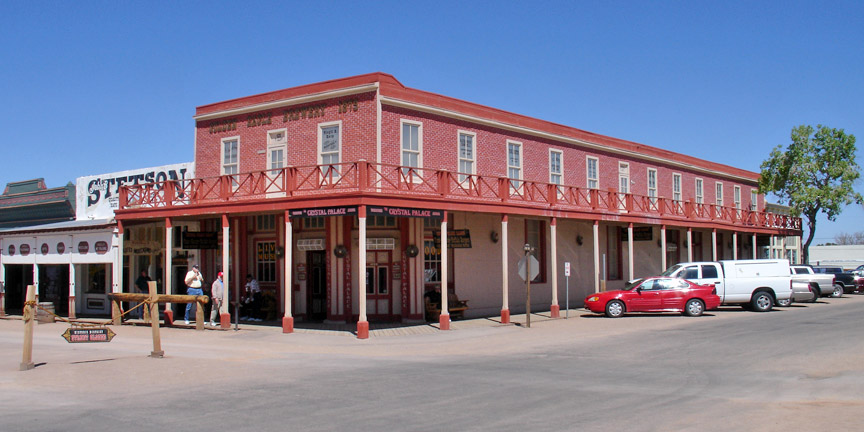 Tombstone is home to perhaps the most famous graveyard of the Old West, Boot Hill. Buried at the site are various victims of violence and disease in Tombstone's early years, including those from the O.K. Corral. Boot Hill (also known as the old city cemetery) was also the destination for bad-men and those lynched or legally hanged in Tombstone. Admission to this historic site is free and donations are accepted.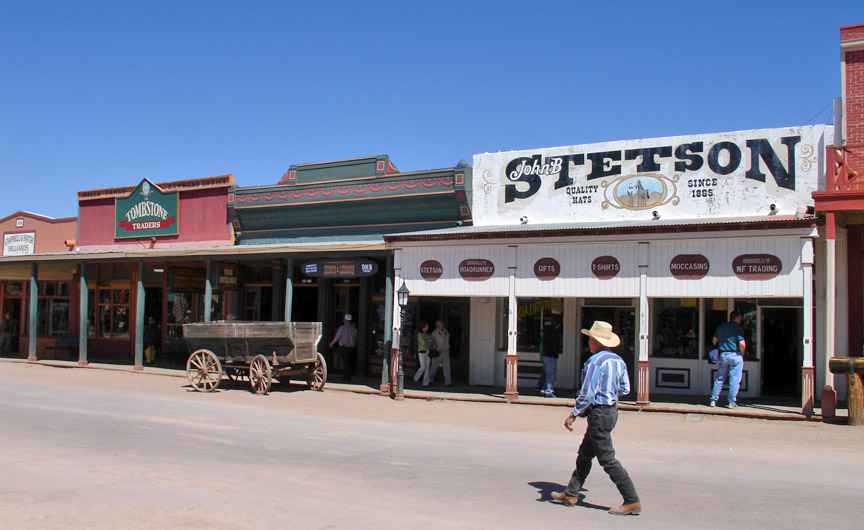 The lot in which the historic gunfight at the O.K. Corral occurred in 1881 started is also preserved, but this has been walled off, and admission is charged. However, since much of this streetfight occurred in Tombstone's Fremont Street (modern Highway 80), much of this site is also viewable without admission charge.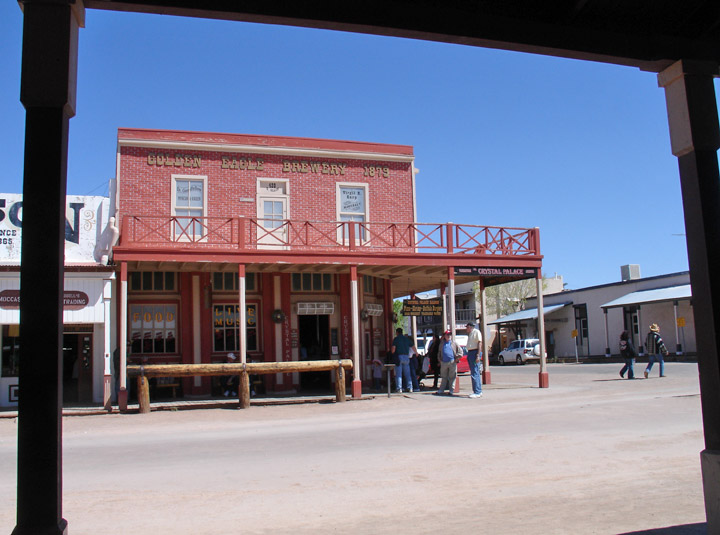 Crystal Palace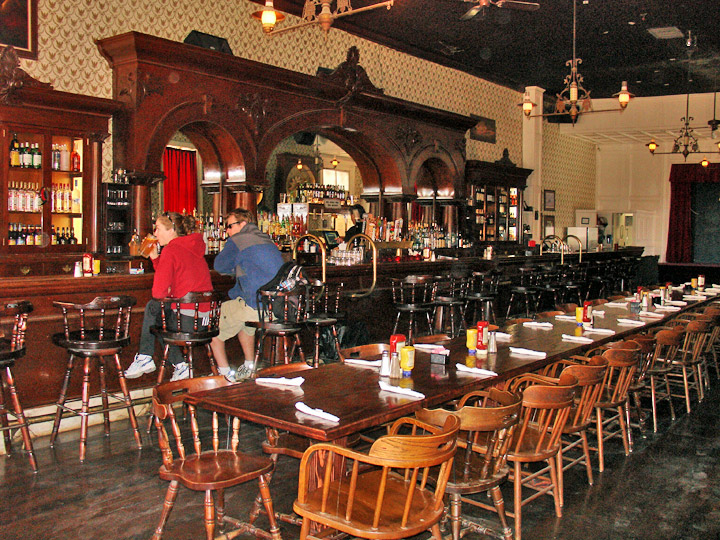 the long bar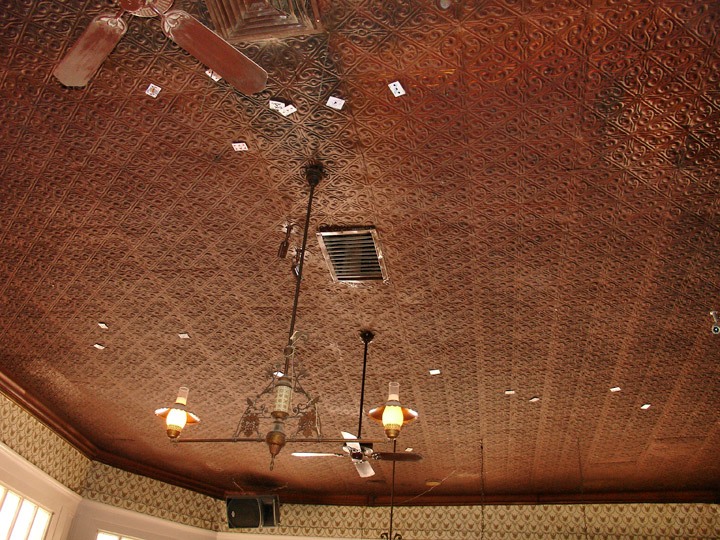 tin ceiling over the bar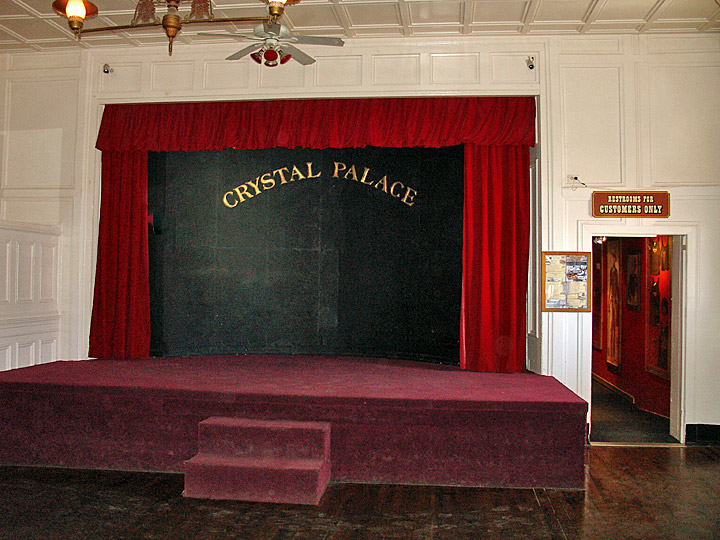 the stage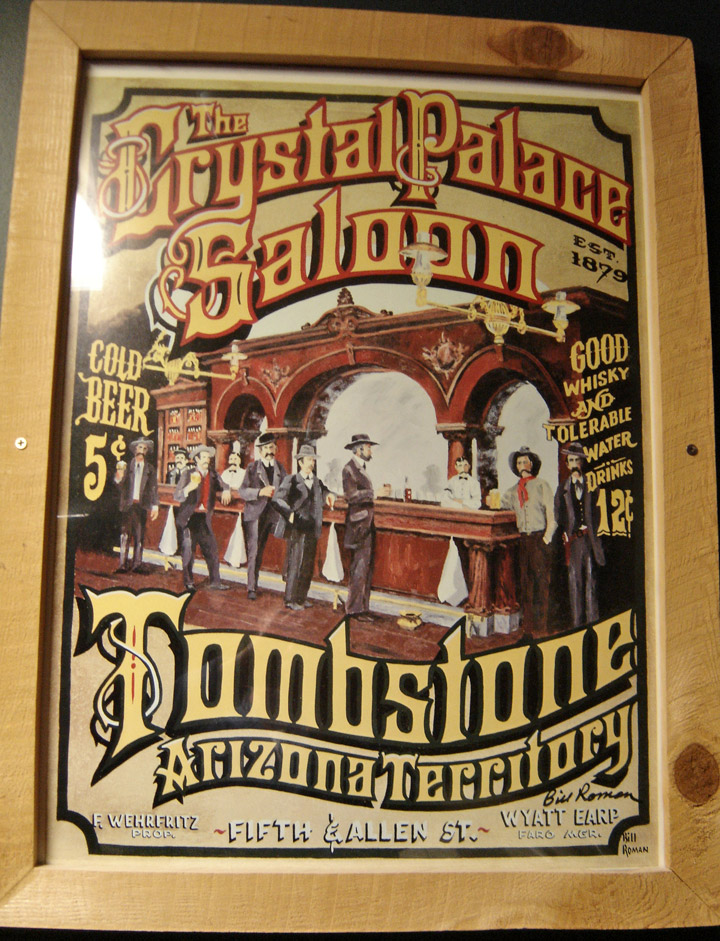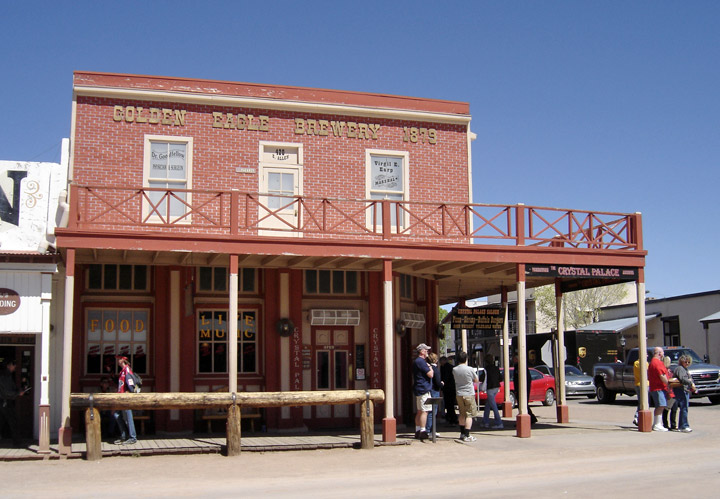 Crystal Palace
According to Guinness, the world's largest rosebush was planted in Tombstone in 1885 and still flourishes today in the city's sunny climate. This Lady Banksia rose now covers 8,000 square feet (740 mē) of the roof on an inn, and has a 12-foot (3.7 m) circumference trunk.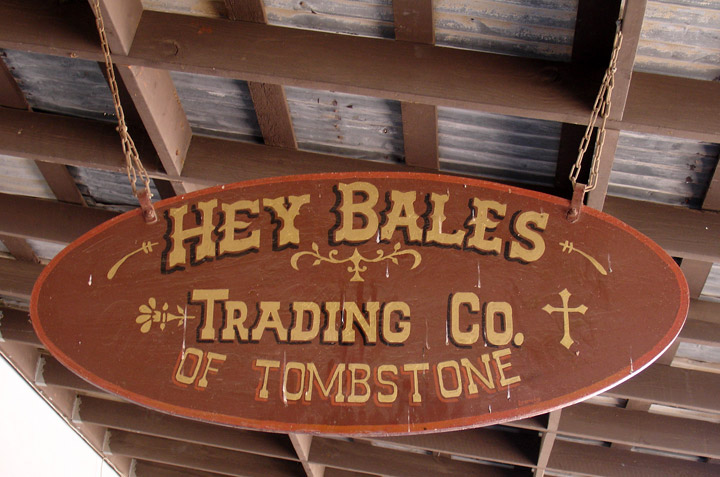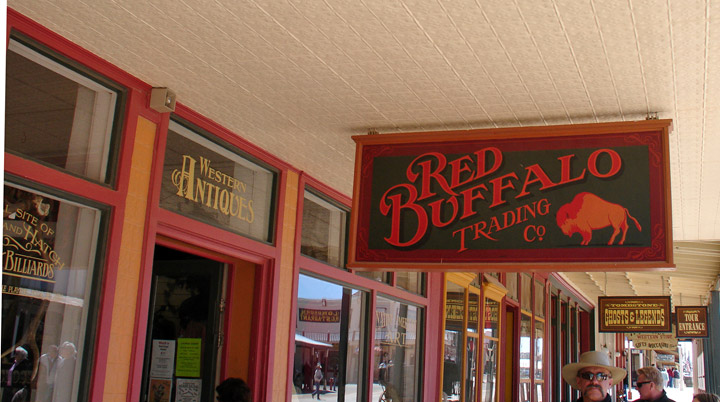 Currently, tourism and western memorabilia are the main commercial enterprises; a July 2005 CNN article notes that Tombstone receives approximately 450,000 tourist visitors each year. This is about 300 tourists/year for each permanent resident. In contrast to its heyday, when it featured saloons open 24 hours and numerous houses of prostitution, Tombstone is now a staid community with few businesses open late.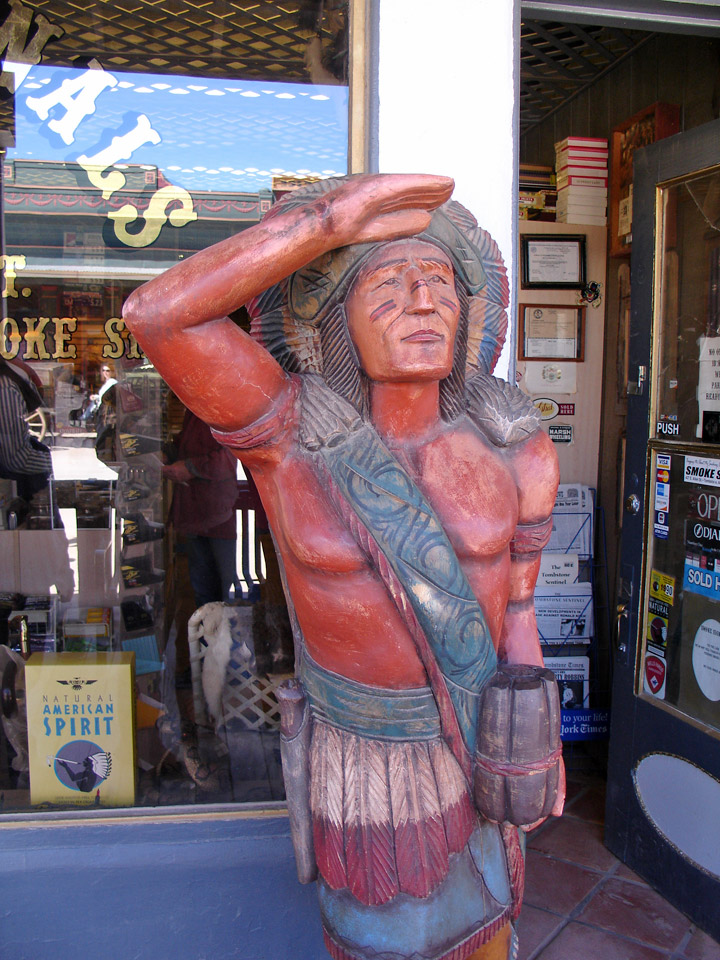 The town's focus on tourism has threatened the town's designation as a National Historic Landmark District, a designation it earned in 1961 as "one of the best preserved specimens of the rugged frontier town of the 1870s and '80s." In 2004, the National Park Service (NPS) declared the designation threatened, seeking to work with the community to develop an appropriate stewardship program.
The inappropriate alterations to the district cited by the NPS include:
* Placing "historic" dates on new buildings
* Failing to distinguish new construction from historic structures
* Covering authentic historic elevations with inappropriate materials
* Replacing historic features instead of repairing them
* Replacing missing historic features with conjectural and unsubstantiated materials
* Building incompatible additions to existing historic structures and new incompatible buildings within the historic district
* Using illuminated signage, including blinking lights surrounding historic signs
* Installing hitching rails and Spanish tile-covered store porches when such architectural features never existed within Tombstone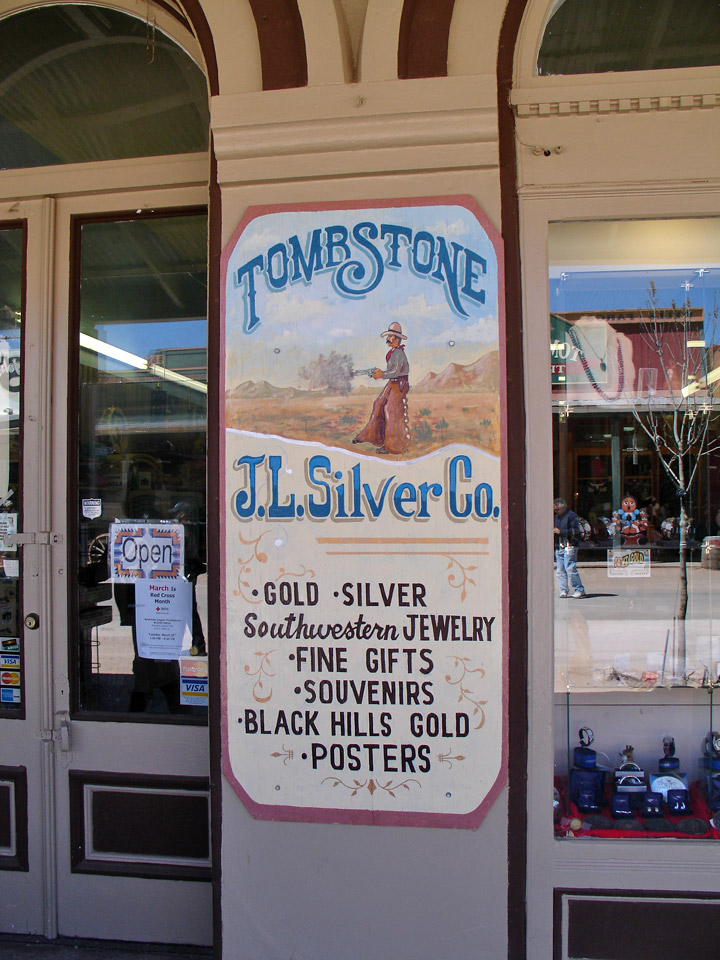 Text from Wikipedia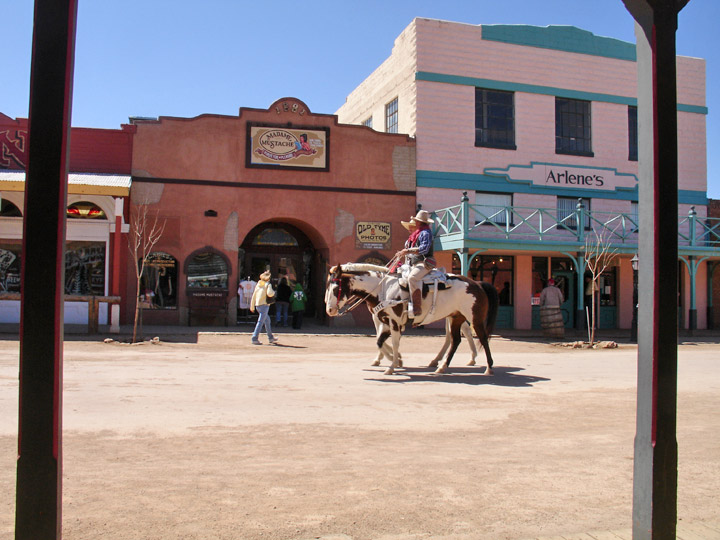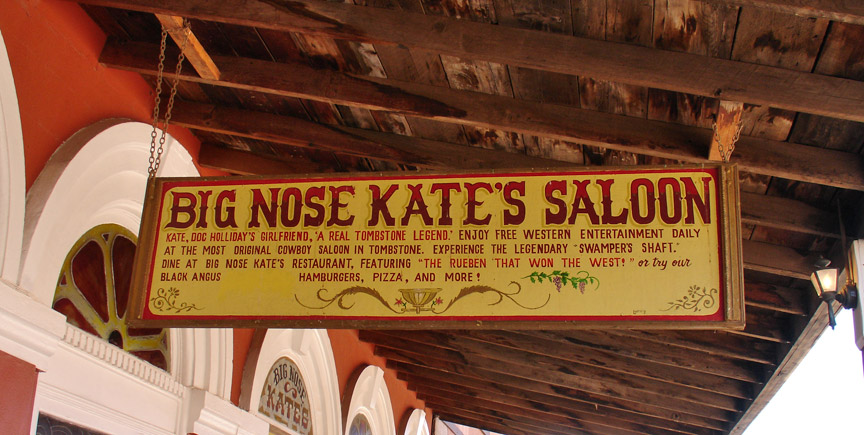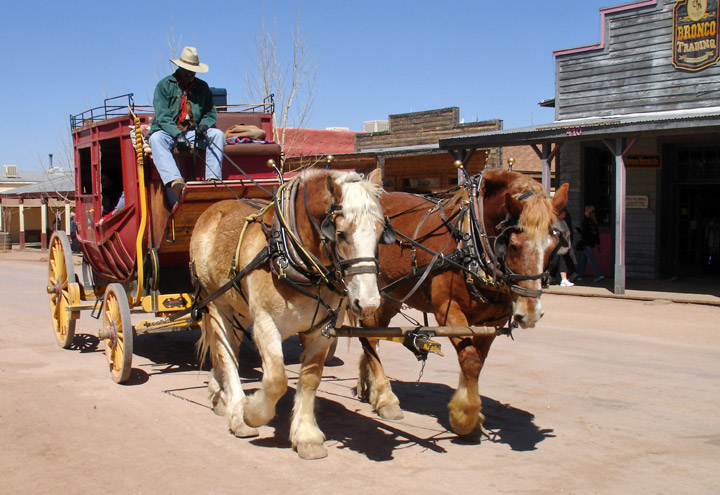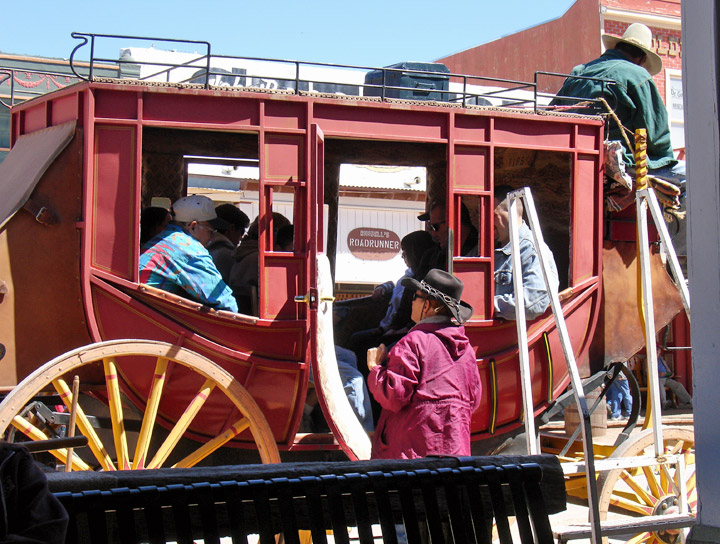 Lets get two more kids in there !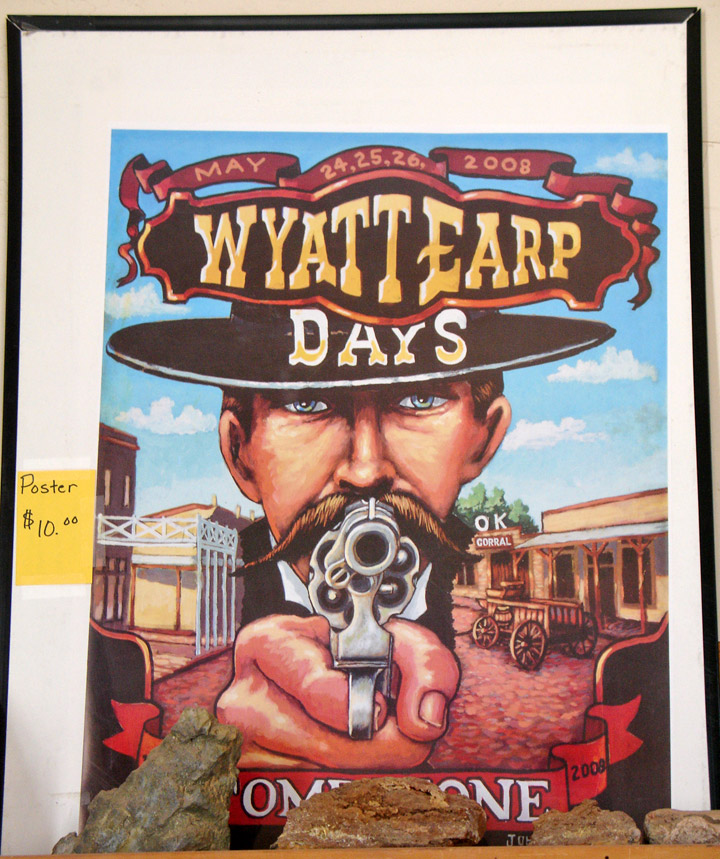 O.K. Corral

---
---