The Petrified Forest
Arizona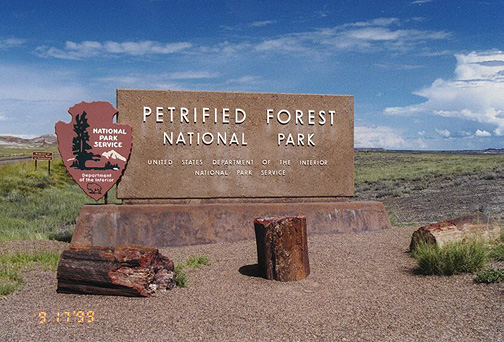 Petrified Forest National Park, eastern Arizona,
established as a national monument in 1906 and as a national park in 1962.

The park, encompassing part of the Painted Desert, contains six separate "forests" of fallen petrified coniferous tree trunks. Some trunks are 2 m (6 ft) in diameter and exceed 30 m (100 ft) in length. One arched log forms a natural bridge, Agate Bridge, with a span of 12 m (40 ft). The trees originally grew in the Triassic Period (240 to 205 million years ago), when the region was a marshland. Killed by natural processes, the trees were buried by sediment and penetrated by waters rich in silica. Gradually the wood fibers were replaced by silica and other minerals, and the logs were converted to stone. Traces of iron, manganese, and carbon stained the silica so that the logs are brilliantly colored. The covering sediment was removed by the elements in later geologic times, exposing many logs to view. Ancient Native American pueblos, one built of petrified wood, and petroglyphs (rock carvings) are other features of the park. Area, 37,851 hectares (93,533 acres).