Arles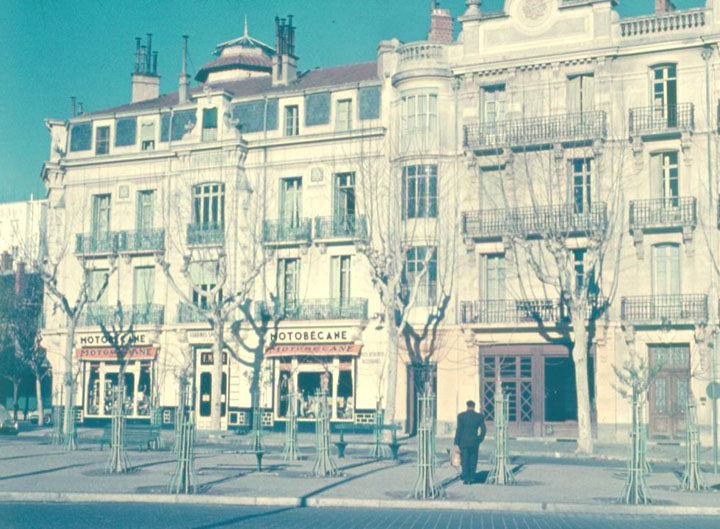 in 1957

Photos from 2003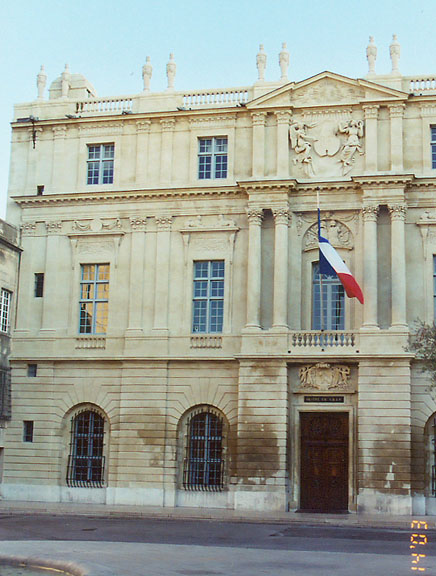 city hall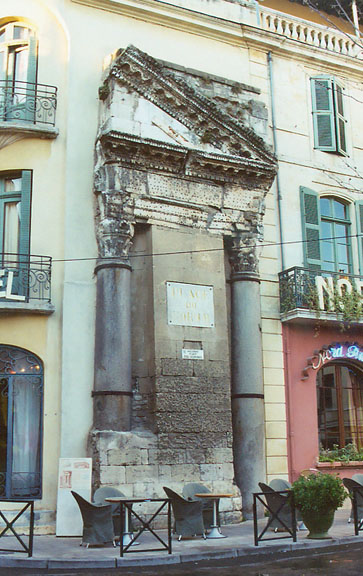 Forum columns embedded in the wall
center of the town is built on the ruins of the Roman Forum
next to the Nord Pinus restaurant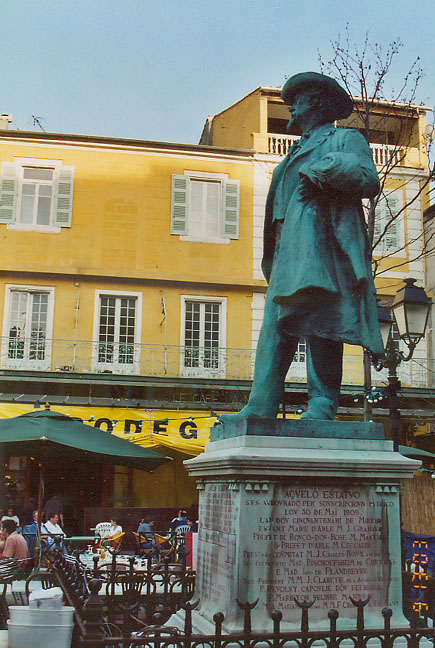 on Forum Square is the stature of Frédéric Mistral

Mistral, Frédéric (1830-1914), French Provençal poet and Nobel laureate, born near Maillane, Bouches-du-Rhône Department. In 1854 Mistral and other writers founded the Félibrige, a society to revive the use of the Provençal language. His pastoral poem Mirèio (1859; trans. 1868), written in his native Provençal dialect, gained for him the poet's prize of the French Academy. He also wrote and compiled a Provençal-French dictionary (1878-86) and wrote several volumes of poetry, including Lis isclo d'or (The Golden Isles, 1876) and the dramatic poem La Reino Jano (Queen Joan, 1890). He shared the 1904 Nobel Prize with the Spanish writer José Echegaray y Eizaguirre.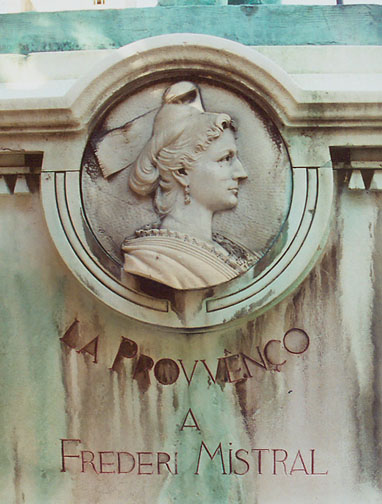 medallion on the stature
(supposedly his wife was the model)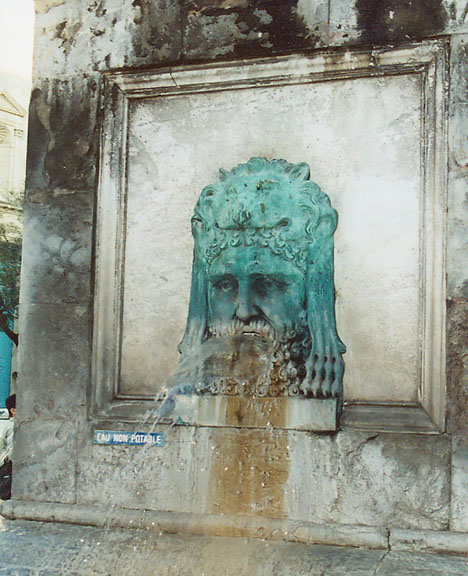 fountain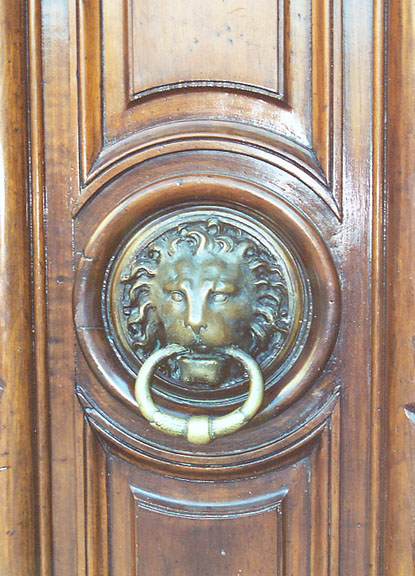 door knob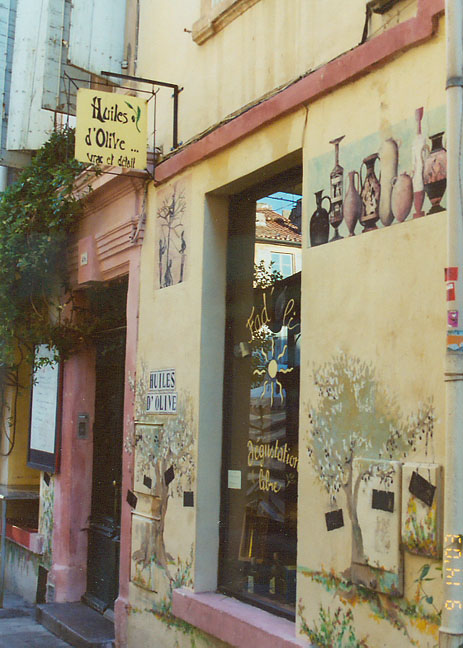 olive products for sale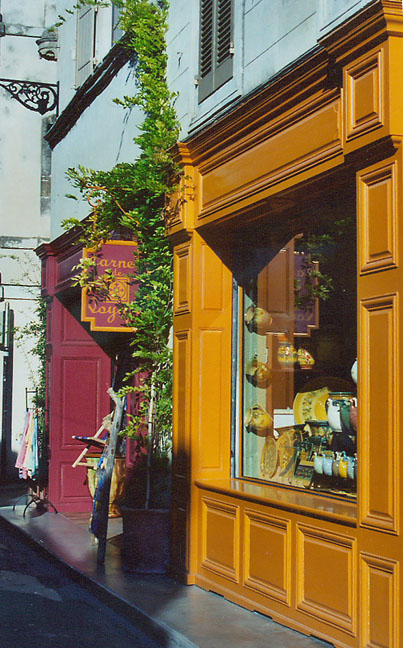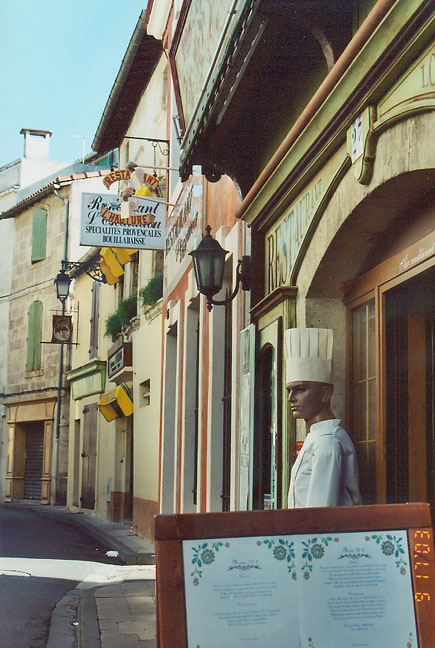 restaurant
Arles (ancient Arelas or Arelate), city in southern France, in Bouches-du-Rhône Department, on the Rhône River, in Provence. Arles is a port (linked to the Mediterranean Sea by canal) and a farm-trade and manufacturing center. Products include processed food, textiles, and chemicals. Tourism is also important to the economy. Points of interest include a Roman amphitheater, which held about 26,000 spectators; a Roman obelisk, retrieved from the Rhône River and now in the Place de la République; the ruins of a Roman theater, in which were found many works of art including the statue Venus of Arles (Louvre, Paris); the palace of the 4th century Roman emperor Constantine the Great; and the Romanesque Church of Saint Trophime. Parts of the wall around the old town also originate from Roman times.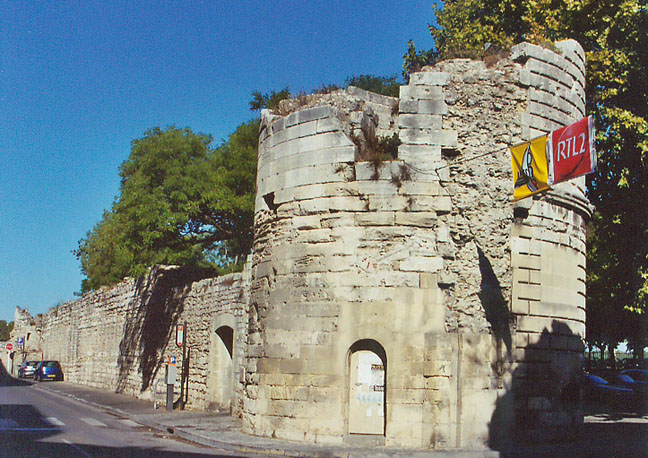 part of the wall around Arles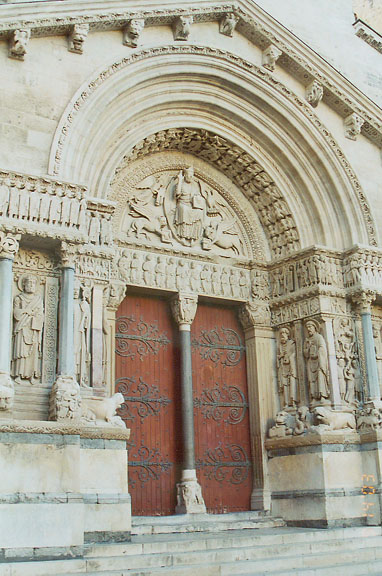 Romanesque Church of Saint Trophime

During the first century BC, Arelas, as the city was then called, emerged as one of the chief commercial centers of the Roman Empire. An episcopal see from the 4th century until 1790, it was the site of several important ecclesiastical councils, including the Council of Arles (314), which condemned Donatism, a heretical Christian movement. After the collapse (476 AD) of the Roman Empire of the West, Arles was seized by the Visigoths and then by the Ostrogoths (see Goths). In 730, while ruled by the Merovingian dynasty, it was plundered by Muslim invaders. In 879 Arles was made the seat of the kingdom of Provence, and in 933 it became the capital of the kingdom of Arles, more often called the kingdom of Bourgogne. After 1246, it was included in Provence.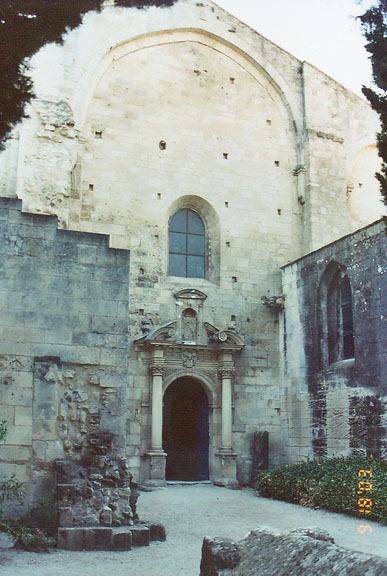 a Romanesque church in Alyscamps
(was on the pilgrimage route to the shrine of St. James in Compostela)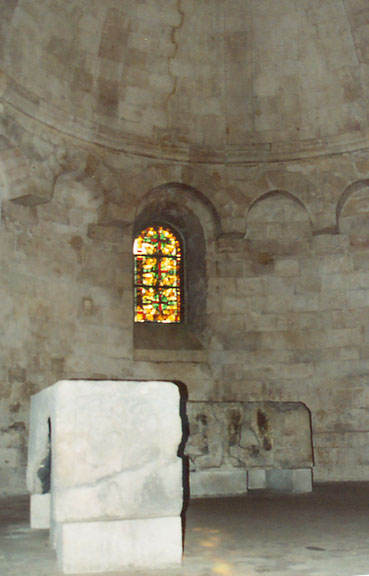 Romanesque interior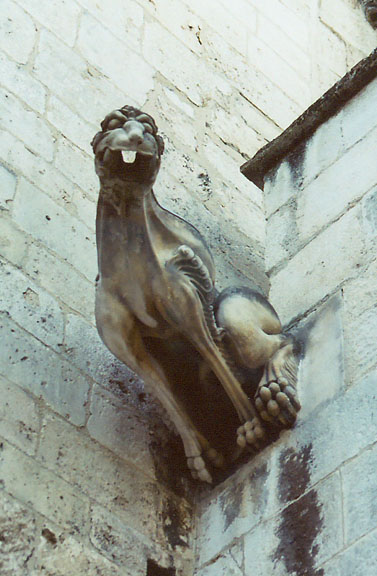 gargoyle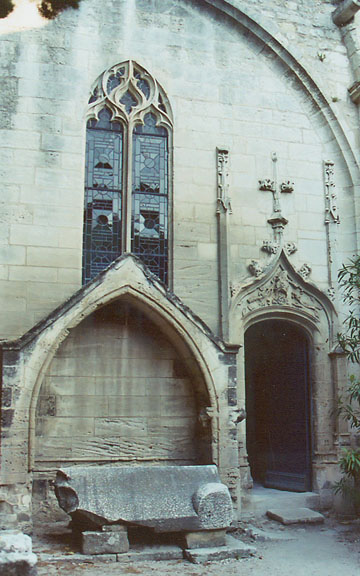 associated chapel with beautiful acoustics
The Dutch painter Vincent van Gogh was very active in Arles, creating more than 200 paintings here in 1888 and 1889.
Text from Microsoft Encarta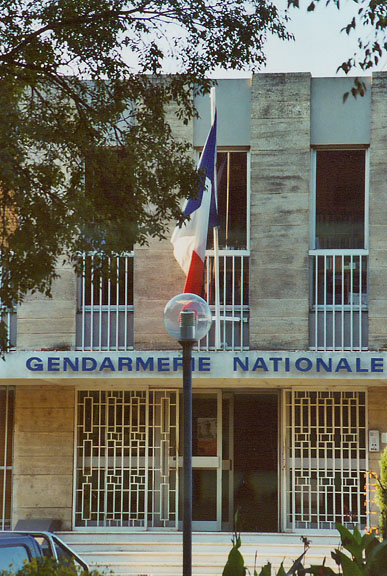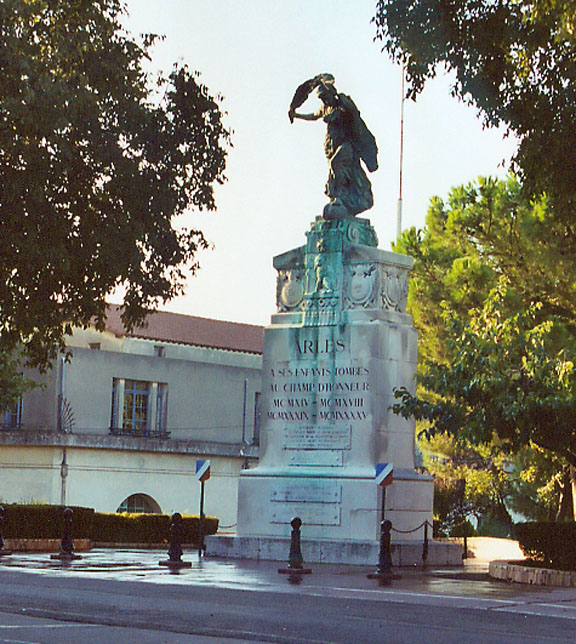 monument to war dead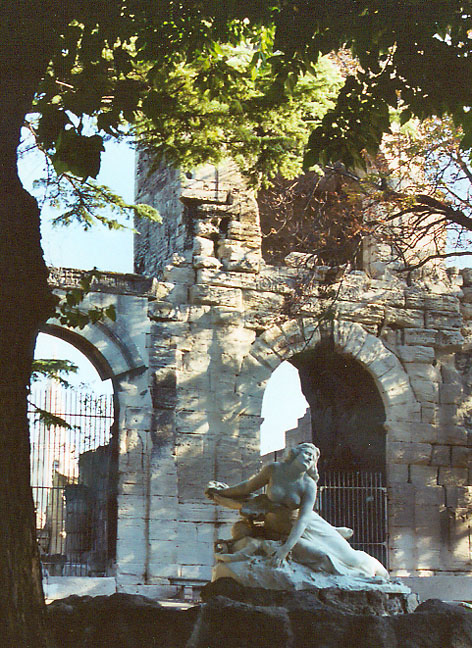 statue in the park, Jardin d'Été
next to the Roman theater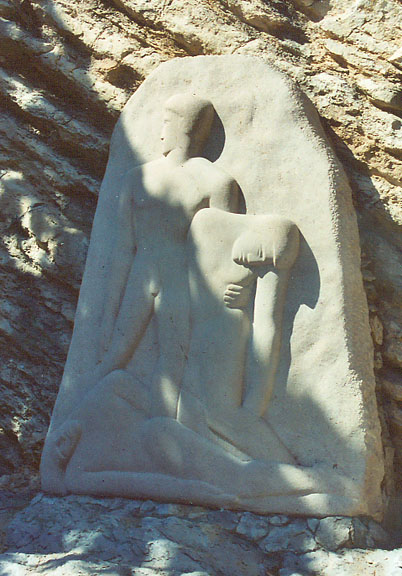 to the victims of Nazi persecution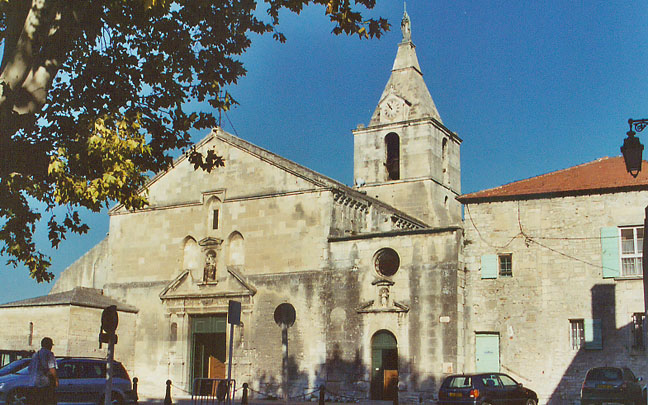 Eglise Notre Dame de la Major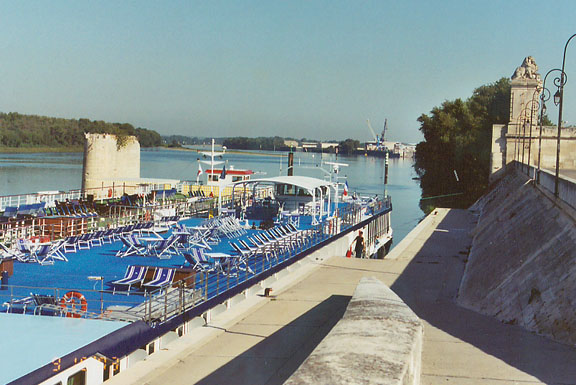 where the tour boats dock on the Rhône
(pillars in the background are from the former railroad bridge, destroyed in WW II)
near the site of the Roman pontoon bridge
Arriving on a Grand Circle Cruise in 2013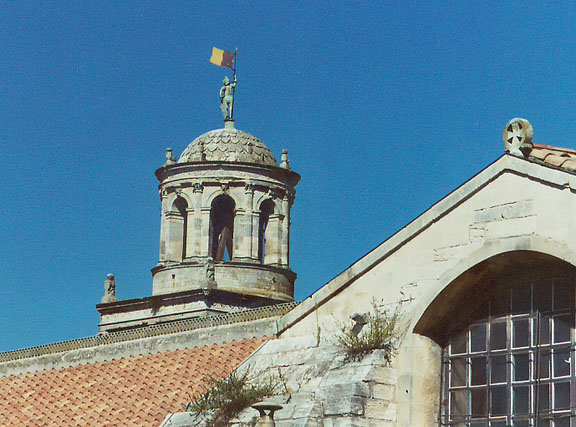 tower of the city hall

Return to Provence Elderhostel page