Konya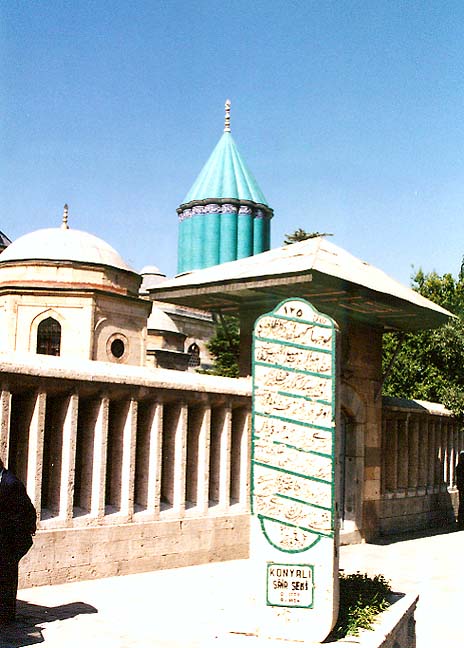 Konya, a town Holy to Muslims
Konya, also Konia, city in central Turkey, capital of Konya Province, on the Plain of Konya. Konya is known for its handwoven carpets and other manufactures, including sugar, flour, textiles, leather goods, and aluminum. It is also a trading center for the surrounding area, in which agriculture, mining, and livestock raising are important.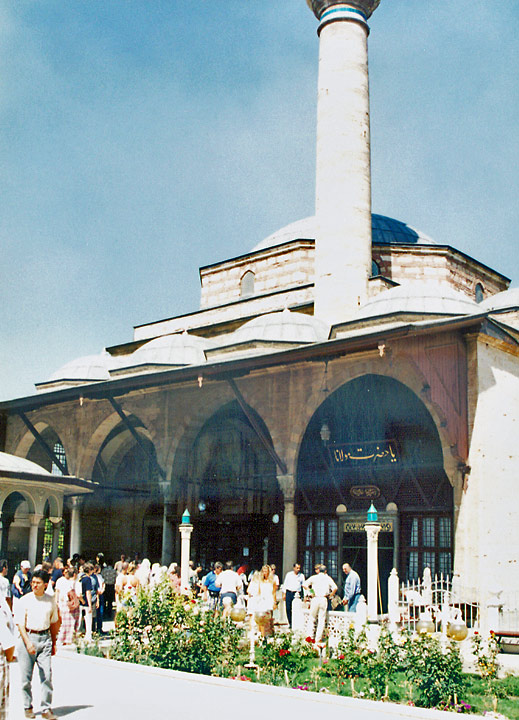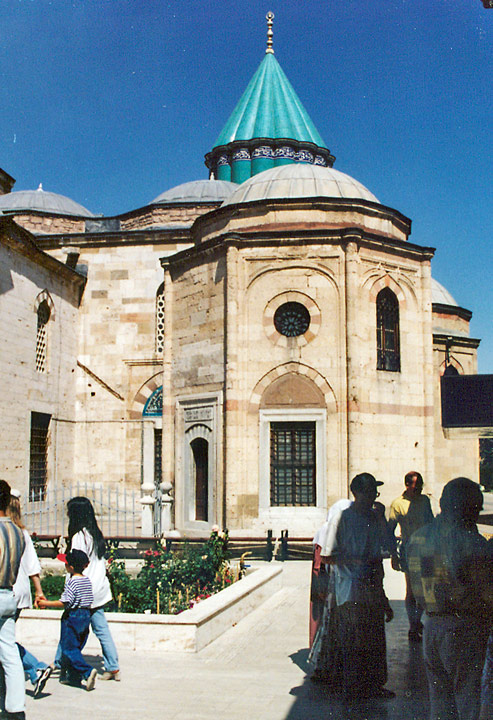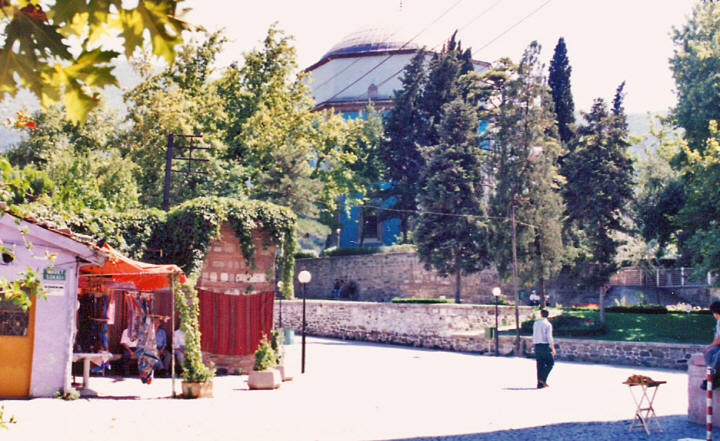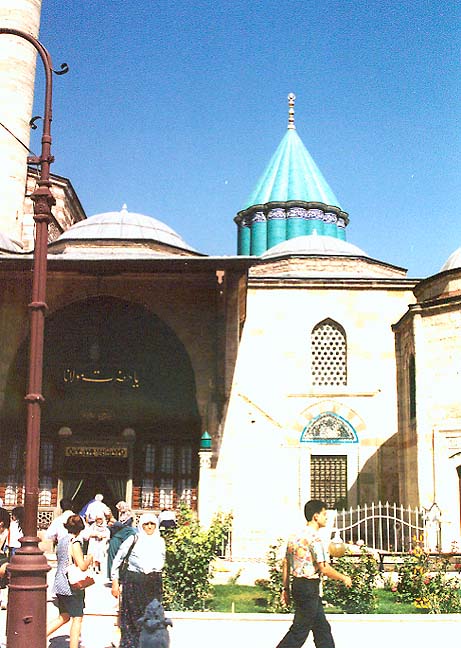 mosque
Konya has a growing tourist trade, due largely to its numerous attractions, such as orchards, irrigated gardens, several mosques, and the monastery of the mystical sect known as the Mawlawiyah (in Arabic) or Mevlevi (in Turkish), or whirling dervishes. The monastery contains the tomb of the sect's founder, the poet and mystic Jalal al-Din Mohammad Rumi. Also in the city is Selçuk University (1975).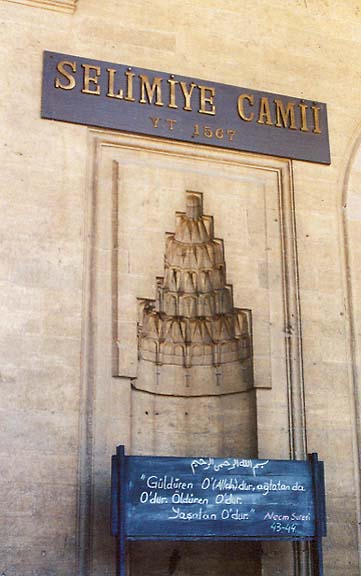 Selimiye mosque

Konya is one of the world's oldest cities, with excavations revealing settlement from as early as the 3rd millennium BC. Under the Persian Empire, Konya, then called Iconium, was the frontier city of Phrygia. The Romans joined it to Lycaonian district and made it the capital. The early Christians Saint Paul and Saint Barnabas preached here. It is likely that the city had a considerable Jewish population at that time, and became the center from which Christianity spread in south Galatia.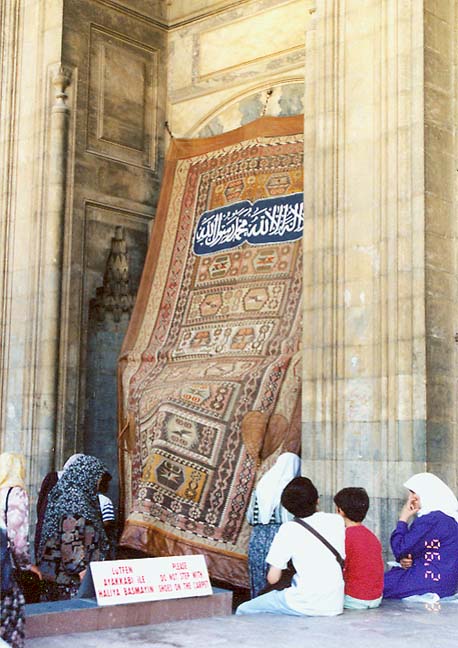 entrance to the mosque
(Please remove the shoes before stepping on the carpets)
In Byzantine times Konya was the seat of an archbishop. In the late 11th century the Seljuk Turks (see Seljuks) gained control of the area, and the city became the capital of the sultanate of Iconium, or Rûm. Konya experienced its greatest prosperity under Seljuk rule and still contains many fine buildings from that period.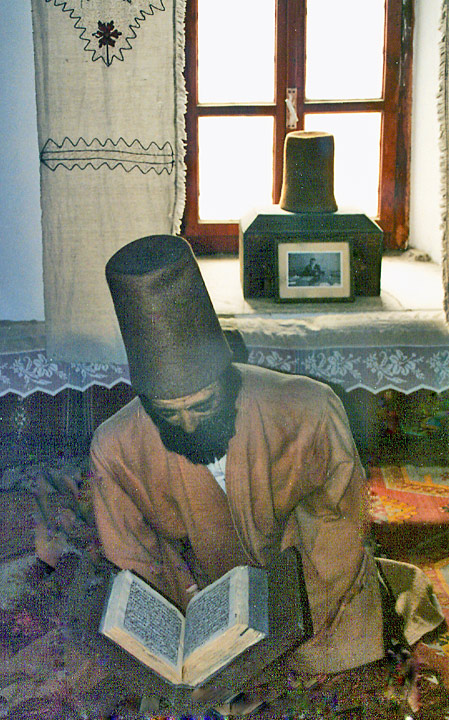 scene of a Muslim man reading the Holy Book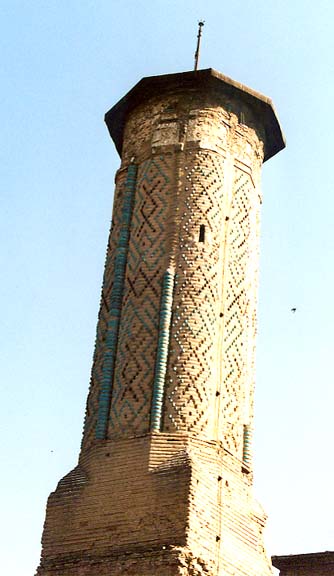 Seljuk style minaret
The city was taken over by Mongols at the end of the 13th century, and later by the Turkmen principality of Karaman. In the latter part of the 15th century it was annexed by the Ottoman Empire. Though Konya declined during the Ottoman period, it was revived again following the construction in 1896 of the İstanbul-Baghdâd railroad, which passes through the city. Population (1996 estimate) 600,062.
Text from Microsoft Encarta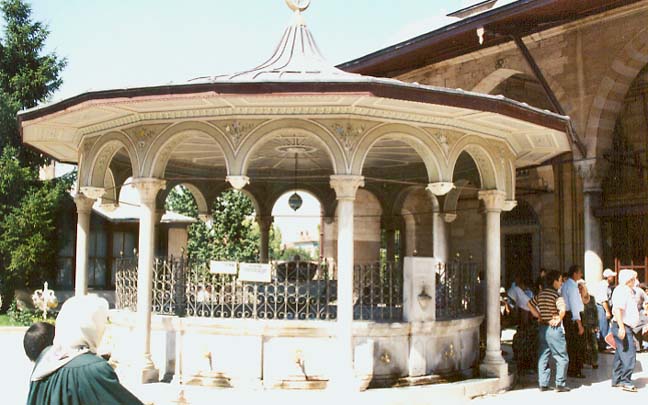 for washing before prayers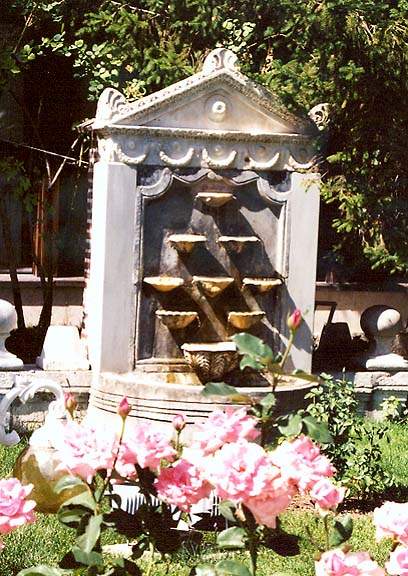 a fountain in the garden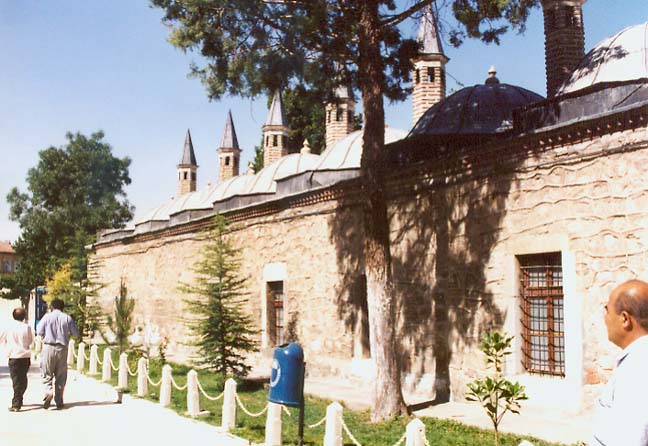 on the street next to the mosque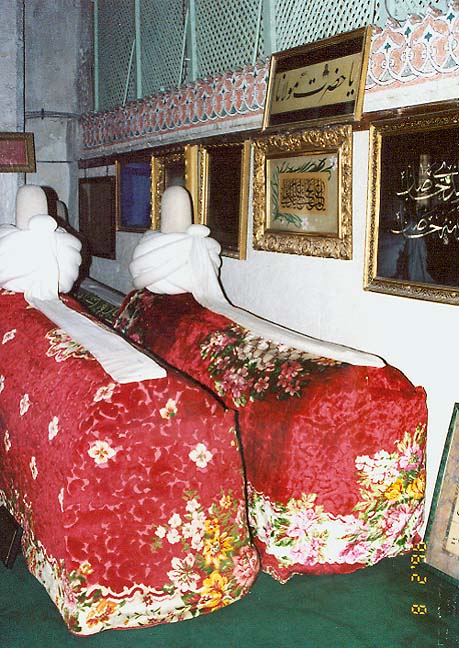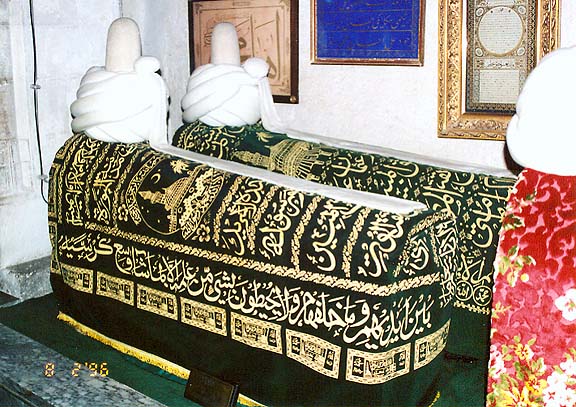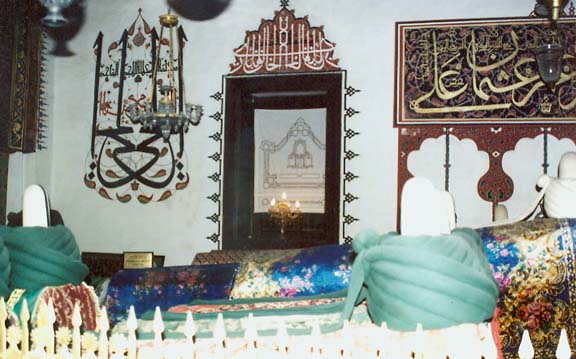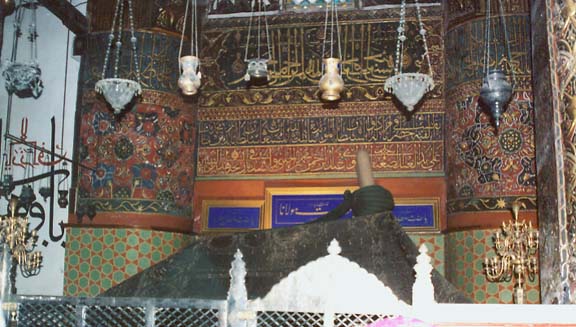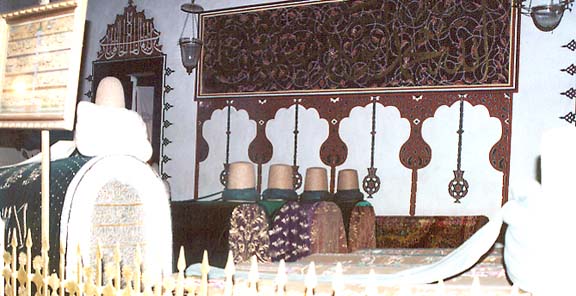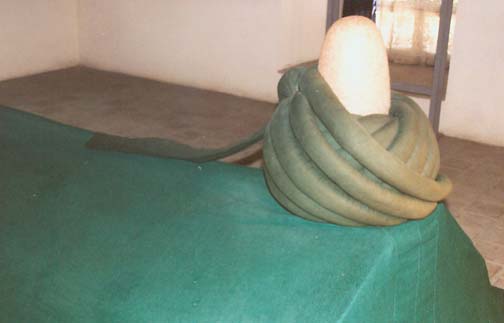 a simpler Muslim graveve
(covered with the color Green, and the turban)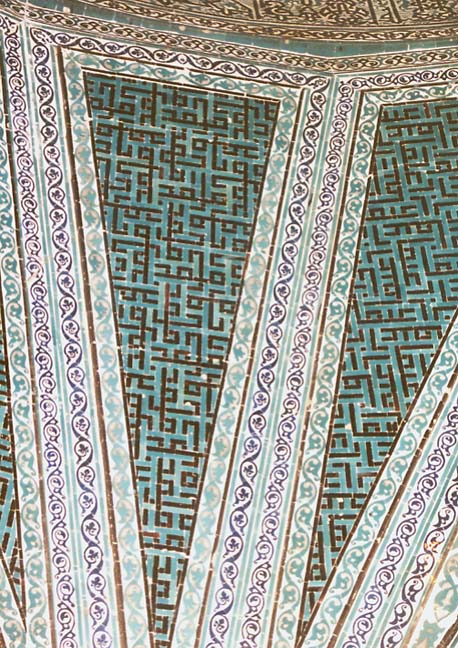 tiled interior of one of the mosques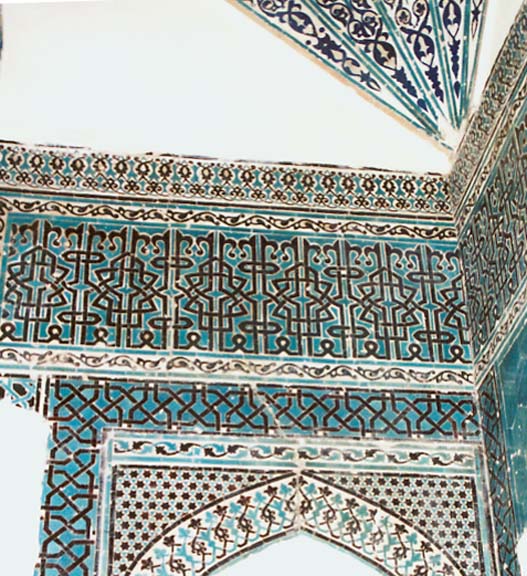 more tiling detail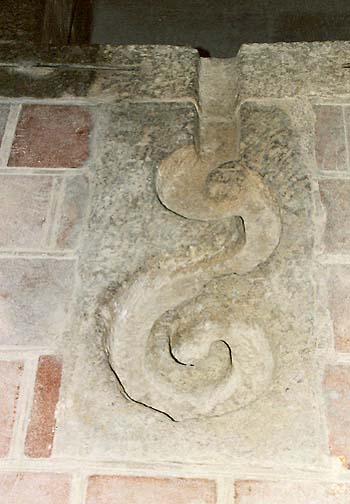 detail of a drain from the floor fountain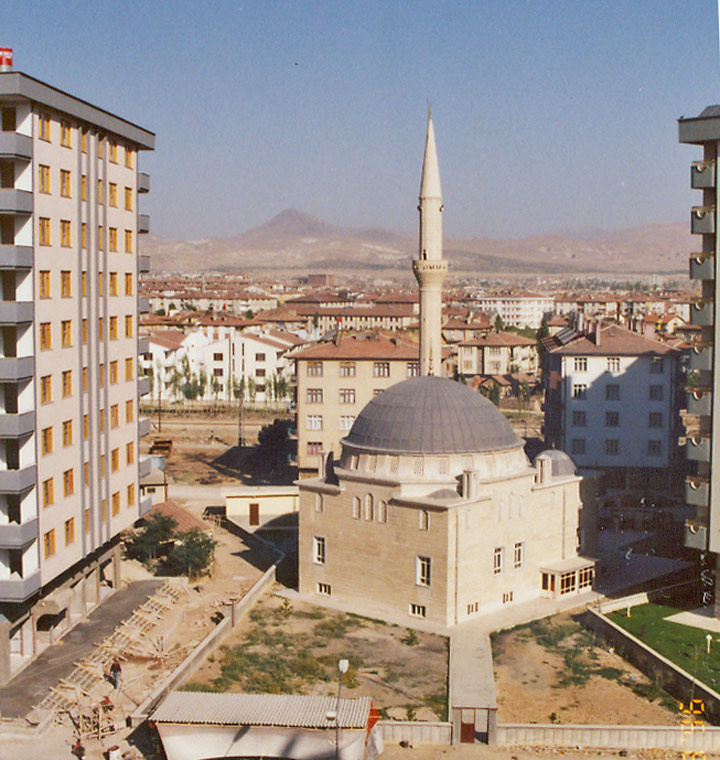 looking across town with a mosque in the foreground

Return to Turkey in Europe page