Lake Champlain
Larrabee's Point
Lake Champlain (French: lac Champlain) is a large lake in North America, mostly within the borders of the United States (states of Vermont and New York) but partially situated across the US-Canada border in the province of Quebec.

The lake was named for the French explorer Samuel de Champlain, who encountered it in 1609.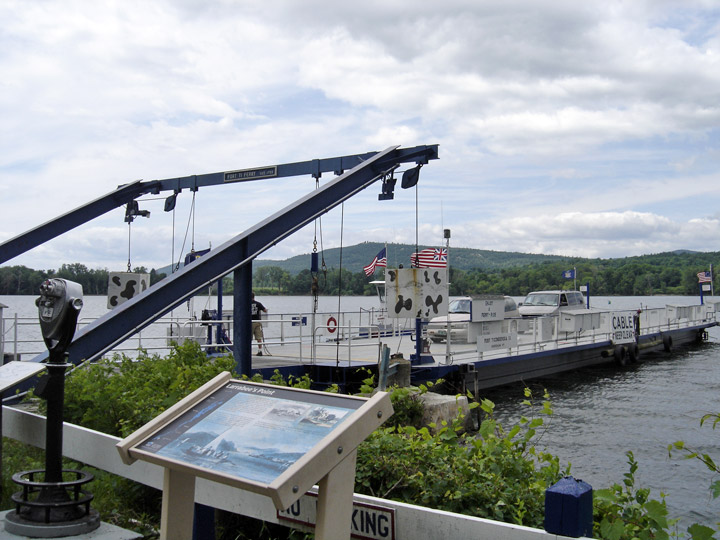 today's ferry at Larrabee's Point
It is a natural, freshwater lake in the contiguous United States, situated in the Champlain Valley between the Green Mountains of Vermont and the Adirondack Mountains of New York, drained northward by the Richelieu River into the St. Lawrence River near Montreal and fed by Otter Creek, the Winooski, Missisquoi, and Lamoille Rivers in Vermont, and the Au Sable, Chazy, Boquet, and Saranac Rivers in New York. Lake Champlain also receives water from Lake George via the La Chute River.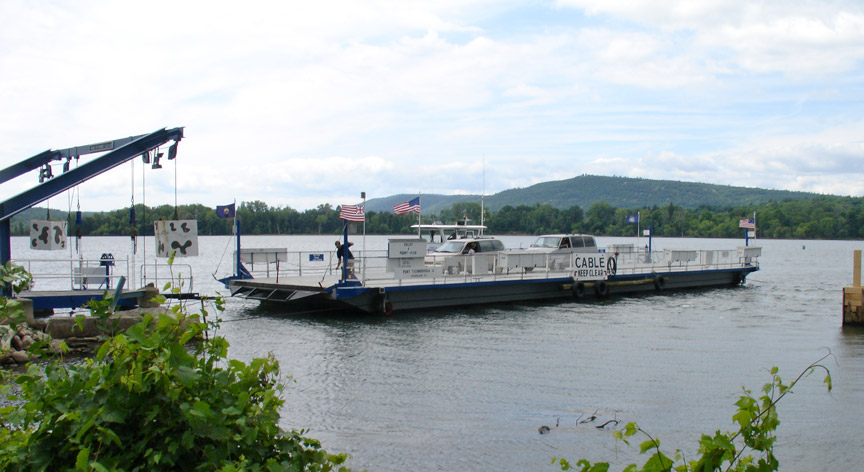 uses a cable to keep into position crossing the lake
The lake varies seasonally from about 95 to 100 feet above mean sea level.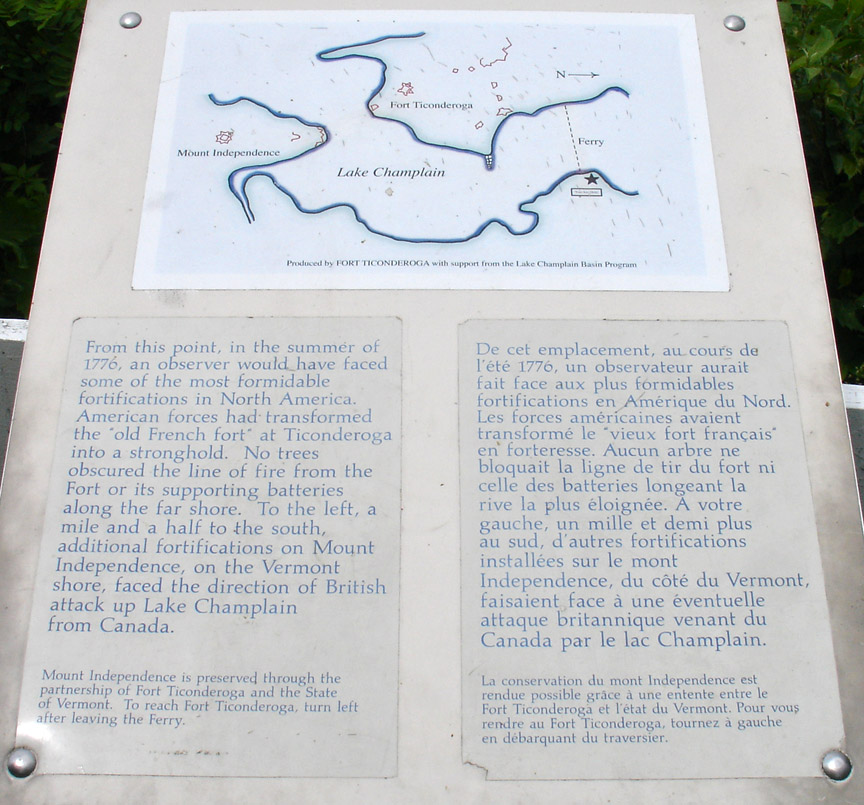 the position of the ferry on Lake Champlain
While the ports of Burlington, Vermont, Port Henry, New York, and Plattsburgh, New York are little used nowadays except by small crafts, ferries and lake cruise ships, they had substantial commercial and military importance in the 18th and 19th Century.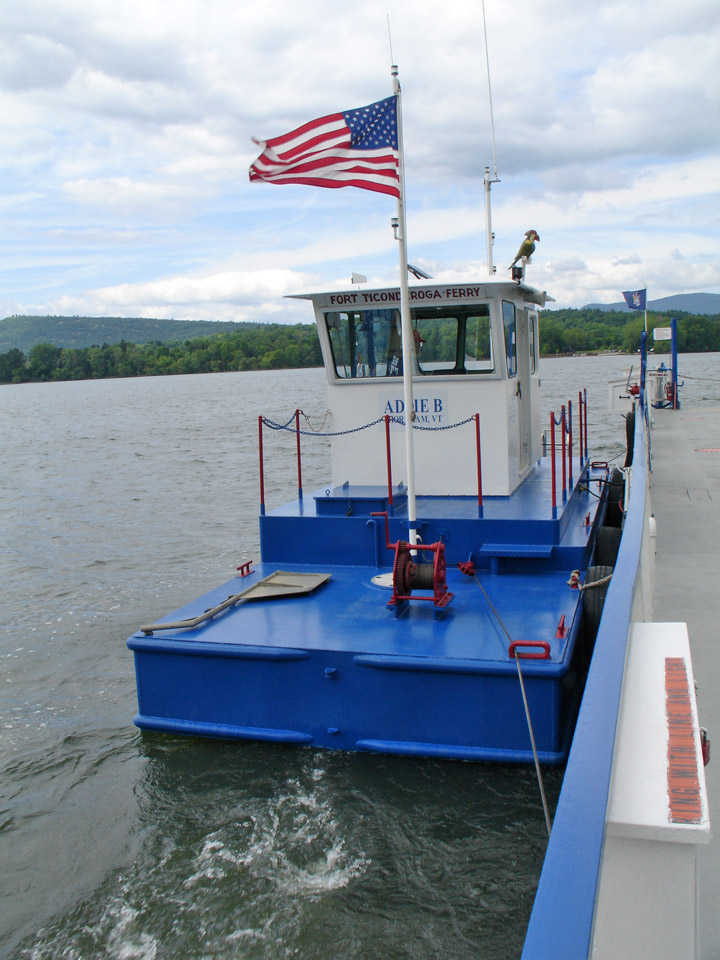 tug drives the ferry
In colonial times, Lake Champlain provided an easily traversed water (or, in winter, ice) passage between the Saint Lawrence and the Hudson Valleys. Boats and sledges were usually preferable to the unpaved and frequently mud-bound roads of the time. The northern tip of the lake at Saint-Jean-sur-Richelieu, Quebec (St. John in colonial times) is a short distance from Montreal. The southern tip at Whitehall (Skenesborough in colonial times) is a short distance from Saratoga, Glens Falls, and Albany, New York.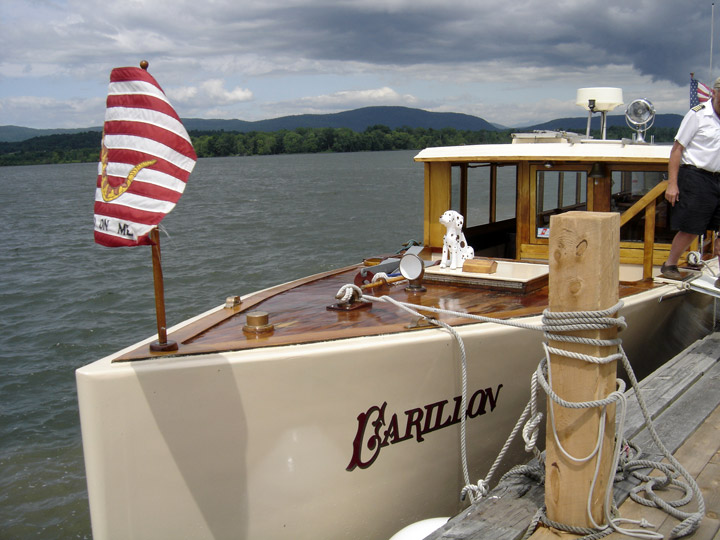 taking the Carillon for a tour of the lake
Forts at Ticonderoga and Crown Point (Fort St. Frederic) controlled passage of the lake in colonial times. Important battles were fought at Ticonderoga in 1758 and 1777. A significant naval battle was fought in 1776 at Valcour Island: in the Battle of Valcour Island, Benedict Arnold delayed British ships enough to prevent the fall of these forts until the following year, allowing the Continental Army to grow stronger and enabling the later victory at Saratoga.

Text from Wikipedia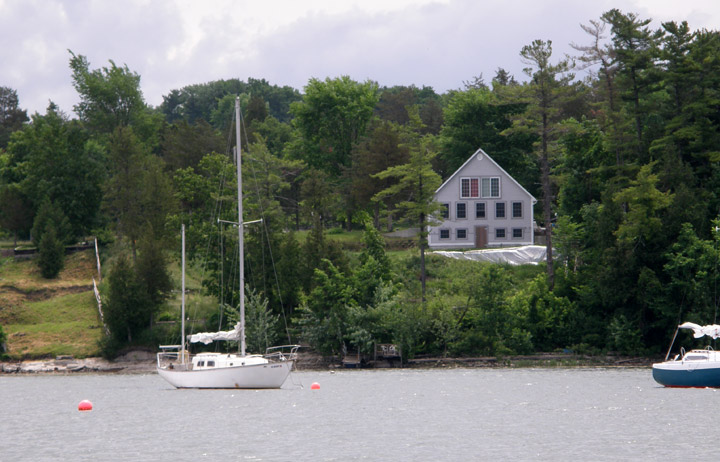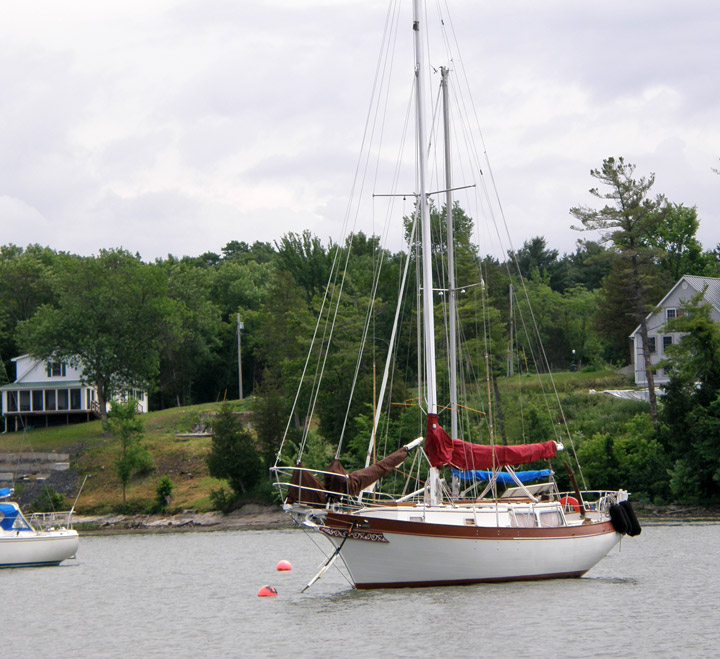 small sailing harbor on the lake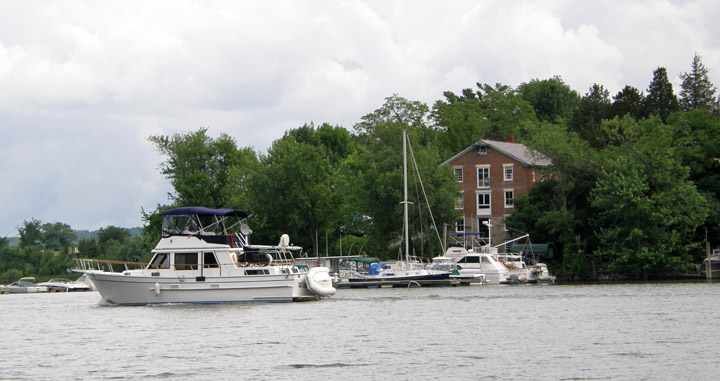 in front of one of the original warehouses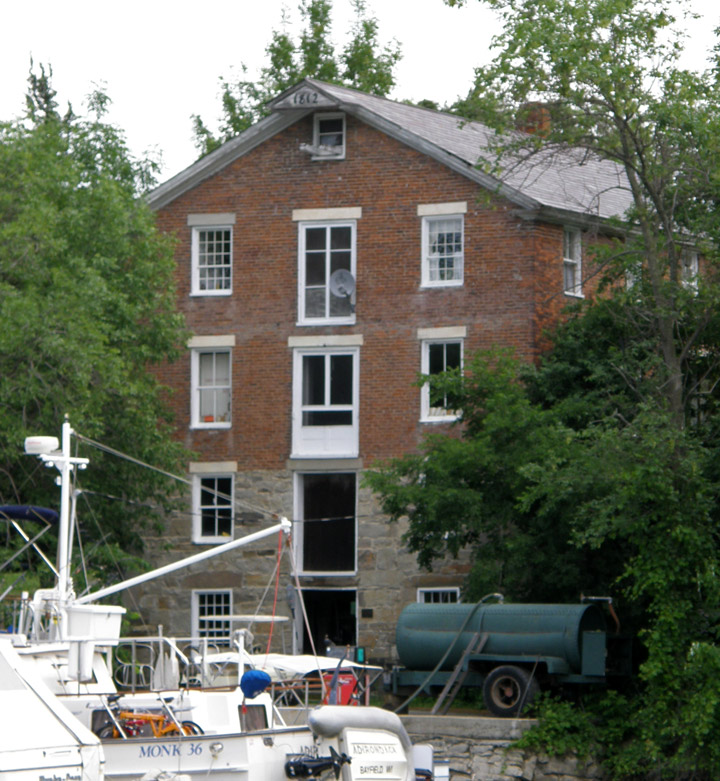 used in lake commerce (1812)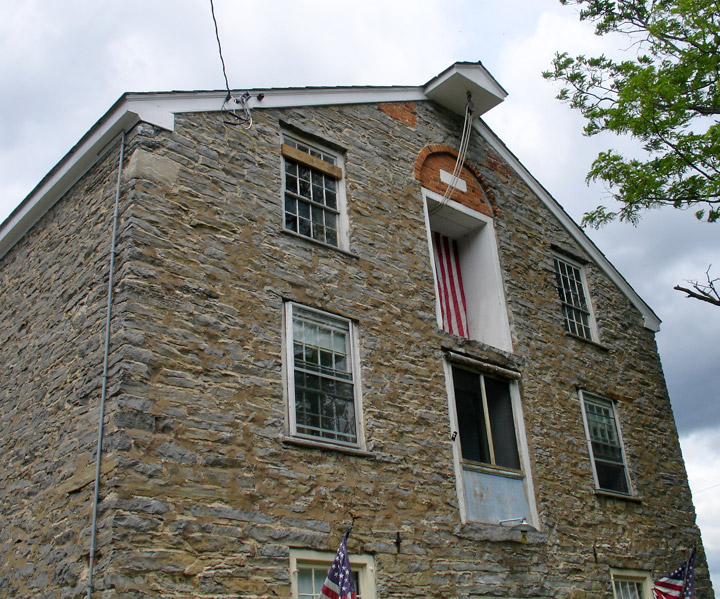 stone warehouse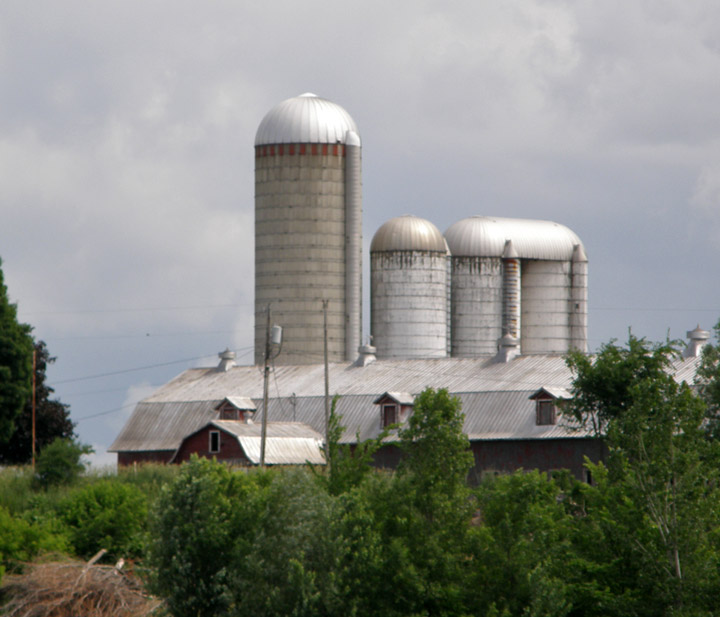 large dairy operation along the lake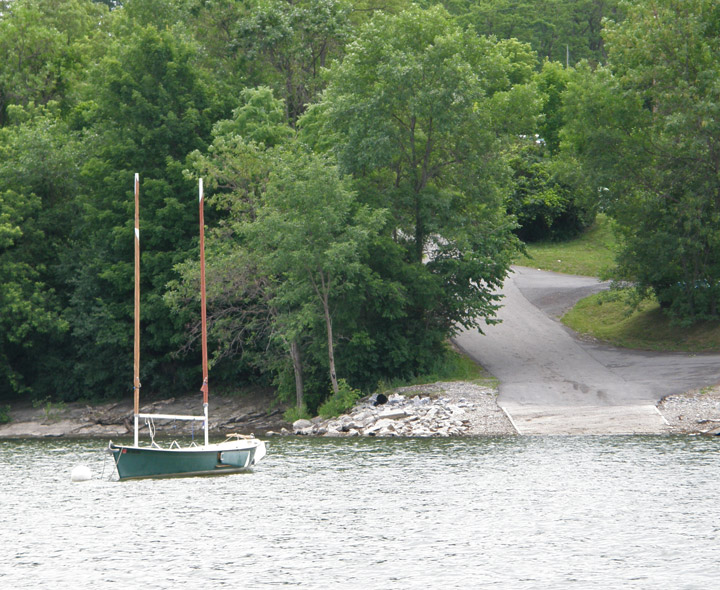 site of a British troop landing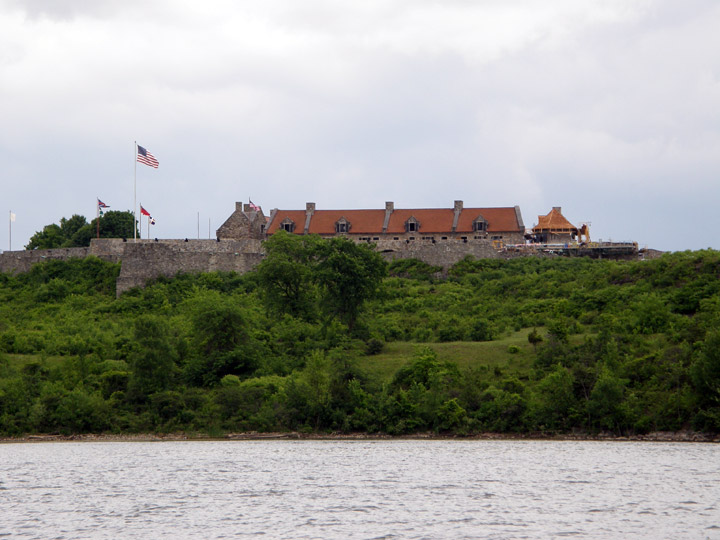 Fort Ticonderoga, as seen from the Lake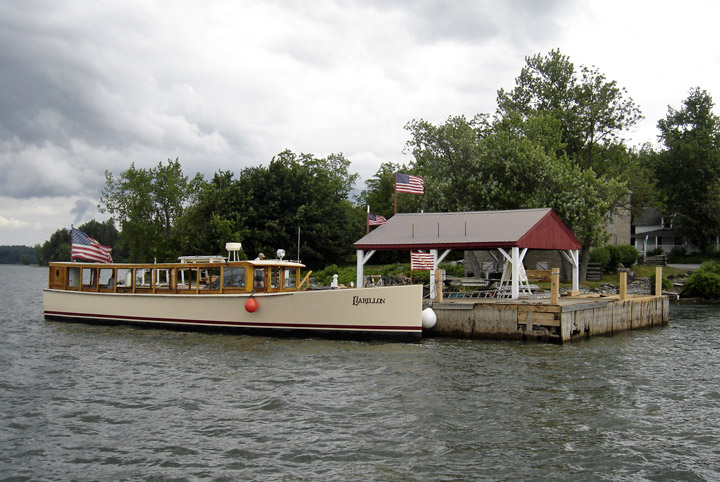 The Carillon back at Larrabee's Ferry dock
---
---