Clinton Clemson Columbia Covered Bridges Cowpens Gaffney Greenville Greer Strom Thurmond Walhalla
Strom Thurmond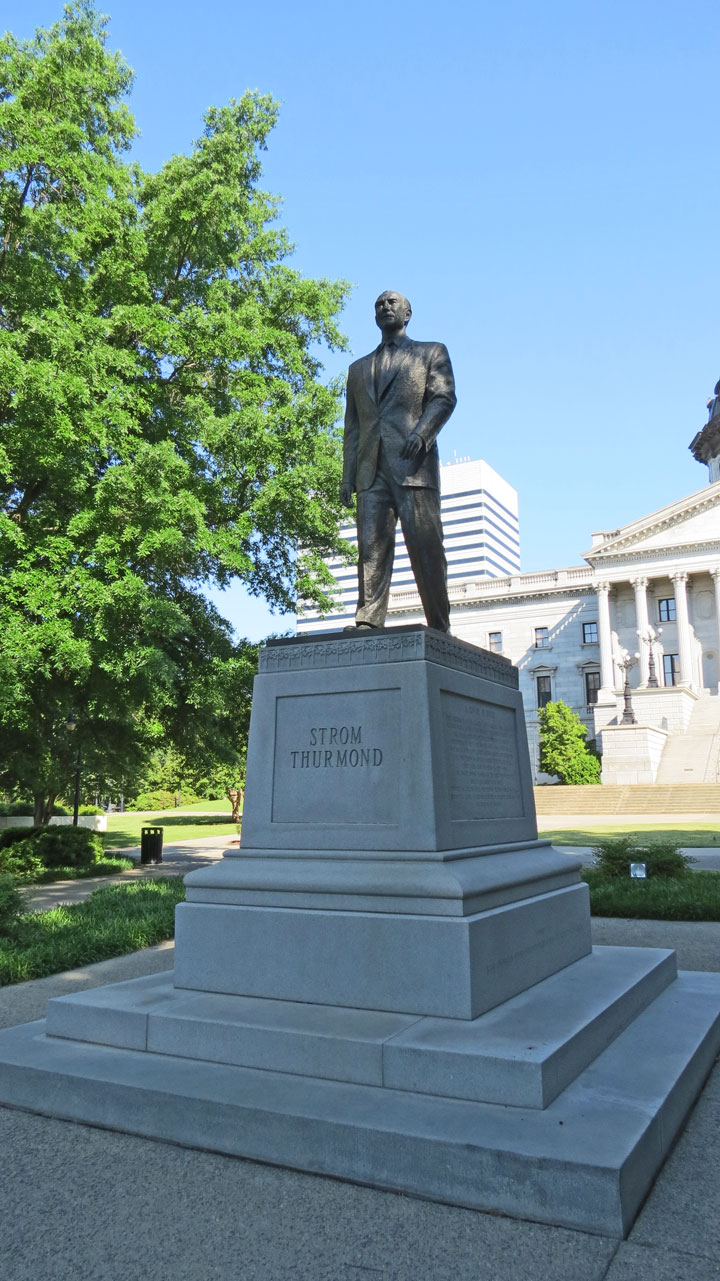 Strom Thurmond
James Strom Thurmond (December 5, 1902 – June 26, 2003) was an American politician who served for forty-eight years as a United States Senator. He also ran for the Presidency of the United States in 1948 as the segregationist States Rights Democratic Party (Dixiecrat) candidate, receiving 2.4% of the popular vote and 39 electoral votes. Thurmond later represented South Carolina in the United States Senate from 1954 until 2003, at first as a Democrat and after 1964 as a Republican. He switched out of support for the conservatism of Republican presidential candidate and Arizona Senator Barry Goldwater, who shared his opposition to the 1964 Civil Rights Act. He left office as the only senator to reach the age of 100 while still in office and as the oldest-serving and longest-serving senator in U.S. history (although he was later surpassed in the latter by Robert Byrd). Thurmond holds the record for the longest-serving Dean of the United States Senate in U.S. history at 14 years.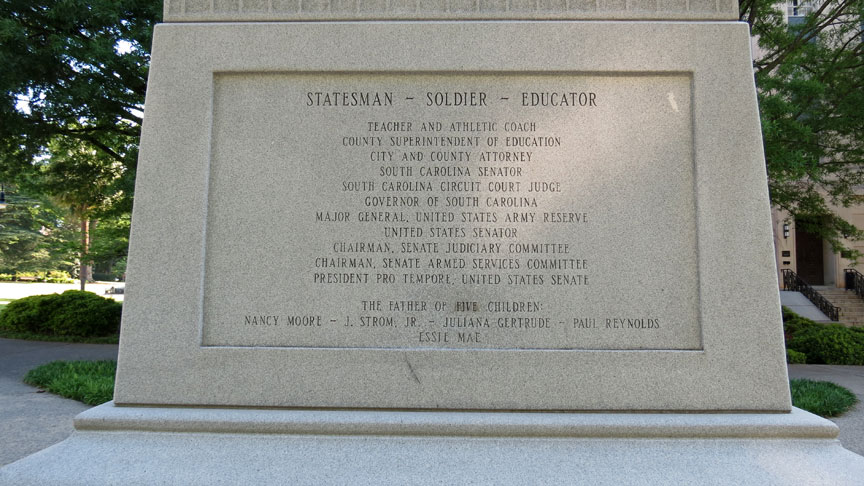 He conducted the longest filibuster ever by a lone senator, in opposition to the Civil Rights Act of 1957, at 24 hours and 18 minutes in length, nonstop. In the 1960s, he continued to fight against civil rights legislation. He always insisted he had never been a racist, but was merely opposed to excessive federal authority. However, he infamously said that "all the laws of Washington and all the bayonets of the Army cannot force the Negro into our homes, into our schools, our churches and our places of recreation and amusement", while attributing the movement for integration to Communism. Starting in the 1970s, he moderated his position on race, but continued to defend his early segregationist campaigns on the basis of states' rights in the context of Southern society at the time, never fully renouncing his earlier viewpoints.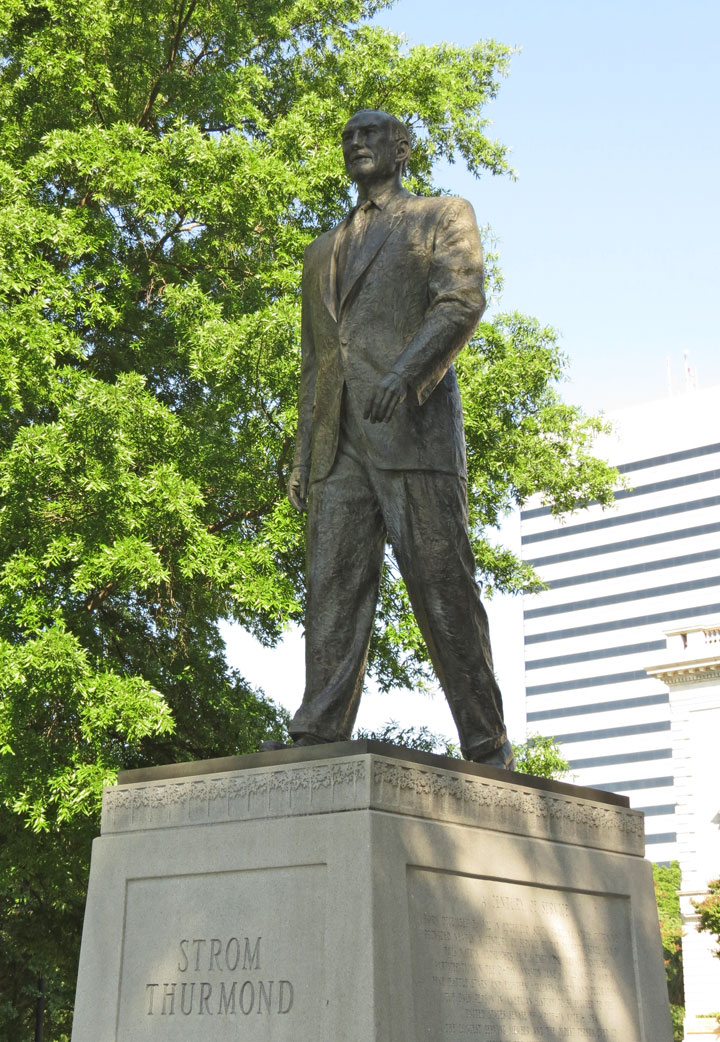 Six months after Thurmond's death in 2003, it was revealed that at age 22 he had fathered a daughter, Essie Mae Washington-Williams, with his family's African-American maid Carrie Butler, then 16. Although Thurmond never publicly acknowledged his daughter, he paid for her college education and passed other money to her for some time. His other children eventually acknowledged her.
---
His Daughter Essie Mae

Essie Mae Washington-Williams (born October 12, 1925) is the oldest child of former United States Senator and former Governor of South Carolina Strom Thurmond. Of mixed race, she was born to Carrie Butler, a 16-year-old black household servant, and Thurmond, then 22 and unmarried. After a 30-year career as a teacher, Washington-Williams published her autobiography in 2005, which was nominated for the National Book Award and a Pulitzer Prize. She did not reveal her true father's identity until she was 78 years old, after Thurmond's death in 2003.


Washington was the natural daughter of Strom Thurmond and his parents' young black servant, Carrie Butler. Butler, only 16 when her daughter was born, sent her to be raised in Coatesville, Pennsylvania by her older sister Mary and her husband John Henry Washington. She was named Essie after another of her mother's sisters, who fostered her briefly as an infant. Growing up, she had a cousin seven years older than herself, whom she believed to be her half-brother. Washington was unaware of her biological parents until the age of 16, when her mother told her about it and took her to meet Thurmond in person. That meeting took place in 1941.

Washington and her mother met infrequently with Thurmond after that, although they had some contact for years. Washington-Williams worked as a nurse at Harlem Hospital in New York City, and took a course in business education at New York University. She did not live in the segregated South until 1942, when she started college at South Carolina State University (SCSU), a historically black college. Thurmond paid for her college education. After having grown up in Pennsylvania, Washington was shocked by the restrictions of the South. She graduated from SCSU around 1946 with a degree in business.

During the late 1950s and 1960s, the years of national activism in the civil rights movement, Washington occasionally tried to talk with Thurmond about racism. He brushed off her complaints about segregated facilities. He was notorious for his long political support of segregation.

Washington later moved to Los Angeles, California, where she earned a master's degree in education at the University of Southern California. She went on and had a 30-year career as a teacher in the Los Angeles Unified School District from 1967 through 1997.

Washington-Williams still lives in Los Angeles. She is a longtime member of Delta Sigma Theta sorority, which she joined while at South Carolina State University.

In 1948 Washington married Julius T. Williams, an attorney. They had two sons and two daughters together. Three live in the Seattle, Washington, area, and one daughter lives near Los Angeles. Her husband Julius T. Williams died in 1964. She has numerous grandchildren.

four removed, five added
Essie Mae added below
When Washington-Williams announced her family connection, it was acknowledged by the Thurmond family. In 2004 the state legislature approved the addition of her name to the list of Thurmond children on a monument for Senator Thurmond on the South Carolina Statehouse grounds.

Washington-Williams said she would apply for membership in the United Daughters of the Confederacy, based on her heritage through Thurmond to ancestors who fought as Confederate soldiers. She encouraged other African Americans to do so as well, in the interests of exploring their heritage and promoting a more inclusive view of Southern history among lineage societies. The lineage society is for female descendants of Confederate veterans of the American Civil War. As her father Thurmond had been a member of the Sons of Confederate Veterans, she could use his completed genealogical documentation of links to participating ancestor(s).

In 2005, Washington-Williams was awarded an honorary Ph.D. in education from South Carolina State University at Orangeburg. That year she published a memoir, Dear Senator: A Memoir by the Daughter of Strom Thurmond (2005), written with William Stadiem. It explored her sense of dislocation based on her mixed heritage, as well as going to college in the segregated South after having grown up in Pennsylvania. It was nominated for both a National Book Award and a Pulitzer Prize. Washington-Williams said that she intended to be active on behalf of the Black Patriots Foundation, which was raising funds to build a monument on the National Mall in Washington D.C. to honor American blacks who served in the American Revolutionary War.
Text from Wikipedia
---
Clinton Clemson Columbia Covered Bridges Cowpens Gaffney Greenville Greer Strom Thurmond Walhalla
---