Sea of Galilee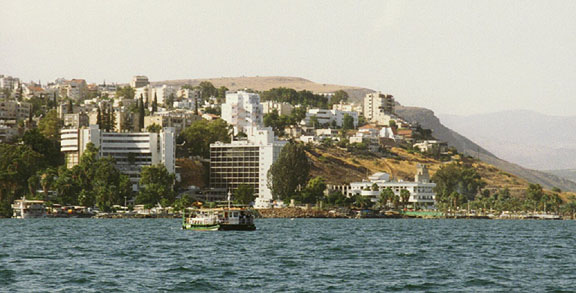 boats on the Sea of Galilee
Sea of Galilee (Hebrew Yam Kinneret), freshwater lake in northeastern Israel through which the Jordan River flows. The lake is pear-shaped, with a length from north to south of 23 km (14 mi), a maximum width which occurs in the north of 13 km (8 mi), and a maximum depth of 48 m (157 ft); it covers about 166 sq km (about 64 sq mi). The lake lies 209 m (686 ft) below the level of the Mediterranean Sea, and its bed forms a part of the great Great Rift Valley. During a former geological epoch the lake was part of a great inland sea extending from the Hula marshes in northern Israel to a point some 64 km (40 mi) south of the Dead Sea. The lake is completely encircled by a beach, bordered by escarpments on the east and southwest and by plains on the north and northwest.

across to the Jordan shore
The water of Lake Tiberias (Sea of Galilee) is cool and clear; it contains many varieties of fish, notably sardines and tilapia, which are caught on a commercial scale. The grebe, gull, pelican, and other species of birds are abundant; the tortoise, turtle, crayfish, and the small crustacean known as the beach flea are found along the banks.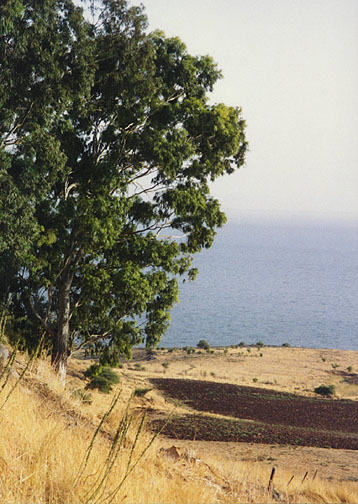 site of the Sermon on the Mount
Lake Tiberias is best known for its association with the lives of Jesus Christ and his disciples. In the Bible the lake is referred to as the Sea of Chinnereth or Chinneroth, Gennesar, Lake of Gennesaret, Sea of Galilee, and Sea of Tiberias, a name that has survived in the modern Arabic Bahrat Tabariye. The vicinity of Lake Tiberias was well populated during ancient times, and several of the great trade routes of Asia Minor converged at the lake. Nine cities flourished on its shores, and it was the center of an extensive fishing industry. Of the ancient towns only Tiberias, on the western shore, still exists.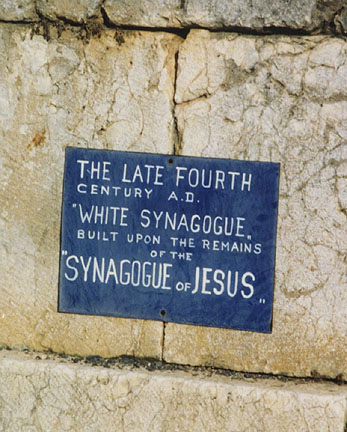 Capernaum
one of the oldest synagogues