Lebanon

Jump to: Anjar
Jump to: Baalbek
Jump to: Beirut
Jump to: Beiteddin
Jump to: BekŠa Valley
Jump to: Byblos
Jump to: Byzantine Mosaics
Jump to: Echmoun
Jump to: Kadisha Valley
Jump to: Sidon
Jump to: Tripoli
Jump to: Tyre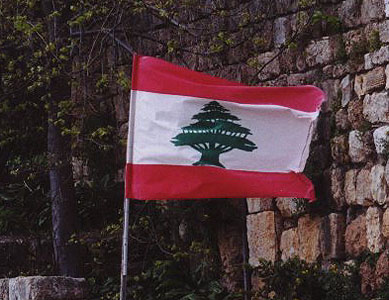 the flag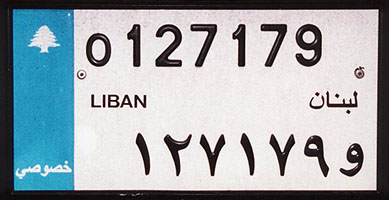 the country
About 90 percent of the Lebanese are Arabs, Phoenicians/ Canaanites or Aramaic/Syriac (many Christian Arabs disclaim Arab ethnicity), 5 percent are Armenian, and the remaining of the population belong to Kurdish, Assyrian, or other ethnicities. Among Arabs, about 12 percent are Palestinians, the overwhelming majority of whom live in refugee camps. Palestinian refugees are considered stateless, and their future is uncertain. Before the civil war, thousands of Westerners lived and worked in Lebanon, but most of these foreigners have left the country. Arabic is the official language, but French is commonly used, especially in government and among the upper class. English is also widely used, particularly as the language of business and education. Most Armenians speak Armenian.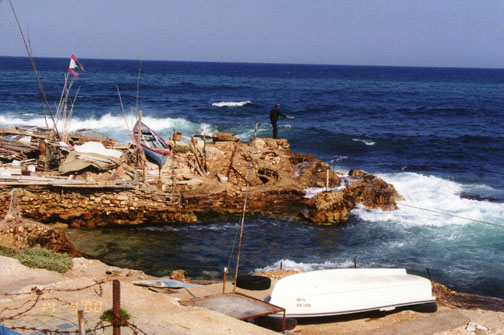 Mediterranean Sea along Corniche in Beirut
The government policy of confessionalism, or the grouping of people by religion, plays a critical role in Lebanonís political and social life and has given rise to Lebanonís most persistent and bitter conflicts. At the time of Lebanonís independence in the 1940s, there were more Christians than Muslims. In the following years, many Muslims immigrated to Lebanon and had a higher birthrate than the Christians; as a result, Muslims became the majority group in Lebanon. Today, an estimated 70 percent of Lebanese are Muslim, while most of the remaining 30 percent are Christian. Every personís religion is encoded on a required, government-issued identification card. The government recognizes 17 distinct religious sects: 5 Muslim (Shiite, Sunnite, Druze, Ismailite, and Alawite), 11 Christian (4 Orthodox, 6 Catholic, and 1 Protestant), and Judaism.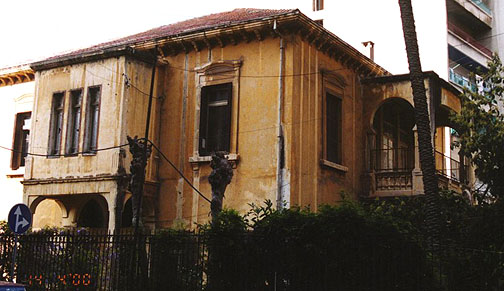 traditional dwelling architecture
Lebanon has one of the most educated and technically prepared populations in the Middle East. In 1995, 92 percent of Lebanese aged 15 and older were literate. Primary education in Lebanon is free and compulsory for five years; school attendance is near universal for primary school-aged children. Beirut is home to six universities: the well-known American University of Beirut; the Jesuit-sponsored Saint Joseph University; the government-supported Lebanese University; the Egyptian-sponsored Beirut Arab University; the Lebanese American University; and the Armenian Hagazian College. Lebanon also has more than 100 technical, vocational, and other specialized schools.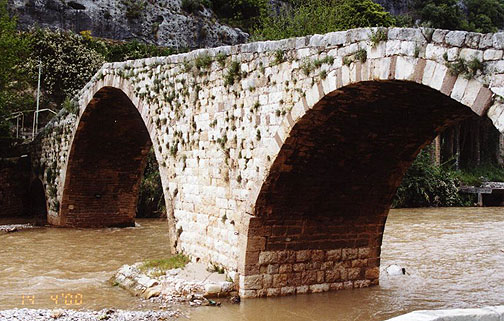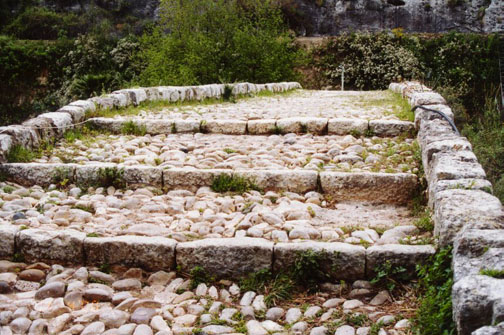 Arab bridge
The Lebanese value individualism, which contributes to their creativity and inventiveness. Close family relations, loyalty to family and friends, and honor are also important. People strive to gain influence and to accumulate and display wealth, which are signs of success that win respect. Men and women mix freely and attend schools in equal numbers. Christian women are similar to Western women in dress, attitude, and activities. Most Muslim women are more conservative in attitude and dress than their Christian counterparts. Men generally wear Western clothes, although some older Muslim men wear the Arab headdress, or kufiyah. In their leisure time, Lebanese people enjoy lively conversations over coffee, participating in outdoor activities, and eating good food. Traditional foods include kebbe, a dish of lamb and crushed wheat, and tabouleh, a salad made of parsley, mint, tomatoes, and crushed wheat.
Text from Microsoft Encarta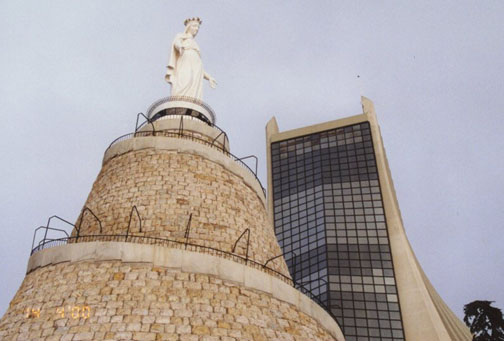 Virgin of Lebanon statue in Harissa
(Modern Maronite cathedral in background)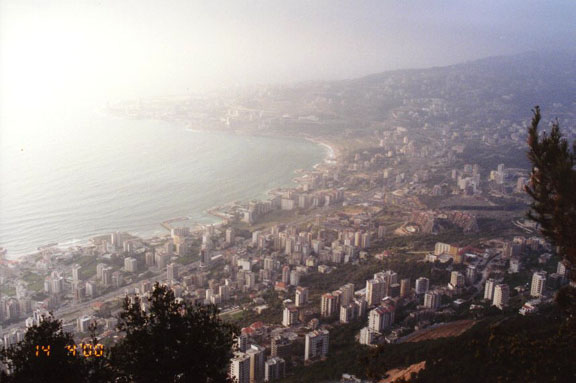 View of Jounieh
(Where the Christians fled to during the Civil War)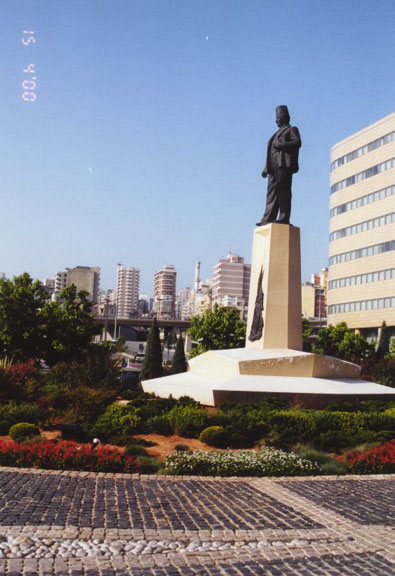 Restored Beirut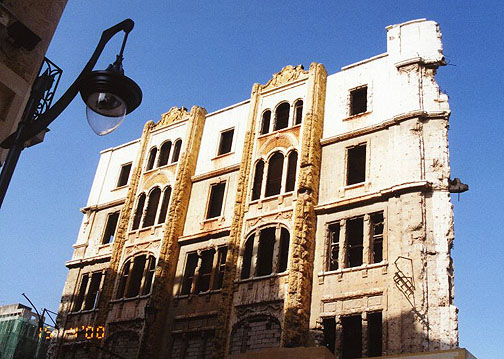 the facades are saved in the restoration process

Link to local Lebanon artist showing 360 degree photos of Lebanon sites