Photos of
English Gardens
an ELDERHOSTEL program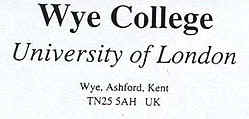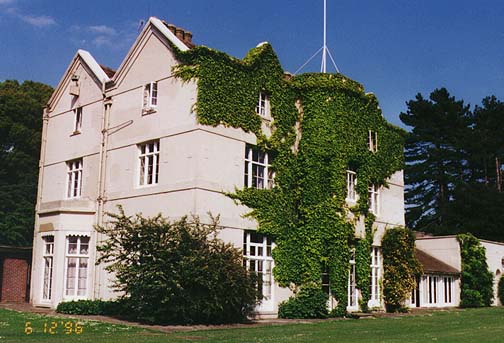 Our Host College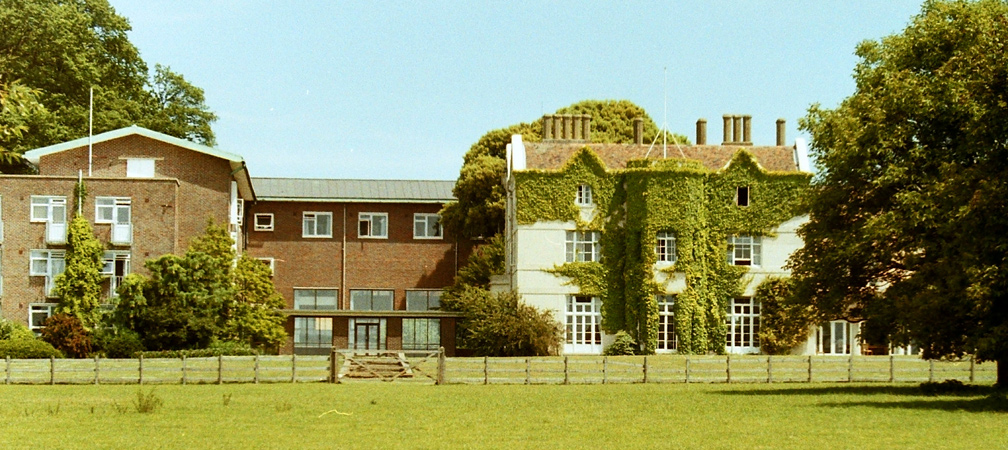 Wye College, University of London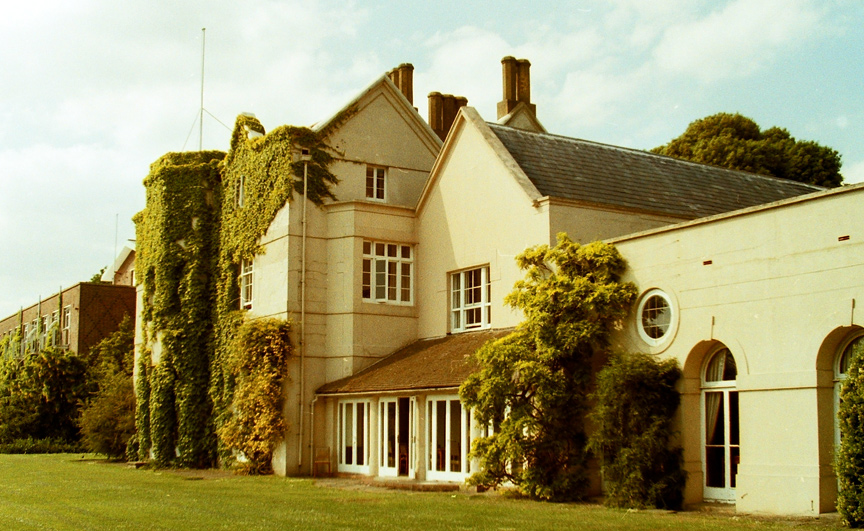 History of the English Landscape Garden
The predecessors of the landscape garden in England were the great parks created by Sir John Vanbrugh (1664–1726) and Nicholas Hawksmoor at Castle Howard (1699–1712), Blenheim Palace (1705–1722), and the Claremont Landscape Garden at Claremont House (1715–1727). These parks featured vast lawns, woods, and pieces of architecture, such as the classical mausoleum designed by Hawksmoor at Castle Howard. At the center of the composition was the house, behind which were formal and symmetrical gardens in the style of the garden à la française, with ornate carpets of floral designs and walls of hedges, decorated with statues and fountains. These gardens, modelled after the gardens of Versailles, were designed to impress visitors with their size and grandeur.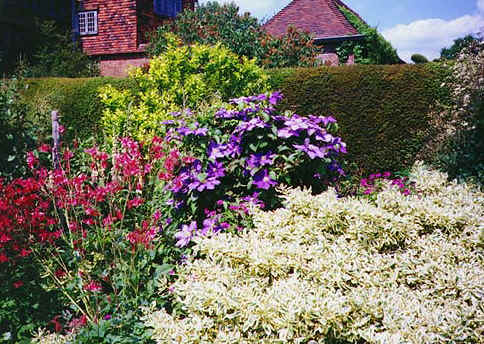 Great Dixter gardens
More Photos of Great Dixter Gardens

The new style that became known as the English garden was invented by landscape designers William Kent and Charles Bridgeman, working for wealthy patrons, including Richard Temple, 1st Viscount Cobham, Richard Boyle, 3rd Earl of Burlington, and banker Henry Hoare; men who had large country estates, were members of the anti-royalist Whig Party, had classical educations, were patrons of the arts, and had taken the Grand Tour to Italy, where they had seen the Roman ruins and Italian landscapes they reproduced in their gardens.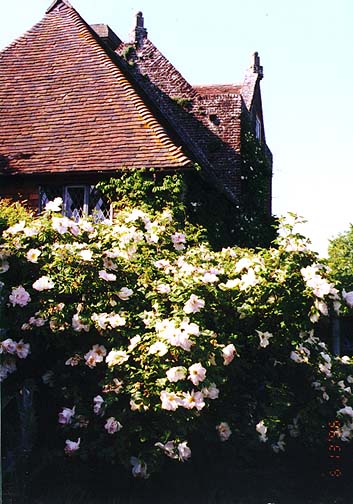 Sissinghurst garden
William Kent (1685–1748) was an architect, painter and furniture designer who introduced Palladian style architecture to England. Kent's inspiration came from Palladio's buildings in the Veneto and the landscapes and ruins around Rome—he lived in Italy from 1709 to 1719, and brought back many drawings of antique architecture and landscapes. His gardens were designed to complement the Palladian architecture of the houses he built.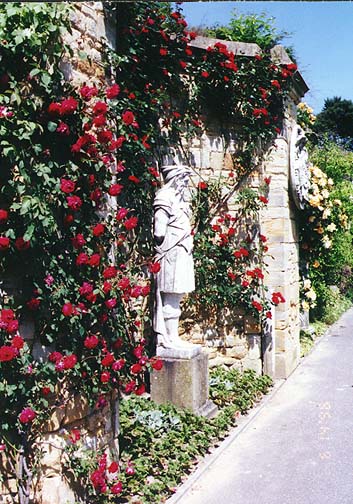 Hever Castle gardens
Charles Bridgeman (1690–1738) was the son of a gardener and an experienced horticulturist, who became the Royal Gardener for Queen Anne and Prince George of Denmark, responsible for tending and redesigning the royal gardens at Windsor, Kensington Palace, Hampton Court, St. James's Park and Hyde Park. He collaborated with Kent on several major gardens, providing the botanical expertise which allowed Kent to realize his architectural visions.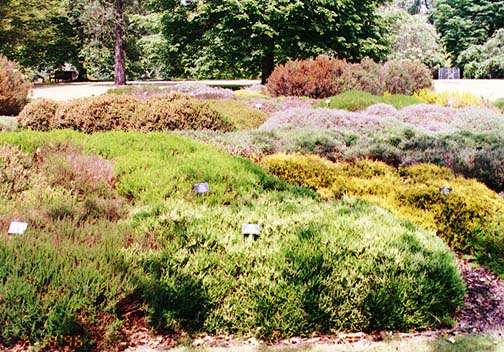 Wisley garden
Kent created one of the first true English landscape gardens at Chiswick House for Richard Boyle, 3rd Earl of Burlington. The first gardens that he laid out between 1724 and 1733 had many formal elements of a Garden à la française, including alleys forming a trident and canals, but they also featured something novel: a picturesque recreation of an Ionic temple set in a theatre of trees. Between 1733 and 1736, he redesigned the garden, adding lawns sloping down to the edge of the river and a small cascade. For the first time the form of a garden was inspired not by architecture, but by an idealized version of nature.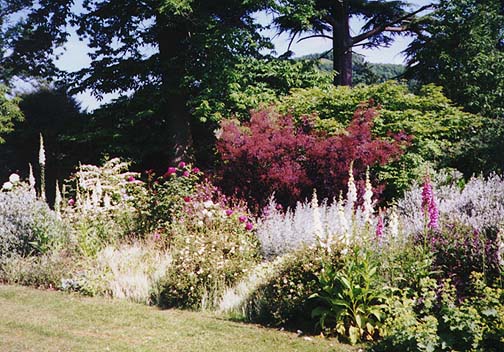 Hidcote Manor gardens
Rousham House in Oxfordshire is considered by some as the most accomplished and significant of William Kent's work. The patron was General Dormer, who commissioned Bridgeman to begin the garden in 1727, then brought in Kent to recreate it in 1737. Bridgeman had built a series of gardens, including a grotto of Venus, on the slope along the river Cherwell, connected by straight alleys. Kent turned the alleys into winding paths, built a gently turning stream, used the natural landscape features and slopes, and created a series of views and tableaus decorated with allegorical statues of Apollo, a wounded gladiator, a lion attacking a horse, and other subjects. He placed "eye-catchers," pieces of classical architecture, to decorate the landscape, and made use of the "ha-ha", a concealed ditch that kept grazing animals out of the garden while giving an uninterrupted vista from within. Finally, he added cascades modelled on those of the garden of Aldobrandini and Pratolino in Italy, to add movement and drama.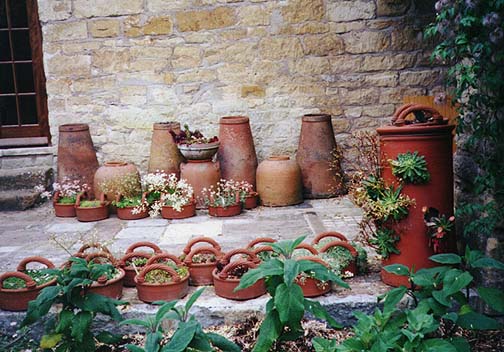 Bourton House gardens
Stowe, in Buckinghamshire, (1730–1738), was an even more radical departure from the formal French garden. In the early 18th century, Richard Temple, 1st Viscount Cobham, had commissioned Charles Bridgeman to design a formal garden, with architectural decorations by John Vanbrugh. Bridgeman's design included an octagonal lake and a Rotondo (1720–21) designed by Vanbrugh.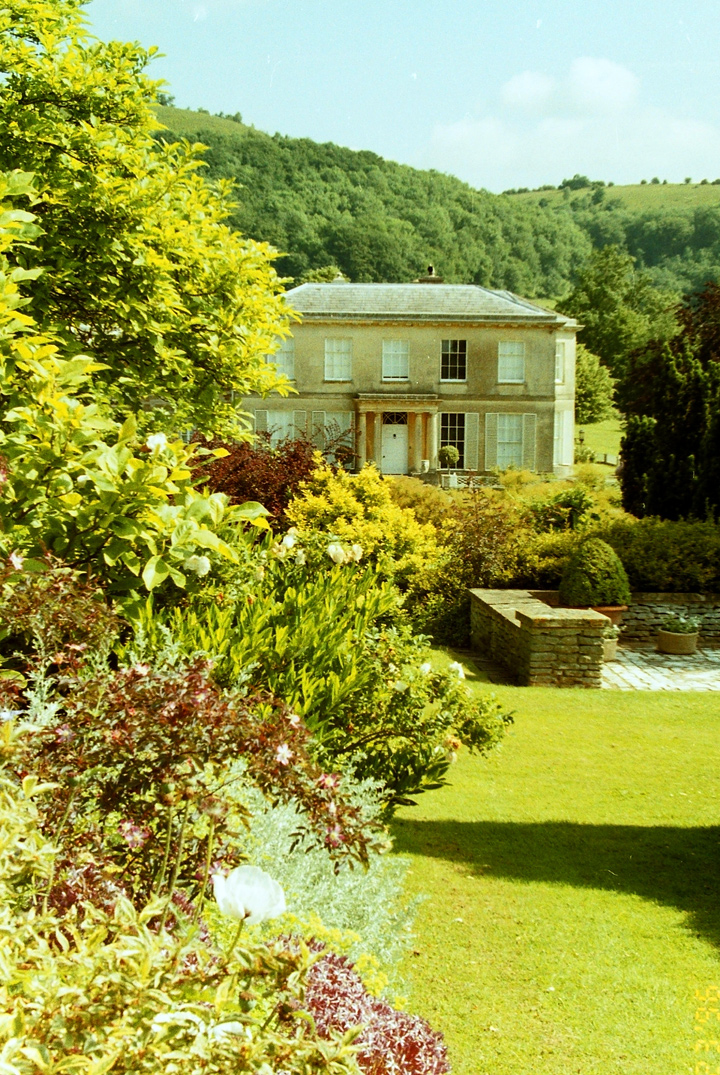 In the 1730s, William Kent and James Gibbs were appointed to work with Bridgeman, who died in 1738. Kent remade the lake in a more natural shape, and created a new kind of garden, which took visitors on a tour of picturesque landscapes. It eventually included a Palladian bridge (1738); a Temple of Venus (1731), in the form of a Palladian villa; A Temple of Ancient Virtues (1737), with statues of famous Greeks and Romans; a Temple of British Worthies (1734–1735), with statues of British heroes; and a Temple of Modern Virtues, which was deliberately left in ruins, which contained a headless statue of Robert Walpole, Cobham's political rival.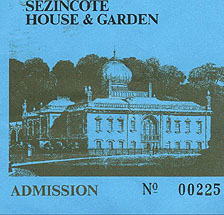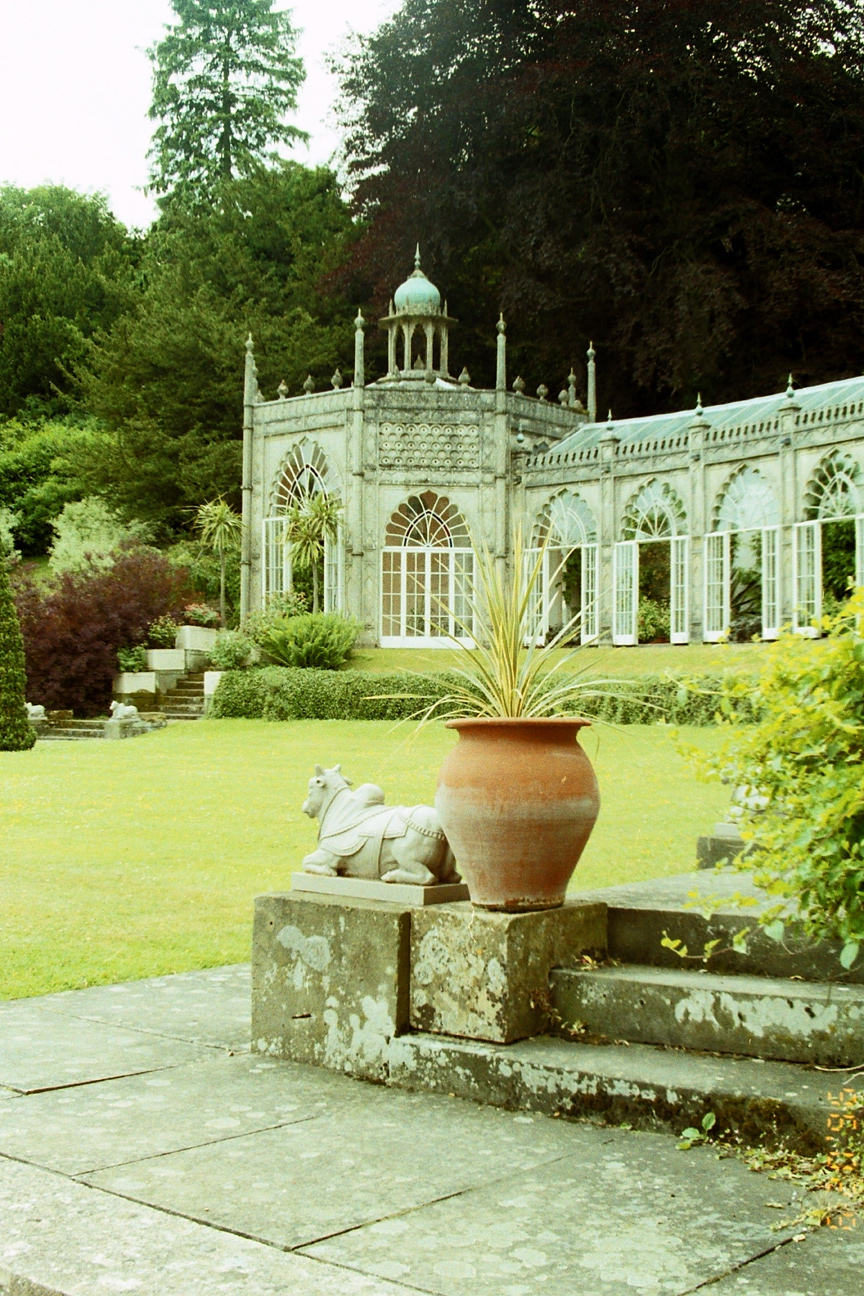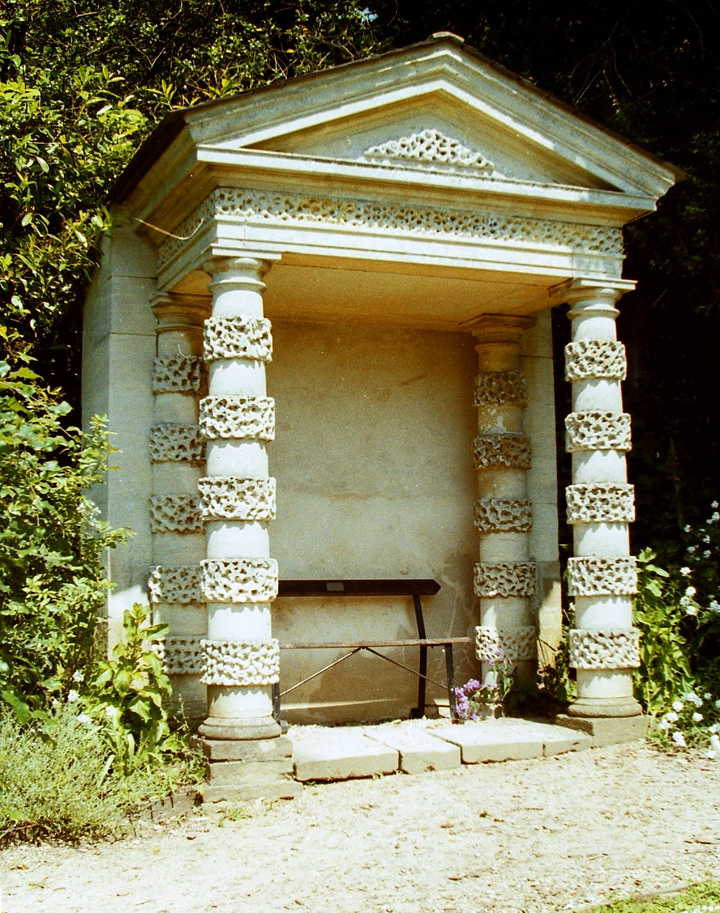 Rococo Gardens at Painswick
Painswick
Stourhead, in Wiltshire (1741–80), created by banker Henry Hoare, was one of the first 'picturesque' gardens, inspired to resemble the paintings of Claude Lorrain. Hoare had travelled to Italy on the Grand Tour and had returned with a painting by Claude Lorrain. Hoare dammed a stream on his estate, created a lake, and surrounded the lake with landscapes and architectural constructions representing the different steps of the journey of Blenheim Palace Park, by Capability Brown.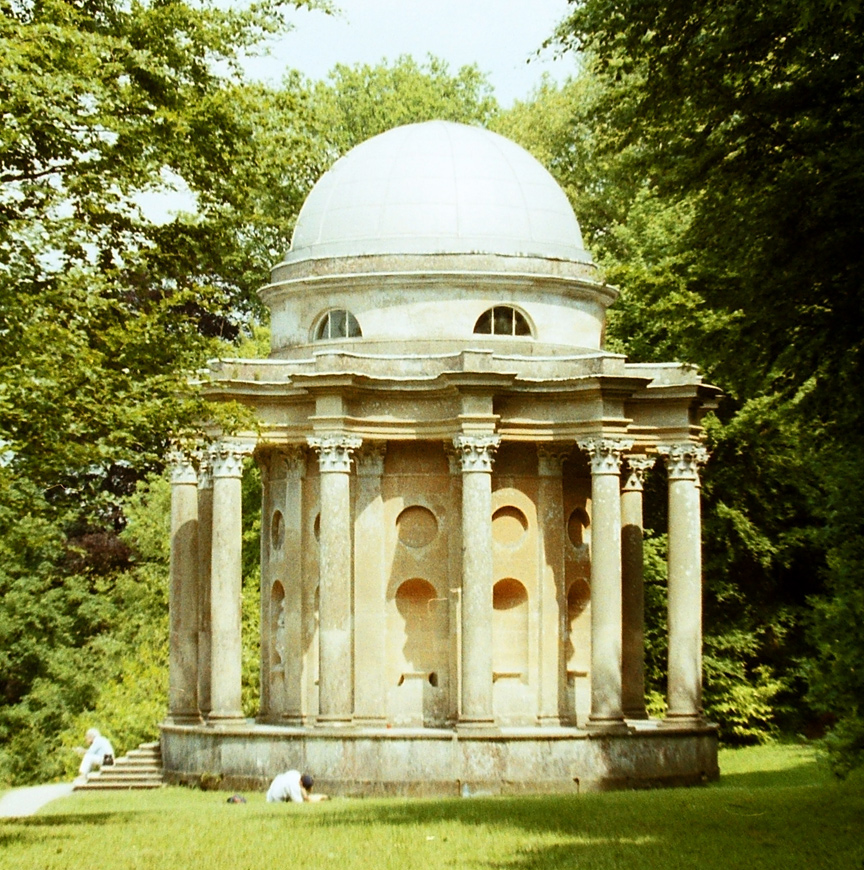 Temple in Stourhead Gardens
The most influential figure in the later development of the English landscape garden was Lancelot "Capability" Brown (1716–1783) who began his career in 1740 as a gardener at Stowe under Charles Bridgeman, then succeeded William Kent in 1748.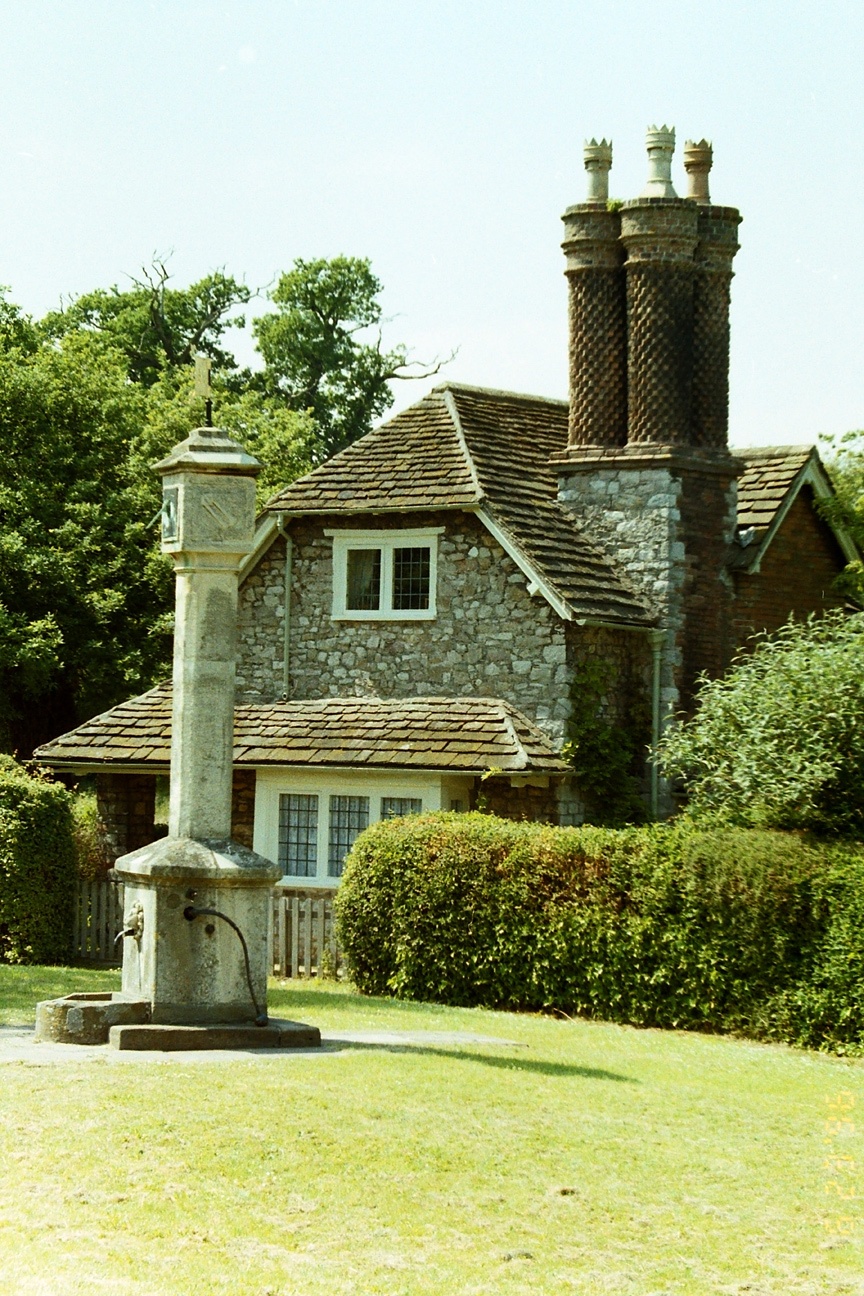 Brown's contribution was to simplify the garden by eliminating geometric structures, alleys, and parterres near the house and replacing them with rolling lawns and extensive views out to isolated groups of trees, making the landscape seem even larger. "He sought to create an ideal landscape out of the English countryside." He created artificial lakes and used dams and canals to transform streams or springs into the illusion that a river flowed through the garden.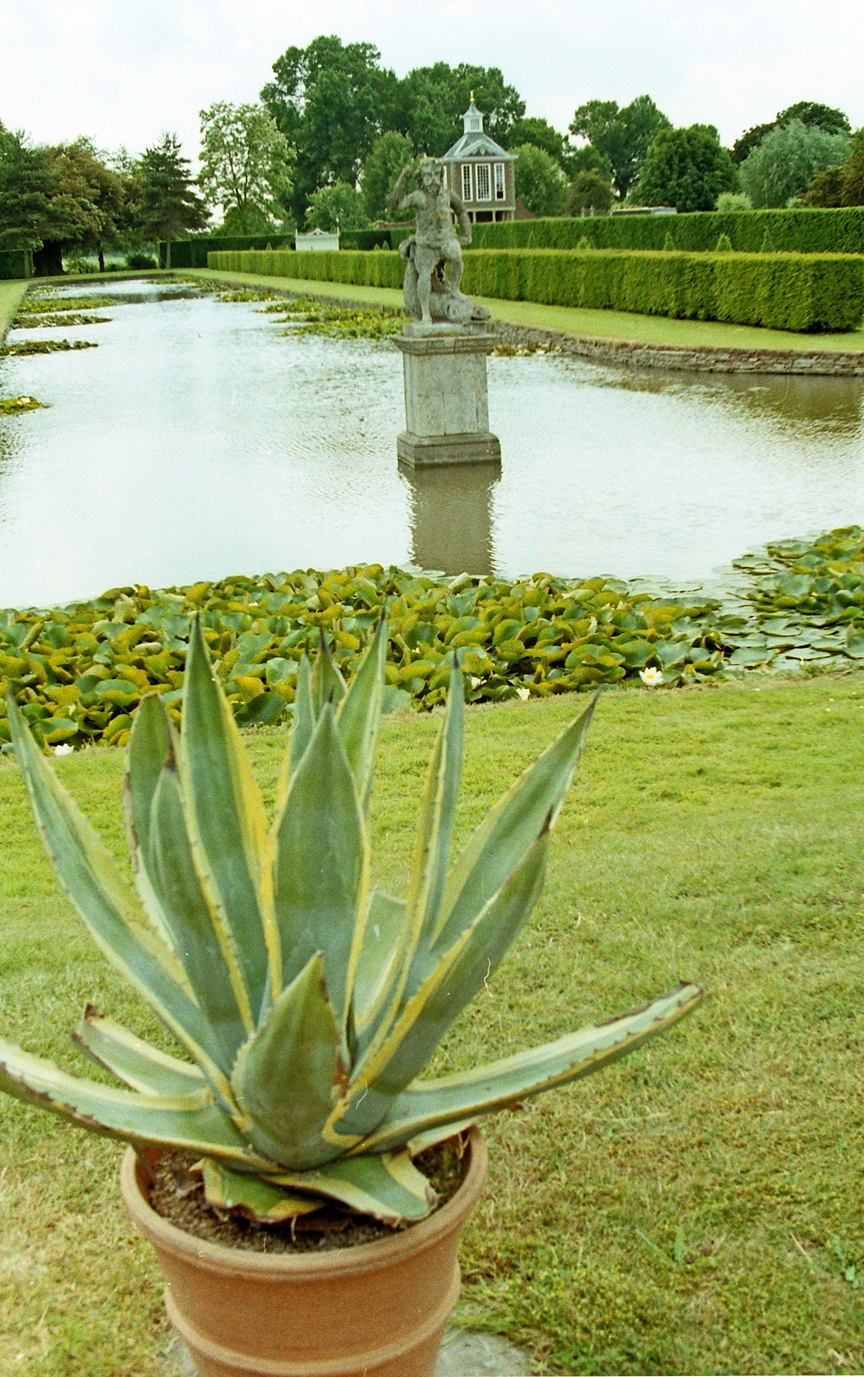 Westbury Dutch Water Garden
He compared his own role as a garden designer to that of a poet or composer. "Here I put a comma, there, when it's necessary to cut the view, I put a parenthesis; there I end it with a period and start on another theme."

Brown designed 170 gardens. The most important were:

Petworth (West Sussex) in 1752;
Chatsworth (Derbyshire) in 1761;
Bowood (Wiltshire) in 1763;
Blenheim Palace (Oxfordshire) in 1764.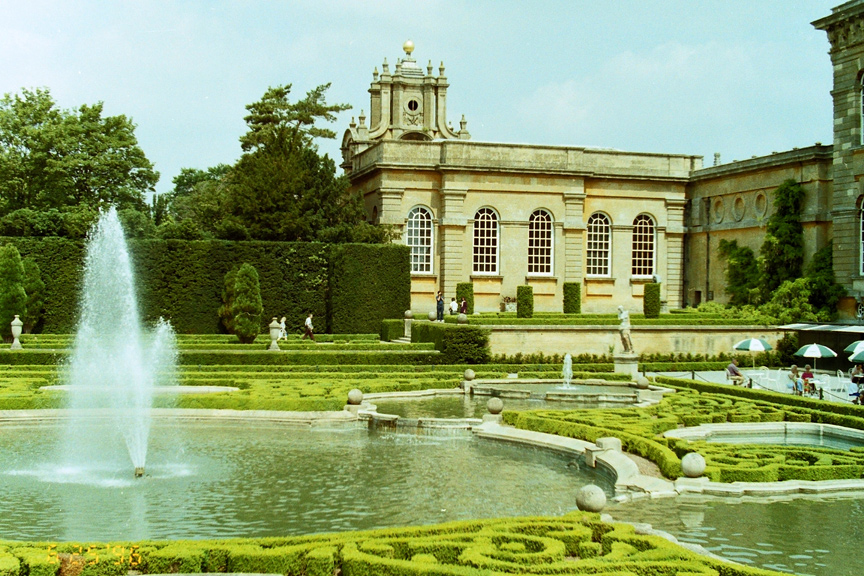 Blenheim Palace Gardens
Humphry Repton (21 April 1752 – 24 March 1818) was the last great English landscape designer of the eighteenth century, often regarded as the successor to Capability Brown. Repton hit upon the idea of becoming a "landscape gardener" (a term he himself coined) after failing at various ventures and, sensing an opportunity after Brown's death, was ambitious to fill the gap and sent circulars round his contacts in the upper classes advertising his services. To help clients visualize his designs, Repton produced 'Red Books' (so called for their binding) with explanatory text and watercolors with a system of overlays to show 'before' and 'after' views.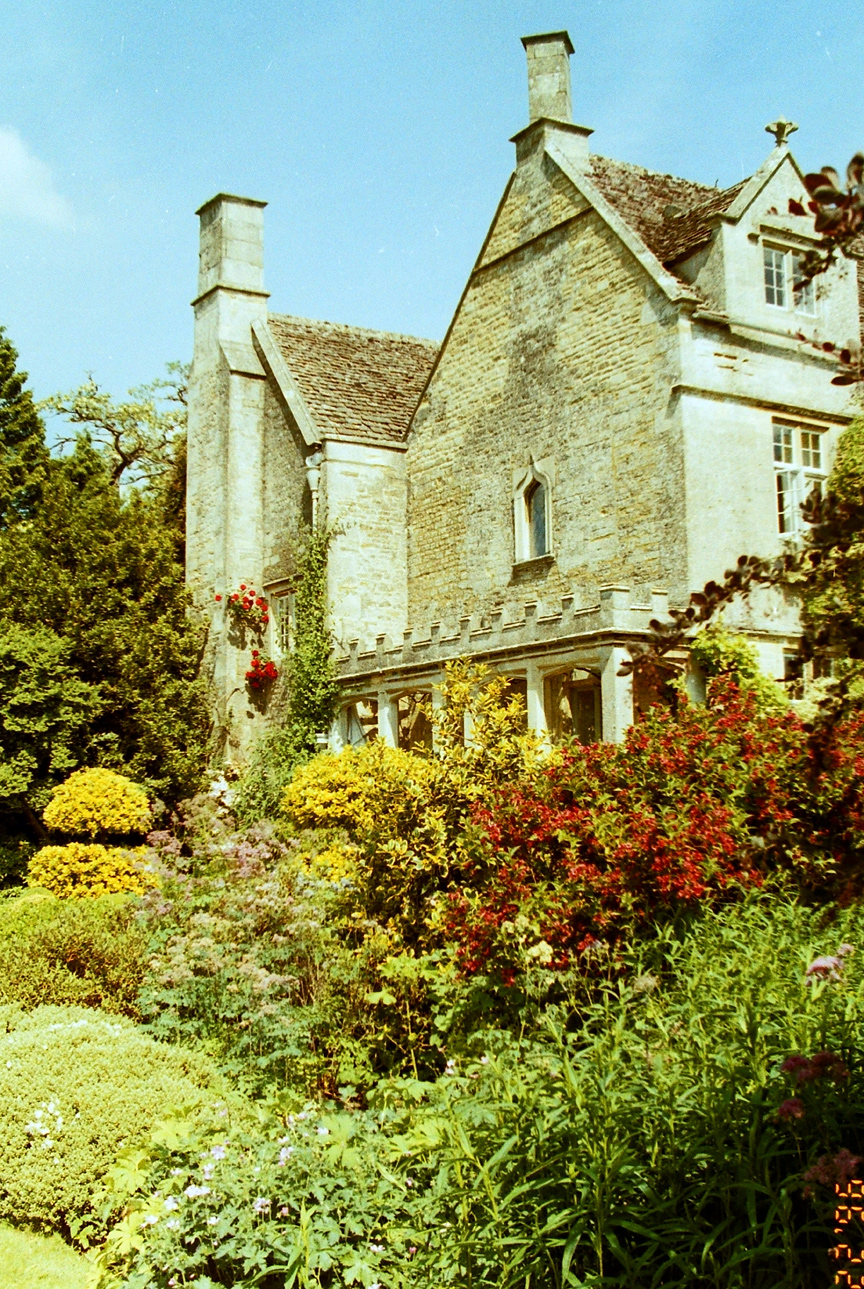 In 1794 Richard Payne Knight and Uvedale Price simultaneously published vicious attacks on the 'meagre genius of the bare and bald', criticizing Brown's smooth, serpentine curves as bland and unnatural and championing rugged and intricate designs, composed according to 'picturesque theory' that designed landscapes should be composed like landscape paintings, with a foreground, a middle ground and a background. Early in his career, Repton defended Brown's reputation during the 'picturesque controversy'. However, as his career progressed Repton came to apply picturesque theory to the practice of landscape design. He believed that the foreground should be the realm of art (with formal geometry and ornamental planting), that the middle ground should have a parkland character of the type created by Brown and that the background should have a wild and 'natural' character. Repton re-introduced formal terraces, balustrades, trellis work and flower gardens around the house in a way that became common practice in the nineteenth century.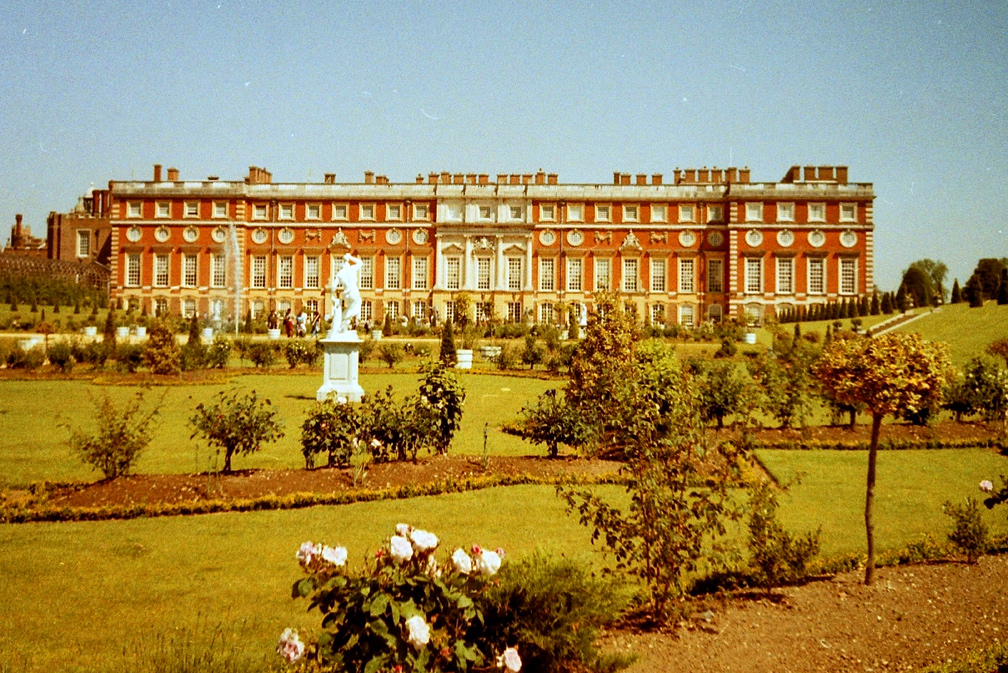 Hampton Court Gardens
Repton published four major books on garden design: Sketches and Hints on Landscape Gardening (1795), Observations on the Theory and Practice of Landscape Gardening (1803), An Inquiry into the Changes of Taste in Landscape Gardening (1806) and Fragments on the Theory and Practice of Landscape Gardening (1816). These drew on material and techniques used in the Red Books. These works greatly influenced other landscape-designers including John Claudius Loudon, John Nash, Jean Charles Adolphe Alphand, Hermann Ludwig Heinrich Pückler-Muskau and Frederick Law Olmsted.
Text from Wikipedia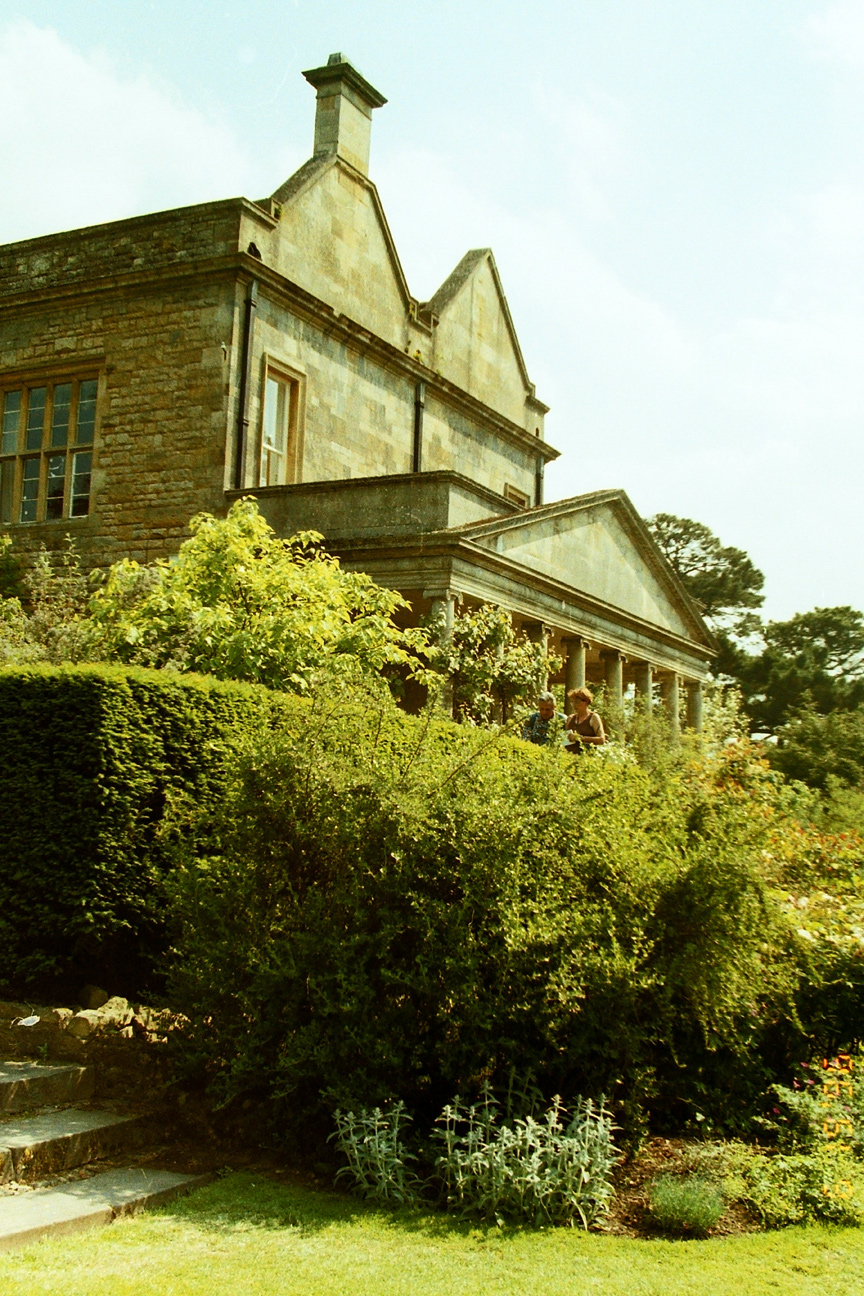 Kiftsgate Court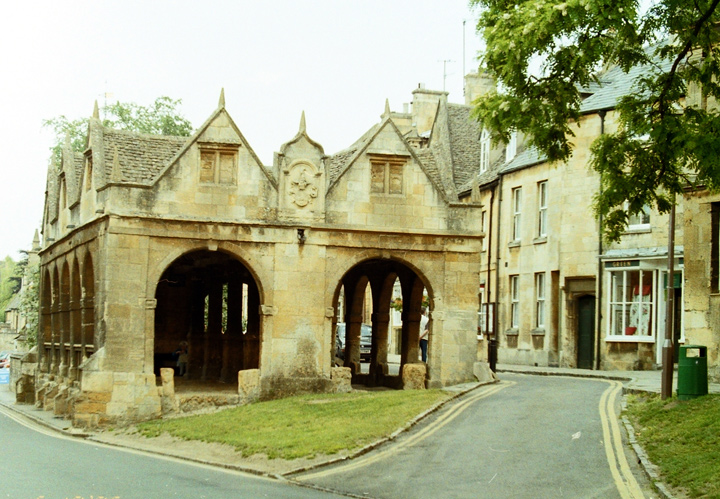 Market at Chipping Campden