Warsaw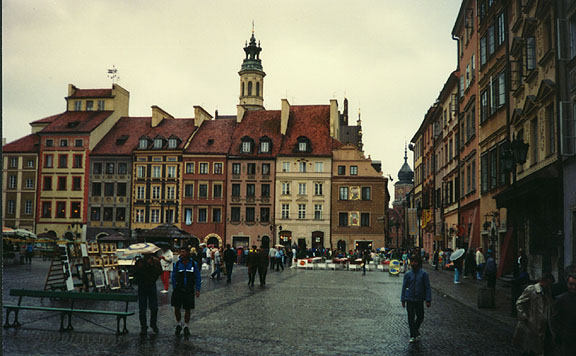 Old Town, Warsaw
Warsaw, (Polish Warszawa), capital and largest city of Poland, administrative center of the Mazovia region, located in central Poland on the Vistula River. More than 90 percent of the city was destroyed during World War II (1939-1945), but the historic Old Town section was painstakingly reconstructed.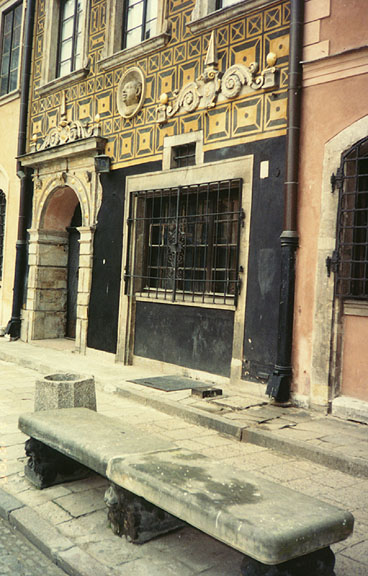 Old Town building
The monumental Palace of Culture and Science in downtown is Warsaw's leading landmark. With the fall of Communism in 1989 and an economic boom in the 1990s, new office blocks and hotels have transformed the city's skyline. The climate is temperate, with warm summers (July temperatures average a high of 24° C/75° F and a low of 14° C/57° F) and cold winters (January temperatures average a high of 0° C/32° F and a low of -6° C/22° F). Snow is common in the winter and tends to linger.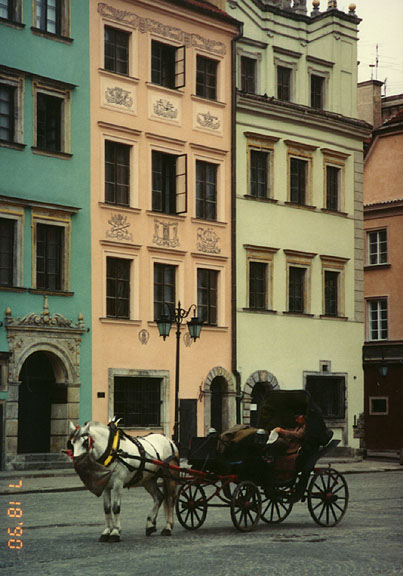 Warsaw covers an area of 495 sq km (191 sq mi). The city is subdivided into 11 local districts (gminy). The Wis³a bisects the city; major commercial and historic districts are concentrated on the west bank, and residential neighborhoods occupy the sprawling Praga districts on the east bank. Downtown Warsaw encompasses the Úródmieœcie district on the west bank. North of this is the famous Old Town, which lies at the end of Warsaw's best-known thoroughfare, known as the Royal Way (Trakt Królewski).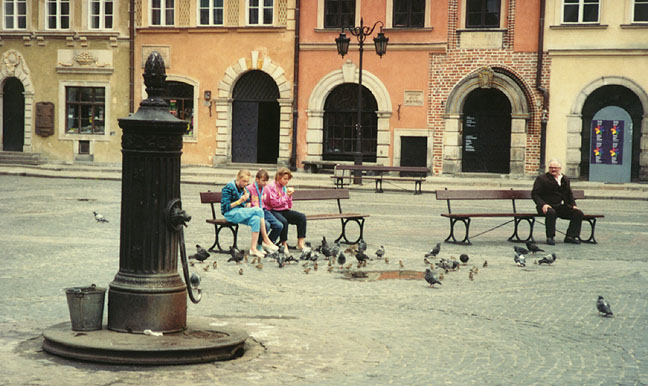 Old Town
Along this boulevard, called Krakowskie Przedmieœcie in Old Town, Nowy Úwiat in downtown, and Aleje Ujazdowskie to the south, are some of Warsaw's most famous landmarks: the Polish president's residence, the restored 19th-century Europejski and Bristol hotels, the rebuilt Royal Castle, the mid-17th-century Zygmunt column (a bronze statue of King Zygmunt III atop a tall column), and the Old Town Square. Numerous neoclassical and baroque palaces and churches line the Royal Way, which terminates at the Wilanów Palace on the southern edge of the city.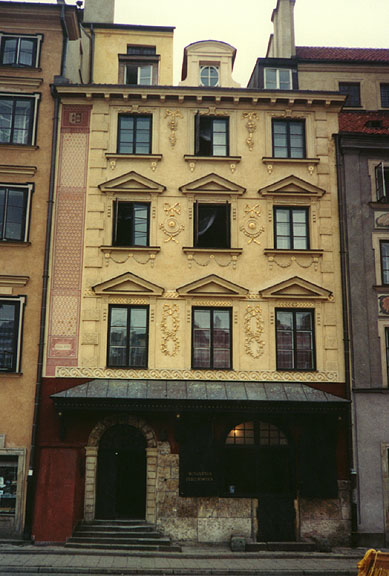 The Holy Cross Church and an early-19th-century statue of Polish astronomer Nicolaus Copernicus are both located on Krakowskie Przedmieœcie. Shops and cafes dominate Nowy Úwiat in downtown, while Aleje Ujazdowskie, the southernmost section of the Royal Way, is lined with foreign embassies.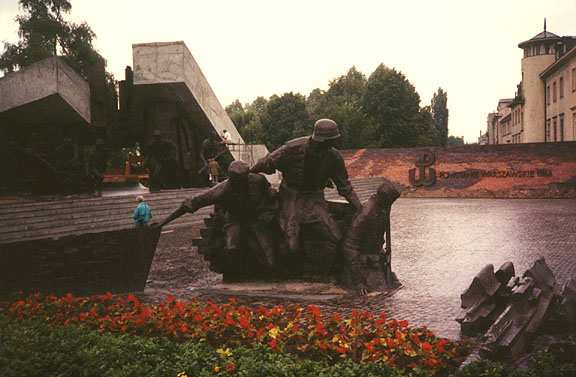 monument to victims of Nazi time
The Sejm building, where Poland's parliament meets, is located a block east of Ujazdowskie, just north of Ujazdowski Park. £azienki, on Ujazdowskie, is one of the city's best-known parks. It features a neoclassical palace constructed for King Stanis³aw II Augustus and a statue of Polish composer Frédéric Chopin built in 1926. In summer, open-air Chopin recitals have been a regular event at the park on Sundays.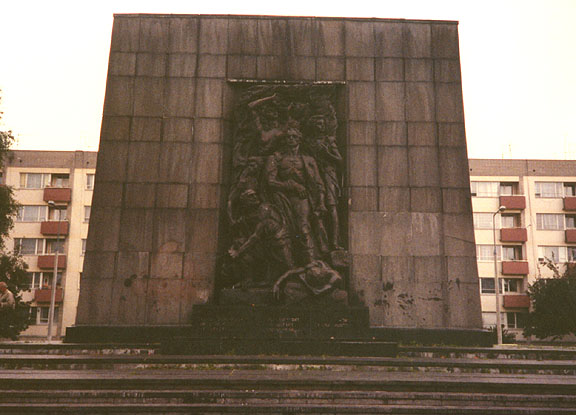 commemorating Jewish ghetto massacre by the Nazi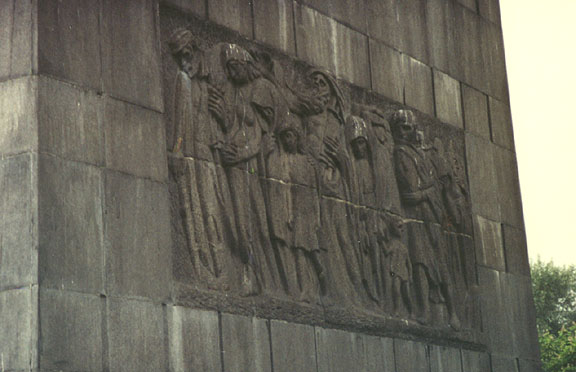 relief on opposite side
Central Warsaw is dominated by the Palace of Culture and Science, which occupies an entire city block two blocks west of Nowy Åšwiat . At 230 m (750 ft), it was the second-tallest building in Europe when it was completed in the 1950s. Nearby on Aleje Jerozolimskie is the Central Station, built in the early 1970s. Other postwar landmarks in downtown include the Marriott-LIM tower and the Hotel Forum. Marsza³kowska, running north-south across the city center, is second only to Nowy Åšwiat as a shopping street in Warsaw.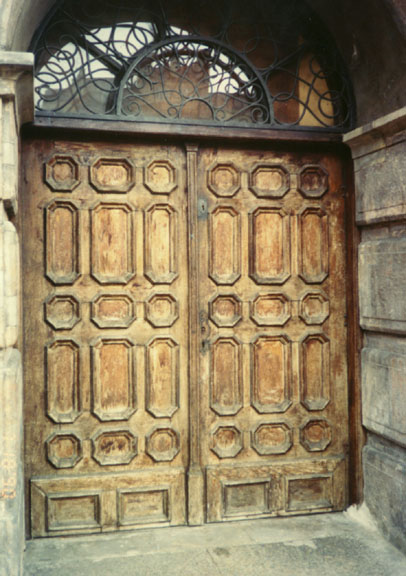 doorway in Old town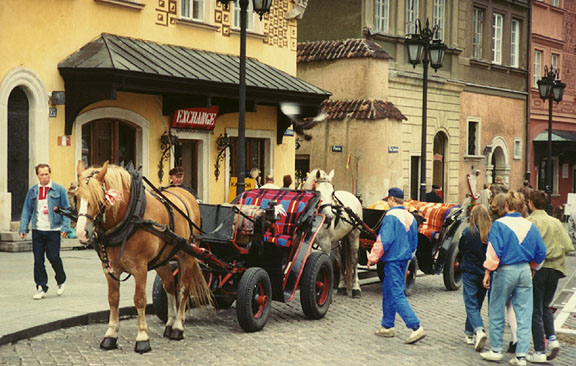 horse carriage
missing Communist statue?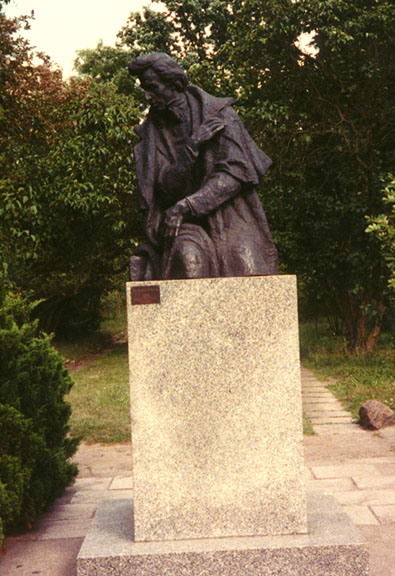 Chopin

Chopin, Frédéric François

(1810-1849), Polish composer and pianist of the romantic school, regarded by some as the greatest of all composers of music for the piano. Born Fryderyk Chopin in Zelazowa Wola, near Warsaw, of a French father and a Polish mother, he preferred to use the French name Frédéric.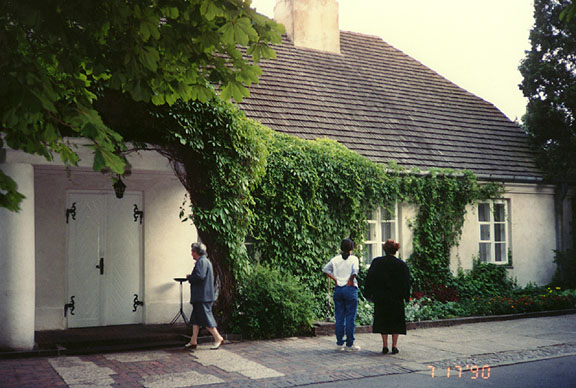 birthplace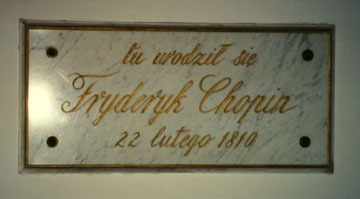 He began to study the piano at the age of four, and when he was eight years old he played at a private concert in Warsaw. Later he studied harmony and counterpoint at the Warsaw Conservatory. Chopin was also precocious as a composer: His first published composition is dated 1817. He gave his first concerts as a piano virtuoso in 1829 in Vienna, where he lived for the next two years. After 1831, except for brief absences, Chopin lived in Paris, where he became noted as a pianist, teacher, and composer. He formed an intimate relationship in 1837 with French writer George Sand. In 1838 Chopin began to suffer from tuberculosis and Sand nursed him in Mallorca, in the Balearic Islands, and in France until continued differences between the two resulted in an estrangement in 1847. Thereafter his musical activity was limited to giving several concerts in 1848 in France, Scotland, and England. He died in Paris of tuberculosis.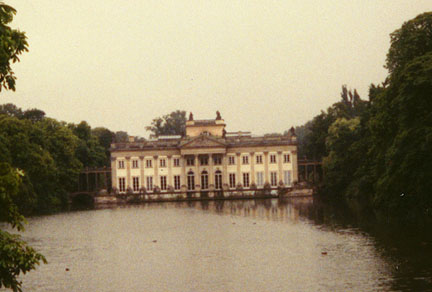 Myslewicki Palace in Warsaw

Nearly all of Chopin's compositions are for piano. Although an expatriate, he was deeply loyal to his war-torn homeland; his mazurkas reflect the rhythms and melodic traits of Polish folk music, and his polonaises are marked by a heroic spirit. Italian opera composer Vincenzo Bellini also influenced his melodies.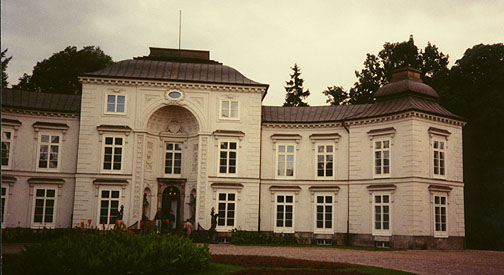 Palace entrance
His ballades, scherzos, and études exemplify his large-scale works for solo piano. His music, romantic and lyrical in nature, is characterized by exquisite melody of great originality, refined—often adventurous—harmony, subtle rhythm, and poetic beauty. Chopin greatly influenced other composers, notably the Hungarian pianist and composer Franz Liszt, German composer Richard Wagner, and French composer Claude Debussy. To this very day Chopin's works continue to inspire young composers and pianists by making them want to learn piano tricks and tips for his elegant pieces.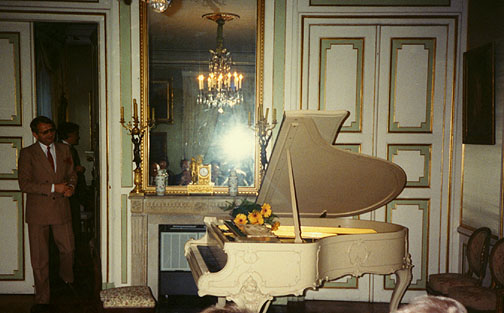 interior for a concert of Chopin's music
Chopin's many published compositions include 55 mazurkas, 27 études, 24 preludes, 19 nocturnes, 13 polonaises, and 3 piano sonatas. Among his other works are the Concertos in E minor and in F minor, both for piano and orchestra, the cello sonata, and 17 songs.
Text from Microsoft Encarta