Savannah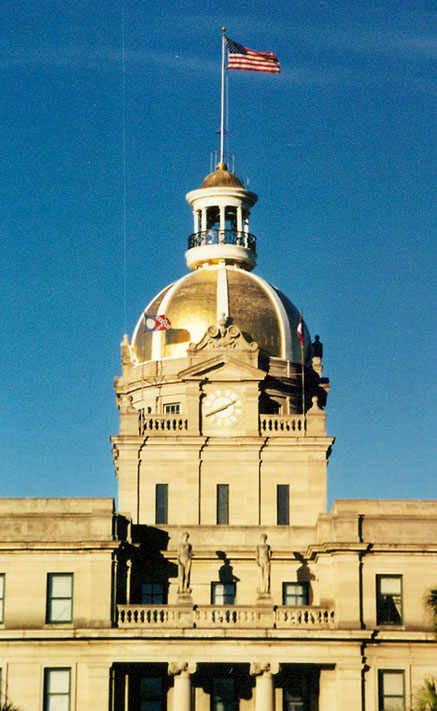 Custom House
Savannah (city, Georgia), city in southeastern Georgia and seat of Chatham County. The city is located on the Savannah River near its mouth on the Atlantic Ocean. It is one of the leading seaports of the southeastern United States and a focus of road and railway transportation. Manufactures include paper products, aircraft, transportation equipment, chemicals, and food products. Tourism is also important to the economy, as are nearby military facilities. The area is served by Savannah International Airport, and the city is situated on the Intracoastal Waterway.

Savannah is famous for its gardens and squares and its extensive downtown historical district. Located in the city are the birthplace of Juliette Gordon Low, founder of the Girl Scouts of the United States of America; the grave of Nathanael Greene, a general in the American Revolution (1775-1783); and the headquarters of the state historical society. The Telfair Academy of Arts and Sciences, whose holdings include a collection of early 19th-century furniture, is the oldest public art museum in the South. Savannah is the seat of Savannah State College (1890), Armstrong Atlantic State University (1935), Savannah College of Art and Design (1978), and South College (1899). Four historic forts are located in or near the city, including one situated on an island near the mouth of the Savannah River, preserved as Fort Pulaski National Monument. The Savannah National Wildlife Refuge is north of the city.

Savannah is the oldest settlement in Georgia, founded by James Oglethorpe in 1733. One of the first planned cities in the United States, Savannah was designed so that each family's plot fronted on one of a series of public squares, which were made into small, semitropical parks. The settlement became an important port after 1744, and served as the capital of Georgia until 1786. Savannah incorporated as a city in 1789.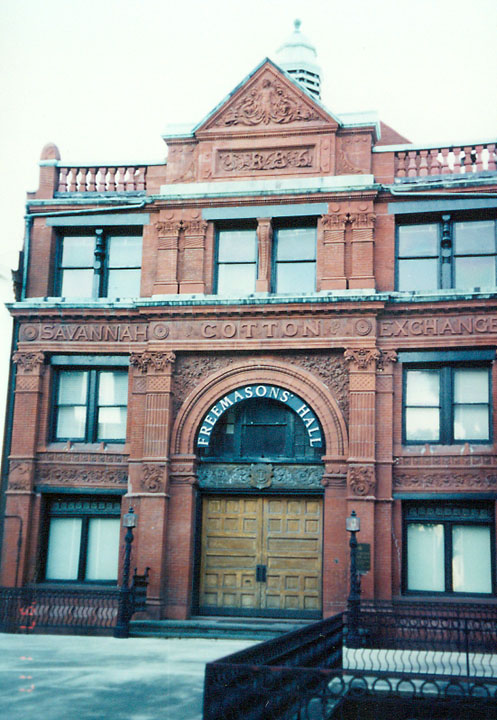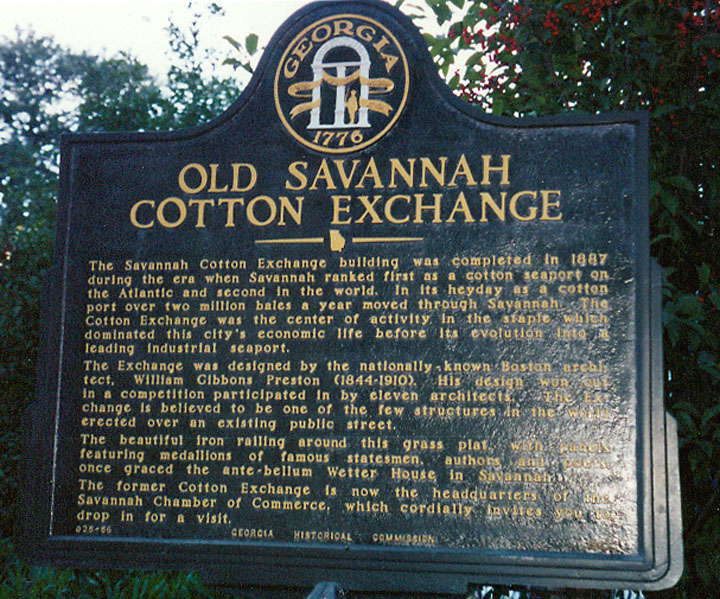 the Cotton Exchange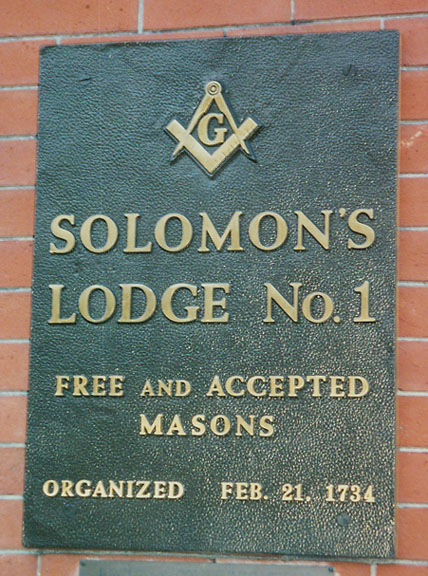 now a Masonic Lodge
During the American Revolution it was held by the British, from 1778 to 1782. Eli Whitney completed work on the cotton gin nearby in 1793, and the cultivation of cotton quickly began to replace local rice growing. In 1819 the first steamship to cross the Atlantic, the Savannah, sailed from the city. During the American Civil War, Union forces took Fort Pulaski in 1862, but the city remained in Confederate hands until taken by General William Tecumseh Sherman in December 1864. The city was a shipbuilding center during both world wars. Savannah is probably a corruption of the name of the Shawnee people who lived in the area.

Savannah covers a land area of 161.6 sq km (62.4 sq mi), with a mean elevation of 13 m (42 ft). According to the 1990 census, blacks are 51.3 percent of the population, whites 47 percent, Asians and Pacific Islanders 1.2 percent, and Native Americans 0.2 percent. The remainder are of mixed heritage or did not report ethnicity. Hispanics, who may be of any race, are 1.3 percent of the people. Population 141,390 (1980); 137,560 (1990); 131,674 (1998 estimate).

Text from Microsoft Encarta