Mission Inn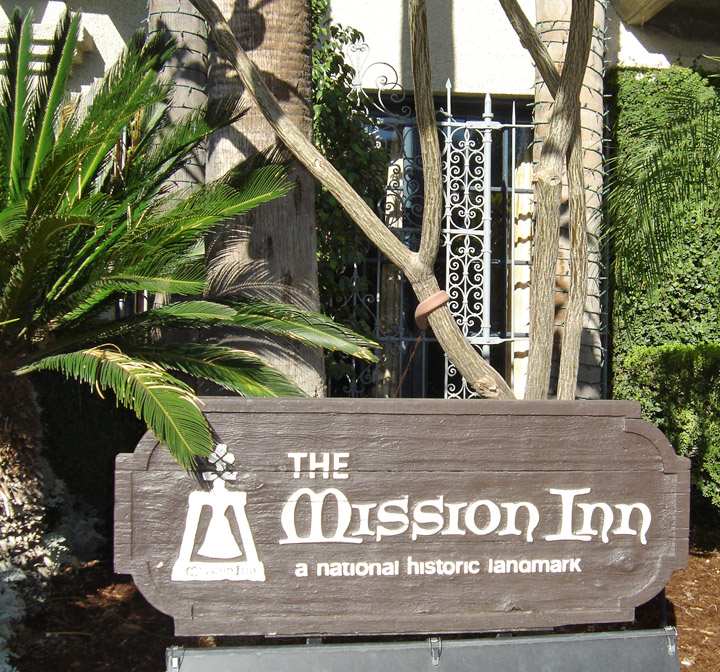 The Mission Inn
The Mission Inn is a whimsically designed historic landmark hotel in downtown Riverside, California.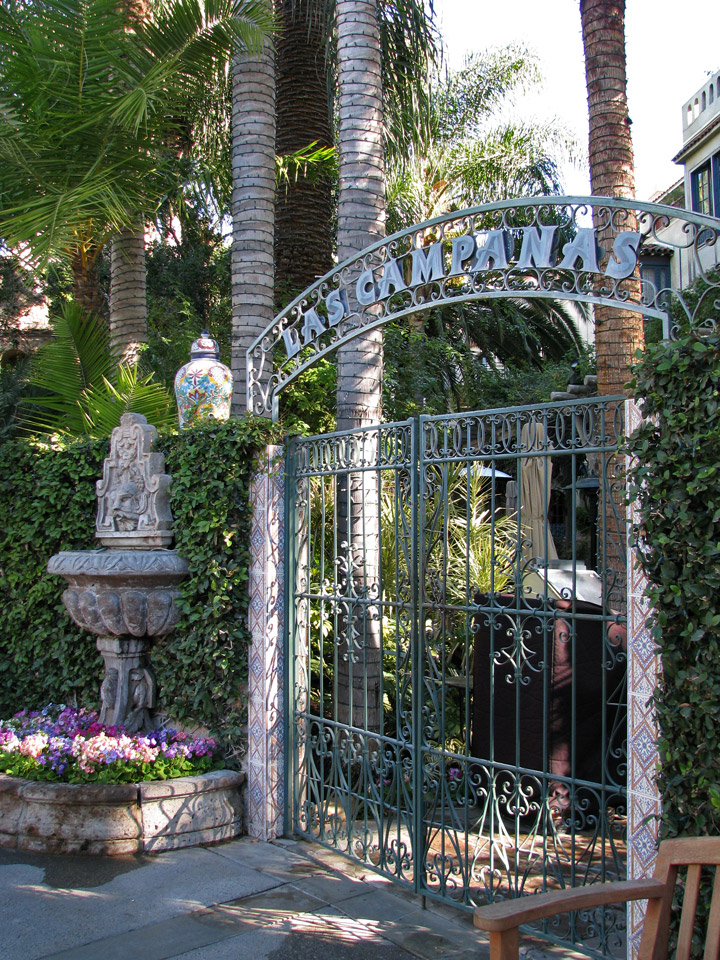 Mexican restaurant
The property began as a two-story, 12-room adobe boarding house called the "Glenwood Cottage" built by civil engineer Christopher Columbus Miller in 1876, which predated the founding of the City of Riverside, California. In 1902, Miller's son Frank changed the name to the "Mission Inn" and started building obsessively, in a wild variety of shapes, until he died in 1935.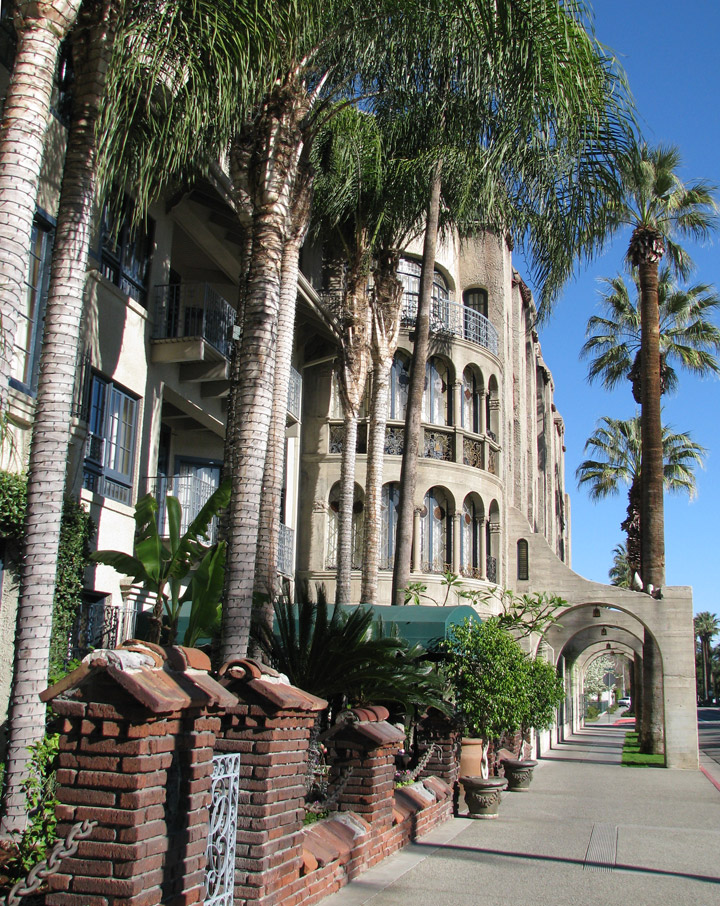 Miller's vision for the structure was drawn from random historical styles. With one section over another, addition upon addition, the result is an enormously complicated and intricately built structure, comparable to the Winchester House. It contains narrow passageways, exterior arcades, a medieval-style clock, a five-story rotunda, innumerable patios and windows, castle towers, minarets, a Cloister Wing (with Catacombs), flying buttresses, Mediterranean domes and a pedestrian sky bridge among many other features.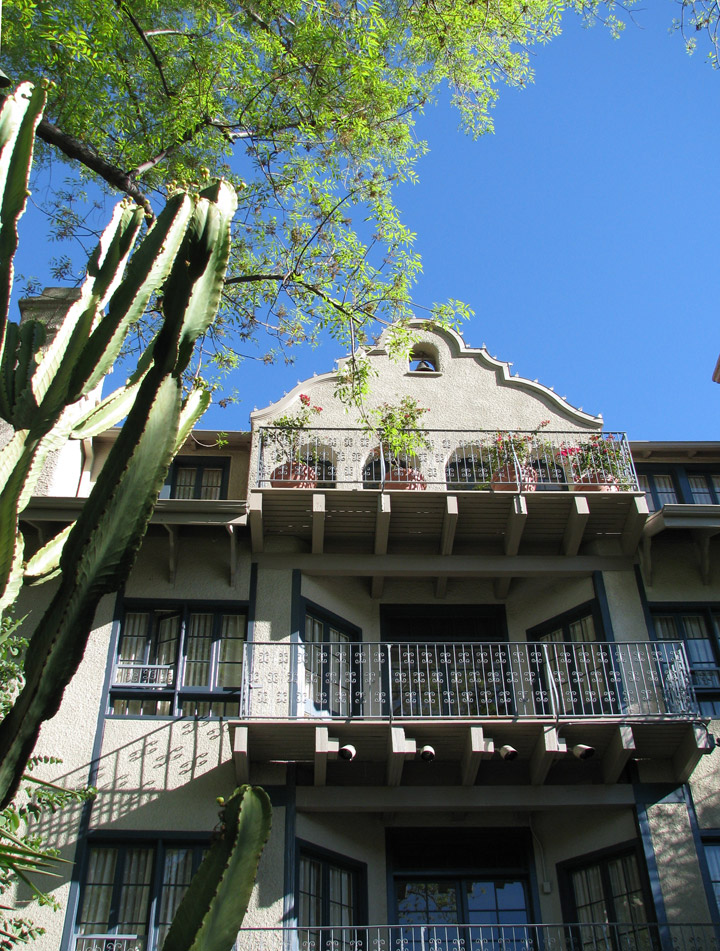 Part of the complexity is an unexpected change of scale as Miller tailored certain portions of the property for his midget sister. Another reason for the complexity is the clash of styles, such as Moroccan, Mediterranean, Chinese, Turkish, Babylonian, Spanish, Oriental, Italian Renaissance, and Gothic-Hawaiian.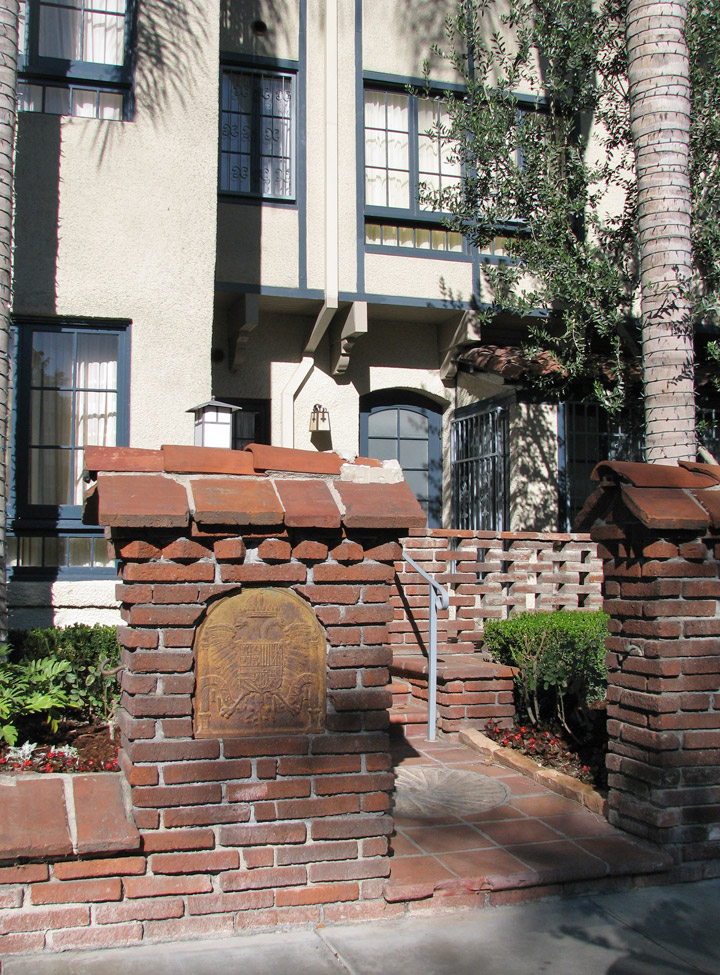 During the 30 year construction period Miller traveled the world, collecting treasures to bring back to the hotel for display. The various museum-quality artifacts on the property has an estimated value of well over $5 million.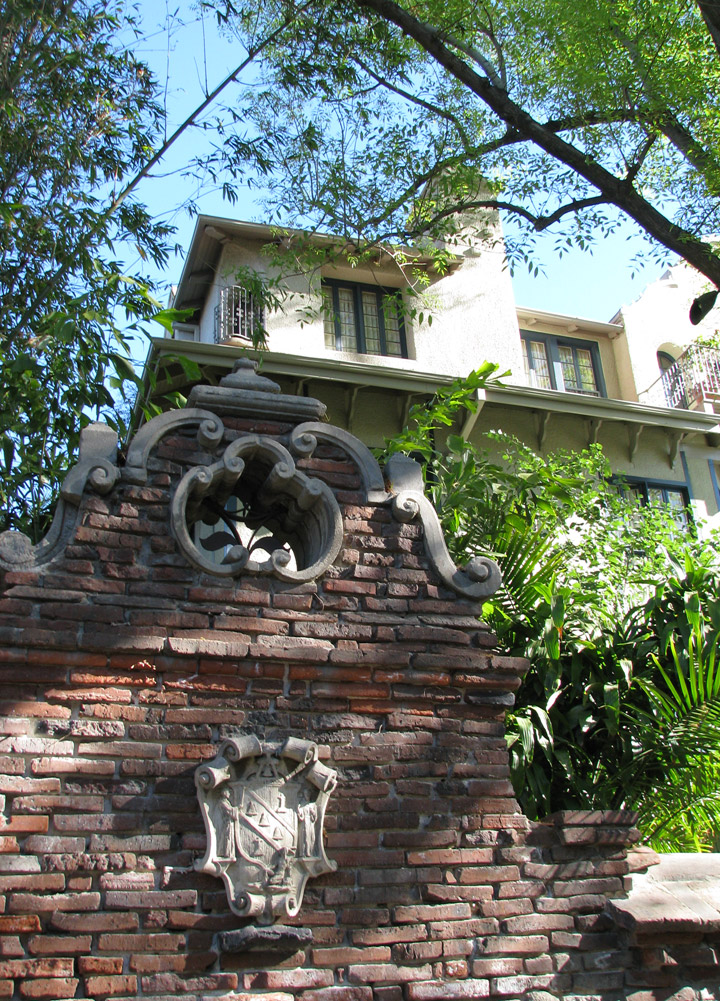 The St. Francis Chapel houses four large, stained-glass windows and two original mosaics by Louis Comfort Tiffany. The Mexican-Baroque styled "Rayas Altar" is 25 feet tall by 16 feet across, carved from cedar and completely covered in gold leaf. For his "Garden of Bells," Miller collected over 800 bells, including one dating from the year 1274 described as the "oldest bell in Christendom."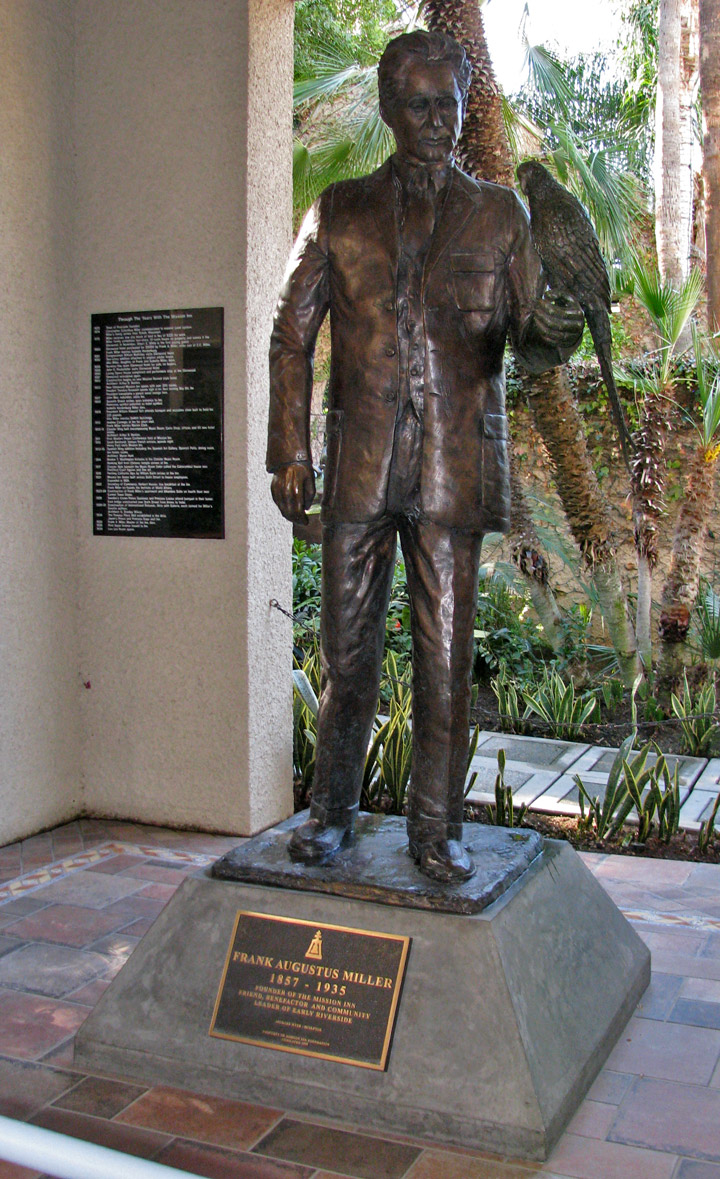 In 1932, Frank Miller opened the St. Francis Atrio containing the "Famous Fliers' Wall," which was used to recognize notable aviators. On March 20, 1942, WWI ace Eddie Rickenbacker was honored at the Inn, becoming the fifty-seventh flier added to the monument. Today, 151 fliers or groups of fliers are honored by having their signatures etched onto ten-inch wide copper wings attached to the wall.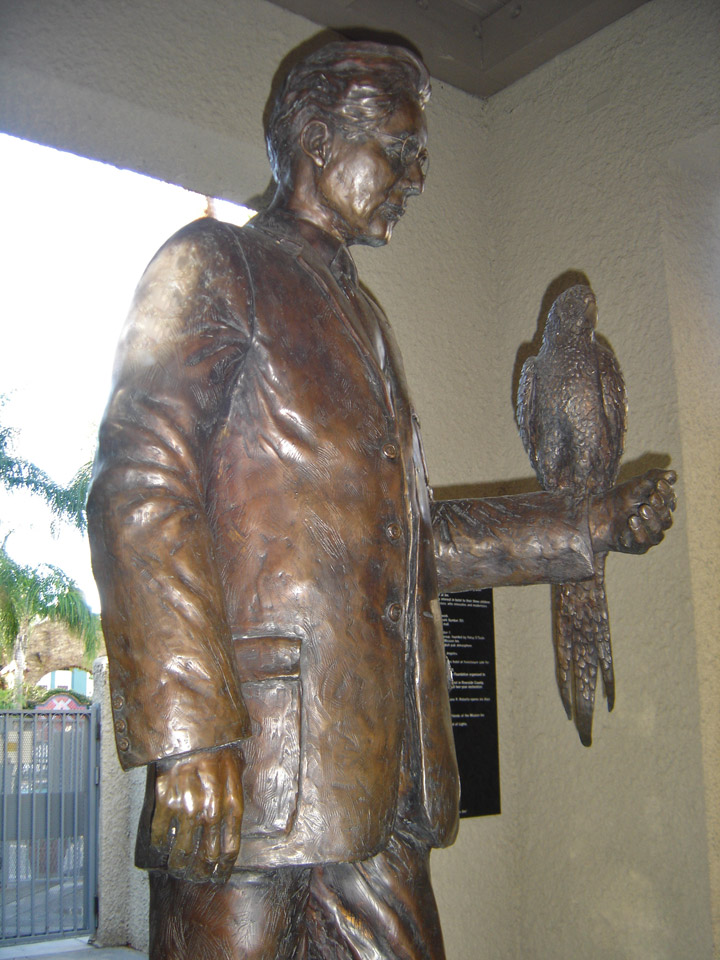 Frank Augustus Miller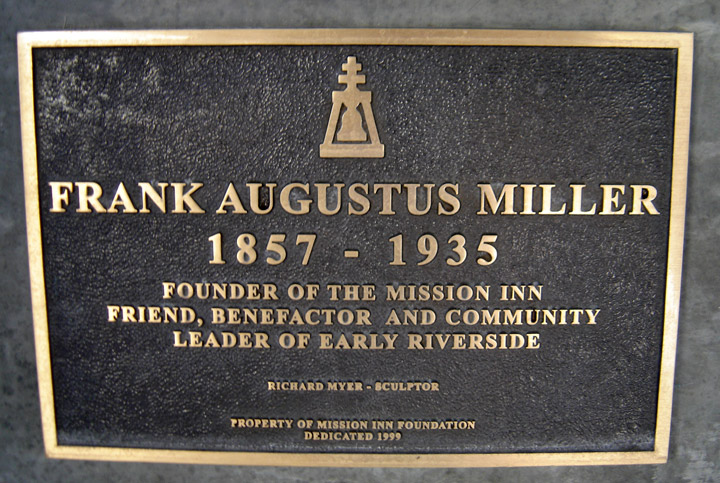 Frank Miller died in 1935 and the Inn continued under the management of his daughter and son-in-law, Allis and DeWitt Hutchings, who died in 1952 and 1953 respectively. The Inn then went through a series of ownership changes and some of its older rooms were converted to apartments.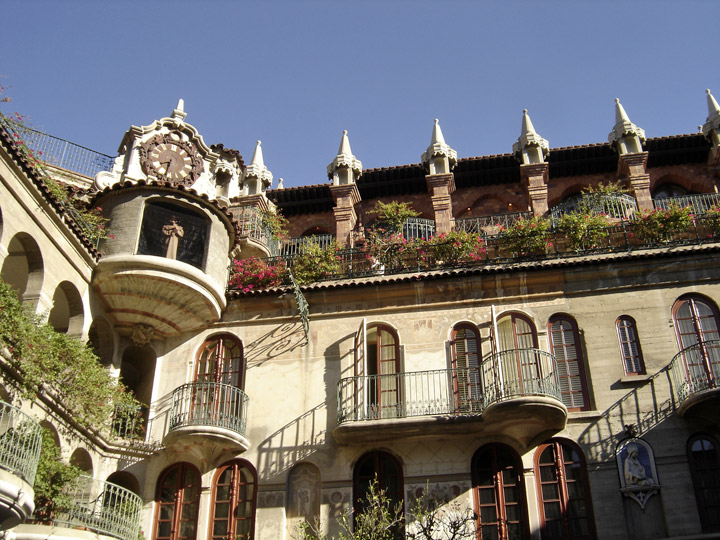 The hotel was later acquired by the Carley Capital Group and was closed for renovations in 1985 at a cost of $55 million. Newly discovered structural problems cost more than expected and caused the company to fall behind on loan payments to a New York bank. In December 1992, the Inn was sold to Duane R. Roberts, a Riverside businessman and lover of the Inn. It was reopened to the public shortly thereafter.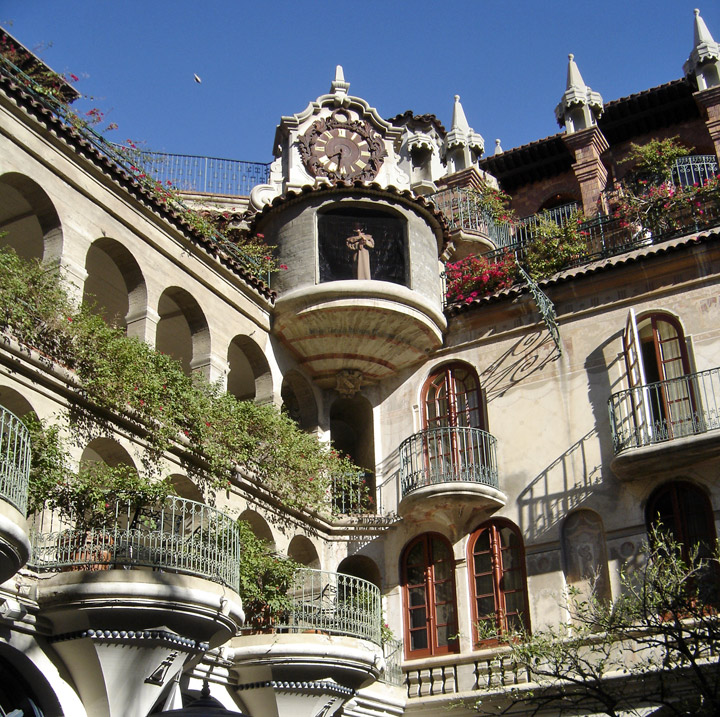 The Inn offers many unique culinary experiences; Bella Trattoria is a small Italian Bistro located on the adjacent Main Street pedestrian walking mall. It serves Southern Italian Cuisine including brick oven baked pizzas, pasta and pressed Panini sandwiches. Duane's Prime Steaks and Seafood Restaurant is the Inland Empire's only AAA Four Diamond awarded restaurant. Serving award-winning dishes and fine-wine. Las Campanas Mexican Cuisine & Cantina incorporates outdoor dining in a landscaped garden with fountains and fire pits. The Mission Inn Restaurant features International Fare while dining inside the restaurant or on the Spanish Patio, which offers lovely views of the hotel above. The Presidential Lounge is the hotel's premier cocktail lounge offering Live Jazz and portraits of each of the visiting Presidents.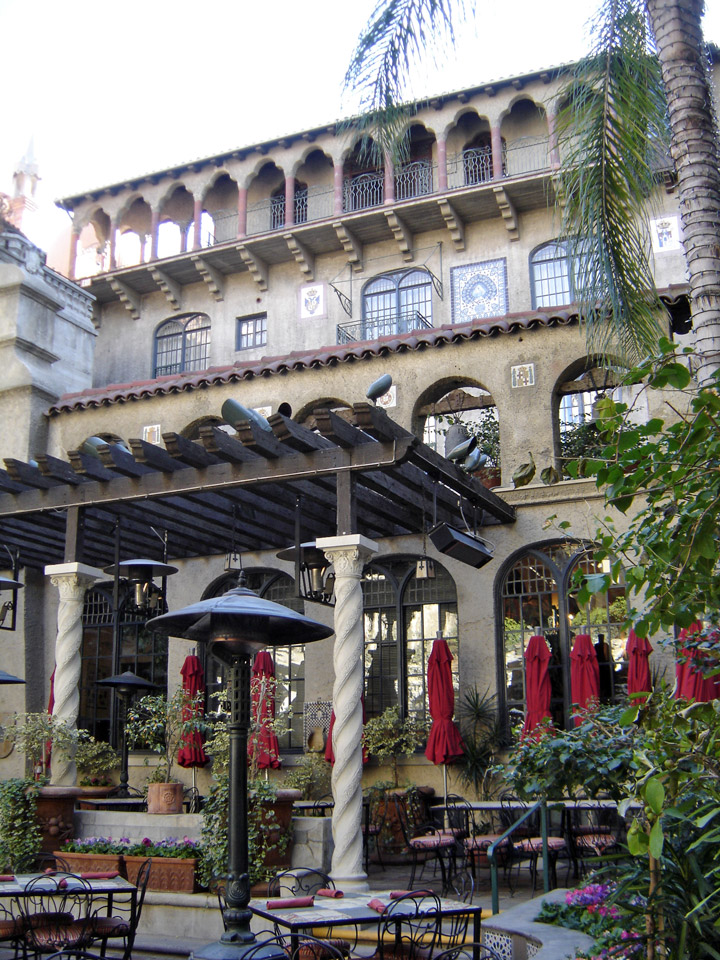 For 125 years it has been the proverbial center of Riverside, host to a number of seasonal and holiday functions, as well as occasional political functions and other major social gatherings. Pat and Richard Nixon were married at one of the two wedding chapels; Nancy and Ronald Reagan honeymooned there. Ten US Presidents have visited the Inn: Benjamin Harrison, William McKinley, Theodore Roosevelt, William Howard Taft, Herbert Hoover, John Fitzgerald Kennedy, Richard Nixon, Gerald Ford, Ronald Reagan and George W. Bush.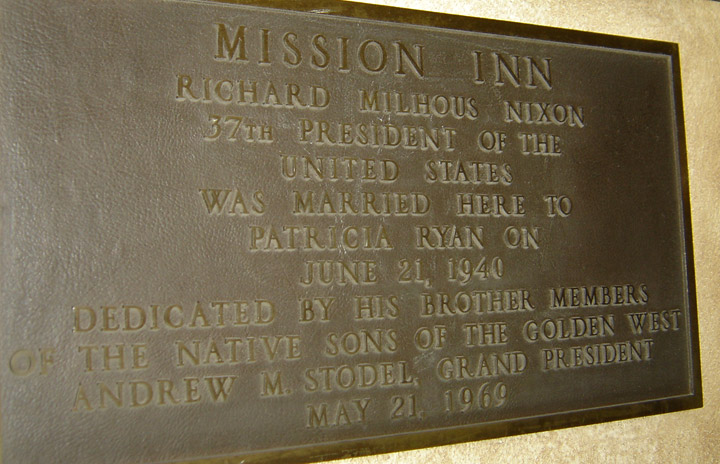 Richard Nikon was married at the Mission Inn
The list of social leaders making stops to the Mission Inn includes Susan B. Anthony, Henry Ford, Andrew Carnegie, John D. Rockefeller, Collis and Henry Huntington, Albert Einstein, Joseph Pulitzer, William Randolph Hearst, Hubert H. Bancroft, Harry Chandler, Booker T. Washington, Helen Keller and John Muir.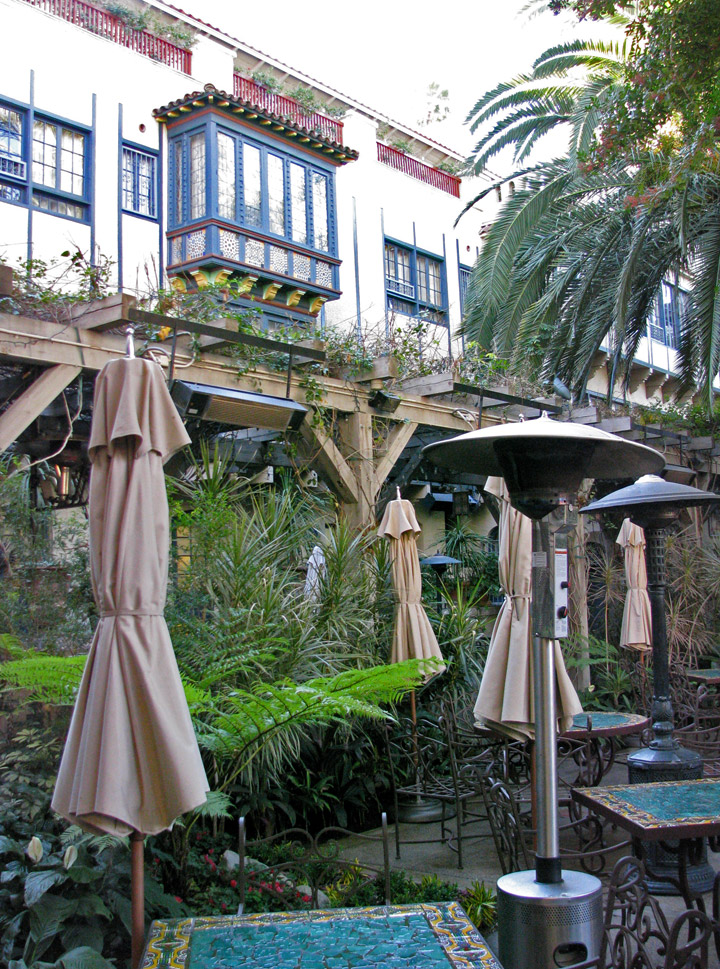 The list of entertainers who have toured the Inn is extensive; Lillian Russell, Sarah Bernhardt and Harry Houdini were early visitors to Frank Miller's hotel. Other guests have included actors such as Ethel Barrymore, Charles Boyer, Eddie Cantor, Mary Pickford, Ginger Rogers, Bette Davis (who was married at the Inn in 1945), W. C. Fields, Clark Gable, Cary Grant, Spencer Tracy, Fess Parker, James Brolin and Barbra Streisand, Raquel Welch and Drew Barrymore. Comedians and musical entertainers such as Jack Benny, Bob Hope, Glen Campbell, Merle Haggard and Tears for Fears have stopped by.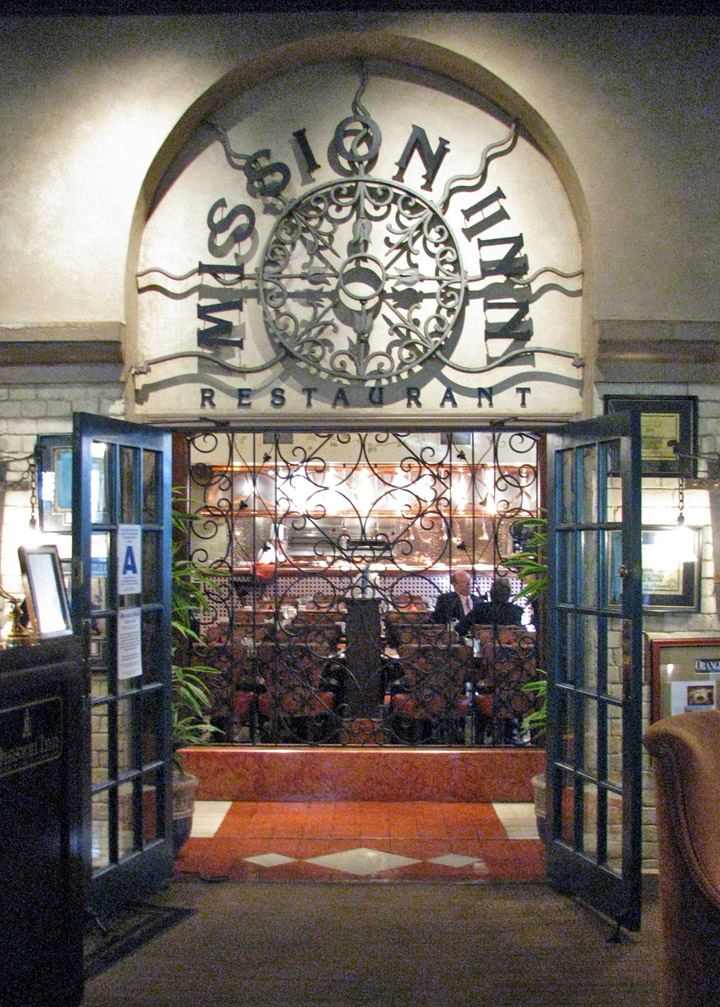 The Inn continues to be a getaway for notable individuals to this day; Arnold Schwarzenegger has stayed there during his tenure as Governor of California and the Osbournes have also paid a visit in the past few years.
Mission Inn Restaurant
Of its seasonal functions, the Festival of Lights is well known for its nearly three million Christmas lights, and over 400 animated figures. Although the Festival lasts all throughout the holiday season, the day after Thanksgiving is the lighting ceremony. On this day city officials and the owner of the hotel, Duane Roberts, give speeches before fireworks light up the sky and nearly 25,000 people attend annually to view the unique hotel and its holiday decorations. During the festival of lights, exquisite decorations such as musical angels, carolers on the balconies, and a Santa Claus climbing the chimney are featured. In 2007, local band director and trumpet player Mr. Watts played with his quartet at the ceremony.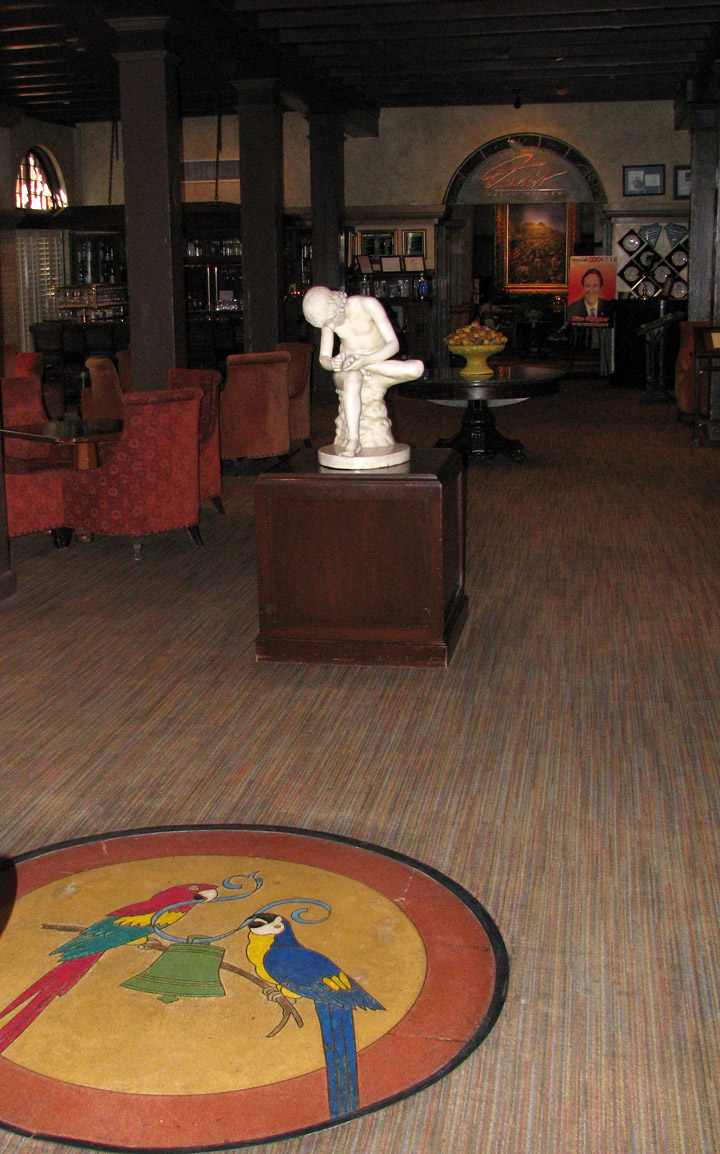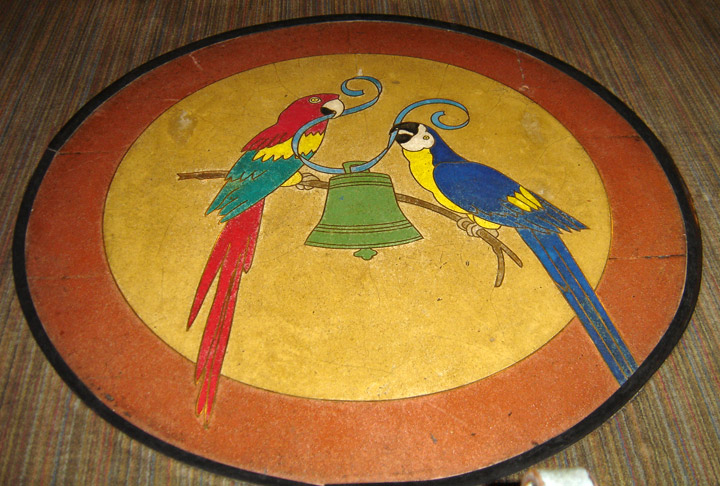 With its widely varying styles, the Mission Inn was designed by multiple architects. Frank Miller selected Arthur B. Benton to design the original building. Miller chose Myron Hunt to design the Spanish Wing added to the rear of the main building. He later hired G. Stanley Wilson to design the St. Francis Chapel. Wilson also added a rotunda featuring circular staircases and a dome.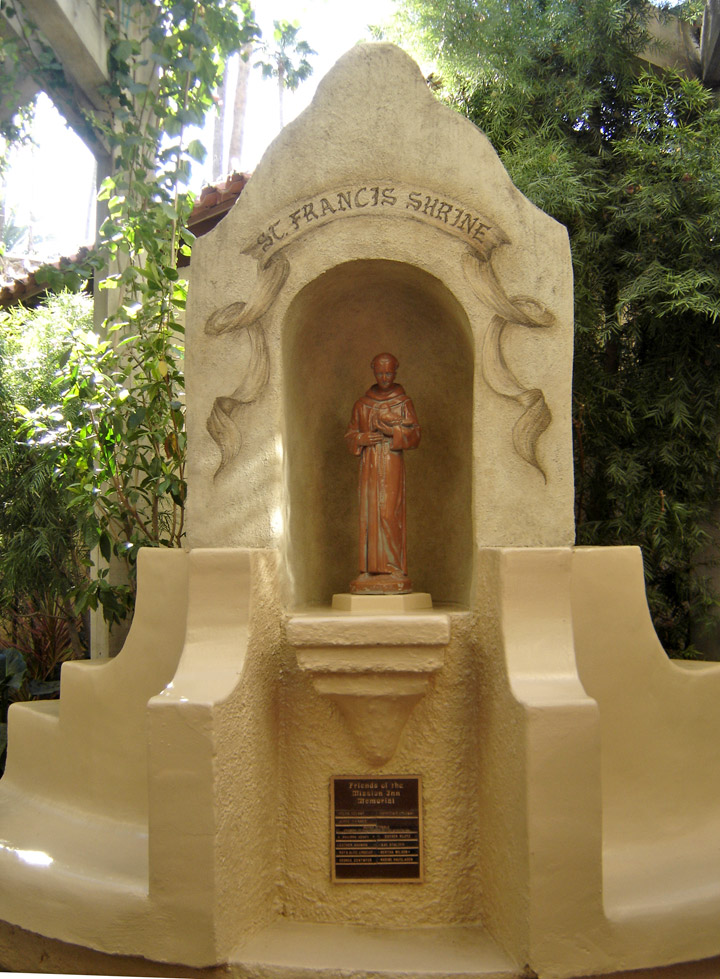 The hotel, which now occupies an entire city block, is complete with 4 restaurants, a day spa and 239 guest rooms (nine rooms designated as presidential suites) is a National Historic Landmark and a California Historical Landmark.
Text from Wikipedia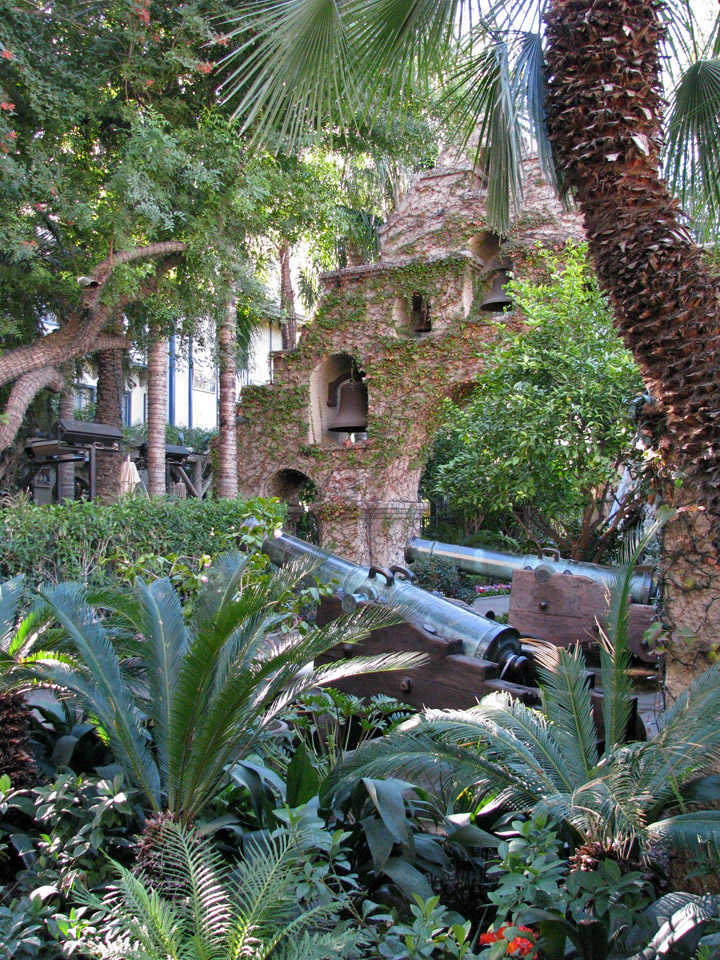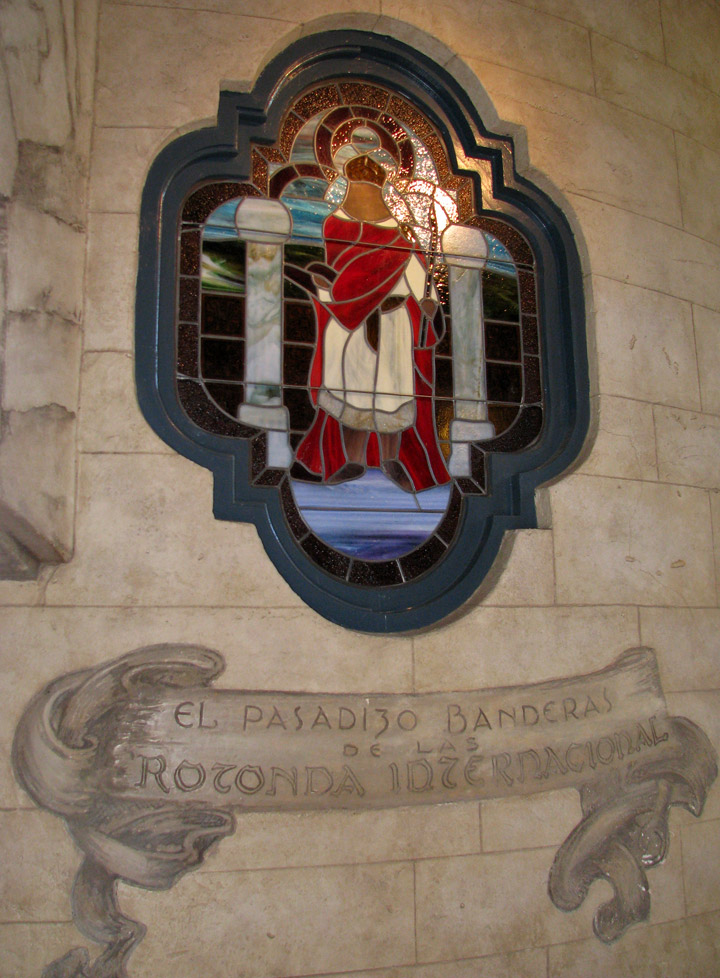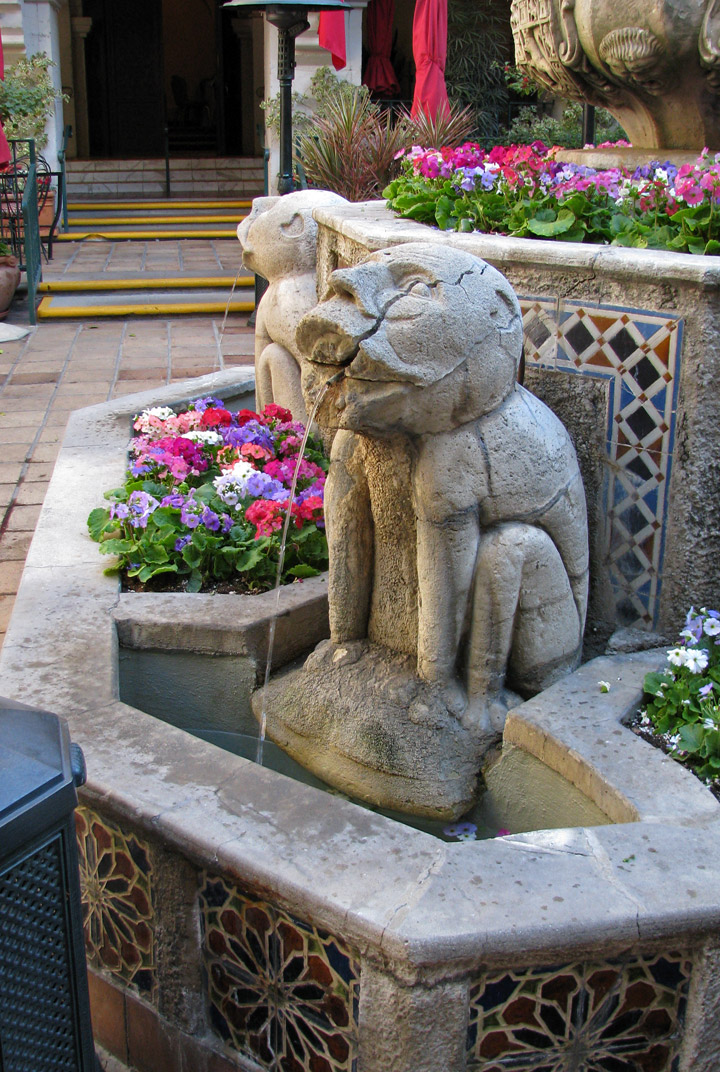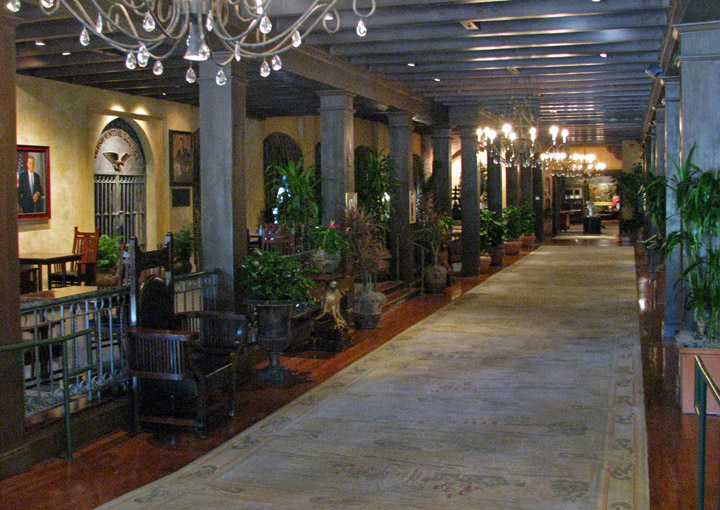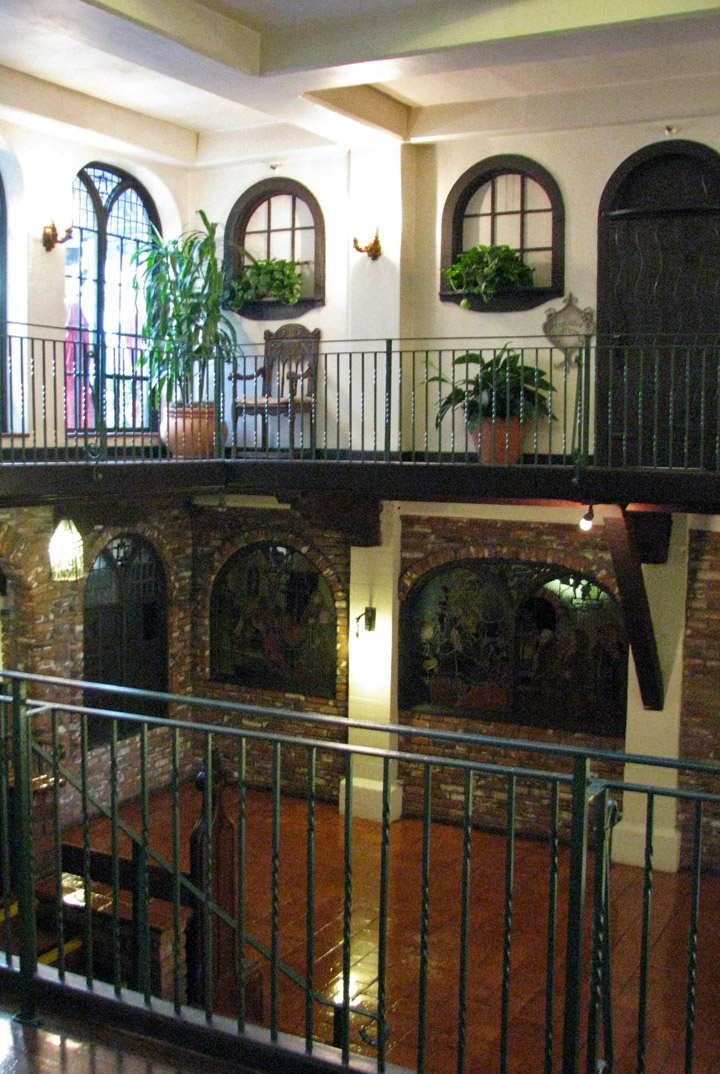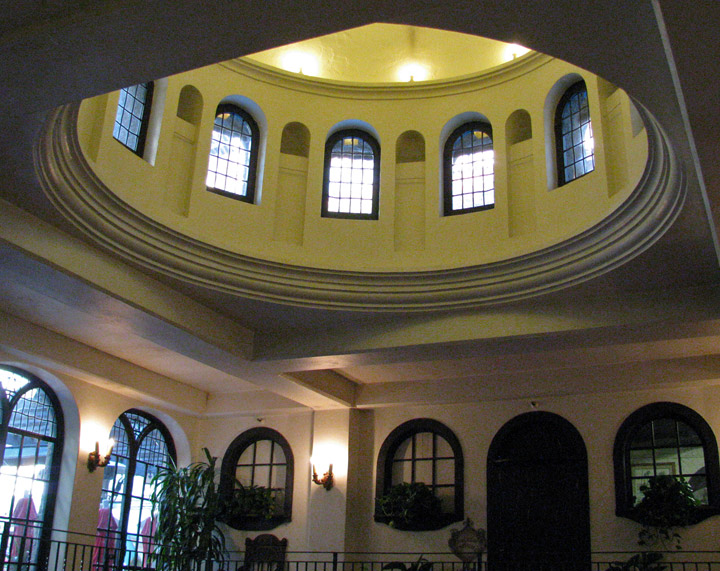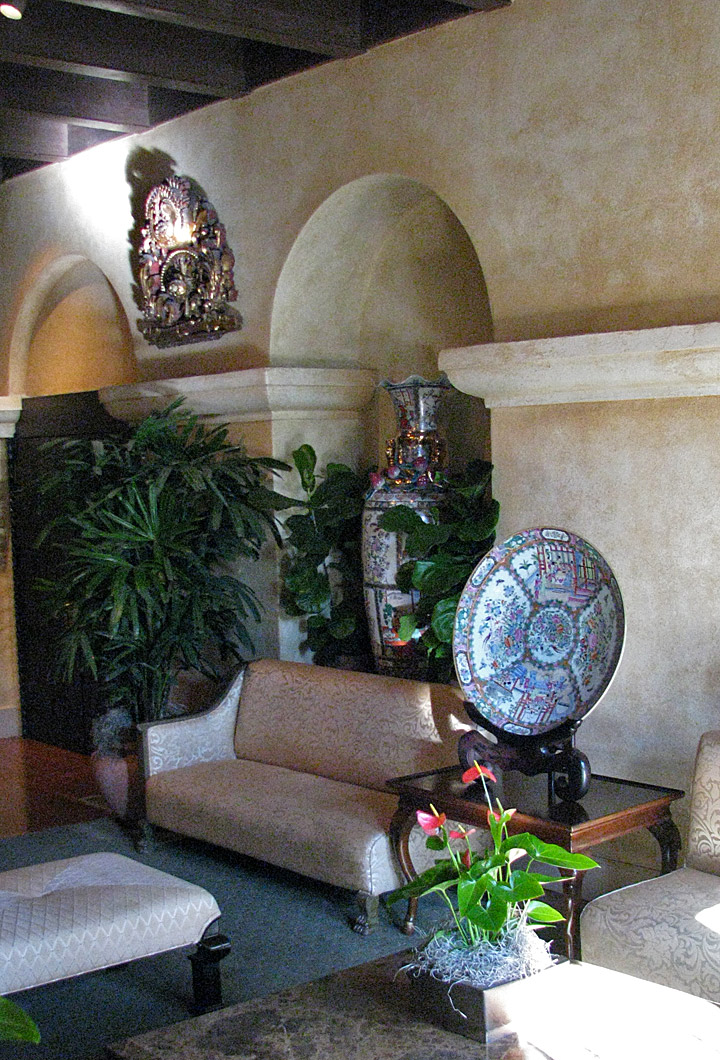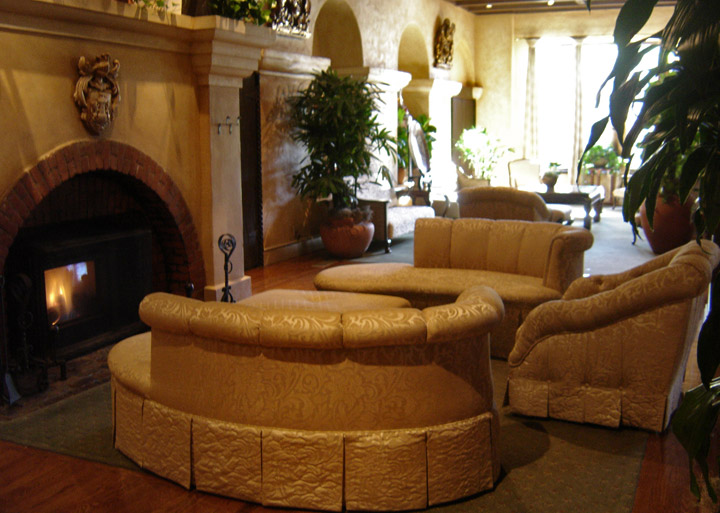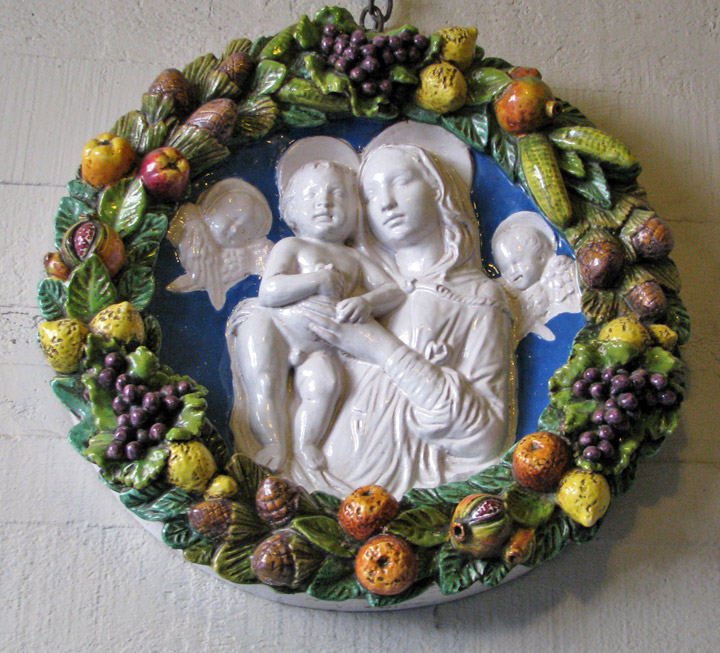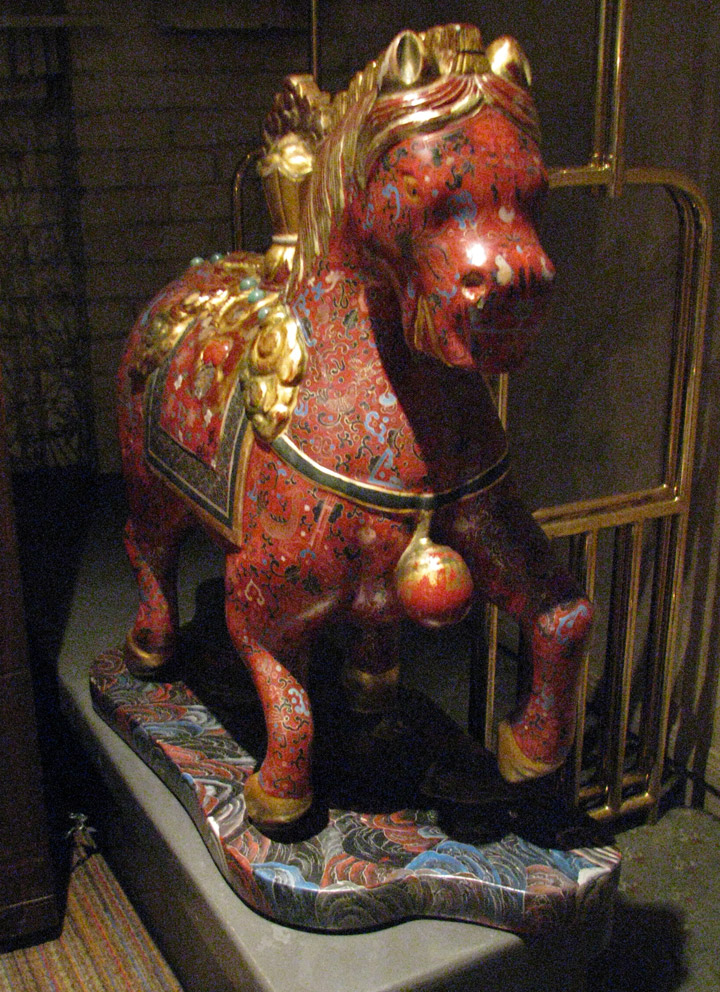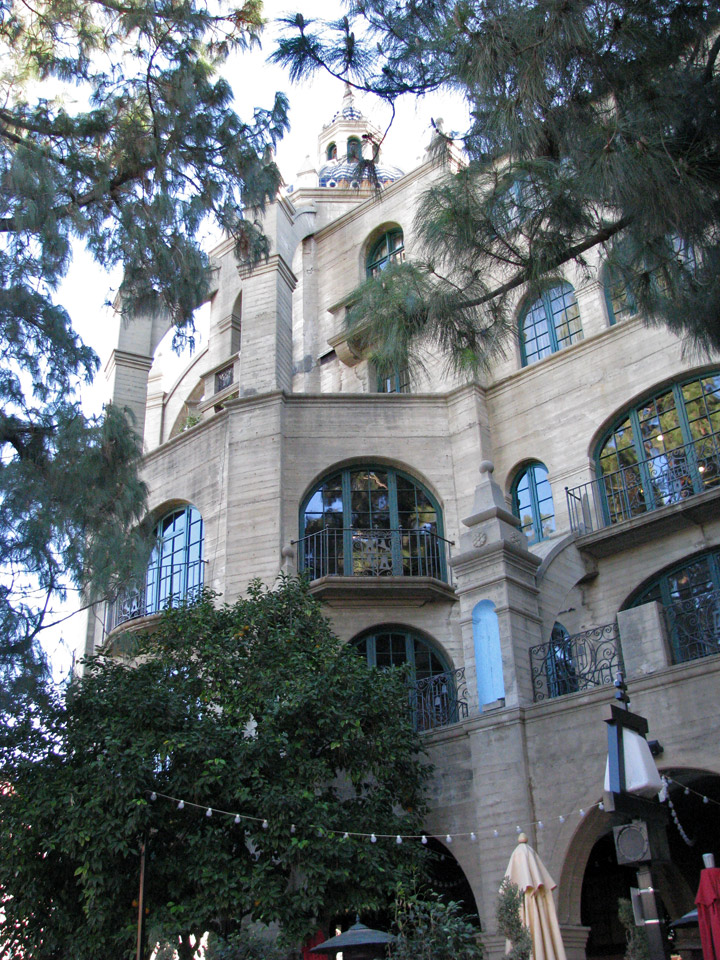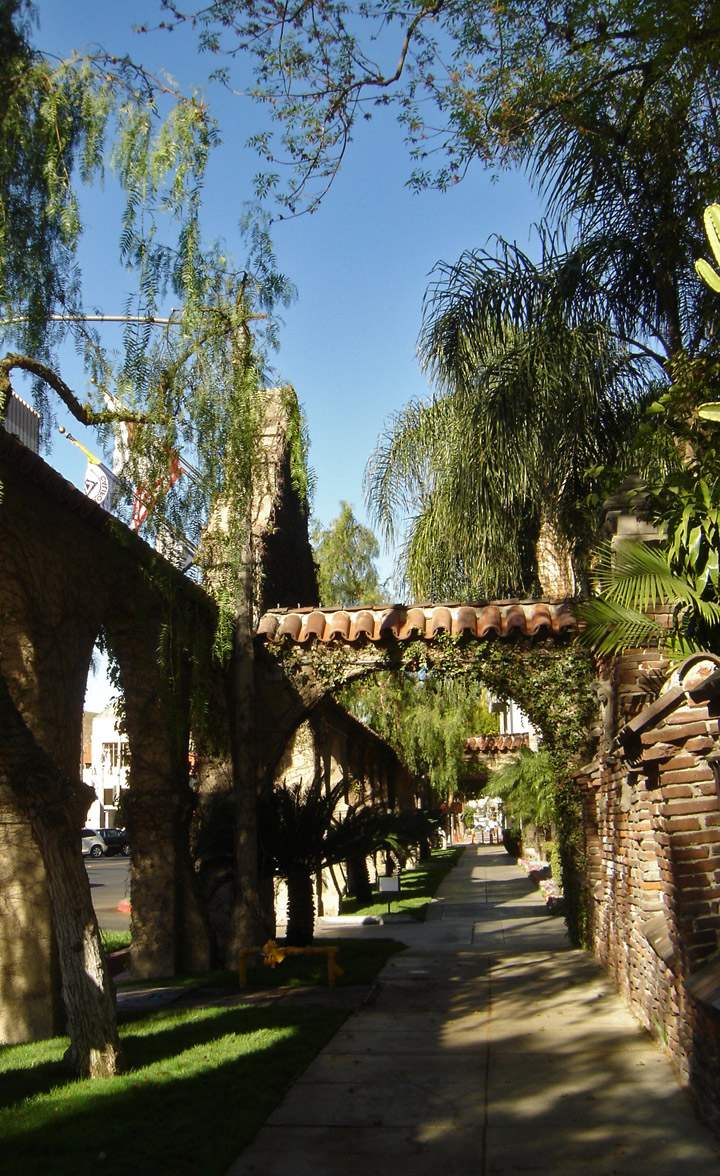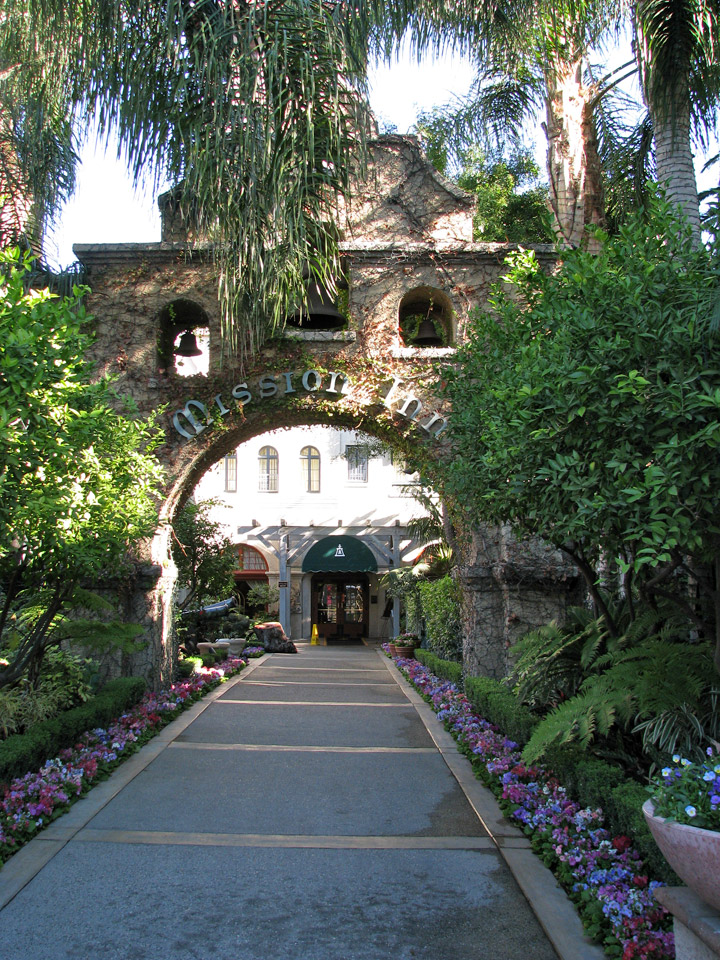 entrance
the history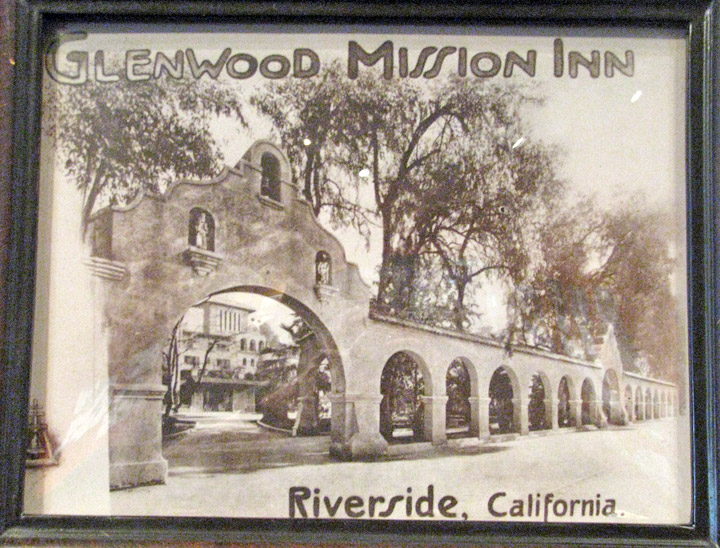 old photo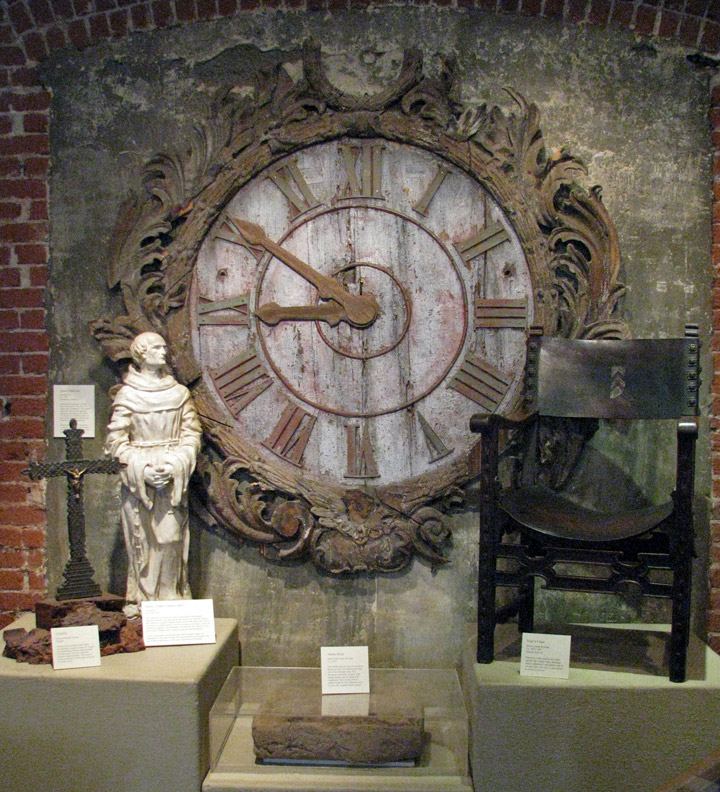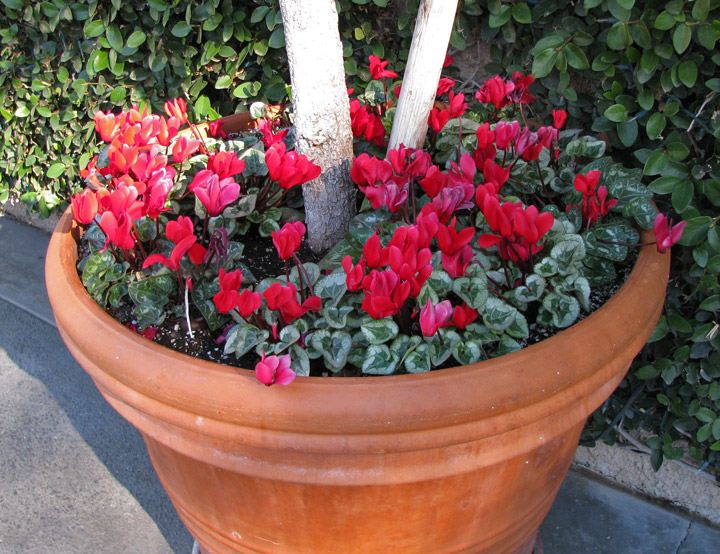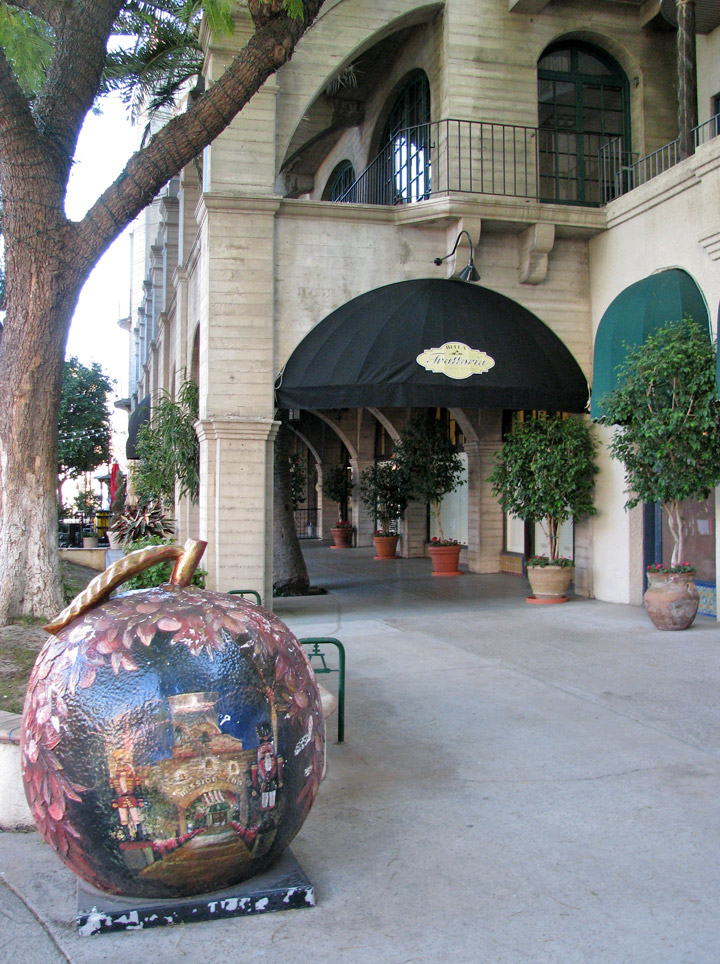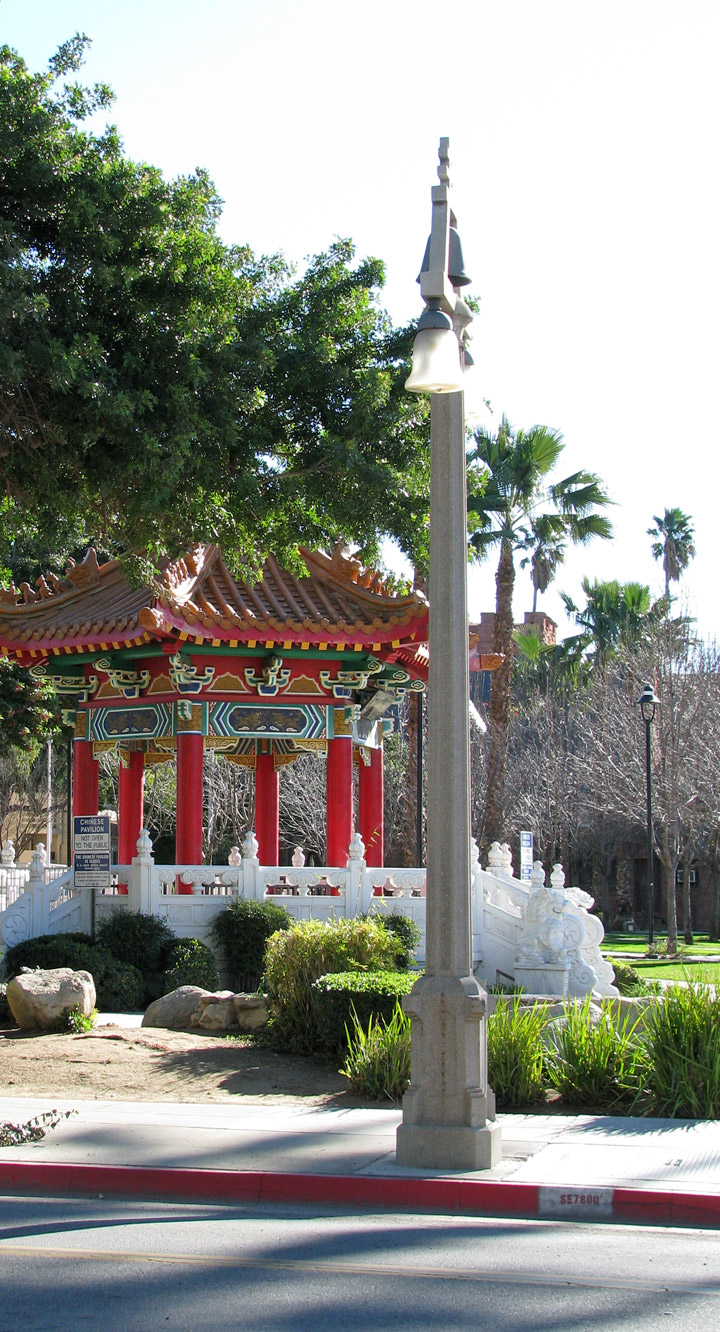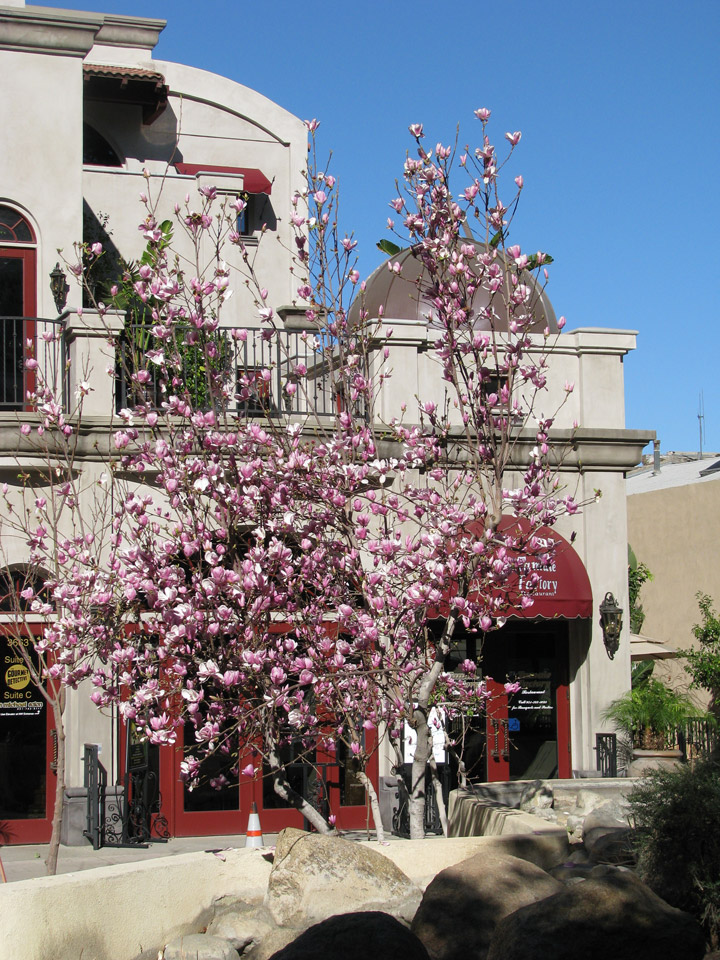 ---
---