2004 Rose Bowl parade
Floats with Animals or Plants

Underwater Melody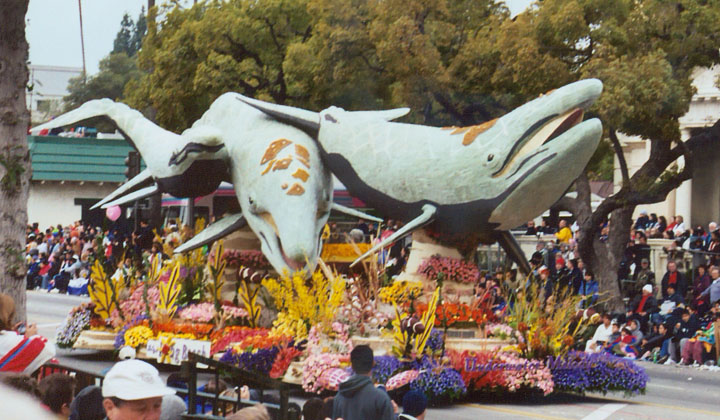 Whales are the largest music makers on earth — their unique songs are well known and have been the focus of several popular recordings. The city of Long Beach offers an underwater family scene where two giant adult California gray whales are joined by their baby as they play in the Pacific, gliding majestically above a treasure chest of attractions. The nearly life-size whales are decorated with silverleaf, statice and a variety of seeds, and water sprays from the adult whale's blow hole. The treasure chest is colored using orange lentil and yellow strawflower and the formula one racer features orange lentil, yellow straw flower and black seaweed.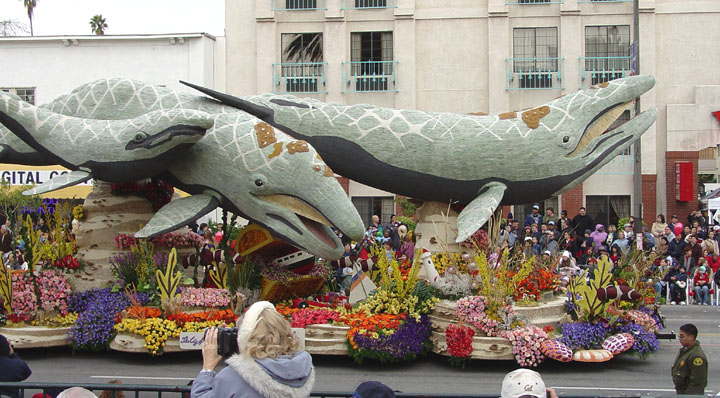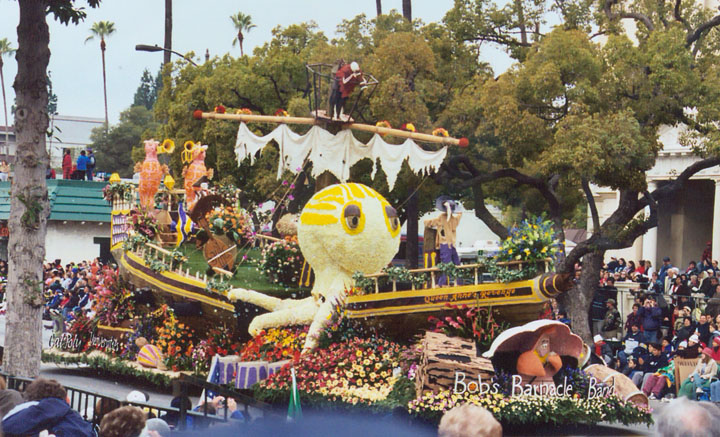 Music brings together an eccentric group of sea creatures to play a classic tune on a sunken ship. The octopus, covered in a variety of red, bronze, golden yellow and white mums, has eight arms moving to play the piano and drums surrounding him. The clamshell opens to reveal the starfish singer. The vibrant orange of the starfish, clown fish and smaller sea creatures are created using the husk of bird of paradise seeds for a wonderful natural texture and color.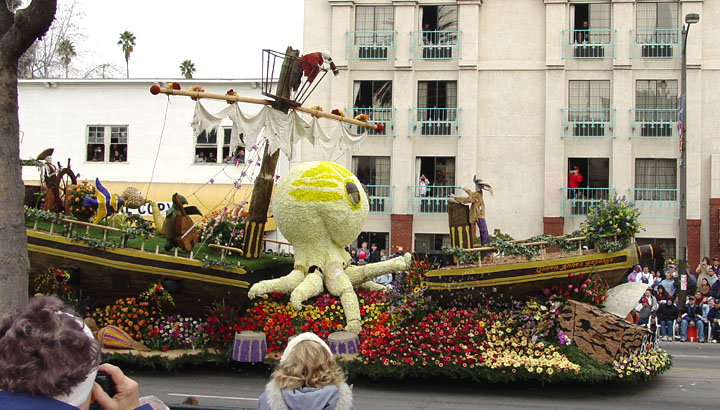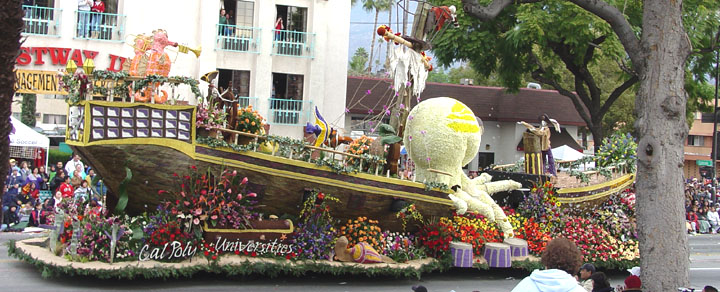 Cactus Practice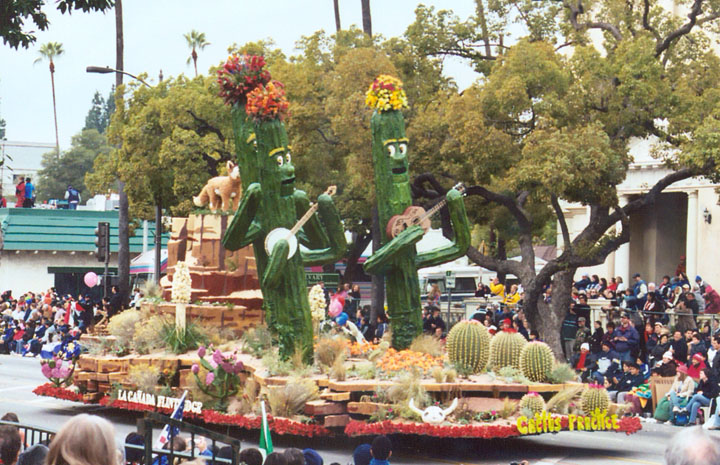 This 26th entry by the La Canada Flintridge Tournament of Roses Association portrays a well-kept secret — cacti are lovers of the arts! It looks as though when no one is around, they even sing and play music. Here, a trio of giant Saguaros, which are actually ti leaf accented with chartreuse moss and yellow lentil seed, prepare for their upcoming spring concert. The barrel cacti are created from dried parsley, lentil accents, pine bract spines, whole rose blooms and plums as fruit, while the beavertail and prickly pear cacti are covered with purple and green rose petals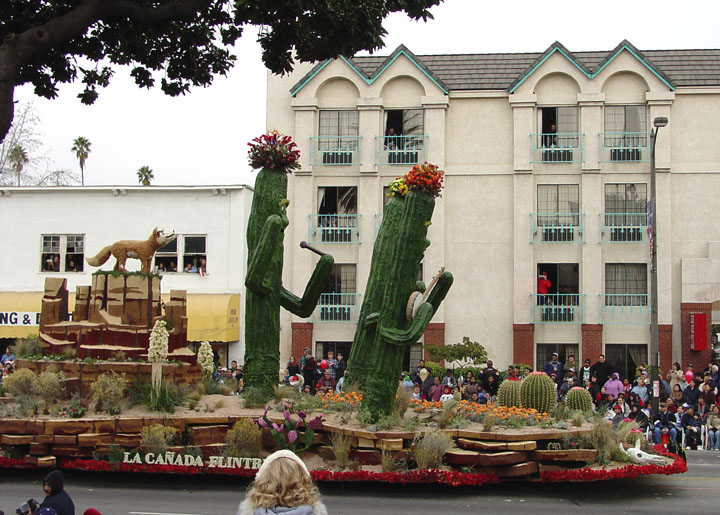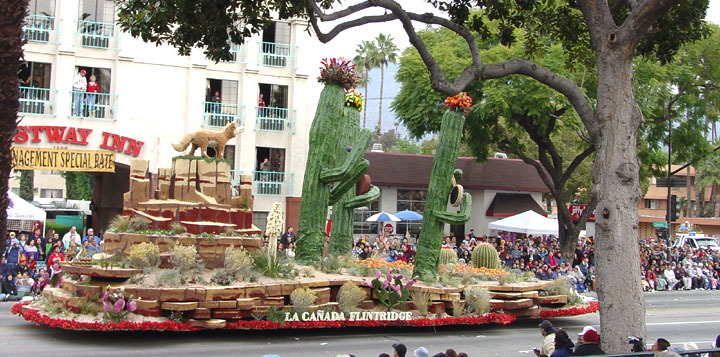 Children Learn and Grow with Music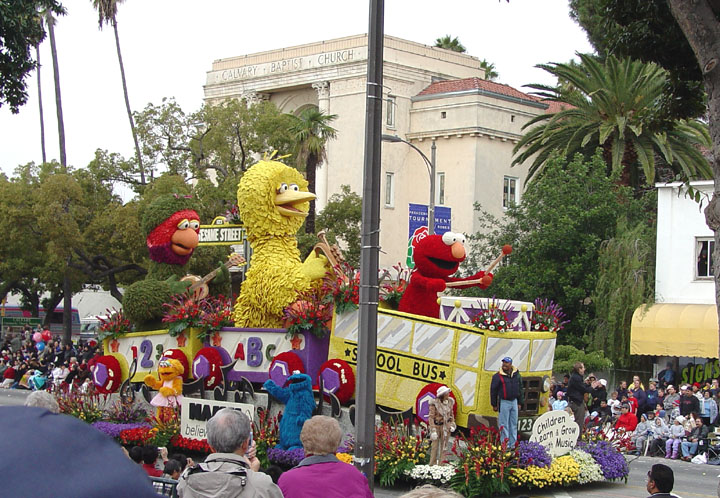 NAMM, the International Music Products Association, presents a lively pull toy parade. Elmo, decorated with red carnations, sweet rice and amaranthis seeds, rides atop the school bus decorated with yellow cut strawflower, cut purple statice and carnations. Big Bird, covered with individual feathers cut from pampas grass and colored with yellow cut strawflower, follows in the second car playing his trumpet. Bringing up the rear and strumming his guitar is Mexico's Abelardo, who is covered in golden Juniper tips, hand cut to feather shapes. These colorful characters have come together to send out their musical message and celebrate the 35th Anniversary of "Sesame Street."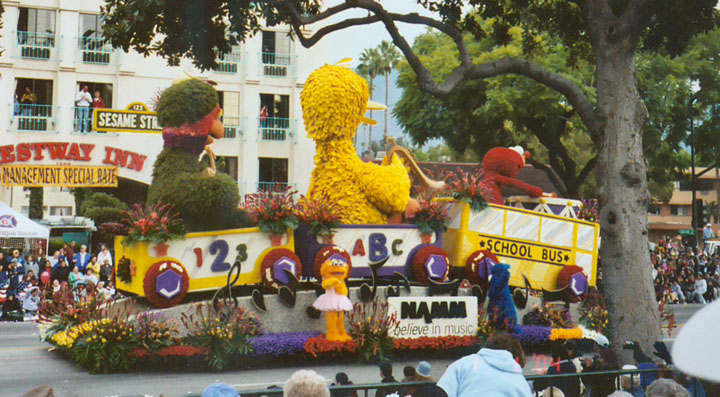 Photos of this float being decorated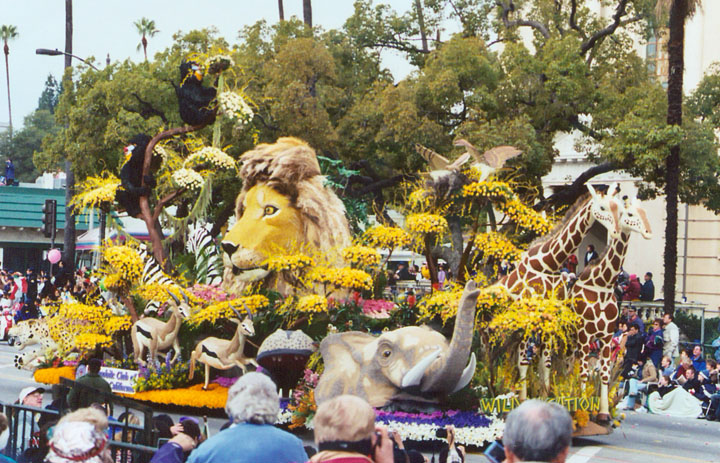 The Automobile Club of Southern California invites you to take a "Wild Vacation" with some oversized jungle animals as the familiar music brings Africa and its inhabitants to life. Pampas grass, cordon puffs, wheat stalks and a selection of seeds make up the facial detail on the gigantic lion, with yellow roses accenting its flowing mane. The gorilla is created using palm fiber, black curly seaweed and silver leaf, while the elephant features gray moss, seeds and herbs for detail and rice on the tusks. Exciting animation is featured, as the elephant lifts its head and spews water from his trunk and the hippo rises out of the water. The Auto Club float is decorated entirely by AAA members and employees.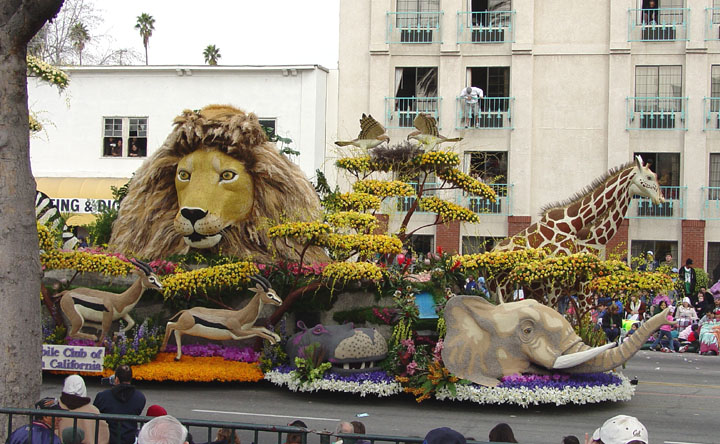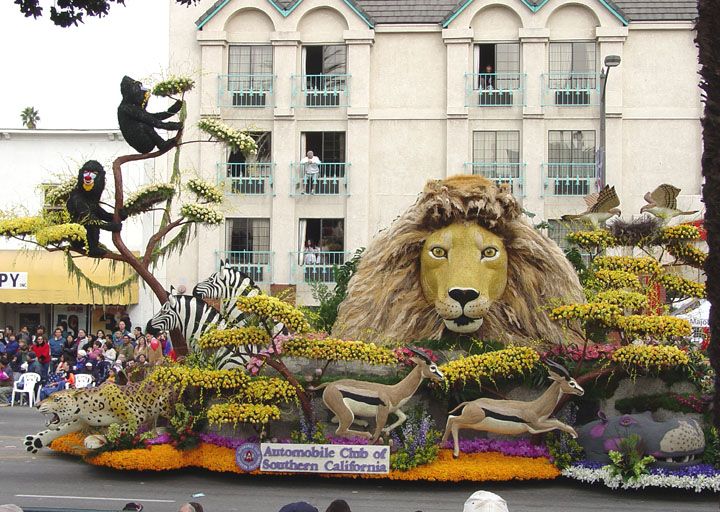 Photos of the decoration of this float

Purr-fect Harmony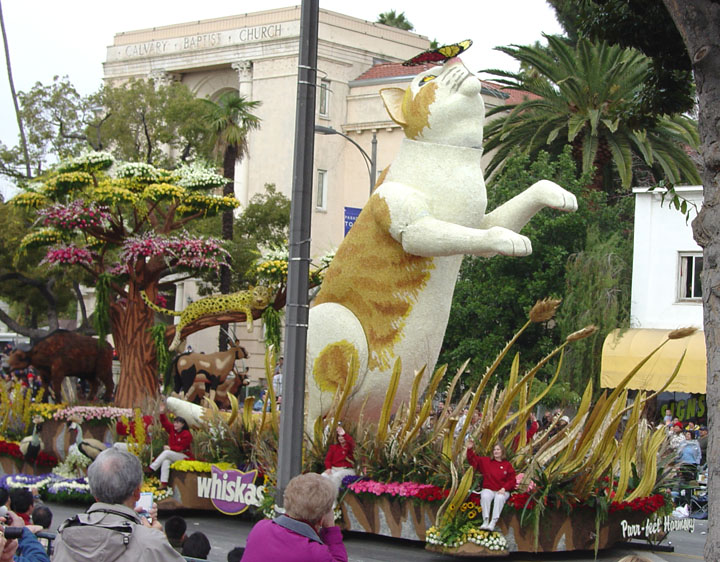 While most felines reside comfortably in loving households, their ancestors paw prints' trace to more exotic areas of the planet. The Whiskas float depicts the natural roots of modern-day cats, and with an oversized surprise, demonstrates the instinctive playfulness of these loving companions. The gigantic cat at the front of the float is created with a blend of orange, red, yellow, white and bronze strawflower, and pampas grass, accented by everlasting and black beans on the face. The gigantic tree at the rear of the float is created with roses, orchids and mokara. The grass at the base of the float is made up of ti leaves, gladiolus leaves and flax leaves.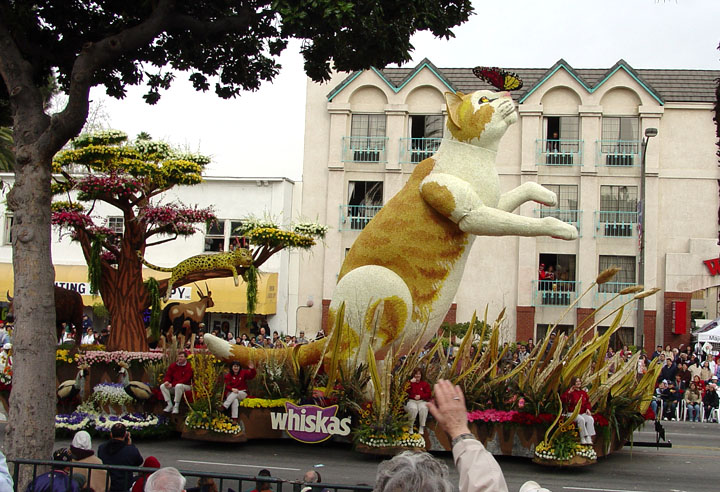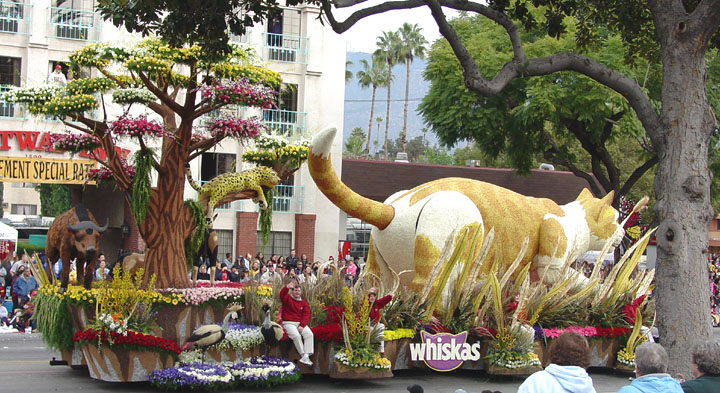 Your Home is your Castle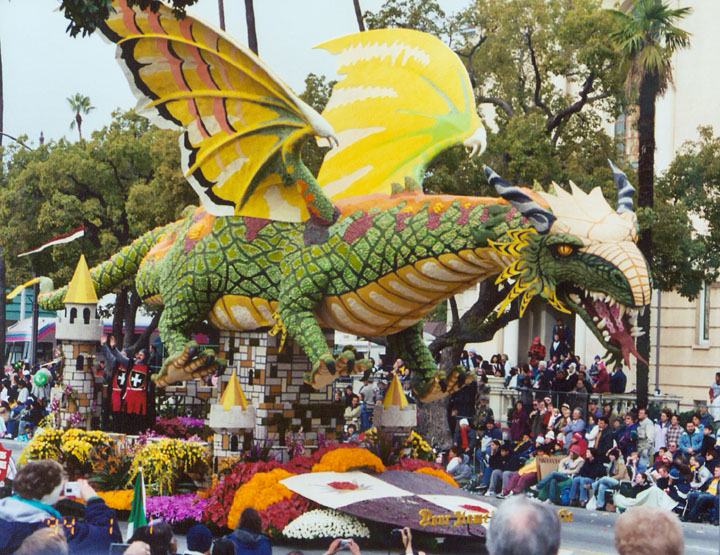 A threatening 75-foot long dragon looms protectively over a classic castle which offers security to all those who call it home, as Farmers Insurance Group presents an awe-inspiring interpretation of the age-old adage "Your Home is Your Castle." The huge dragon breathes smoke, snaps its jaws and thrashes its massive tail along the Parade route, as Farmers participates in its 46th consecutive Rose Parade. The dragon's head is highly animated: six separate animation units are working in concert to produce a nearly endless series of motions as the head rises and dips, moves left and right, and opens and closes its mouth — all activated by a random computer program.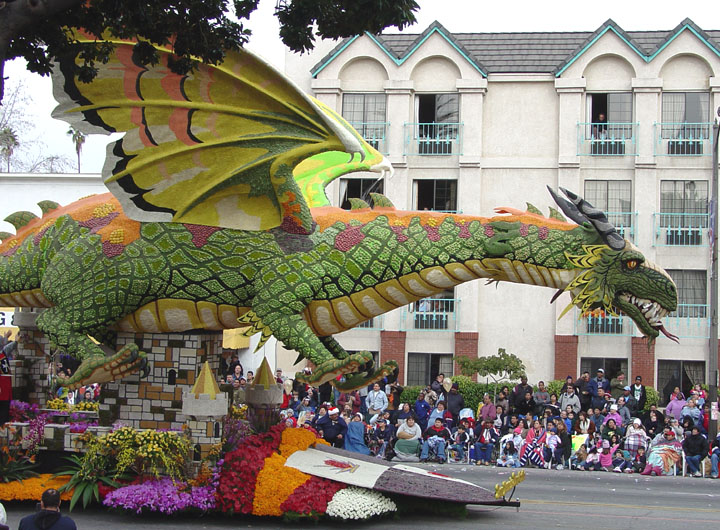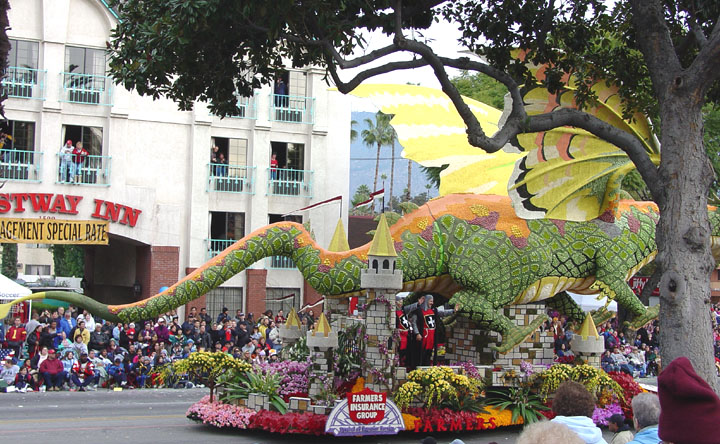 Moosic Moosic Moosic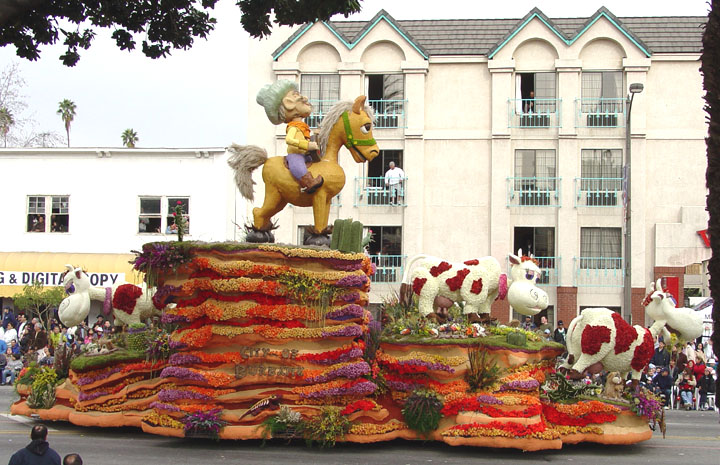 "Moosic Moosic Moosic" tells the story of how music has always been a part of herd tending, helping to keep the animals calm and serene. In this animated scene, a bronco—ridin' balladeer is wanderin' the deserts, keepin' an eye on the herd and fillin' the valley with song. He is clad in a silverleaf hat, marigold bandana and statice blue jeans and sits on his Palomino horse of butterscotch strawflower with white pampas grass mane and tail. Cows of white cushion poms with spots of Terra Cotta roses munch the myriad of native grasses, sunflowers, kangaroo paws, gerbera daisies and star gazer lilies on the plateaus.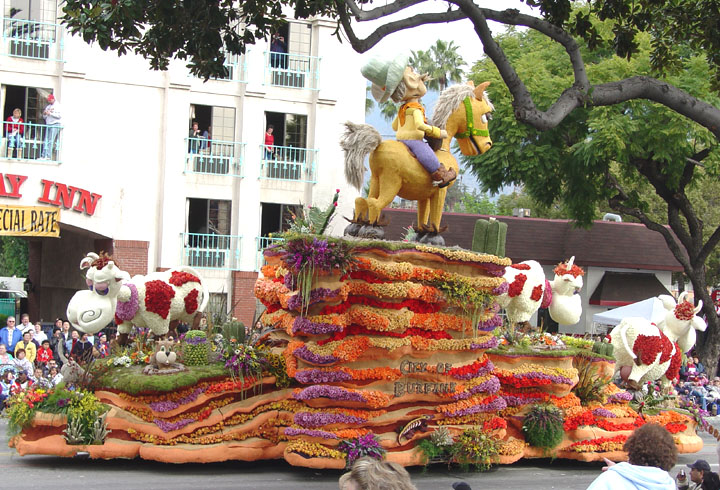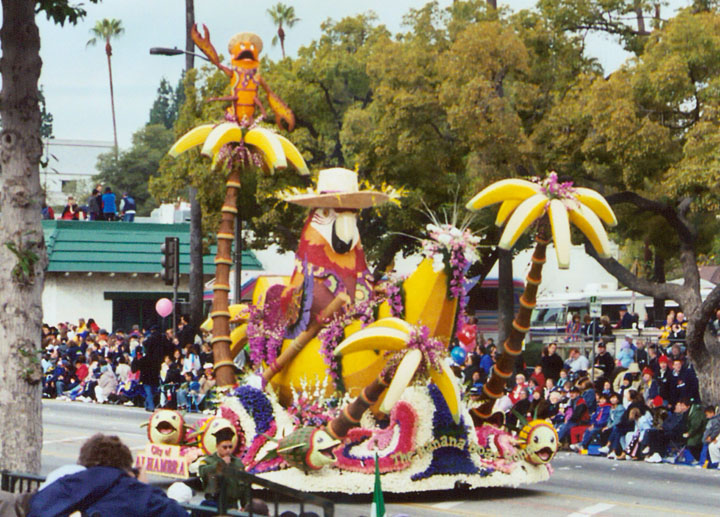 A gigantic parrot propels this oversized banana boat along the Parade route with a pair of massive maraca oars — all set to the tune of the calypso anthem, "The Banana Boat Song." He is accompanied on his floral voyage by colorful fantasy fish and an animated lobster overseeing all the action from atop a banana tree. The banana boat features various hues of yellow statice, and the banana trees are created with yellow statice, palm bark and of course, bananas. The gigantic parrot has plumage of statice, banana leaf, red and white carnation petals and crushed rice with black seaweed accenting the beak.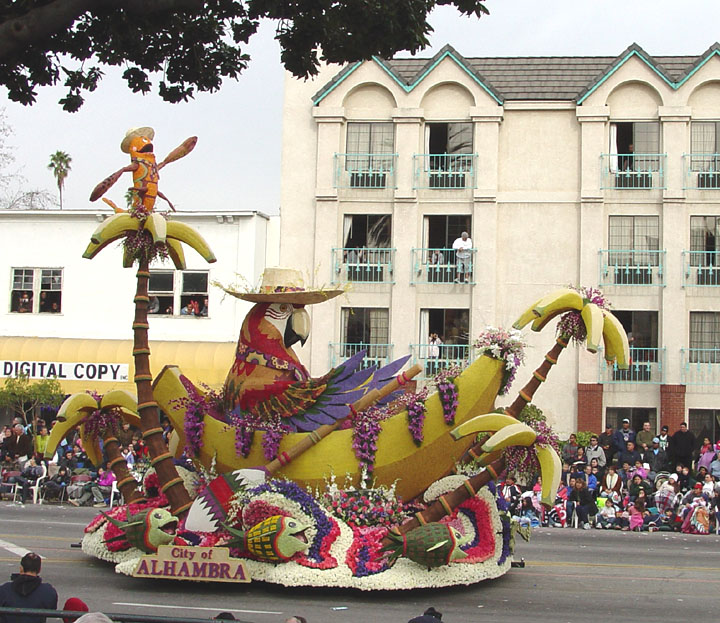 Photos of the decoration of this float

Gateway to the Future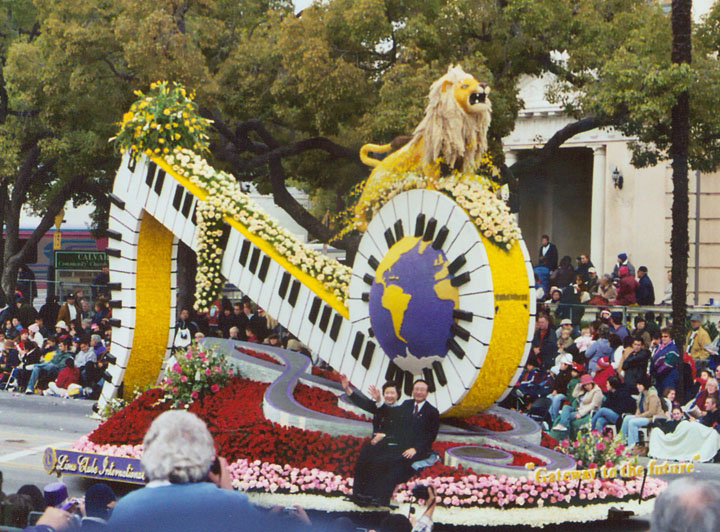 A gigantic musical note, formed by a larger-than-life keyboard wrapping itself around the earth, provides a regal perch for a proud lion opening the "Gateway to the Future." The massive lion is created with yellow and white strawflower and cordon puffs, and the large keyboard is made up of crushed and powdered rice, black seaweed and onion seed. Participating in the decoration of the Lions Clubs float were blind and visually impaired members of the Leo Club of the Braille Institute who got an opportunity to touch and smell the flowers as they were being applied — truly experiencing the beauty of a Rose Parade float.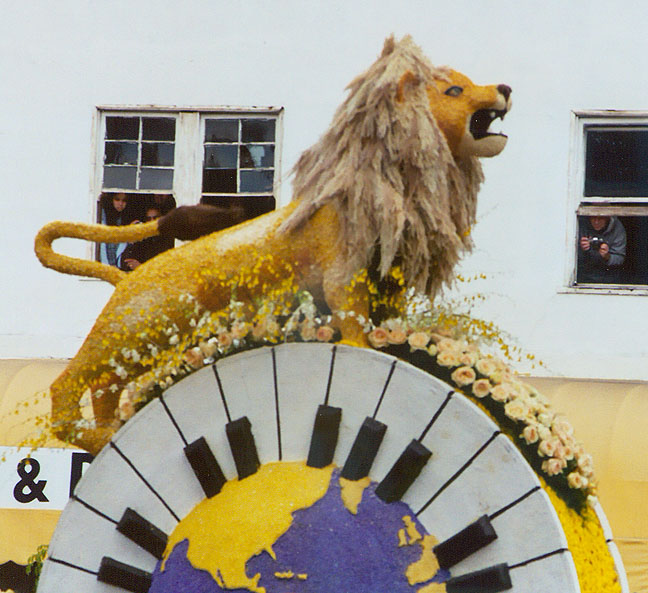 Gateway to California Dreamin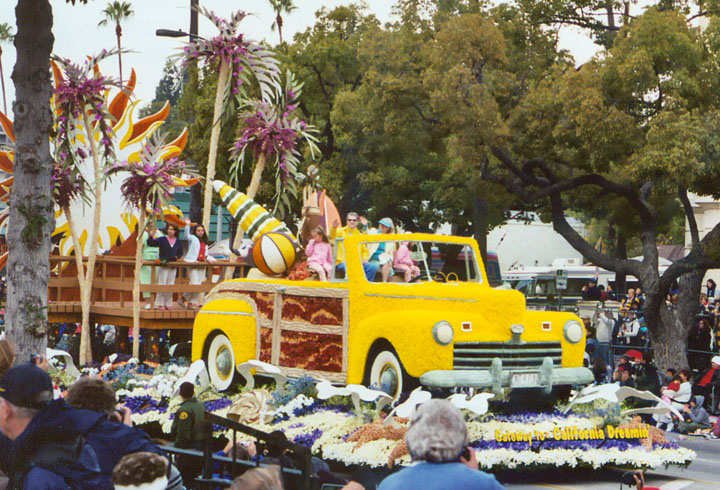 Musically salutes a true American experience —cruising southern California in a convertible "Woody" on a fun-filled summer day. The car's wood panels are fashioned entirely from brown—toned roses including Leonodis, Coco, Chocolate and Sahara. Vibrant yellow chrysanthemums and strawflower petals create the body of the car while shiny silverleaf protea and eucalyptus leaves are used for the glistening chrome. It was decorated by hundreds of volunteers.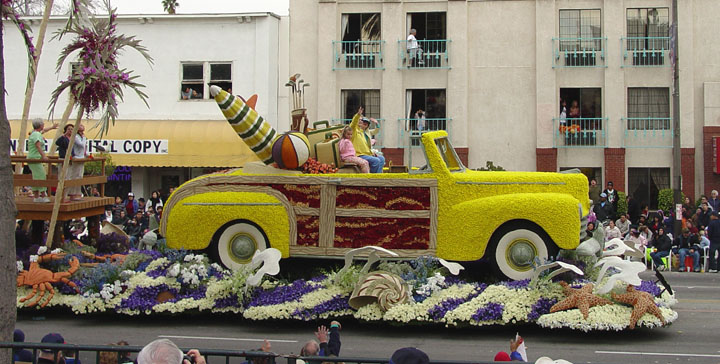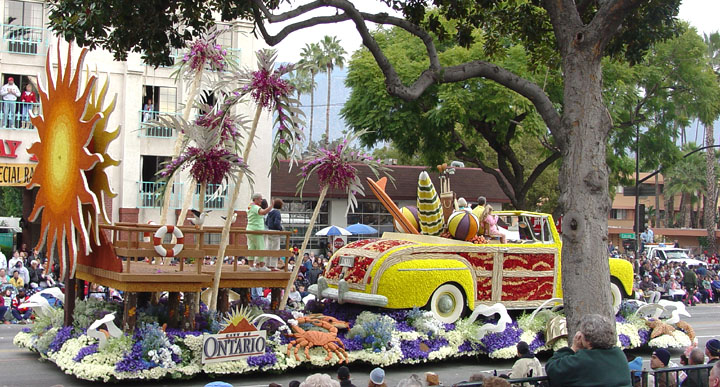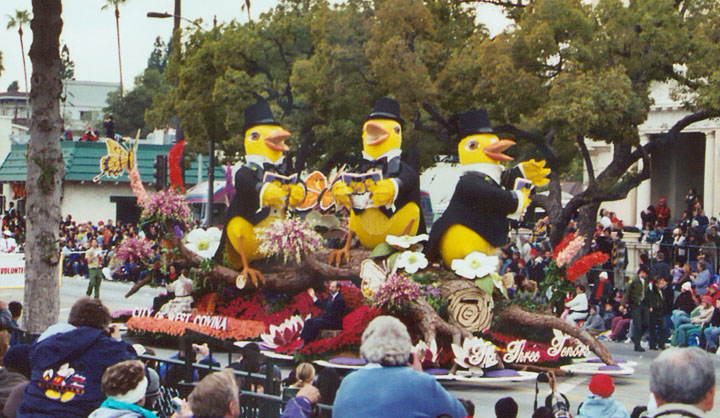 Perched on an oversized tree branch are "The Three Tenors" —extraordinary ten foot tall canaries. The opera-singing birds are covered in bright feathers created from strawflower and carved flex foam. The lush garden pond setting surrounding the branch showcases close to 15,000 roses as wel1 as thousands of carnations, gerbera daisies and mums, in addition to hundreds of orchids. The 45-foot long float also features details of strawflower, statice, onion seed, seaweed, coconut, crushed walnut shell, sweet rice, flax and poppy seed. Entry was decorated by local volunteers.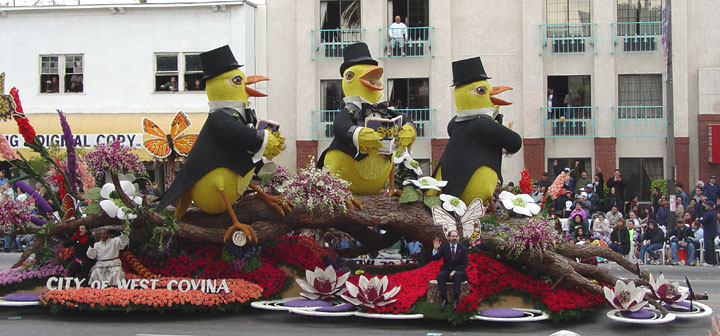 Photos of this float being decorated

The Banyan Tree Jugband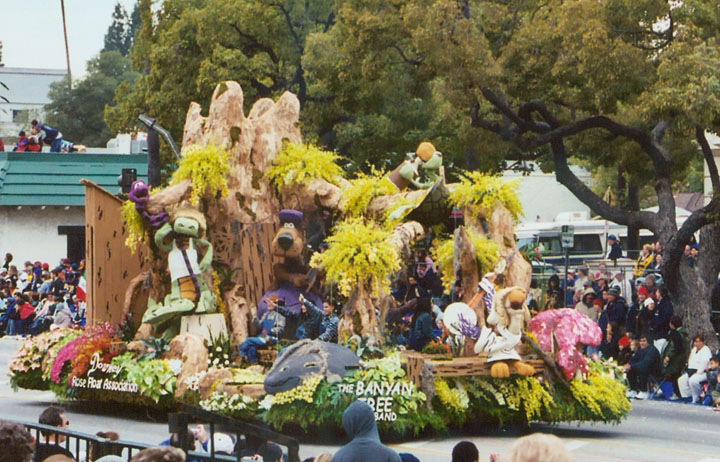 This entry features an animal Jugband performing under a banyan tree, as an air boat glides along up ahead. The banyan tree was created using palm fiber, barley seed, flax seed and a variety of mosses including green, Spanish and reindeer moss to name a few. Fern, mosses, orchids, irises and roses are used to achieve the swamp—like setting. The animated float features approximately 5,000 roses and 5,000 dendrobium, cattleya and cvmbidium orchids in an assortment of colors. It was designed, built and decorated entirely by volunteers of the Downev community
Unit descriptions taken from material supplied by the Pasadena Tournament of Roses in their parade program.