Osmonds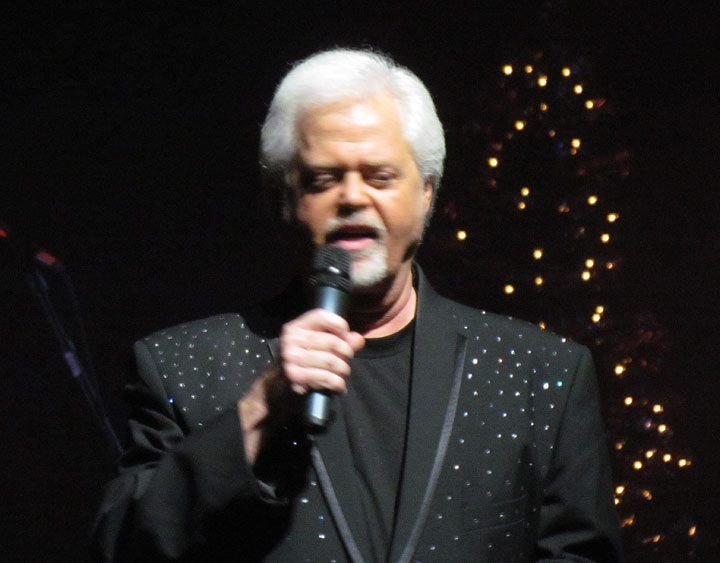 Wayne Osmond
The Osmonds are an American family music group with a long and varied career—a career that took them from singing barbershop music as children, to achieving success as teen-music idols, to producing a hit television show, and to continued success as solo and group performers. The Osmonds are devout members of The Church of Jesus Christ of Latter-day Saints, and their religious values have influenced their careers.

When it began as a barbershop quartet, the group consisted of brothers Alan Osmond, Wayne Osmond, Merrill Osmond, and Jay Osmond. They were later joined by younger siblings Donny Osmond and Jimmy Osmond. Their only sister Marie Osmond, who never sang with her brothers at that time, would launch a successful solo career in the 70's. Older brothers George Virl Osmond, Jr. (Virl) and Tom Osmond were born deaf and did not originally perform, although they later made occasional appearances, most notably on the family Christmas specials from the 70s. All of the Osmonds were born in their hometown of Ogden, Utah except the youngest, Jimmy, who was born in Canoga Park, California. The group have sold 102 Million records worldwide.

The Osmond Brothers' career began in 1958 when Alan, Wayne, Merrill, and Jay began singing barbershop music for local audiences in and around their hometown of Ogden, Utah. In the made-for-TV movie "Inside the Osmonds," the Osmonds explain that they originally performed to earn money to support Virl and Tom in buying hearing aids and serving missions for their church. Despite their young ages (in 1958 Alan was 9, Wayne 7, Merrill 5, and Jay 3), within a few years, the boys' talent and stage presence were strong enough that their father, George Osmond, took them to audition for Lawrence Welk in California. Welk turned them down, but on the same trip, they visited Disneyland and were hired to perform there after joining an adult barbershop quartet for some impromptu singing.

While the Osmond Brothers were performing at Disneyland, Andy Williams' father saw them and was so impressed he told his son to book them for his television show. Andy did, and the Osmond Brothers were regulars on The Andy Williams' show from 1962–1969, where they earned the nickname "one-take Osmonds" because of their professionalism and tireless rehearsing. Donny soon joined them on the show, making the Osmond Brothers a 5-member group. Marie and Jimmy were also introduced on the show as the years went by.

The Osmond Brothers were regulars on the Jerry Lewis Show in 1969, and they continued to tour and perform with Andy Williams. But soon the Osmond Brothers decided they wanted to perform popular music and shed their variety-show image. They wanted to become a rock-and-roll band. This change was a difficult one for their father, who was suspicious of rock and roll. But he was persuaded, and the boys began performing as a pop band. They achieved only modest success at first, but in 1971, everything changed.

Record producer Mike Curb saw the Osmonds (no longer called "The Osmond Brothers") perform as a band and recognized that they combined a rare mix of polished performing style, instrumental skill, and vocal talent. He helped the Osmonds get a record contract with MGM, and arranged for them to record at Muscle Shoals with R&B producer Rick Hall. Under Hall's guidance, the Osmonds exploded onto the pop-music scene, hitting #1 on the Billboard pop chart with "One Bad Apple" in 1971. The Osmonds soon had hits with other light, R&B-style pop numbers like "Double Lovin'" (Billboard #14) and "Yo-Yo" (#3).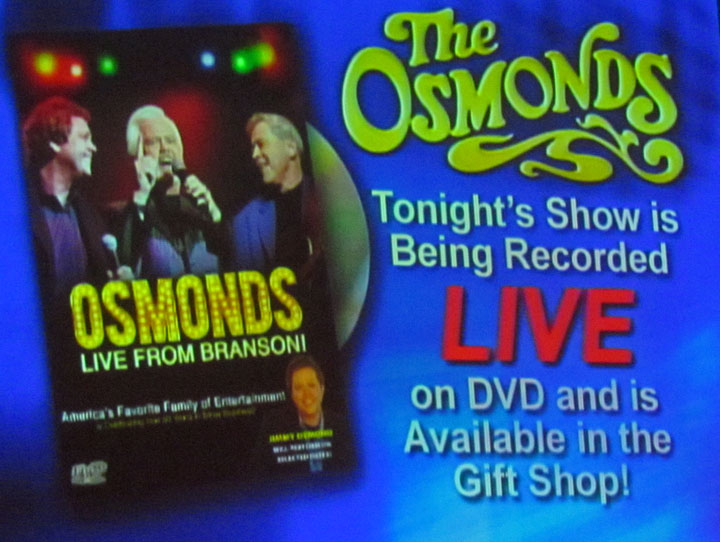 After this early bubblegum phase, the Osmonds began writing their own music, and their sound moved towards rock and roll with hits like "Hold Her Tight" (Billboard #14), "Crazy Horses" (#14) and "Down by the Lazy River" (#4). The Crazy Horses album was the band's first really personal statement—the brothers have been quoted as saying that the title song refers to air pollution from cars. They wrote all the songs and played all the instruments with Alan on rhythm guitar, Wayne on lead guitar, Merrill on lead vocals and bass, Jay on drums, and Donny on keyboards. All the brothers sang back-up, with Jay and Donny sometimes singing lead parts.

With their clean-cut image, their talent, and their energetic pop-rock sound, the Osmonds' popularity in the early 1970s was nearly unmatched. They toured to crowds of screaming fans in the U.S., and they even had a short-lived Saturday-morning cartoon series on ABC-TV during 1972-1973. By this time the Osmonds had broken through in the UK as well: all members of the Osmond family, counting group and solo recordings, charted 13 singles on the UK charts during 1973. Some observers coined a new word, "Osmondmania," to describe the phenomenon.

But changes and challenges soon arrived. The older boys were of age to go on church missions, yet they believed they could reach more people through their music. The Osmonds viewed their music as their mission. As a part of their mission, they recorded an ambitious album in 1973 called The Plan, perhaps best described as a Mormon concept album with progressive rock aspirations. One reviewer suggested that The Plan carried a too-strong religious message—Mormonism is, after all, fairly conservative and not usually associated with the themes of rock and roll. He likewise suggested that the music was too varied and experimental. The album produced only two modest hits: "Let Me In" and "Goin' Home" both peaked at #36 on the Billboard charts. What's more, the older boys began to marry and may have wanted to reduce the regular touring that is a necessity in popular music.
Donny, and to a lesser extent, Marie and Jimmy, began to soon emerge as solo artists. Jimmy had hits in Japan, and in 1972 had a #1 hit in the United Kingdom with "Long Haired Lover from Liverpool." Marie hit #1 on the U.S. country charts in 1973 with "Paper Roses"--she was only 13 at the time. And Donny achieved near-superstar status. He had a string of pop hits in the early 1970s, including "Go Away Little Girl" (Billboard #1), "Puppy Love" (#3), and "The Twelfth of Never" (#8). From 1971 to 1976, he had 12 top-40 hits, including 5 in the top 10.

Donny's popularity, and his numerous solo hits, have led many to assume he was the group's lead. But Merrill was the lead singer and voice of the Osmonds. Donny's emergence as a solo star, and the record-company's desire to appeal to the teen-girl audience, often thrust Donny out in front of the group.

By now the family was touring, recording, creating, and producing for 5 technically separate artists: The Osmonds, Donny Osmond, Marie Osmond, and Jimmy Osmond—plus Donny and Marie had begun recording duets and had hits with "I'm Leaving It Up to You" (Billboard #4) and "Morning Side of the Mountain" (#8). Through all the stress and pressures created by these many efforts, the family hung together. "Inside the Osmonds" depicts the family mottoes as being "It doesn't matter who's out front, as long as it's an Osmond" and "Family, faith, and career. In that order."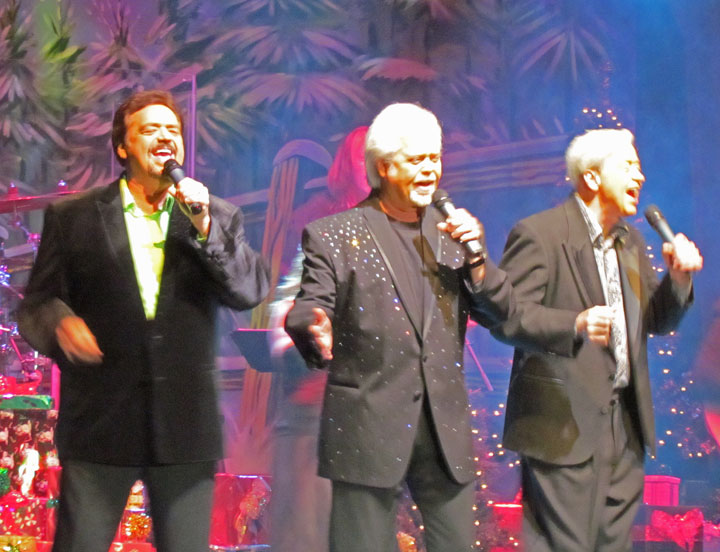 Osmond Brothers
The original Osmonds as a group still produced hits. In 1974, "Love Me for a Reason" reached #10 on the U.S. pop charts and went to #1 in the U.K. To watch a video of the 5 Osmonds, with Merrill as lead, performing "Love Me for a Reason" is to see a precursor of the love-ballad boy bands of the 1990s and 2000s. Indeed, the Irish boy band Boyzone took the song to #2 on the U.K. charts in 1994.

By 1976, though, the group's record sales were softening, and the Osmonds poured themselves into a new venture: The older brothers began producing The Donny & Marie Show, which was a hit on ABC from 1976-1979. But the success came at a cost. The family built and operated, at great expense, a first-class television studio in Orem, Utah, where the show was produced. As a result, the Osmonds as a performing band became a third or fourth priority to the careers of Donny and Marie, the success of the show, and the operation of the family studio. The older brothers deferred or gave up their dreams of being a rock-and-roll band. Donny experienced stage anxiety, a type of social phobia, and Marie had a brief bout with an eating disorder after a network executive told her she looked heavy. When the show was canceled, the Osmonds found themselves in debt and without a clear direction.

They recovered and eventually paid their debts and re-established their careers. But the various Osmond artists and enterprises began to operate separately.

Jimmy worked as a businessman and manager. He eventually moved to Branson, Missouri, and opened the Osmond Family Theater, where he and his brothers performed until 2002. They now appear in Branson during the Christmas season.

Alan, Wayne, Merrill, and Jay formed a country group and returned to using the name "The Osmond Brothers." They had two Billboard Country hits in the early 1980s: "I Think About Your Lovin'" (#17) and "It's Like Fallin' in Love (Over and Over)" (#28). They had other country successes, but mostly did not tour, preferring to stay in Branson and perform. The brothers continue to perform with various line-ups and sometimes with their children in Branson. Merrill performs and records as a solo artist as well. Alan has multiple sclerosis, and does not perform as often today. All of the brothers are married, some with large families. Alan's eight sons started performing in the mid-1980s as "The Osmond Boys," now known as "The Osmonds--Second Generation."
Text from Wikipedia
---
---