Eric Carle Museum
Amherst, Massachusetts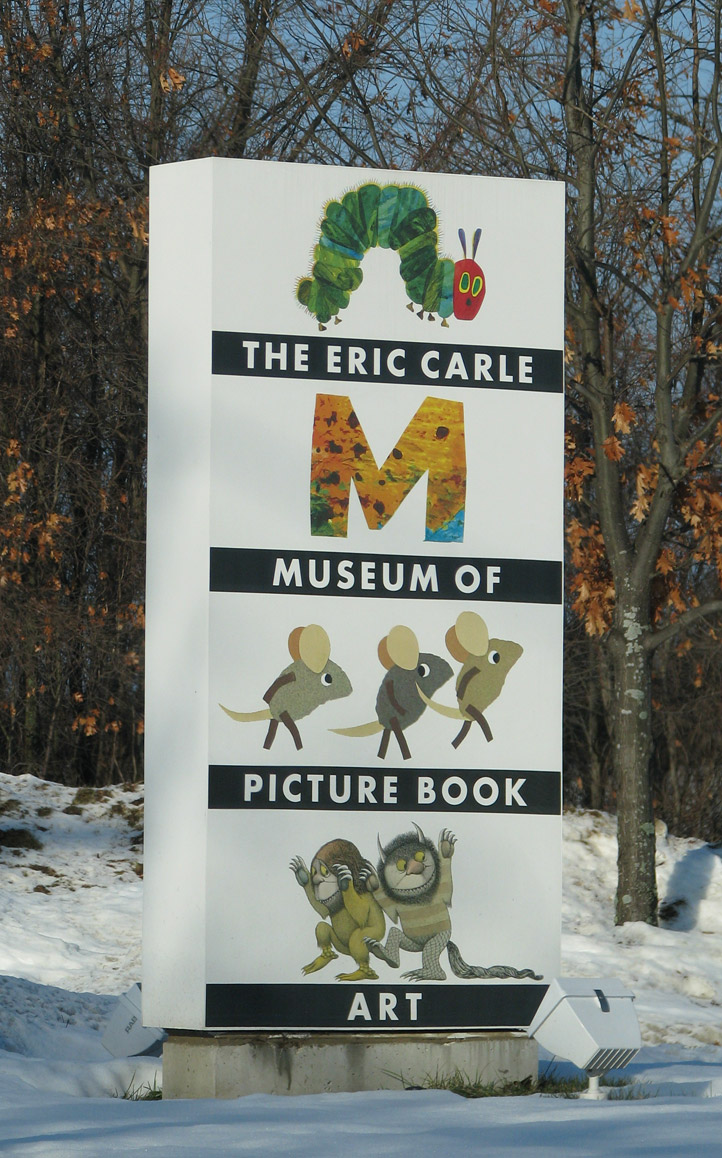 Eric Carle Museum
Eric Carle (born June 25, 1929) is a children's book author and illustrator, most famous for his book The Very Hungry Caterpillar, which has been translated into over 30 languages. Since The Very Hungry Caterpillar was published in 1969, Eric Carle has illustrated more than seventy books, many best sellers, most of which he also wrote, and more than 71 million copies of his books have sold around the world.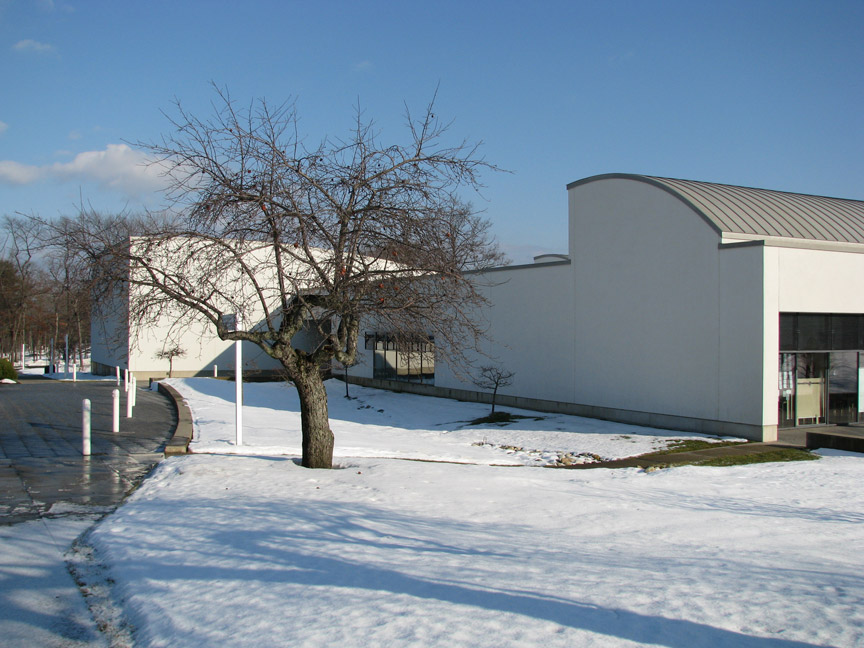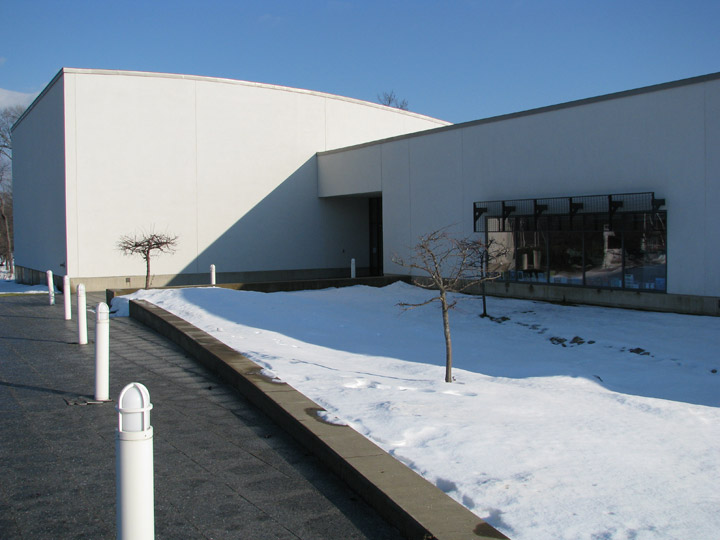 Eric Carle Museum
Born in Syracuse, New York in 1929 to German emigrants Johanna and Erich Carle, Eric moved to Germany with his parents when he was six years old; he was educated there, and graduated from the prestigious art school, the Akademie der bildenden Künste, in Stuttgart. Carle dreamed of returning to the United States, so he moved to New York City in 1952 with only $40 to his name. Once there, he landed a job as a graphic designer in the promotion department of The New York Times. Later, he was the art director of an advertising agency for many years.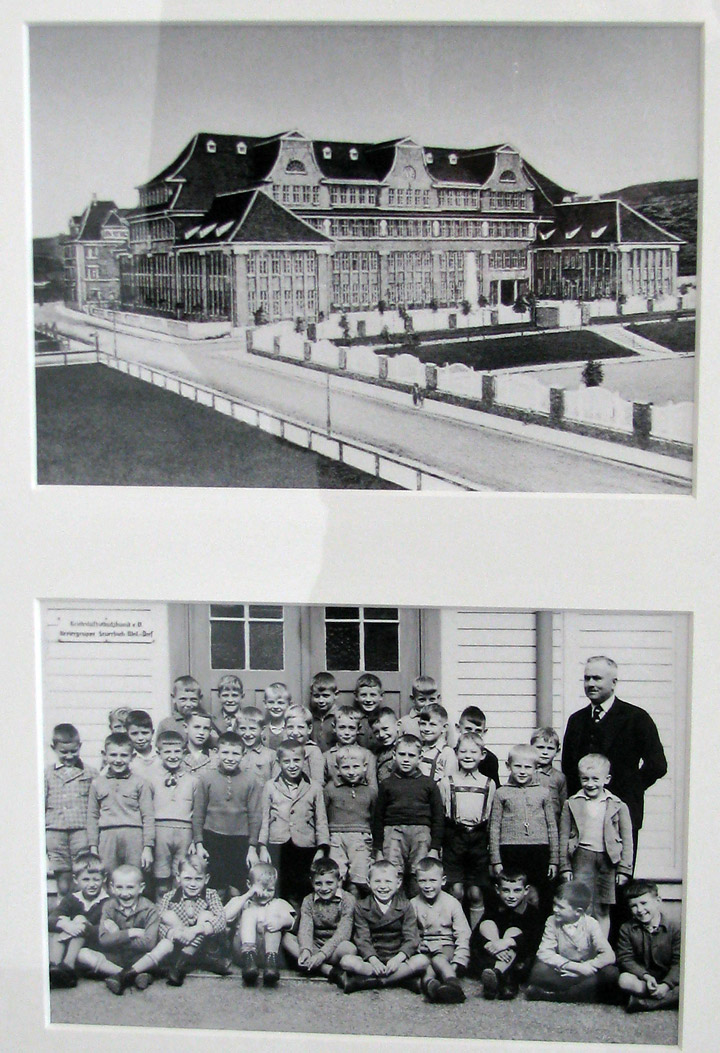 Erich Carle's school in Germany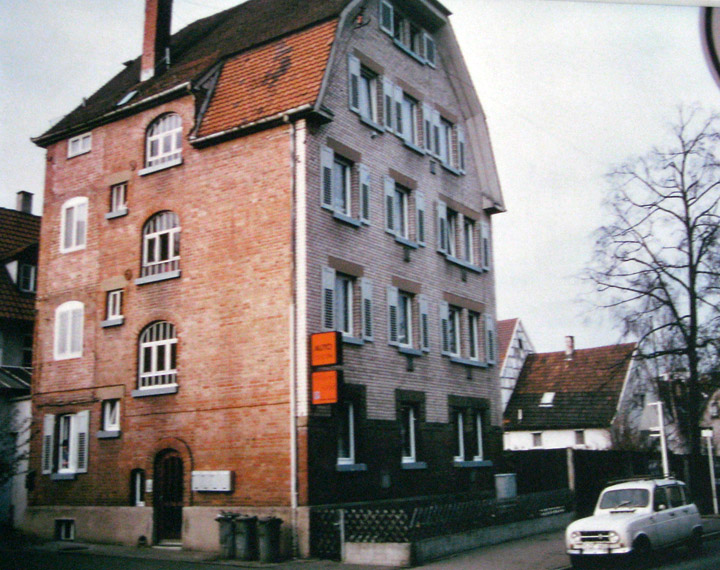 residence in Stuttgart
One day, educator and author Bill Martin Jr., called to ask Carle to illustrate a story he had written. Martin's eye had been caught by a picture of a red lobster that Carle had created for an advertisement. Brown Bear, Brown Bear, What Do You See? was the result of their collaboration, and became a best-seller. This was the beginning of Eric Carle's true career. Soon Carle was writing his own stories, too. His first wholly original book was 1,2,3 to the Zoo, followed quickly by The Very Hungry Caterpillar.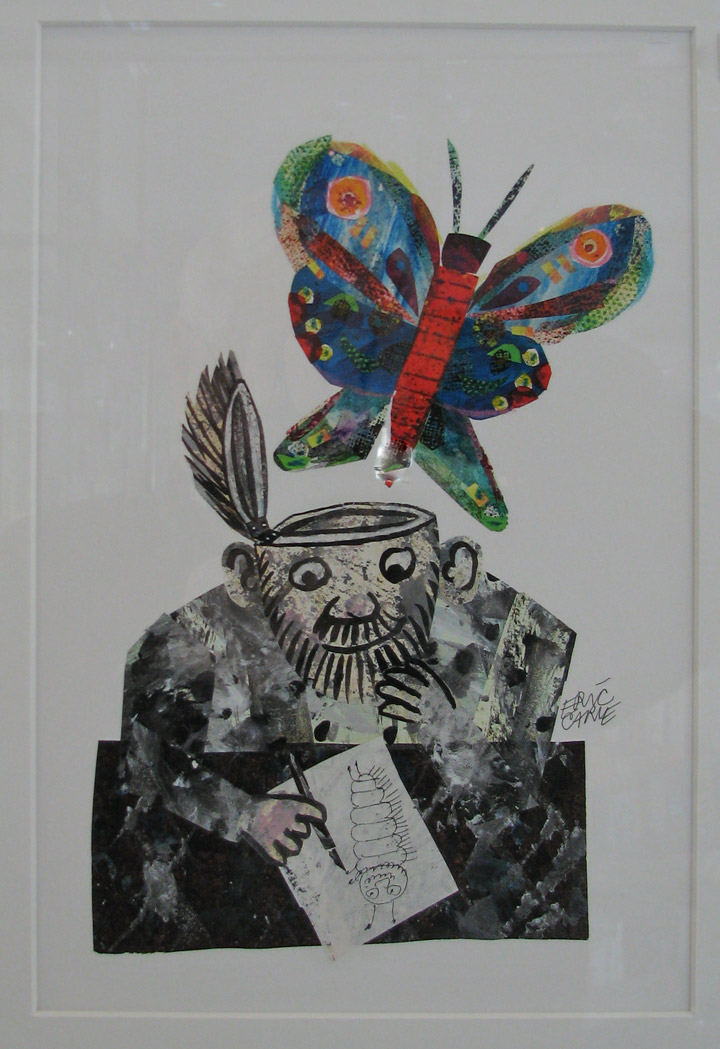 Carle's self portrait
Eric Carle's art is distinctive and instantly recognizable. His art work is created in collage technique, using hand-painted papers, which he cuts and layers to form bright and colorful images. Many of his books have an added dimension—die-cut pages, twinkling lights as in The Very Lonely Firefly, even the lifelike sound of a cricket's song as in The Very Quiet Cricket. Carle's readers often use his work as an example and create collages themselves that they often send to Carle; he receives hundreds of letters each week from his young admirers.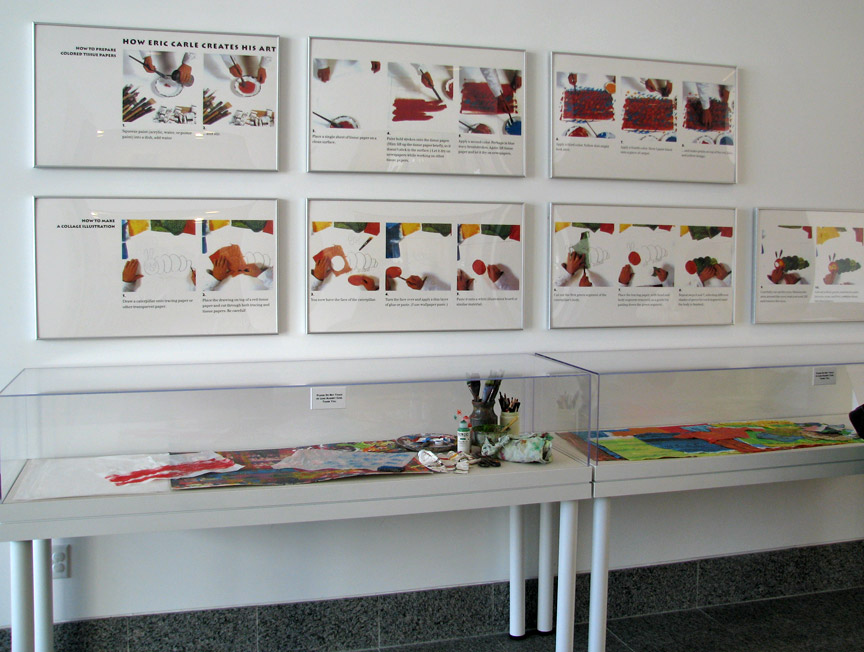 method of drawing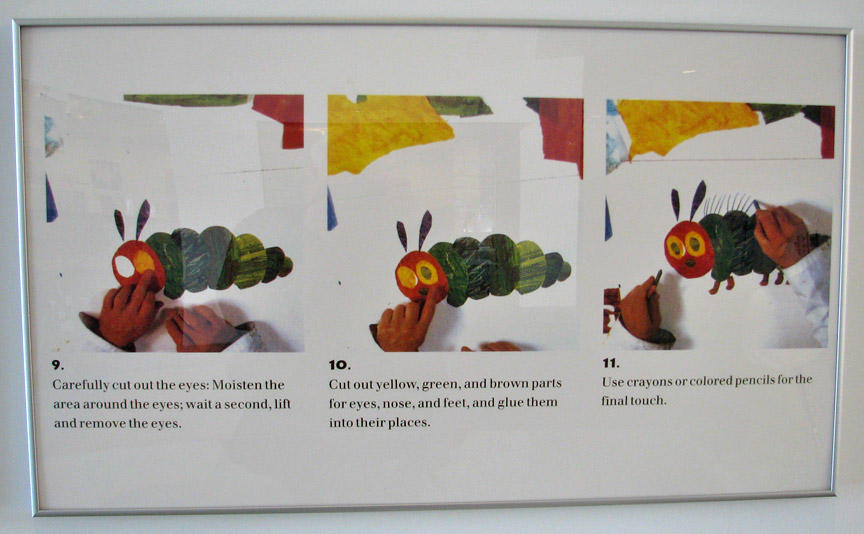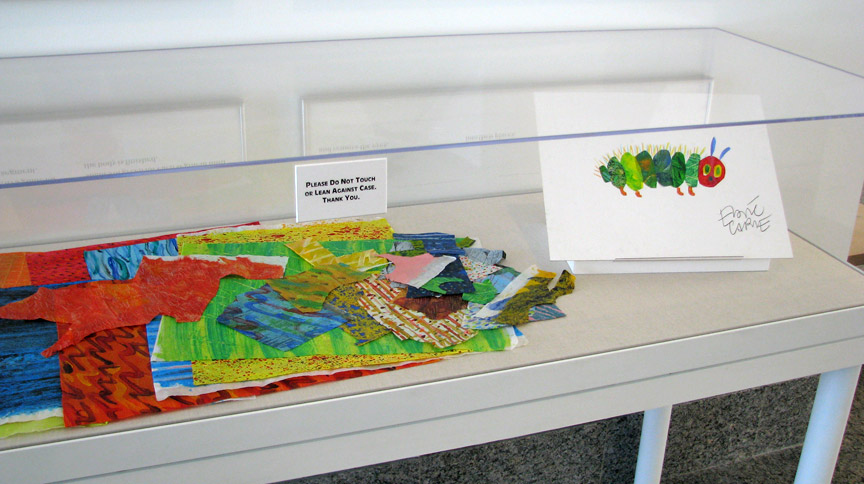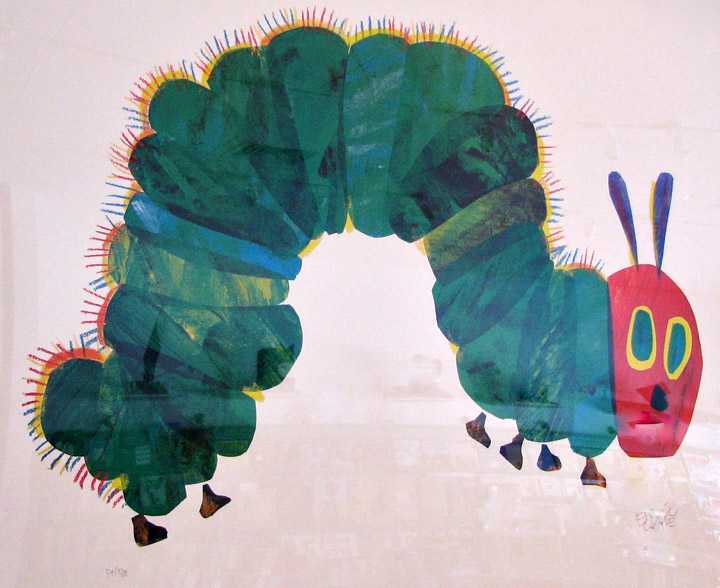 The Very Hungry Caterpillar
The themes of his stories are usually drawn from his extensive knowledge and love of nature— an interest shared by most small children. Carle attempts to make his books not only entertaining, but also to offer his readers the opportunity to learn something about the world around them. When writing, Carle attempts to recognize children's feelings, inquisitiveness and creativity, as well as stimulate their intellectual growth; it is for these reasons (in addition to his unique artwork) that many feel his books have been such a success.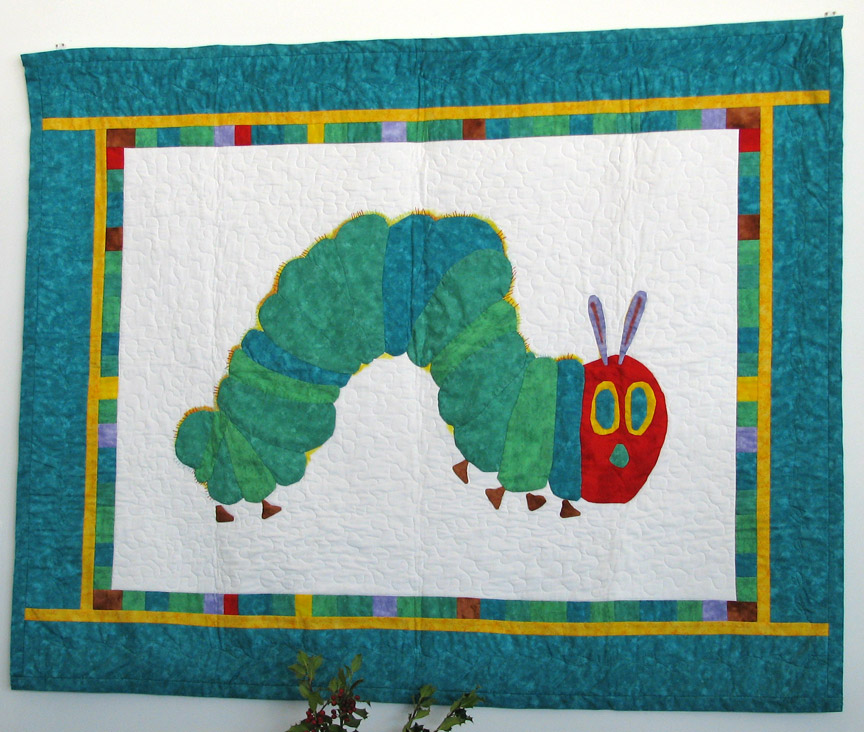 "The Very Hungry Caterpillar" Quilt
"With many of my books I attempt to bridge the gap between the home and school. To me home represents, or should represent; warmth, security, toys, holding hands, being held. School is a strange and new place for a child. Will it be a happy place? There are new people, a teacher, classmates—will they be friendly?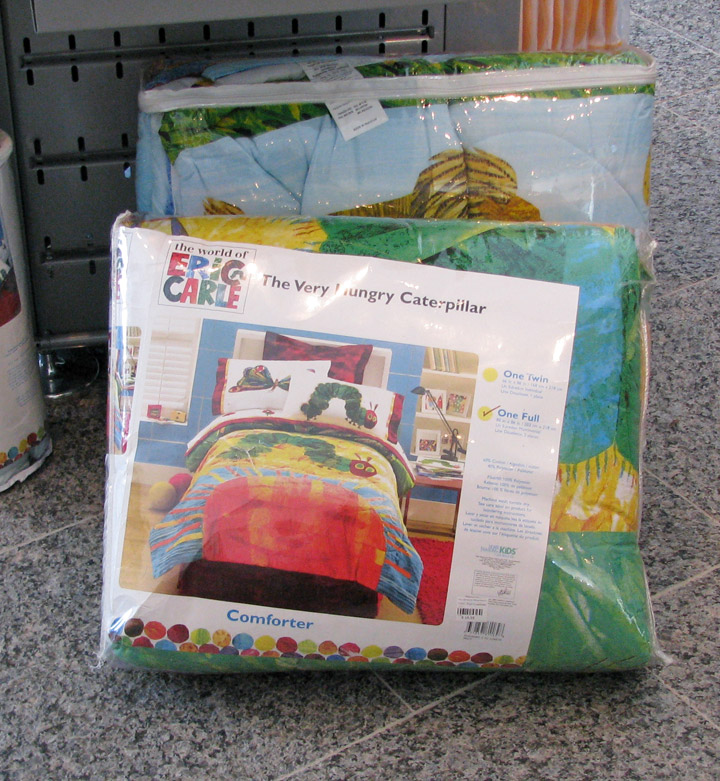 "The Very Hungry Caterpillar" comforter
for sale in the Gift Shop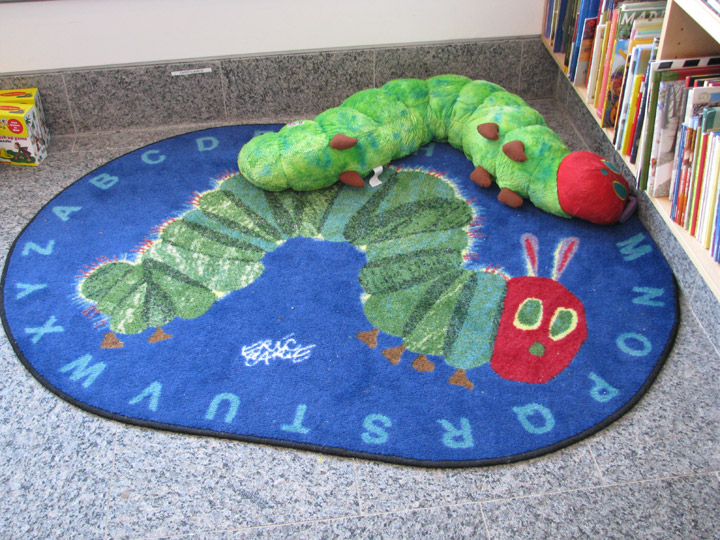 "The Very Hungry Caterpillar" carpet
for sale in the Gift Shop
I believe the passage from home to school is the second biggest trauma of childhood; the first is, of course, being born. Indeed, in both cases we leave a place of warmth and protection for one that is unknown. The unknown often brings fear with it. In my books I try to counteract this fear, to replace it with a positive message. I believe that children are naturally creative and eager to learn. I want to show them that learning is really both fascinating and fun." -Eric Carle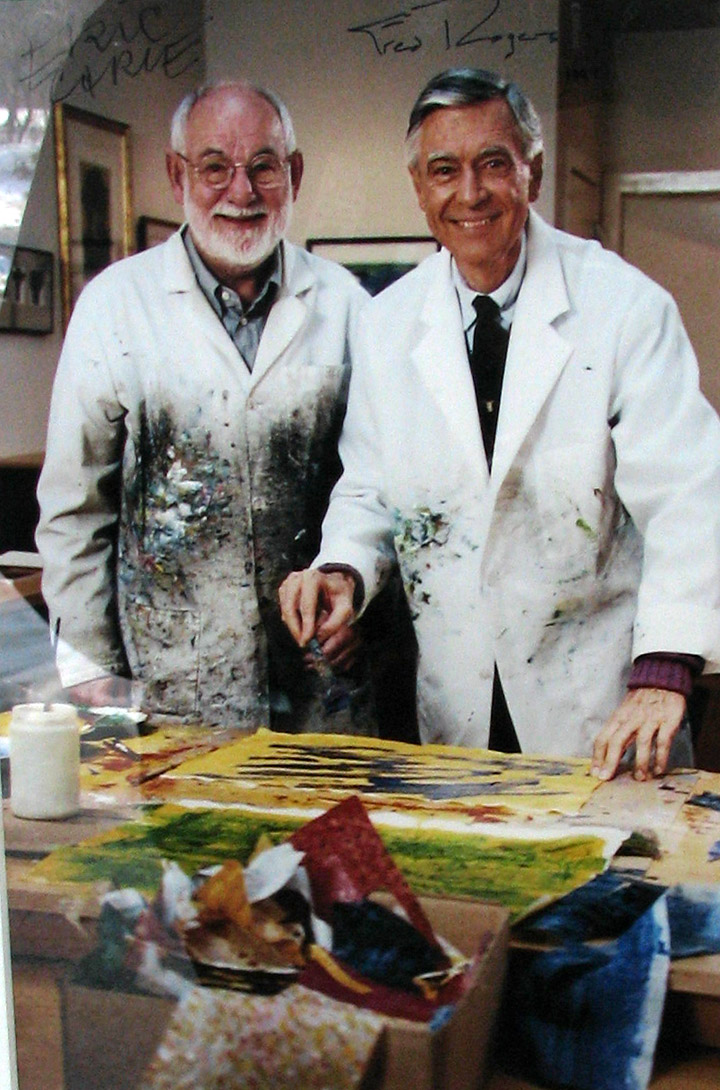 Eric Carle with Mr. Rogers
Eric Carle has two adult children, a son and a daughter. He currently divides his time between Northampton, Massachusetts and Blowing Rock, North Carolina.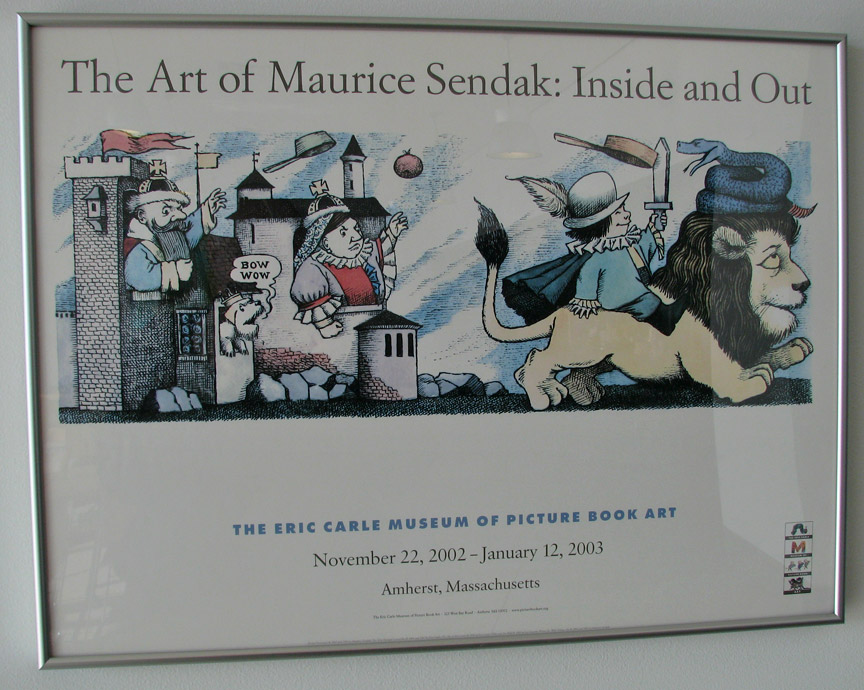 one of the first exhibits at the Museum
With his wife Barbara, Eric Carle founded The Eric Carle Museum of Picture Book Art, a 44,000 sq ft (4,100 m²) museum devoted to children's books in nearby Amherst on the campus of Hampshire College. The Museum has welcomed over 250,000 visitors since it opened its doors in 2002. Carle received an honorary doctorate from Bates College in 2007.
Text from Wikipedia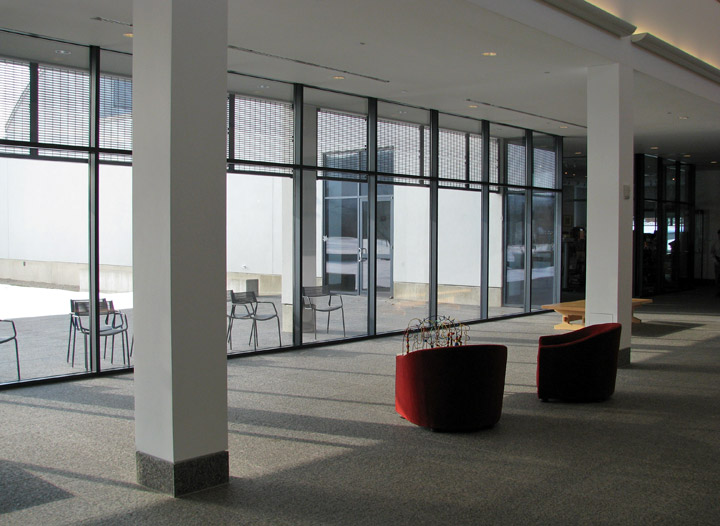 interior of museum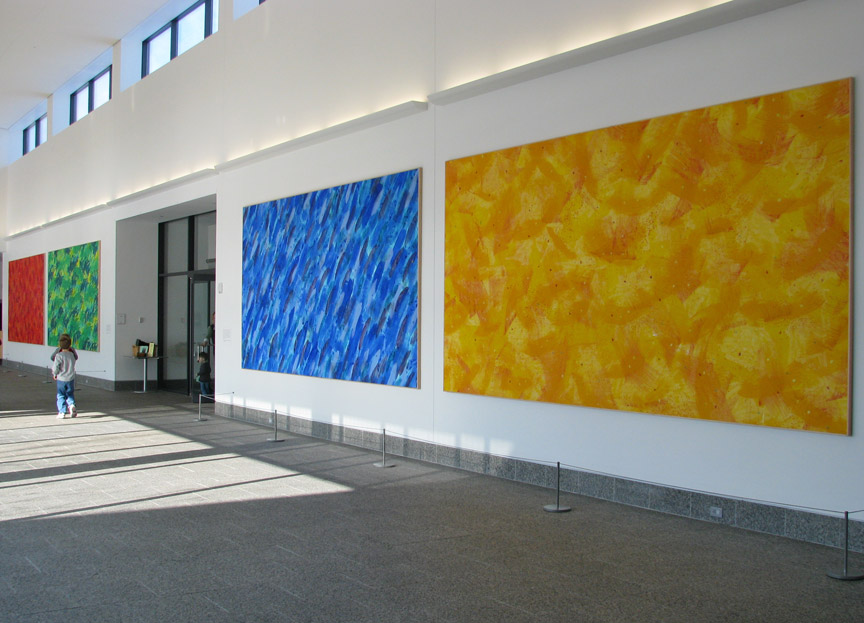 Carle's wall murals, similar to inside covers of his books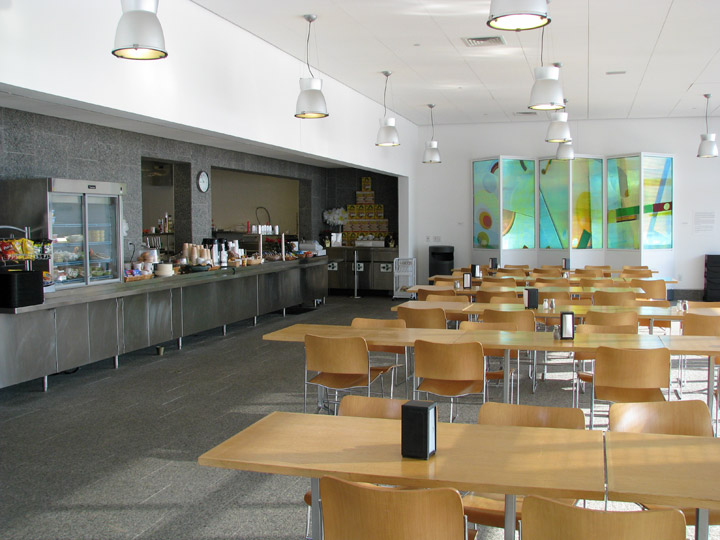 the museum cafe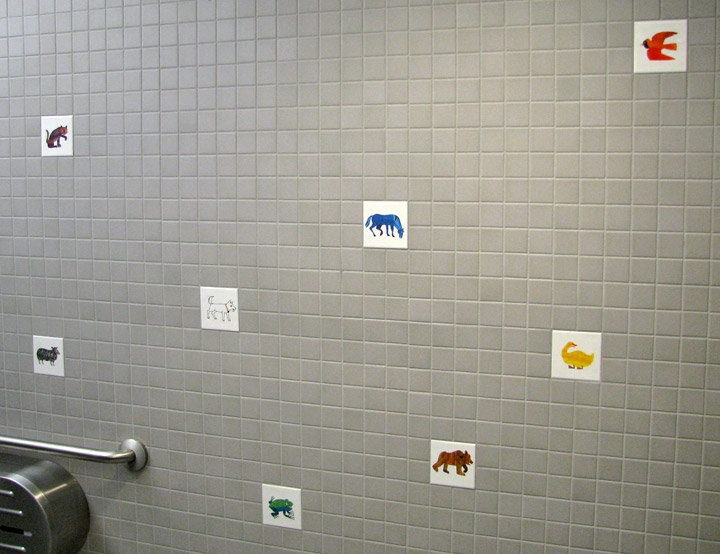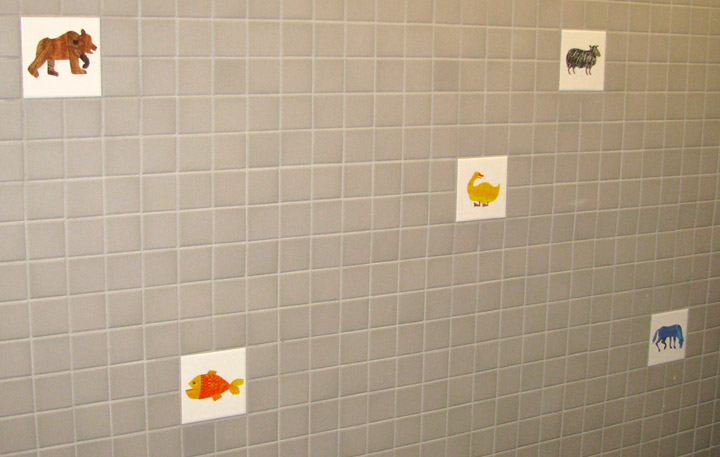 Art tiles in the Museum Rest Rooms
---
Books by Eric Carle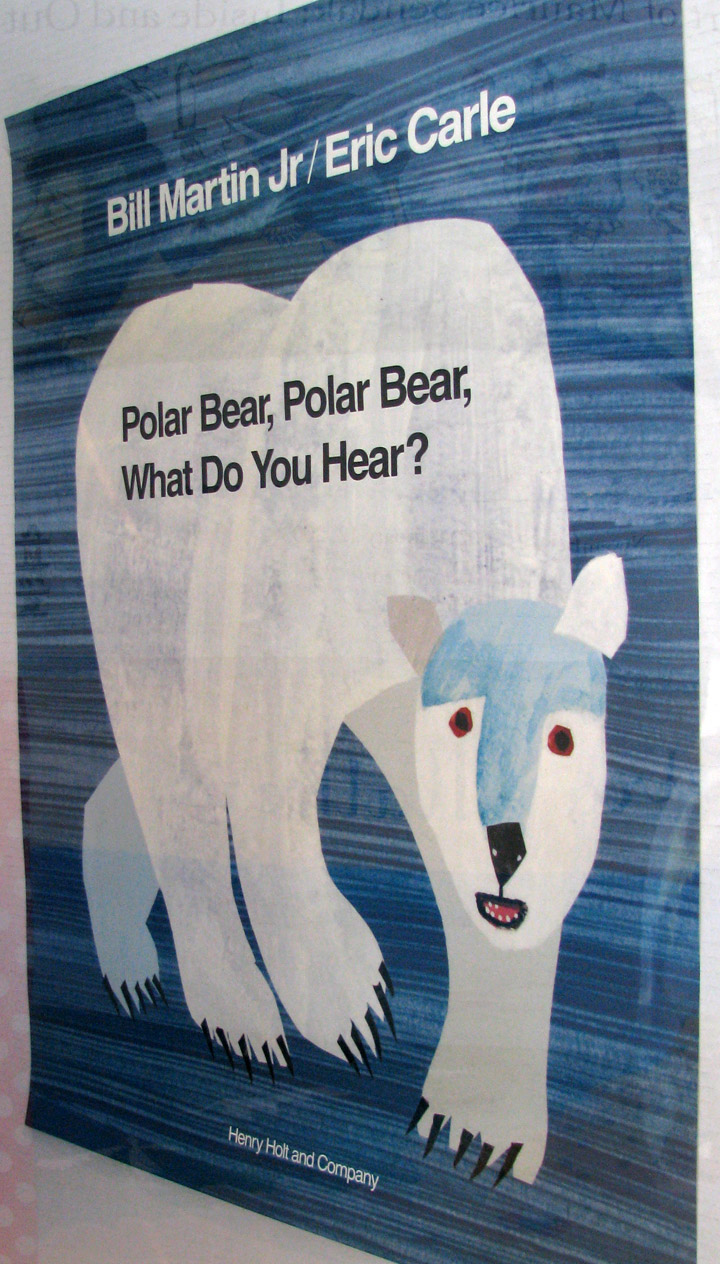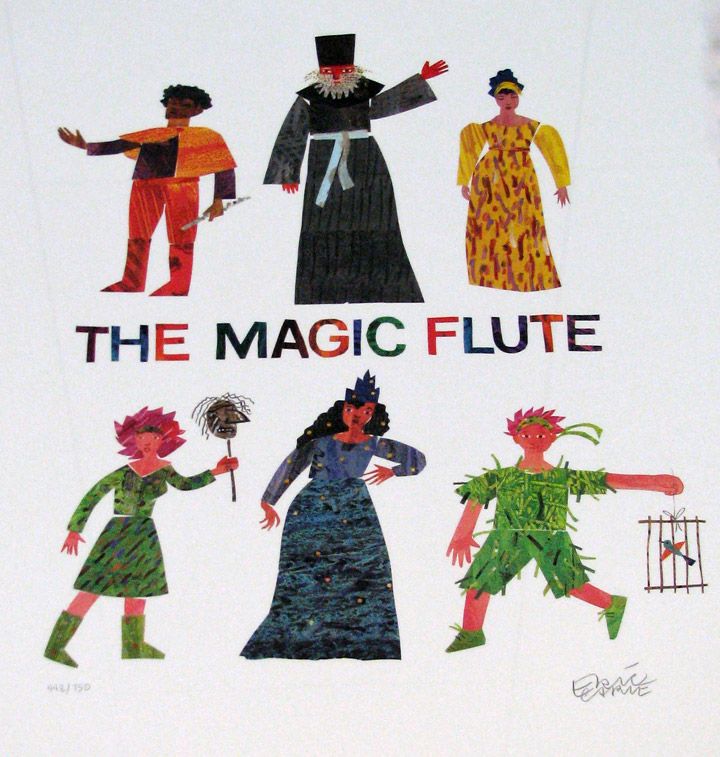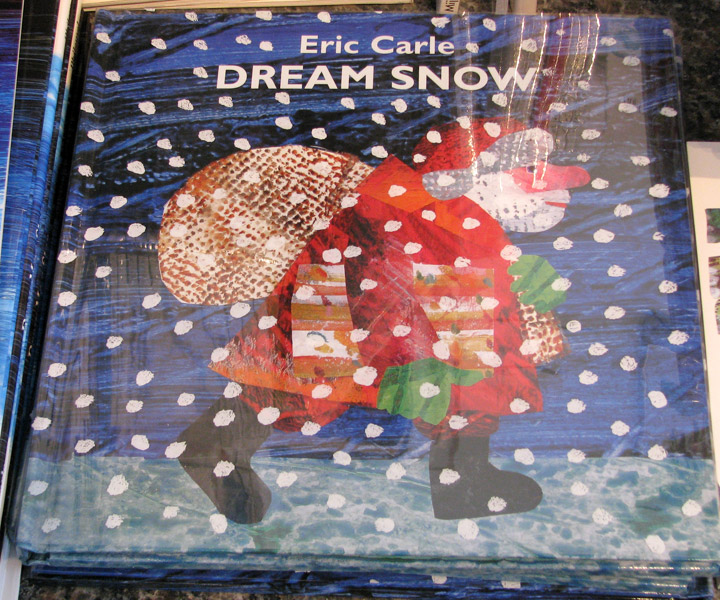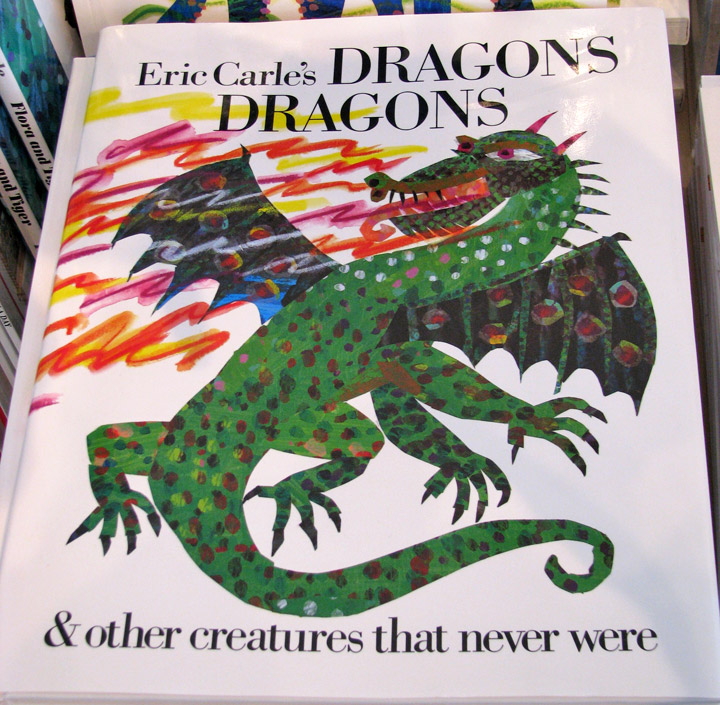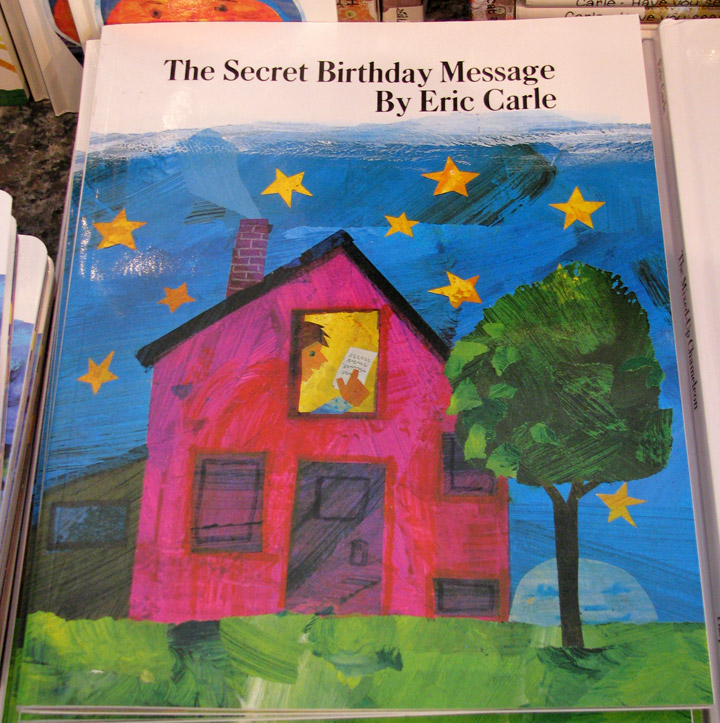 ---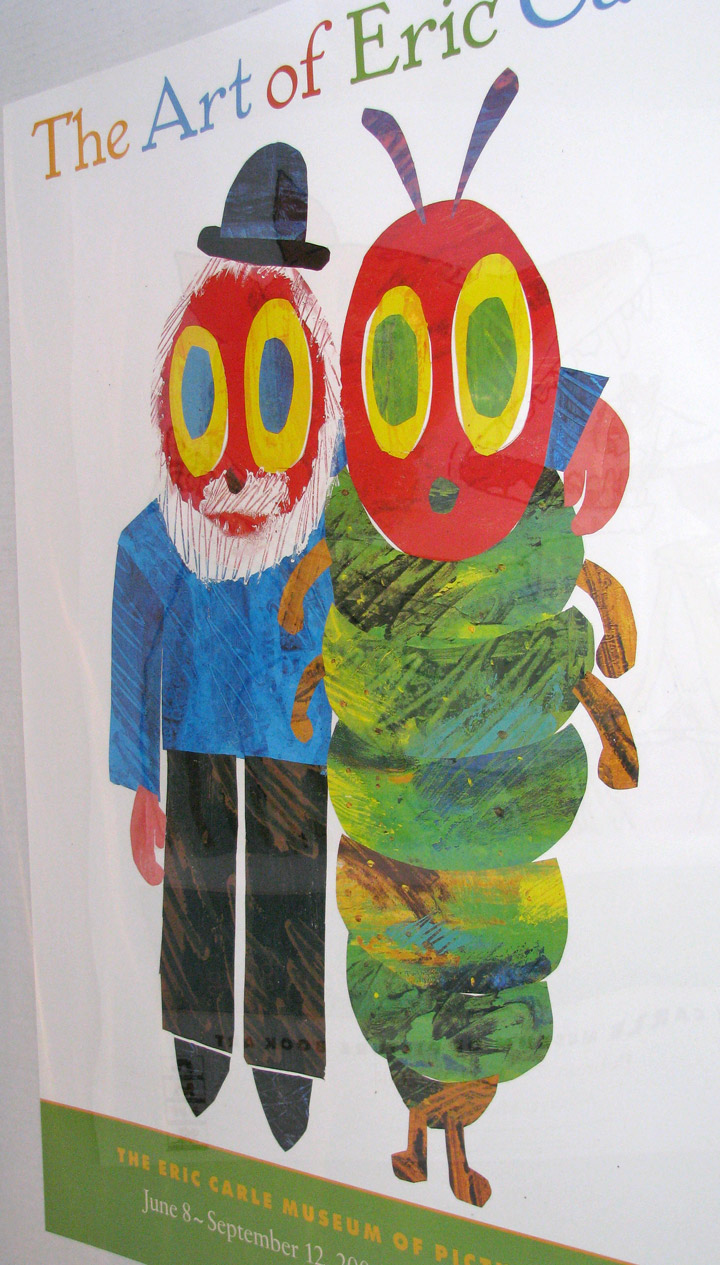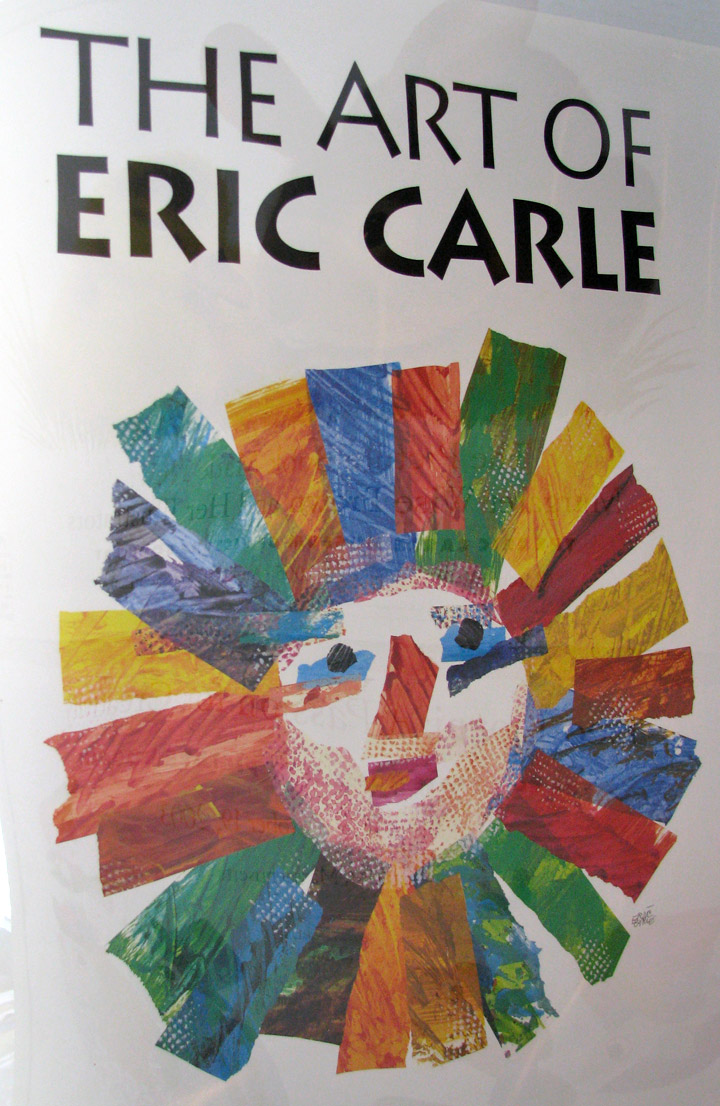 ---
---