Sanctuary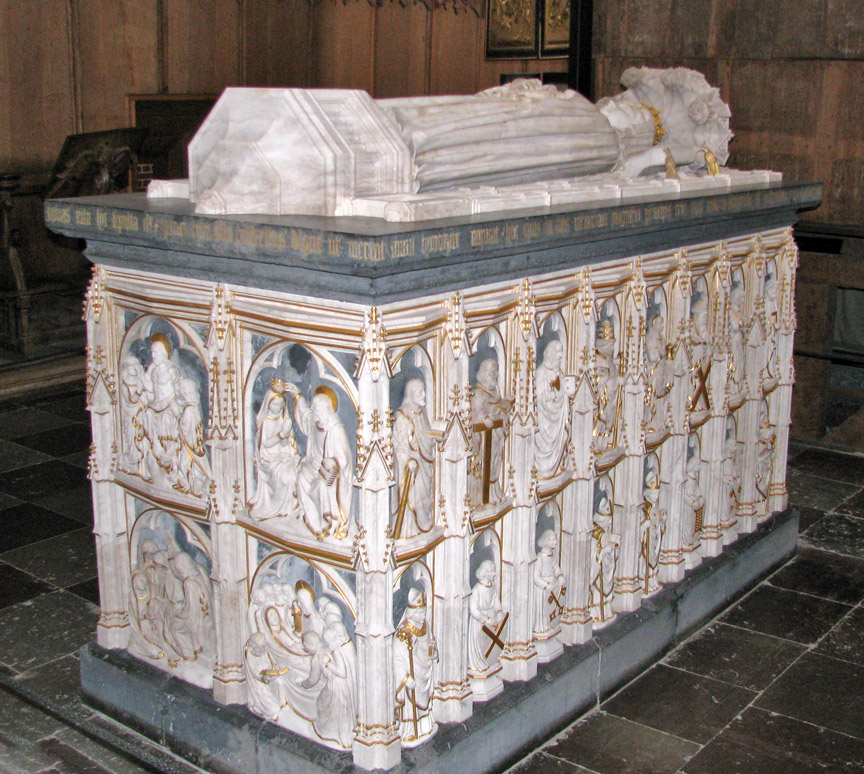 Margrethe I
Margaret Valdemarsdatter (Norwegian: Margrete Valdemarsdotter) (1353 - October 28, 1412) was Queen of Denmark and of Norway and Regent of Sweden, and founder of the Kalmar Union, which united the Scandinavian countries for over a century.

She is known in Denmark as "Margrethe I", to distinguish her from the current queen. Denmark did not have a tradition of allowing women to rule and so when her son died she was named "all powerful lady and mistress (regent) of the Kingdom of Denmark. She only styled herself Queen of Denmark during 1375. Usually Margrethe referred to herself as "Margrethe, by the grace of God, Valdemar the King of Denmark's daughter" and "Denmark's rightful heir" when referring to her position in Denmark. Others simply referred to her as the "Lady Queen" without specifying what she was queen (or female king) of, but not so Pope Boniface IX, who wrote to her as "Queen of Denmark" or "Queen of Denmark, Norway and Sweden".

With regards to Norway, she was known as Queen (queen-consort, then dowager queen) and regent. In Sweden, she was Dowager Queen and Plenipotentiary Ruler. When she married Haakon, in 1363, he was yet co-king of Sweden making Margaret queen, and despite being deposed, they never relinquished the title. When the Swedes expelled Albert I in 1389, in theory Margaret simply resumed her original position.

Margaret was born in Vordingborg Castle, the daughter of Valdemar IV of Denmark and Helvig of Sønderjylland. She married, at the age of ten, King Haakon VI of Norway, who was the younger and only surviving son to Magnus VII of Norway, Magnus II of Sweden.

Her first act after her father's death in (1375) was to procure the election of her infant son Oluf as king of Denmark, despite the claims of her elder sister's husband Duke Henry of Mecklenburg and their son. She insisted the he be proclaimed rightful heir of Sweden among the other titles. Oluf was too young to rule in his own right and Margrethe proved herself a competent and shrewd ruler in the years that followed. In 1380 on the death of his father, Oluf succeeded his father as King of Norway. Young Oluf died at age 17 rather suddenly. The following year Margaret, who had ruled both kingdoms in his name, was chosen regent of Norway and Denmark. She had already given proofs of her superior statesmanship by recovering possession of Schleswig from the Holstein counts, who had held it absolutely for more than a generation, and who now received it back indeed as a gift by the compact of Nyborg, but under such stringent conditions that the Danish crown got all the advantage of the arrangement. By this compact, moreover, the chronically rebellious Jutish nobility lost the support they had hitherto always found in Schleswig-Holstein. Margaret, free from all fear of domestic sedition, could now give her undivided attention to Sweden, where the mutinous nobles were already in arms against their unpopular king, Albert of Mecklenburg. Several of the powerful nobles wrote to Margrethe advising her that if she would help rid Sweden of King Albrecht, she would become regent. She lost no time gathering an army and invading Sweden.

At a conference held at Dalaborg Castle, in March 1388, the Swedes were compelled to accept all Margaret's conditions, elected her "Sovereign Lady and Ruler", and engaged to accept from her any king she chose to appoint. On February 24, 1389, Albert ("Albrecht"), who had returned from Mecklenburg with an army of mercenaries, was routed and taken prisoner at Aasle near Falköping, and Margaret was now the omnipotent mistress of three kingdoms.

Stockholm, then almost entirely a German city, still held out; fear of Margaret induced both the Mecklenburg princes and the Wendish towns to hasten to its assistance; and the Baltic and the North Sea speedily swarmed with the privateers of the Victual Brothers or Vitalian Brotherhood, so called because their professed object was to revictual Stockholm. Finally the Hansa intervened, and by the compact of Lindholm (1395) Albrecht was released by Margaret on promising to pay 60,000 marks within three years, the Hansa in the meantime to hold Stockholm in pawn. Albrecht failed to pay his ransom within the stipulated time, the Hansa surrendered Stockholm to Margaret in September 1398, in exchange for commercial privileges.

It had been understood that Margaret should, at the first convenient opportunity, provide the three kingdoms with a king who was to be a kinsman of all the three old dynasties, although in Norway it was specified that she would continue ruling alongside the new king. In 1389 she proclaimed her great-nephew, Eric of Pomerania (grandson of Henry of Mecklenburg), king of Norway. In 1396 homage was rendered to him in Denmark and Sweden likewise, Margaret reserving to herself the office of regent during his minority. To weld the united kingdoms still more closely together, Margaret summoned a congress of the three Councils of the Realm to Kalmar in June 1397; and on Trinity Sunday, on June 17, Eric was solemnly crowned king of Denmark, Norway and Sweden. The proposed act of union divided the three Councils, but the actual deed embodying the terms of the union never got beyond the stage of an unratified draft. Margaret balked at the clauses which insisted that each country should retain exclusive possession of its own laws and customs and be administered by its own dignitaries, as tending in her opinion to prevent the complete amalgamation of Scandinavia. But with her usual prudence she avoided every appearance of an open rupture.

A few years after the Kalmar Union, Eric, when in his eighteenth year, was declared of age and homage was rendered to him in all his three kingdoms, but during her lifetime Margaret was the real ruler of Scandinavia.
Margaret died suddenly on board her ship in Flensburg harbour on October 28, 1412. Her sarcophagus made by the Lübeck sculptor Johannes Junge (1423) stands behind the high altar in the Roskilde Cathedral, near Copenhagen. She had left property to the cathedral on the condition that Masses for her soul would be said regularly in the future. At the Reformation (1536) this was discontinued; however, to this day a special bell is being rung twice daily in commemoration of the Queen.
---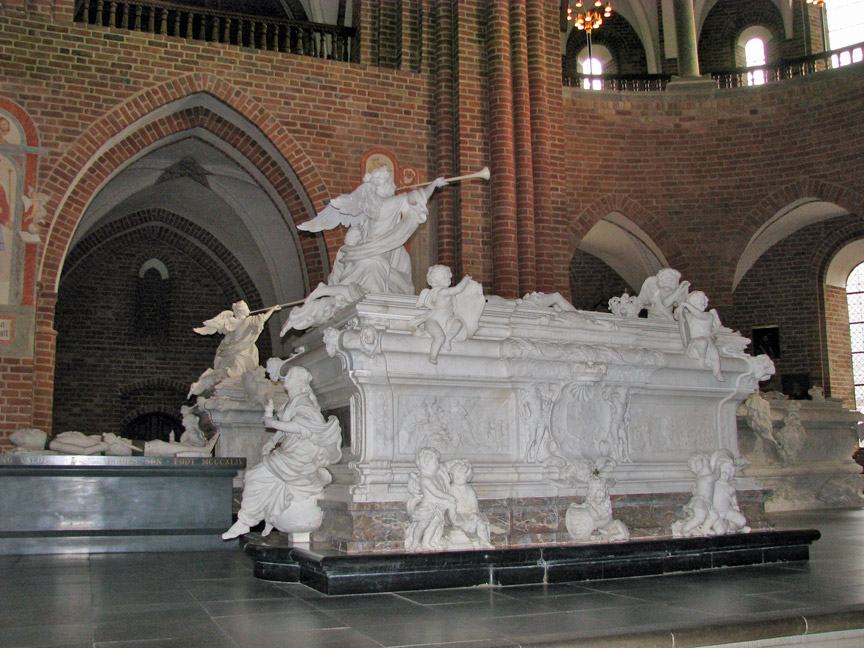 Frederick IV (11 October 1671 – 12 October 1730) was the king of Denmark and Norway from 1699 until his death. Frederick was the son of Christian V and Charlotte Amalie of Hesse-Kassel (or Hesse-Cassel).

For much of Frederik IV's reign Denmark was engaged in the Great Northern War (1700-1721) against Sweden. A first short-lived encounter 1700 ended with a Swedish invasion and threats from Europe's western naval powers. In 1709 Denmark again entered the war encouraged by the Swedish defeat at Poltava. Frederick IV commanded the Danish troops at the battle of Gadebusch in 1712. Although Denmark emerged on the victorious side, she failed to reconquer lost possessions in southern Sweden. The most important result was the destruction of the pro-Swedish duchy of Holstein-Gottorp re-establishing Denmark's domination in Schleswig-Holstein.
His mother was Charlotte, daughter of William VI, Landgrave of Hesse-Kassel. Without divorcing his first queen, Louise of Mecklenburg-Güstrow whom he had wed 5 December 1695, Frederick married twice more; in 1703, he married Elisabeth Helene von Vieregg (d.1704), and the second time, Frederick carried off the 19 year-old Countess Anne Sophie Reventlow from her home in Clausholm near Randers on 26 June 1712 and secretly wed her at Skanderborg. At that time he accorded her the title "Duchess of Schleswig" (derived from one of his own subsidiary titles). Three weeks after Queen Louise's death in Copenhagen on 4 April 1721, he married her again, this time declaring her queen (the only wife of an hereditary Danish king to bear that title who was not a princess by birth). Of the eight children born to him of these three wives, only two survived to adulthood, Christian VI and the spinster princess, Charlotte-Amalia, both from the first marriage.

Nonetheless, much of the king's life was spent in strife with kinsmen. Charles XII of Sweden and Frederick IV, Duke of Holstein-Gottorp were his first cousins and had waged war upon his father jointly. Initially defeated by the Swedes and forced to recognize the independence of Holstein-Gottorp, Frederick finally drove Duke Charles Frederick out of Schleswig in 1713, and avoided the revenge contemplated by the duke's mother-in-law, Catherine I of Russia.

The Reventlows took advantage of their kinship to the king to aggrandize. The sister of Anna, the salonist Christine Sophie Holstein, was nicknamed Madame Chancellor because of her influence. Within a year of conferring the crown matrimonial on Countess Reventlow, Frederick also recognized as dynastic the issue of the morganatic marriages of two of his kinsmen, Duke Philip Ernest of Schleswig-Holstein-Glucksburg (1673–1729) and Duke Christian Charles of Schleswig-Holstein-Plön-Norburg (1674-1706), to non-royal noblewomen. The other Schleswig-Holstein dukes of the House of Oldenburg perceived their interests to be injured, and Frederick found himself embroiled in their complicated lawsuits and petitions to the Holy Roman Emperor. Also offended by the countess's elevation were King Frederick's younger, unmarried siblings, Princess Sophia Hedwig (1677–1735) and Prince Charles (1680–1729, who withdrew from Copenhagen to their own rival court at the handsomely re-modelled Vemmetofte Cloister (later a haven for dowerless damsels of the nobility.

During King Frederick's last years he was afflicted with weak health and private sorrows that inclined him toward Pietism. That form of faith would rise to prevalence during the reign of his son. On his death in 1730, Frederick IV was interred in Roskilde Cathedral.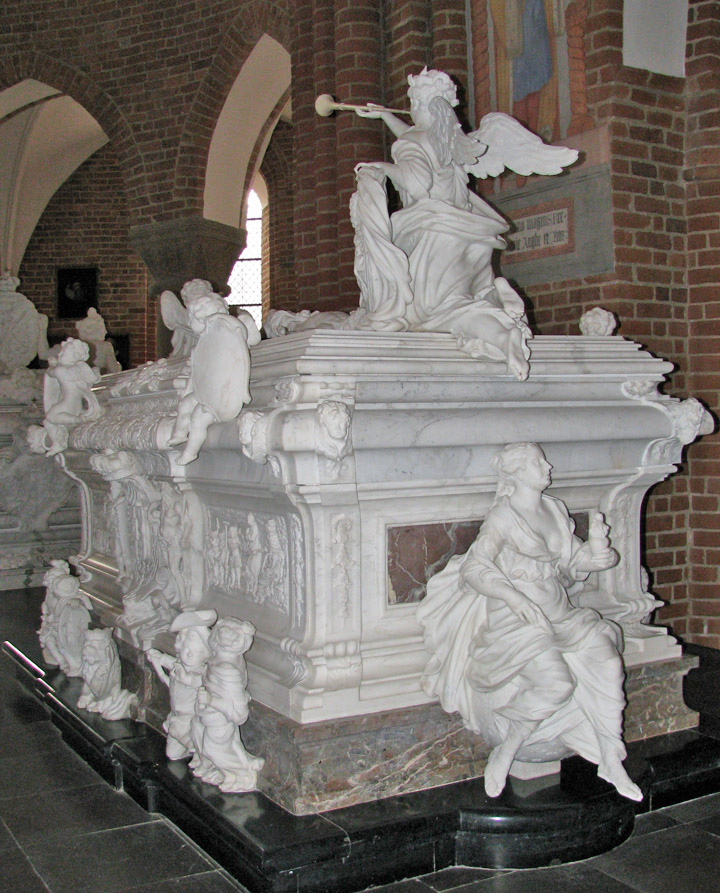 ---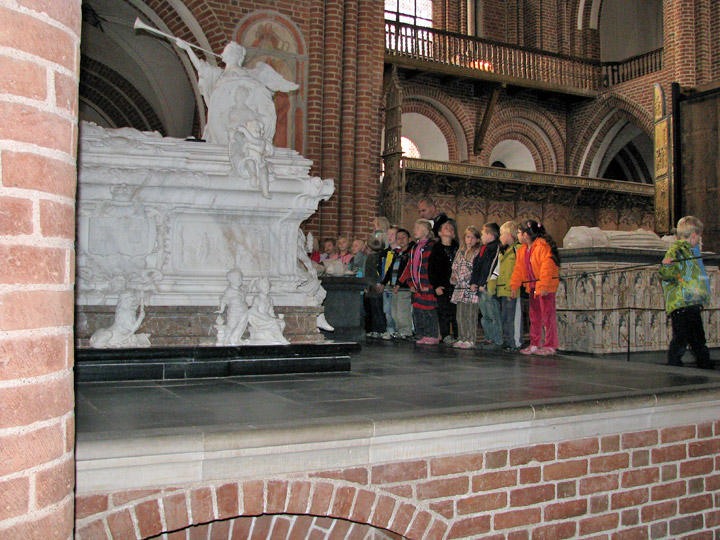 school children viewing the tombmb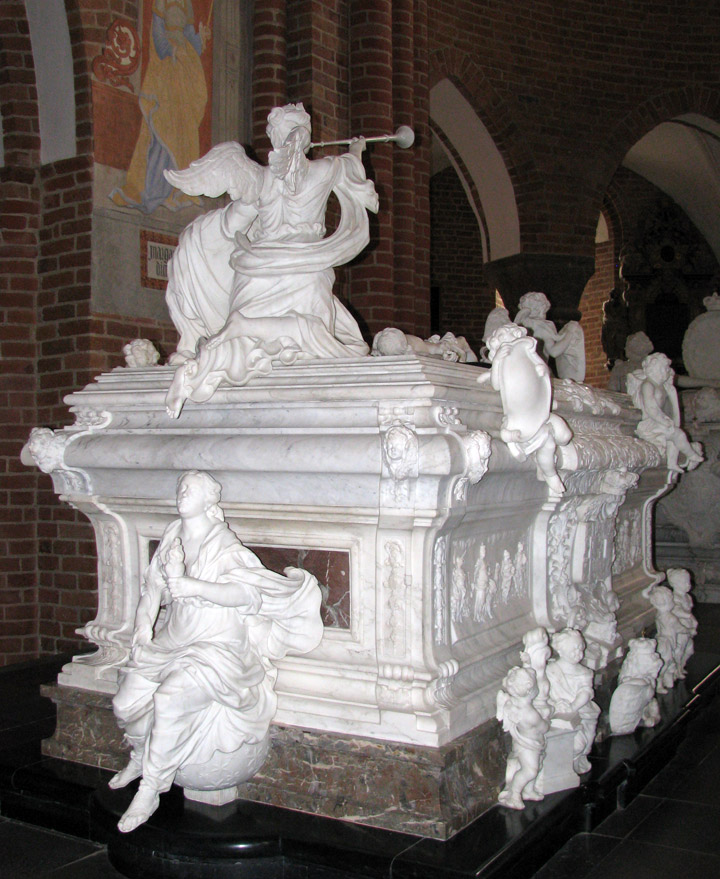 Louise of Mecklenburg-Güstrow (28 August 1667 – 15 March 1721) was Queen consort of Denmark and Norway as the first wife of the King Frederick IV of Denmark.

She was born in Güstrow in the family of Duke Gustav Adolf of Mecklenburg-Güstrow and Magdalene Sibylle of Holstein-Gottorp. Her maternal grandparents were Frederick III of Holstein-Gottorp and Marie Elisabeth of Saxony.

On 5 December 1695, Louise married to Crown Prince Frederik and became Queen consort of Denmark in 1699. Their only child who reached maturity was King Christian VI of Denmark.

Louise lived quietly at the Danish Court. Unlike Frederick IV she never gained popularity with the population. Queen Louise suffered because of her husband's infidelity, which caused embarrassing scenes at the Court. Frederick even entered two morganatic marriages. He raised one of his mistresses, Anna Sophie Reventlow, to the status of Queen just days after Louise's death. Queen Louise was close to her son Christian. She was strongly influenced by Pietism and she sought solace in religion.

Rosenborg was completely abandoned as a Royal residence while Louise was Queen. The building of a new summer residence, Frederiksborg Palace, began in 1699 and was ready for occupation in 1703.

She died in Copenhagen and was buried in the Roskilde Cathedral.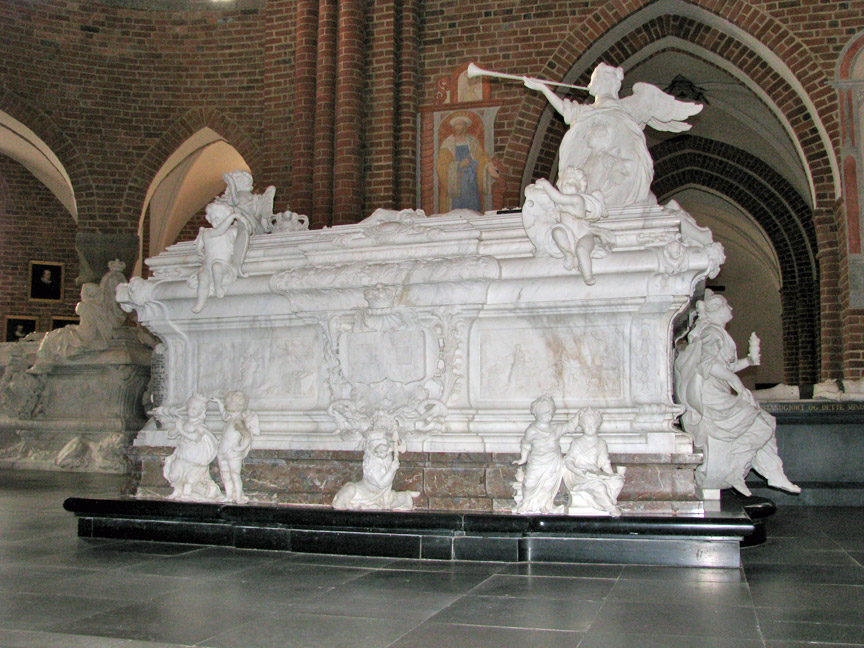 ---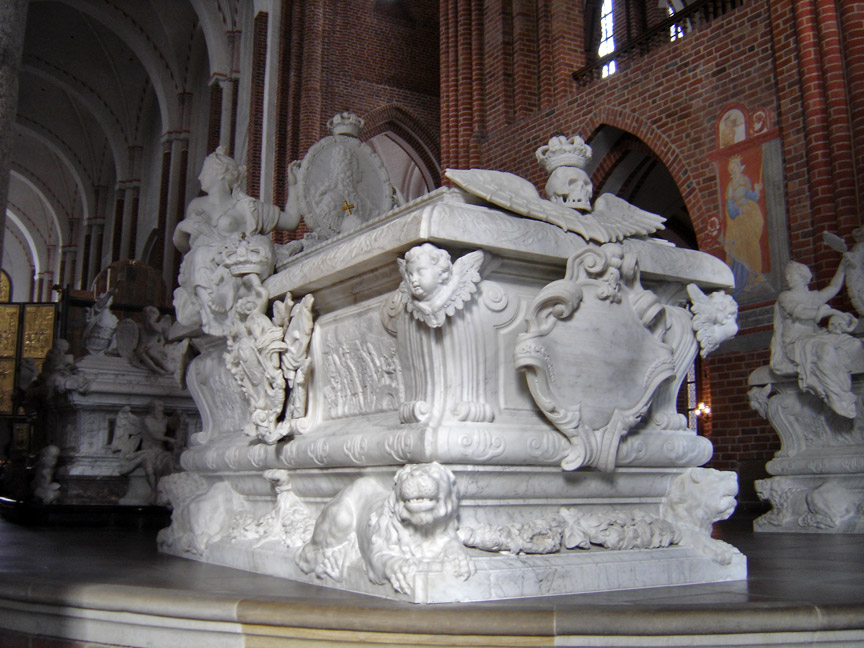 Christian V (15 April 1646 in Flensburg – 25 August 1699 in Copenhagen), was king of Denmark and Norway from 1670-1699.
The son of Frederick III of Denmark and Sophie Amalie of Brunswick-Lüneburg. He married Charlotte Amalie of Hesse-Kassel (or Hesse-Cassel) on 14 May 1667 at Nykøbing, and ascended the throne on 9 February 1670.

It is generally argued that Christian V's personal courage and affability made him popular among the common people, but his image was marred by his unsuccessful attempt to regain Scania for Denmark in the Scanian War. The war exhausted Denmark's economic resources without creating any gains.

Part of his appeal to the common people may be explained by the fact that he allowed Danish commoners into state service, but his attempts to curtail the influence of the nobility also meant continuing his father's drive toward absolutism. To accommodate non-aristocrats into state service, he created the new noble ranks of count and baron. One of the commoners elevated in this way by the King was Peder Schumacher, named Count Griffenfeld by Christian V in 1670 and high councilor of Denmark in 1674.
Griffenfeldt, a skilled statesman, better understood the precarious situation Denmark placed itself in by attacking Sweden at a time when the country was allied with France, the major European power of the era. As Griffenfeldt had predicted, Sweden's stronger ally France was the party that dictated the peace with Denmark's ally Holland, and in spite of Danish victory at sea in the battles against Sweden in 1675–1679 during the Scanian War, Danish hopes for border changes on the Scandinavian Peninsula between the two countries were dashed. The results of the war efforts proved politically and financially unremunerative for Denmark. The damage to the Danish economy was extensive. At this point, Christian V no longer had his most experienced foreign relations counsel around to repair the political damage - in 1676 he had been persuaded to sacrifice Griffenfeldt as a traitor, and to the clamour of his adversaries, Griffenfeldt was imprisoned for the remainder of his life.

Christian V introduced Danske Lov (Danish Code) 1683 which was the first law code for all of Denmark. It was succeeded by the similar Norske Lov (Norwegian Code) 1687. He also introduced the land register of 1688, which attempted to work out the land value of the united monarchy in order to create a more just taxation. During his reign, science had a golden age due to the work of the astronomer Ole Rømer, in spite of the king's personal lack of scientific knowledge and interest.

Christian V had eight children by his wife and six by his mistress. He publicly introduced his sixteen-year-old mistress, Amelia Moth (1654-1719), into court, a move which insulted his wife. His mistress was the daughter of his former tutor (Paul Moth), and he made her countess of Samsø on 31 December 1677.

After the Scanian War, his sister, Princess Ulrike Eleonora of Denmark married the Swedish king Charles XI, whose mother was a stout supporter of the Duke of Holstein-Gottorp. In spite of the family ties, war between the brothers-in-law was close again in 1689, when Charles XI nearly provoked confrontation with Denmark by his support of the exiled Christian Albert, Duke of Holstein-Gottorp in his claims to Holstein-Gottorp in Schleswig-Holstein.

Like Charles XI of Sweden, who had never been outside Sweden, Christian spoke German and Swedish only and was therefore often considered unintelligent because he was unable to contribute when foreign diplomats visited, Christian V was also often considered poorly educated and dependent on his councillors by contemporary sources. The Danish monarch did nothing to dispel this notion. In his memoirs, he listed "hunting, love-making, war and maritime affairs" as his main interests in life.

He died from the after-effects of a hunting accident and was interred in Roskilde Cathedral.
---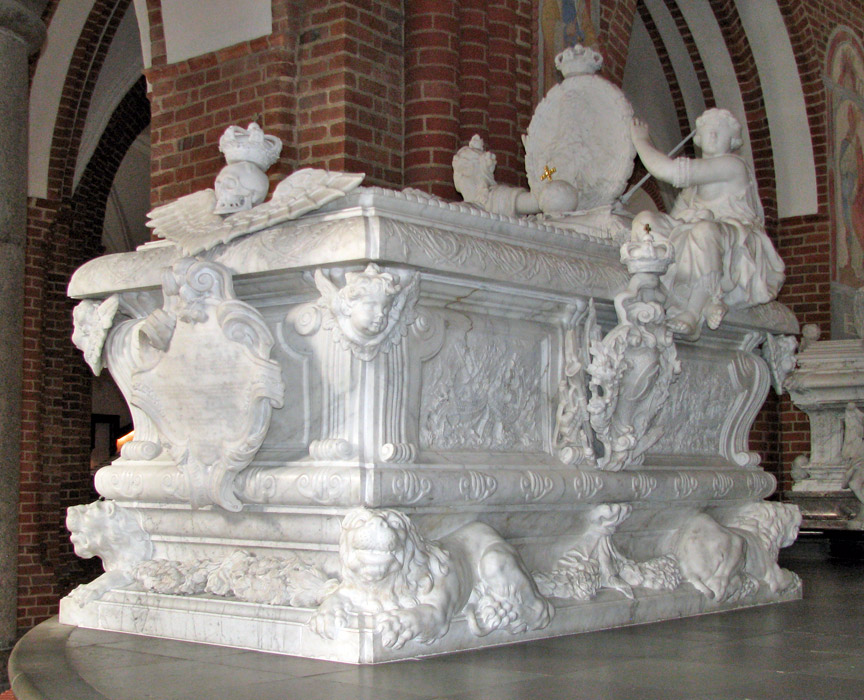 Charlotte Amalie of Hesse-Kassel (27 April 1650–27 March 1714) was queen-consort of Denmark and Norway, being the wife of King Christian V.V.

She was born in Kassel, Hesse, Germany. Her parents were Landgrave Wilhelm VI of Hesse-Kassel and his wife Hedwig Sophie of Brandenburg.

Charlotte Amalie was married on 25 June 1667 to Prince Christian and became the Queen of Denmark on his accession in 1670. As well as other children they had a son, later King Frederik IV, and a daughter Sophia Hedwig.

Charlotte Amalie was raised in the Reformed faith. She kept her faith after wedding Christian, who as ruler of Denmark was the head of the state church, the Lutheran Church. She succeeded in exempting herself and her court from the requirement that they adhere to the Lutheran Church. Charlotte obtained the right to practice her "Reformed" faith, and build a "Reformed" Church, which she financed herself. However, her action caused the Lutheran clergy to oppose her coronation as Queen.

She gained popularity from defending Copenhagen when King Charles XII of Sweden invaded Zealand in 1700.

Charlotte Amalie owned several estates around the country and she administered them skilfully. After the death of Christian V in 1699, she moved to a mansion which she had bought: Charlottenborg Palace on Kongens Nytorv in Copenhagen, where she lived from 1700 until she died. The mansion, which is named after her, has housed the Royal Danish Academy of Art since 1754.

She died in Copenhagen and was buried in Roskilde Cathedral.

The town of Charlotte Amalie on St. Thomas, U.S. Virgin Islands is named after her.
Text from Wikipedia
---
---