Chapel of the Magi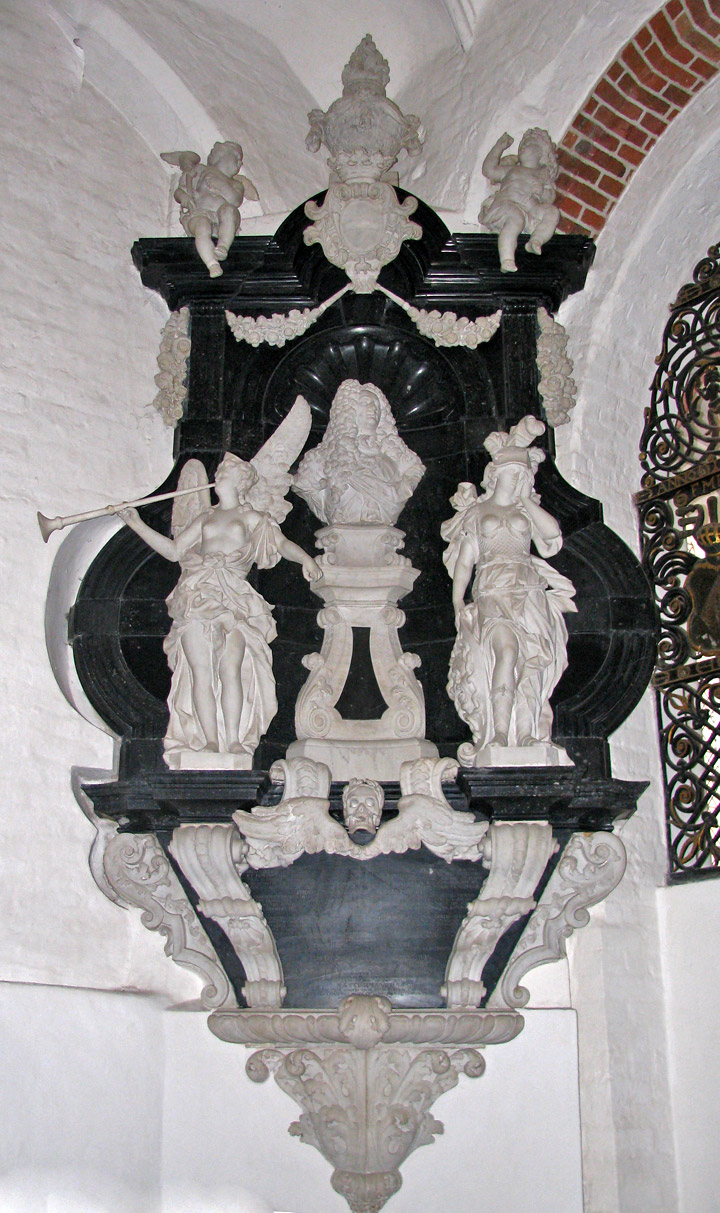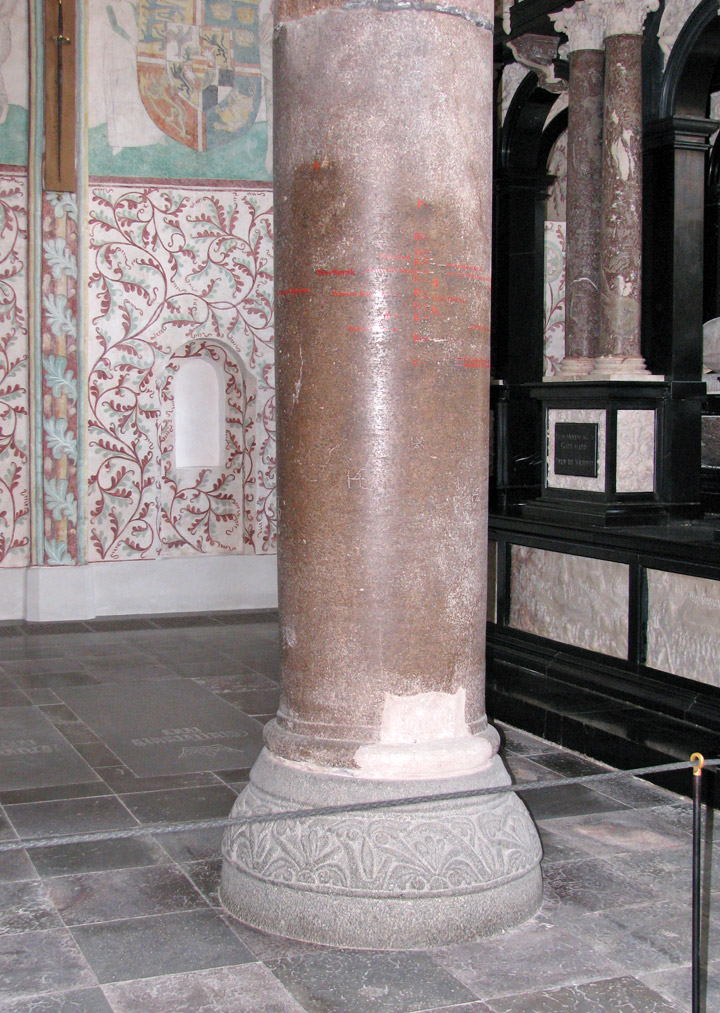 "King's Column"
The chapel contains an unusual stone pillar called the "King's Column". Many members of the Danish royal family and important royal visitors have had their heights recorded on the stone. Beside Danish royals, Edward the VII of England, Peter the Great of Russia, and King Chulalongkorn of Thailand were measured on the column.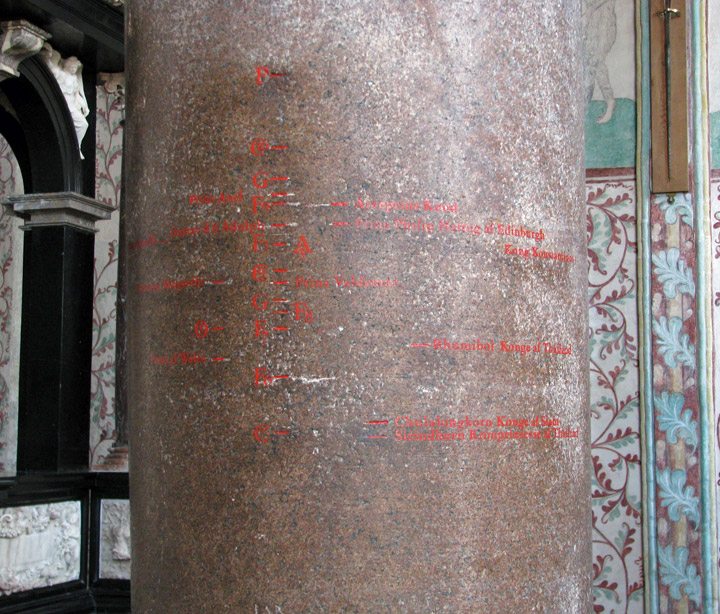 ---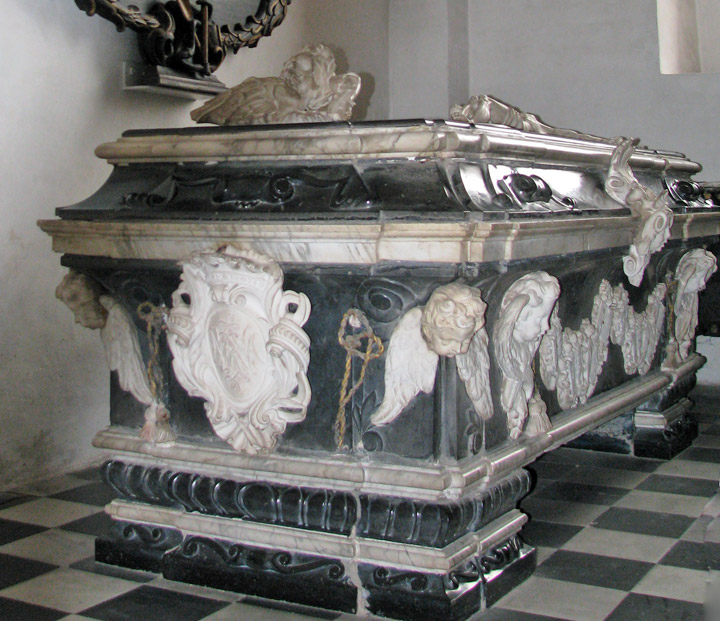 Christian I (1426 – 1481), Danish monarch and union king of Denmark (1448 – 1481), Norway (1450 – 1481) and Sweden (1457 – 1464), under the Kalmar Union.
In Sweden his short tenure as monarch was preceded by regents, Jöns Bengtsson Oxenstierna and Erik Axelsson Tott and succeeded by regent Kettil Karlsson Vasa. Also Duke of Schleswig and Holstein 1460-81.

He was born in February 1426 in Oldenburg. His father was Count Dietrich of Oldenburg (died 1440) whom he succeeded as Count of Oldenburg and Delmenhorst. His mother was his father's second wife, Hedwig of Schleswig and Holstein (Helvig of Schauenburg) (died 1436). Christian had two brothers, Count Moritz V of Delmenhorst (1428 - 1464) and Count Gerhard VI of Oldenburg and Delmenhorst (1430 - 1500), and one sister Adelheid.

King Christopher of Denmark, Sweden and Norway died in January 1448. His death resulted in the break-up of the union of the three kingdoms, as Denmark and Sweden went their separate ways. On 1 September 1448, count Christian of Oldenburg was elected to the vacant Danish throne, as king Christian I. He was a cognatic descendant of King Eric V of Denmark. The throne was first offered by the Statsraad to the most prominent feudal lord of Danish dominions, Duke Adolf VIII of Schleswig-Holstein, but (being relatively old and childless) he declined and recommended his nephew.

Meanwhile, Sweden had on 20 June 1448 elected Charles Knutsson as king. Norway was now faced with the choice between a union with Sweden or Denmark, or electing a separate king. The latter option was quickly discarded, and a power-struggle ensued between the supporters of Christian of Denmark and Charles of Sweden. The Norwegian Council of the Realm was divided. In February 1449, a part of the Council declared in favour of Charles as king, but on 15 June the same year, a different group of councellors paid homage to Christian. On 20 November, Charles was crowned king of Norway in Trondheim. However, the Swedish nobility now took steps to avoid war with Denmark. In June 1450, the Swedish Council of the Realm forced Charles to renounce his claim on Norway to king Christian. The question of the Norwegian succession had thereby been decided between Denmark and Sweden, and the Norwegian Council was left with only one candidate for the throne. In the summer of 1450, Christian sailed to Norway with a large fleet, and on 2 August he was crowned king of Norway in Trondheim. On 29 August, a union treaty between Denmark and Norway was signed in Bergen. Norway had of old been a hereditary kingdom, but this had become less and less a reality, as at the last royal successions, hereditary claims had been bypassed for political reasons. It was now explicitly stated that Norway, as well as Denmark, was an elected kingdom. The treaty stipulated that Denmark and Norway should have the same king in perpetuity, and that he would be elected among the legitimate sons of the previous king, if such existed.

Christian married Dorothea of Brandenburg (1430 - November 25, 1495), the widow of his predecessor King Christopher (of Bavaria) and thus dowager queen, on October 28, 1449 in Copenhagen. Dorothea and Christian had five children:

Charles Knutsson became increasingly unpopular as king of Sweden, and was driven into exile in 1457. Christian achieved his aim of being elected as king of Sweden, thus re-establishing the Kalmar Union. He received the power from temporary Swedish regents archbishop Jöns Bengtsson Oxenstierna and lord Erik Axelsson Tott. However, Sweden being volatile and split by factions (benefits of union being against nationalistic benefits), his reign there ended in 1464 when bishop Kettil Karlsson Vasa was installed as the next regent. Charles Knutsson was recalled as King of Sweden, although he was later exiled a second time, recalled again and died during his third term as king. Christian's final attempt at regaining Sweden ended in a total military failure at Brunkeberg (outside Stockholm) October 1471 where he was defeated by the Swedish regent Sten Sture the Elder who was supported by the Danish-Swedish nobleman's clan the Thott family. Christian maintained his claim to the Swedish kingdom up to his death in 1481.

In 1460 King Christian also became Duke of Schleswig and Count of Holstein (in 1474 Holstein was elevated to a Duchy by the Holy Roman Emperor). Christian inherited Schleswig-Holstein after a short "interregnum" as the eldest son of the sister of late Duke Adolf VIII, Duke of Schleswig (Southern Jutland) and Count of Holstein, of the Schauenburg fürst clan, who died 4 December 1459, without children. There would have been several genealogically senior claimants of Holstein, but Christian was nephew of the incumbent, the closest relative to that very branch which had lived longest and acquired most fiefs. Christian's succession was confirmed by the Estates (nobility and representatives) of these provinces in Ribe 5 March 1460.

Christian's personal territory was at its largest in 1460-64, before the loss of Sweden. However, many parts of his realm wanted to govern themselves locally, and there were constant struggles. Denmark was his most important center of power.

King Christian died in Copenhagen on May 21, 1481, at the age of 55. He is interred at Roskilde Cathedral. The dynasty he founded, the House of Oldenburg, remained on the throne of Denmark until 1863, and of Norway until 1814. Through his fourth and fifth children respectively, he was an ancestor to James VI, of Scotland and England, and his wife, Anne of Denmark. He is therefore an ancestor to the present-day British royal family, including Elizabeth II, Queen of Great Britain and Northern Ireland. Through his eldest surviving son, he is ancestor of Dukes of Lorraine (later Emperors of Austria) and also of Electors of Brandenburg-Prussia. Through his youngest son, he is ancestor of kings of Denmark, Greece, Norway, some kings of Sweden, as well as Tsars of Russia.
---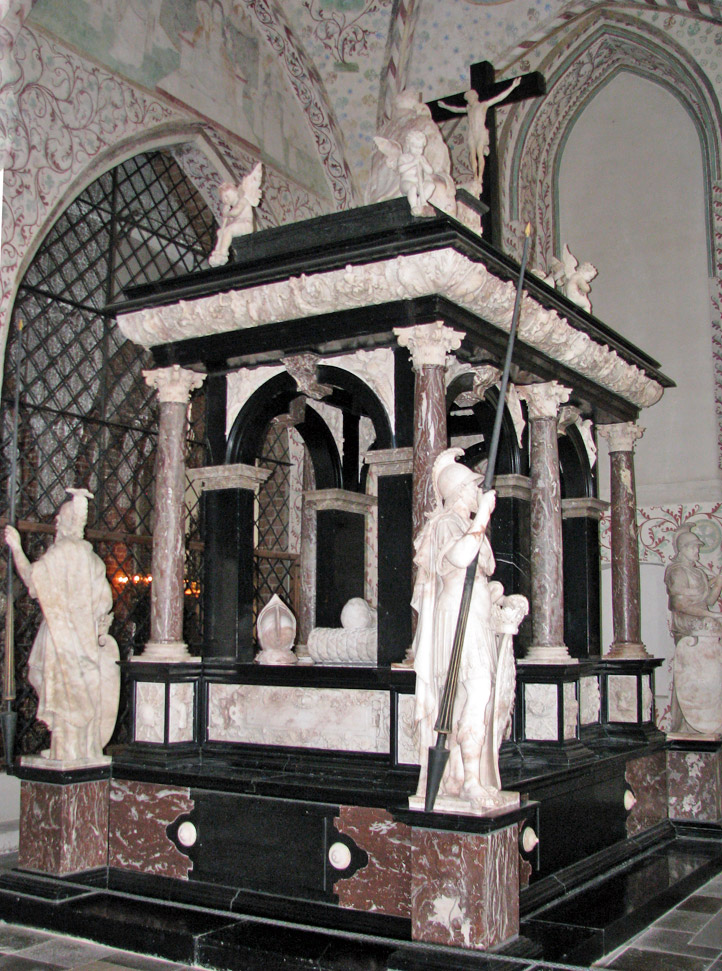 Christian III (August 12, 1503 – January 1, 1559), king of Denmark and Norway, was the son of Frederick I of Denmark and his first consort, Anna of Brandenburg.

His earliest teacher, Wolfgang von Utenhof, who came straight from Wittenberg, and the Lutheran Holsatian Johann Rantzau, who became his tutor, were both able and zealous reformers. In 1521 Christian travelled in Germany, and was present at the Diet of Worms, where Luther's arguments profoundly intrigued him. On his return he found that his father had been elected king of Denmark in the place of Christian II, and the young prince's first public service was the reduction of Copenhagen, which stood firm for the fugitive Christian II. He made no secret of his Lutheran views, and his outspokenness brought him into conflict, not only with the Catholic Rigsraad, but also with his cautious and temporizing father. At his own court at Schleswig he did his best to introduce the Protestant Reformation, despite the opposition of the bishops. Both as stadtholder of the Duchies in 1526, and as viceroy of Norway in 1529, he displayed considerable administrative ability, though here too his religious intolerance greatly provoked the Catholic party. There was even some talk of passing him over in the succession to the throne in favour of his half-brother Hans, who had been brought up in the old religion. On his father's death 1533 Christian was next year proclaimed king at an assembly in Rye, a town in eastern Jutland.

The Danish State Council (Danish:rigsraad) dominated by the Catholic bishops and nobles refused to accept Duke Christian as king and turned to Count Christopher of Oldenburg in order to restore the staunch Catholic Christian II to the throne. The two year civil war called the Count's Feud (Danish:Grevens Fejde) between Protestant and Catholic forces 1534- 1536 would change the course of Denmark's history. Christian III found his support among the nobles of Jutland. Count Christopher had the support of most of Zealand, Scania, the Hanseatic League, and the peasants of northern Jutland and Funen. Count Christopher was proclaimed regent at the Ringsted Assembly (Danish:landsting) and at the St Liber's Hill Assembly in Scania, Christian II was proclaimed king again.

1534 brought a peasant uprising under Skipper Clement in northern Jutland. Peasants began burning manor houses and pillaging the holdings of Catholic nobles. As the army swept south, thousands of peasants joined Clement. An army of nobles and their men assembled at Svendstrup and suffered a terrible defeat at the hands of the peasants. Realizing his hold on the throne was in imminent danger, Christian III negotiated a deal with the Hansa States which allowed him to send his trusted advisor Johan Rantzau north with an army of German mercenaries. Clement and his army fled north taking refuge inside the walls of Aalborg. In December Rantzau's forces stormed the city and breached the walls. In the following days 3000 people were massacred, and the city plundered by the Germans. Clement managed to escape the slaughter, but was apprehended a few days later. He was tried and beheaded in 1535. His body was cut apart and placed on a sty, a lead crown was placed on Clement's spiked head.

With Jutland more or less secure, Christian next focused on gaining control of Scania. He appealed to King Gustav Vasa for help in subduing the rebels. Vasa immediately obliged by sending two armies to ravage central Scania and Halland. The peasants suffered a bloody defeat at Loshult. The Swedes moved against Helsingborg Castle which surrendered in January 1535. Helsingborg was burned to the ground in retaliation.

Rantzau moved his army to Funen and defeated Count Christopher's army at Øksnebjerg in June 1535. Count Christopher's forces held out in Malmø and Copehagen until July 1536 when they surrendered after several months of siege by Christian II's forces. When they capitulated, Christian III was firmly on Denmark's throne, and the Catholic forces in Denmark subdued.

The triumph of so fanatical a reformer as Christian III would bring about an end to Catholicism in Denmark, but Catholics still controlled the Council of State. Christian ordered the arrest of three of the bishops on the State Council by his German mercenaries (August 12, 1536). Luther wrote to the king congratulating him on his success. Christian's debt for the Count's Feud was enormous and confiscating the immense property of the bishops immediately enabled him to pay down the debt his creditors. The ultimate gainers by the confiscation were the nobles.

Frederik's Protestant enthusiasm swept Denmark toward the establishment of the Danish Lutheran Church as the national church of Denmark (Danish:Folkekirke). This occurred officially on 30 October 1536 when the reconstituted State Council adopted the Lutheran Ordinances which outlined church organization, liturgy, and accepted religious practice. Monasteries, nunneries, priories were closed and the property taken by the crown. Vast tracts of land were handed out to Frederik's supporters. Superfluous churches were closed, cathedral schools terminated, and recalcitrant priests turned out of their parishes. Catholic bishops were imprisoned until they agreed to marry and give up their privileges. Most submitted after years of imprisonment. Some refused to accept church reforms and died in prison.

The circumstances under which Christian III ascended the throne exposed Denmark to the danger of foreign domination. It was with the help of the gentry of the duchies that Christian had conquered Denmark. German and Holsatian noblemen had led his armies and directed his diplomacy. A mutual confidence between a king who had conquered his kingdom and a people who had stood in arms against him was not attainable immediately, and the first six years of Christian III's reign were marked by a contest between the Danish Rigsraad and the German counsellors, both of whom sought to rule "the pious king" exclusively. Though the Danish party won a signal victory at the outset, by obtaining the insertion in the charter of provisions stipulating that only native-born Danes should fill the highest dignities of the state, the king's German counsellors continued paramount during the earlier years of his reign. The ultimate triumph of the Danish party dates from 1539, the dangers threatening Christian III from the emperor Charles V and other kinsmen of the imprisoned Christian II convincing him of the absolute necessity of removing the last trace of discontent in the land by leaning exclusively on Danish magnates and soldiers. The complete identification of the Danish king with the Danish people was accomplished at the Herredag of Copenhagen, 1542, when the nobility of Denmark voted Christian a twentieth part of all their property to pay off his heavy debt to the Holsatians and Germans.

The pivot of the foreign policy of Christian III was his alliance with the German Evangelical princes, as a counterpoise to the persistent hostility of Charles V, who was determined to support the hereditary claims of his nieces, the daughters of Christian II, to the Scandinavian kingdoms. War was actually declared against Charles V in 1542, and, though the German Protestant princes proved faithless allies, the closing of the Sound against Dutch shipping proved such an effective weapon in King Christian's hand that the Netherlands compelled Charles V to make peace with Denmark at the diet of Speyer, on May 23, 1544. The foreign policy of Christian's later days was regulated by the peace of Speyer. He carefully avoided all foreign complications; refused to participate in the Schmalkaldic war of 1546; mediated between the emperor and Saxony after the fall of Maurice of Saxony at the battle of Sievershausen in 1553, and contributed essentially to the conclusion of peace. King Christian III died on New Year's Day 1559 and was interred in Roskilde Cathedral.
---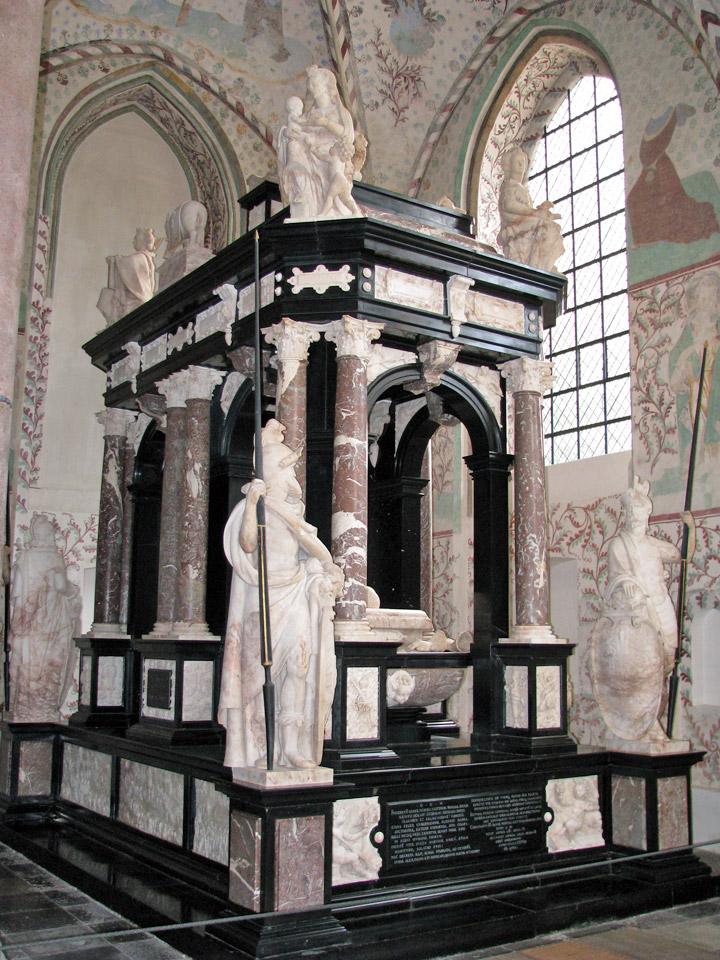 Frederick II (1 July 1534 – 4 April 1588), King of Denmark and Norway from 1559 until his death.
He was the son of King Christian III of Denmark and Norway and Dorothea of Saxe-Lauenburg.

First of all Frederick II stands as the typical renaissance ruler of Denmark. Unlike his father he was strongly affected by military ideals and already as a young man he made friendship with German war princes. Shortly after his succession he won his first victory by the conquest of Dithmarschen in the summer of 1559.

The dominating conflict of his rule was the Scandinavian Seven Years' War 1563-1570 in which he tried in vain to conquer Sweden, which was ruled by his cousin, the insane King Eric XIV. It developed into an extremely expensive war of attrition in which the areas of Scania were ravaged by the Swedes and Norway was almost lost. During this war the king led his army personally on the battlefield but without much result and the conflict damaged his relationship to his noble councillors. However, internal unrest in Sweden and the taking over of Danish administration by the able Steward of the Realm Peder Oxe stabilised the situation. The war ended by a status quo peace that let Denmark save face but also showed the limits of Danish military power.

After the war Frederick kept the peace without giving up his attempt of trying to expand his prestige as a naval ruler. His foreign politics were marked by a moral support of the Protestant powers – in his time as a bachelor he wooed Queen Elizabeth I of England, an initiative which made him Knight of the Garter - but at the same time by a strict neutrality. Councillors of experience like Peder Oxe, Niels Kaas, Arild Huitfeldt and Christoffer Valkendorff took care of the domestic administration.

As a person Frederick was described as hot-headed, vain, courageous and ambitious. He was a lover of hunting, wine and feasts and at his death it was a common opinion that he had drunk himself to death.

He rebuilt Kronborg castle in Elsinore between 1574 and 1585. In 1567 he founded Fredrikstad in Norway. This was a period of affluence and growth in Danish history. Frederick was also a major patron of the famous astronomer Tycho Brahe.

Frederik II upper secondary school in Fredrikstad is named after this King. It is one of the largest schools of its kind in Norway.

On 20 July 1572 he was married to Sophia of Mecklenburg-Güstrow, a descendant of King Hans of Denmark.
Text from Wikipedia
---
---