Glücksborgian Chapel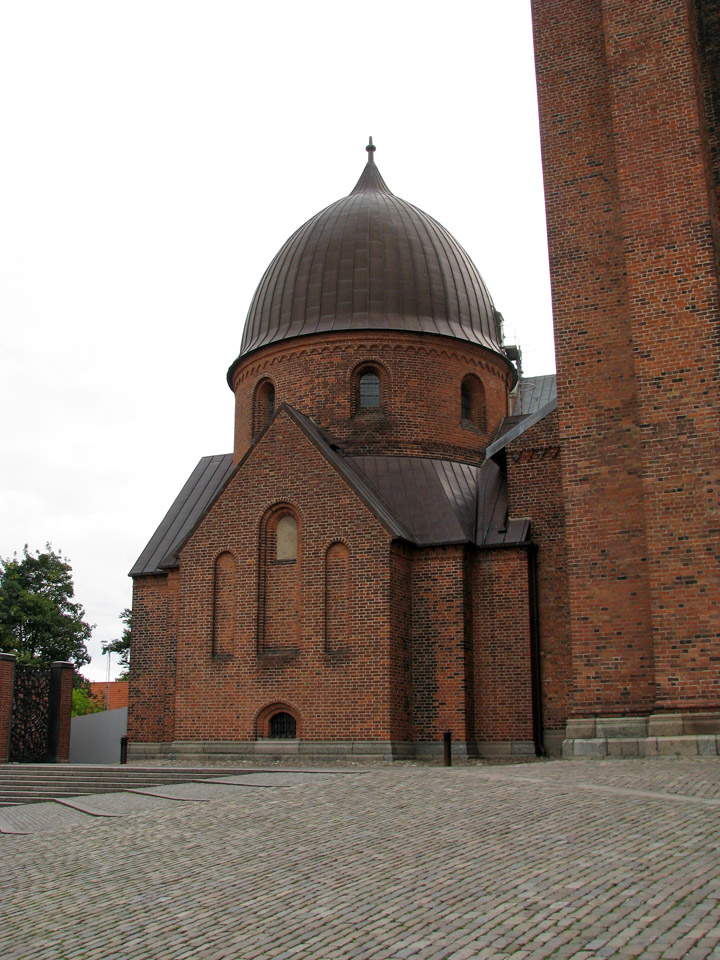 Glücksborgian Chapel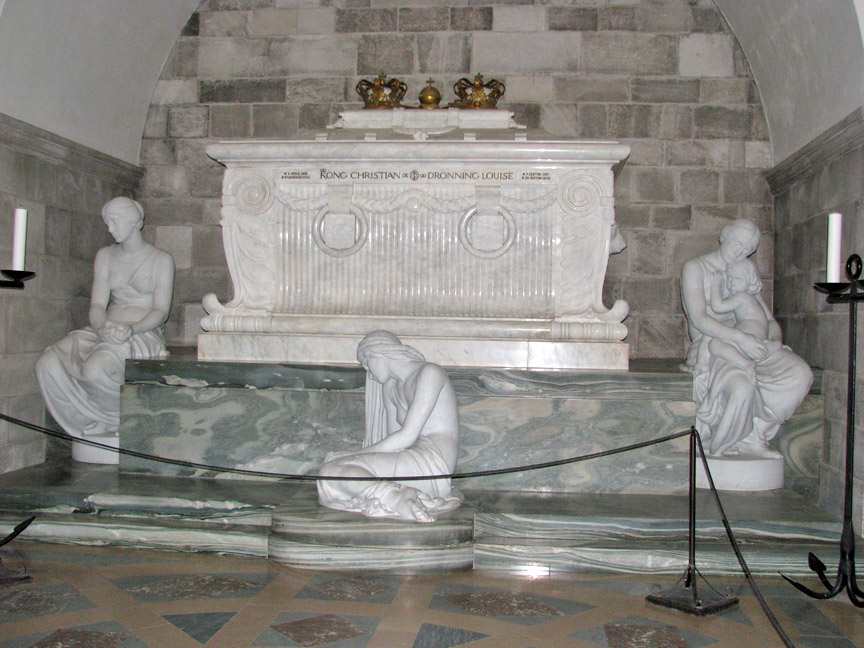 Christian IX (April 8, 1818 - January 29, 1906) was King of Denmark from November 16, 1863 to January 29, 1906.
He was born in Gottorp, the fourth son of Friedrich Wilhelm, Duke of Schleswig-Holstein-Sonderburg-Glücksburg and Louise Caroline, Princess of Hesse. Through his mother, Christian was a great-grandson of Frederick V of Denmark, great-great-grandson of George II of Great Britain and descendant of several other monarchs, but had no direct claim to any European throne.

Through his father, Christian was a member of a junior male branch of the House of Oldenburg (he was a direct male-line descendant of King Christian III of Denmark) and was (albeit a junior) agnatic descendant of Helwig of Schauenburg (countess of Oldenburg), mother of King Christian I of Denmark, who was the "Semi-Salic" heiress of her brother Adolf of Schauenburg, last Schauenburg duke of Schleswig and count of Holstein. As such, Christian was eligible to succeed in the twin duchies of Schleswig-Holstein, but not first in the line.

He grew up in Denmark and was educated in the Military Academy of Copenhagen.

As a young man, he unsuccessfully sought the hand of his third cousin Queen Victoria in marriage. In 1842, he married Louise of Hesse-Kassel (or Hesse-Cassel), a niece of Christian VIII.

In 1847, under the blessing from the great powers of Europe, he was chosen as heir presumptive to the Danish throne by Christian VIII, as the future Frederick VII seemed incapable of fathering children. A justification for this choice of heir was Christian's wife Louise of Hesse-Kassel. (She was, as a great-niece of Christian VII, a closer heir to the throne than her husband.)

Christian succeeded Frederick VII to the throne on November 15, 1863. Denmark was immediately plunged into a crisis over the possession and status of Schleswig and Holstein, two provinces to Denmark's south. Under pressure, Christian signed the November Constitution, a treaty that made Schleswig part of Denmark. This resulted in a brief war between Denmark and a Prussian/Austrian alliance in 1864. This Second war of Schleswig's outcome was unfavorable to Denmark and led to the incorporation of Schleswig into Prussia in 1865. Holstein was likewise incorporated into Prussia in 1865, following further conflict between Austria and Prussia.

Frederick's childlessness had presented a thorny dilemma and the question of succession to the Danish throne proved problematic. Denmark's adherence to the Salic Law and a burgeoning nationalism within the German-speaking parts of Schleswig-Holstein hindered all hopes of a peaceful solution. Proposed resolutions to keep the two Duchies together and as a part of Denmark proved unsatisfactory to both Danish and German interests. While Denmark had adopted the Salic Law, this only affected the descendants of Frederick III of Denmark (who was the first hereditary monarch of Denmark - before him the kingdom was officially elective). Agnatic descent from Frederick III ended when Frederick VII died. At that point, the law of succession promulgated by Frederick III provided for a Semi-Salic succession. There were however several ways to interpret to whom the crown could pass, since the provision was not entirely clear as to whether a claimant to the throne could be the closest female relative or not.

As the nations of Europe looked on, the numerous descendants of Helwig of Schauenburg began to vie for the Danish throne. Frederick VII belonged to the senior branch of Helwig's descendants. In 1863, Frederick, Duke of Schleswig-Holstein-Sonderburg-Augustenburg (1829-1880) (the future father-in-law of Kaiser Wilhelm II of Germany), proclaimed himself Frederick VIII of Schleswig-Holstein. Frederick von Augustenburg became the symbol of the nationalist German independence-movement in Schleswig-Holstein, after his father (in exchange for money) renounced his claims as first in line to inherit the twin-duchies of Schleswig and Holstein. Following the London protocol of May 8, 1852, which concluded the First war of Schleswig and given his father's renunciation, Frederick was deemed ineligible to inherit.

The closest female relatives of Frederick VII were the children of his paternal aunt, Louise, who had married a scion of the cadet branch of the House of Hesse. However, they were not agnatic descendants of the royal family and thus not eligible to succeed in Schleswig-Holstein.

The dynastic female heiress reckoned according to the original law of primogeniture of Frederick III was Caroline of Denmark (1793-1881), the childless eldest daughter of the late king Frederick VI. Along with another childless daughter Wilhelmine of Denmark (1808-1891), Duchess of Glucksburg, and sister-in-law of Christian IX, the next heir was Louise, sister of Frederick VI, who had married the Duke of Augustenburg. The chief heir to that line was the selfsame Frederick of Augustenborg, but his turn would have come only after the death of two childless princesses who were very much alive in 1863.

The House of Glucksburg also held a significant interest in the succession to the throne. A more junior branch of the royal clan, they were also heirs of Frederick III, through the daughter of King Frederick V of Denmark. Lastly, there was yet a more junior agnatic branch that was eligible to succeed in Schleswig- Holstein. There was Christian himself and his three older brothers, the eldest of whom, Karl, was childless, but the others had produced children, and male children at that.

Prince Christian had been a foster "grandson" of the childless royal couple Frederick VI and his queen consort Marie (Marie Sophie Frederikke of Hesse). Familiar with the royal court and the traditions of the recent monarchs, their young ward, Prince Christian was great-nephew of queen Marie, and descendant of a first cousin of Frederick VI. He was brought up as Danish, having lived in Danish-speaking lands of the royal dynasty, and had not become a German nationalist which made him a relatively good candidate from the Danish point of view. As junior agnatic descendant, he was eligible to inherit Schleswig-Holstein, but was not the first in line. As descendant of Frederick III, he was eligible to succeed in Denmark, although here too, he was not first in line.

In 1842, Christian married Princess Louise of Hesse, eldest daughter of the eldest son of the closest female relative of Frederick VII. Louise's father and brothers, princes of Hesse, renounced their rights in favor of Louise and her husband. Prince Christian's wife was now the closest female heiress of Frederick VII.

In 1852, the thorny question of Denmark's succession was resolved by legislation through which Christian was chosen to succeed Frederick VII as the country's next reigning monarch.

When Frederick died in 1863, Christian assumed the throne as Christian IX.

In November 1863 Frederick of Augustenburg claimed the twin-duchies in succession after King Frederick VII of Denmark, who also was the Duke of Schleswig and Holstein, and who had died without a male heir.

In 1864, Prussia and Austria initiated the Second war of Schleswig which eventually led to the Danish loss of both South Jutland and Holstein.

Christian and Louise gave birth to six remarkably successful children:

* Crown Prince Frederick of Denmark, later Frederick VIII of Denmark (June 3, 1843 - May 14, 1912). Married Princess Lovisa of Sweden.
* Princess Alexandra of Denmark, later the Queen consort of Edward VII of the United Kingdom (December 1, 1844 - November 20, 1925).
* Prince Vilhelm (December 24, 1845 - March 18, 1913), later King George I of Greece. Married Olga Konstantinova, Grand Duchess of Russia.
* Princess Dagmar of Denmark, later the consort of Tsar Alexander III of Russia (November 26, 1847 - October 13, 1928).
* Princess Thyra of Denmark, later consort of Ernst August of Hanover, 3rd Duke of Cumberland (September 29, 1853 - February 26, 1933).
* Prince Valdemar of Denmark, (October 27, 1858 - January 14, 1939). Married princess Marie de Orleáns-Bourbon (1865-1909).

Four of his children became monarchs, sitting on the thrones (either directly or as a consort) of Denmark, Great Britain, Russia and Greece. A fifth, daughter Thyra, would have become Queen of Hanover, had her husband's throne not been abolished before his reign began. The great dynastical success of the six children was to a great extent not the favor of Christian IX himself, but due to Christian's wife Louise of Hesse-Kassel dynastical ambitions. Some have compared her dynastical capabilities with those of Queen Victoria of the United Kingdom.

Christian's grandsons included Nicholas II of Russia, Constantine I of Greece, George V of the United Kingdom, Christian X of Denmark and Haakon VII of Norway. He was, in the last years of his life, named Europe's "father-in-law". Today, most of Europe's reigning and ex-reigning royal families are direct descendants of Christian IX.

There is a story that, while on an outing with his children and their families, they happened across a lost man whom they helped to find his way. Upon reaching the road, the man inquired as to the identities of Christian and his family. Christian replied truthfully, stating the names and titles of all present. Not believing Christian but instead taking it in humour, he proclaimed himself to be Jesus Christ before departing.

Christian died peacefully of old age at 87 in Copenhagen and was buried in Roskilde Cathedral.
---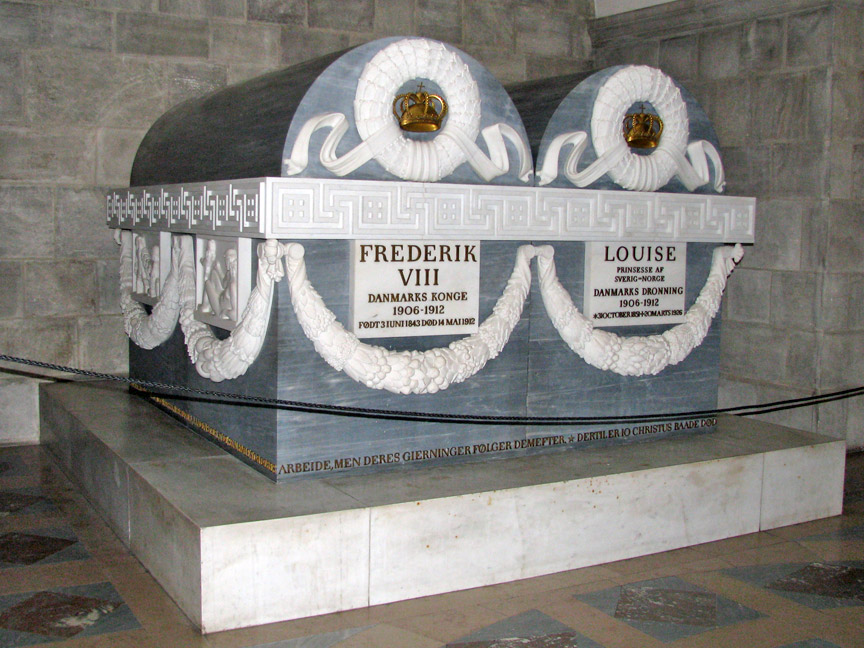 Frederik VIII (Christian Frederik Vilhelm Carl) (June 3, 1843 – May 14, 1912) was King of Denmark from 1906 to 1912.
He was the eldest son of King Christian IX and his wife, Denmark's heiress, Louise of Hesse - and was born in Copenhagen. As Crown Prince of Denmark he formally took part in the war of 1864 against Austria and Prussia, and subsequently assisted his father in the duties of government. He became king of Denmark on Christian's death in January 1906.

In many ways Frederik VIII was a liberal ruler who was much more favorable to the new parliamentarian system than his father had been. Because of his very late accession to the throne he only got few years to show his ability and he was weakened by ill health.

On his return journey from a trip to France, King Frederik made a short stop in Hamburg, staying at the Hotel Hamburger Hof. The evening of his arrival, Frederik (incognito) took a walk on the Jungfernstieg. While walking he became faint and collapsed on a park bench and died. He was discovered by a police officer who took him to a Hafen hospital where he was pronounced dead. His cause of death was announced as a paralysis-attack. He was interred with other members of the Danish royal family in Roskilde Cathedral near Copenhagen.

The royal families of Denmark, Norway, Belgium and Luxembourg are descended from King Frederik VIII. Denmark comes naturally, Norway's family goes through the line of his son, Prince Carl, and the families of Belgium and Luxembourg are descended from his daughter, Princess Ingeborg of Denmark.

Louise of Hesse wanted her eldest son married as well as her two daughters, Alexandra and Dagmar had. Queen Victoria had two yet unmarried daughters, Princess Helena and Princess Louise, and Louise tried to marry Frederik to one of them, but the British Queen didn't want her daughters to marry the heir of a foreign crown, as it would take them away from her, she wanted for them a German prince who could set his home in England beside her. Also, Victoria had always been pro-German and another Danish alliance (Frederik' sister, Alexandra, had married Victoria's eldest son, the Prince of Wales), would not be in line with her German interests. So Louise of Hesse had to look for another wife for her son. In July 1868, Frederik became engaged to the seventeen-year-old only daughter of Charles XV of Sweden, Lovisa of Sweden. Princess Lovisa's family was related to Napoleon Bonaparte. She belonged to the Bernadotte dynasty, which ruled in Sweden since 1818. The founder was Jean-Baptiste Bernadotte, who had been one of Napoleon's generals, and who was elected King of Sweden with the name of Charles XIV of Sweden. He married Desiree Clary, who had once been engaged to the French Emperor. Charles XIV's son, Oscar I, married Josephine of Leuchtenberg, grandddaughter of Napoleon's first wife, the Empress Josephine. King Oscar I and Queen Josephine were Princess Lovisa's paternal grandparents.

Crown Prince Frederik and Lovisa of Sweden married in Stockholm on July 28, 1869. They had four sons and four daughters:

1. Crown Prince Christian of Denmark (1870-1947), later King Christian X of Denmark. Married Princess Alexandrine of Mecklenburg-Schwerin in 1898 and had issue
2. Prince Carl of Denmark (1872-1957), later King Haakon VII of Norway. Married Princess Maud of Wales in 1896 and had issue
3. Princess Louise of Denmark (1875-1906). Married Prince Friedrich of Schaumburg-Lippe in 1896 and had issue
4. Prince Harald of Denmark (1876-1949). Married Princess Helena of Glücksburg in 1909 and had issue
5. Princess Ingeborg of Denmark (1878-1958) Married Prince Carl of Sweden and Norway in 1897 and had issue
6. Princess Thyra of Denmark (1880-1945) No issue
7. Prince Gustav of Denmark (1887-1944) No issue
8. Princess Dagmar of Denmark (1890-1961) Married Jørgen Carstenskiold and had issue
---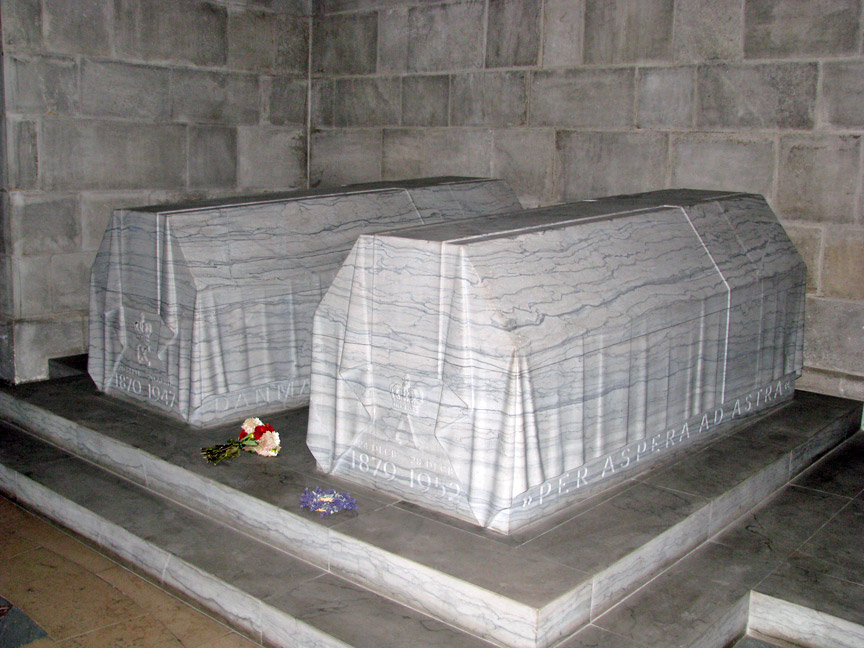 Christian X (Christian Carl Frederik Albert Alexander Vilhelm) (26 September 1870 – 20 April 1947)
was King of Denmark from 1912 to 1947 and of Iceland between 1918 and 1944.
He was born at Charlottenlund Palace near Copenhagen.

He was the oldest son and child of King Frederick VIII of Denmark and his wife, Princess Louise, only surviving child of King Charles XV of Sweden. Among his siblings were King Haakon VII of Norway.

Christian married Princess Alexandrine of Mecklenburg-Schwerin in 1898; she eventually became his Queen Consort. They had two children:

* Prince Frederick (1899-1972), later King Frederick IX of Denmark
* Prince Knud (1900-1976)

Being something of an authoritarian and a ruler who strongly stressed the importance of royal dignity and power in an age of growing democracy, Christian X did not seem fit for popularity. However, a reign spanning two world wars and the role he played as a heroic symbol of Danish nationalism and resistance under Nazi rule made him one of the most popular Danish monarchs of modern times.
In April 1920, Christian instigated the Easter Crisis, perhaps the most decisive event in the evolution of the Danish monarchy in the 20th century. The immediate cause was a conflict between the king and the cabinet over the reunification with Denmark of Schleswig, a former Danish fiefdom, which had been lost to Prussia during the Second War of Schleswig. Danish claims to the region persisted to the end of World War I, at which time the defeat of the Germans made it possible to resolve the dispute. According to the terms of the Treaty of Versailles, the disposition of Schleswig was to be determined by two plebiscites: one in Northern Schleswig (today Denmark's South Jutland County), the other in Central Schleswig (today part of the German state of Schleswig-Holstein). No plebiscite was planned for Southern Schleswig, as it was dominated by an ethnic German majority and, in accordance with prevailing sentiment of the times, remained part of the post-war German state.

In Northern Schleswig, 75% voted for reunification with Denmark and 25% for remaining with Germany. In this vote, the entire region was considered to be an indivisible unit, and the entire region was awarded to Denmark. In Central Schleswig, the situation was reversed with 80% voting for Germany and 20% for Denmark. In this vote, each municipality decided its own future, and German majorities prevailed everywhere. In light of these results, the government of Prime Minister Carl Theodor Zahle determined that reunification with Northern Schleswig could go forward, while Central Schleswig would remain under German control.

Many Danish nationalists felt that at least the city of Flensburg should be returned to Denmark regardless of the plebiscite's results, due to the sizeable Danish minority there and a general desire to see Germany permanently weakened in the future. Christian agreed with these sentiments, and ordered Prime Minister Zahle to include Flensburg in the re-unification process. As Denmark had been operating as a parliamentary democracy since the Cabinet of Deuntzer in 1901, Zahle felt he was under no obligation to comply. He refused the order and resigned several days later after a heated exchange with the king.

Subsequently, Christian dismissed the rest of the cabinet and replaced it with a de facto conservative care-taker cabinet. The dismissal caused demonstrations and an almost revolutionary atmosphere in Denmark, and for several days the future of the monarchy seemed very much in doubt. In light of this, negotiations were opened between the king and members of the Social Democrats. Faced with the potential overthrow of the Danish crown, Christian stood down and dismissed his own government, installing a compromise cabinet until elections could be held later that year.

This was the final time that a sitting Danish monarch attempted to take political action without the full support of parliament; following the crisis, Christian accepted his drastically reduced role as symbolic head of state.

In contrast to the monarchs of Norway and the Netherlands, who went into exile during the Nazi occupation of their countries, Christian X remained in his capital throughout the occupation of Denmark, being to the Danish people a visible symbol of the national cause. Though his official speeches were often little more than an echoing of the government's official policy of cooperation with the occupying forces, this did not prevent him from being seen as a man of "mental resistance". In spite of his age and the precarious situation, he took a daily ride on horseback through his city—not accompanied by a groom, let alone by a guard.

In 1942, Adolf Hitler sent the king a long telegram congratulating him on his 72nd birthday. The king's reply telegram was a mere, Meinen besten Dank. Chr. Rex (English: My best thanks, King Chr.). This perceived (and no doubt deliberate) slight greatly outraged Hitler and he immediately recalled his ambassador from Copenhagen and expelled the Danish ambassador from Germany. German pressure also resulted in the dismissal of the government led by Vilhelm Buhl and its replacement with a new cabinet led by non-party member and veteran diplomat Erik Scavenius, whom the Germans expected would be more cooperative. After a fall with his horse on 19 October 1942, he was more or less an invalid for the rest of his reign. The role he had played in creating the Easter Crisis of 1920, had greatly reduced his popularity, but his obvious disdain for the German Wehrmacht, daily rides and the Telegram Crises had once again made him popular to the point of being a beloved national symbol.

In the early 1980s, the International Herald Tribune ran a full-page advertisement for war-era commemorative photo featuring Christian X on horseback with a Jewish Star of David on his sleeve.[ The image echoed a popular tale which claimed that the king wore the symbol as sign of support for and solidarity with Danish Jews suffering from Nazi persecution during the occupation. (The story had become well-known partially through its retelling in Leon Uris's 1958 novel about the founding of Israel, Exodus.) This attribution of support is apocryphal, however, as the yellow badge was never introduced in Denmark. It originated in a conversation between the king and his minister of finance, Vilhelm Buhl, during which the king remarked that if the German administration tried to introduce the symbol of the star of David in Denmark, "perhaps then we should all wear it."

King Christian used to ride through the streets of Copenhagen unaccompanied while the people stood and waved to him. One apocryphal story relates that one day, a German soldier remarked to a young boy that he found it odd that the king would ride with no bodyguard. The boy reportedly replied, "All of Denmark is his bodyguard." This story was recounted in Lois Lowry's popular children's book Number the Stars. The contemporary patriotic song "Der rider en Konge" (There Rides a King) centres on the king's rides. In this song, the narrator replies to a foreigner inquiring about the king's lack of a guard that "he is our freest man" and that the king isn't shielded by physical force but that "hearts guard the king of Denmark".

A popular way for Danes to display patriotism and silent resistance to the German occupation was wearing a small square button with the Danish flag and the crowned insignia of the king. This symbol was referred to as Kongemærket (King's Emblem pin).

On his passing in 1947, Christian X was interred along other members of the Danish royal family in Roskilde Cathedral near Copenhagen. In recognition of his symbolic significance during World War II, a cloth armband of the type worn by members of the Danish resistance movement was placed on his coffin at his castrum doloris.
Text from Wikipedia
---
---