Cheney Brothers Historic District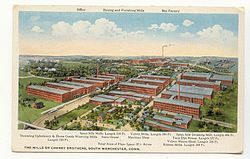 postcard from the 1920's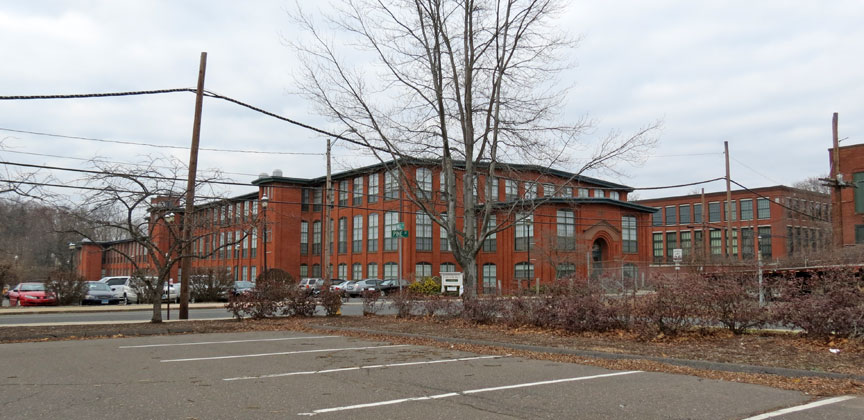 Cheney Brothers Historic District was a center of the silk industry in the late 19th and early 20th century. The 175-acre (0.71 km2) district in Manchester, Connecticut includes over 275 mill buildings, workers houses, churches, schools and Cheney family mansions. These structures represent the well-preserved company town of the Cheney Brothers silk manufacturing company, the first America-based silk company, stated by George and Charles Cheney, after their many visits to the east to discover how to properly raise and process silkworms. The area was declared a National Historic Landmark in 1978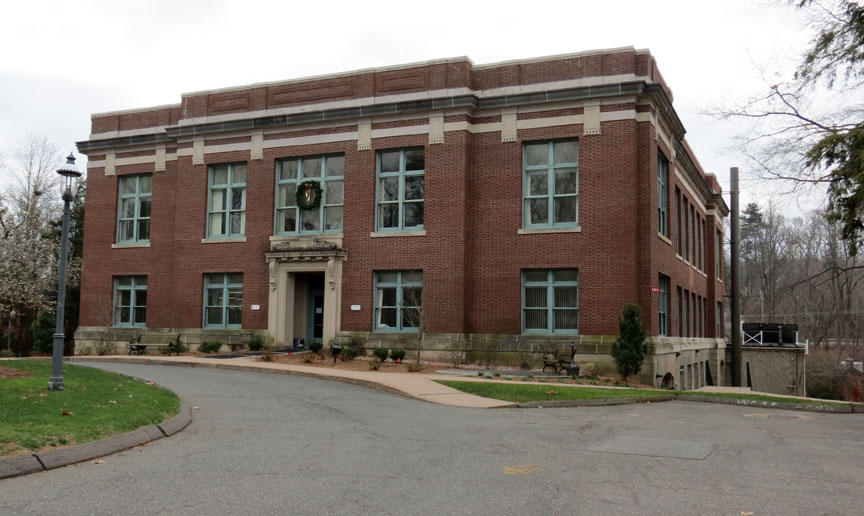 Cheney Office Building
(146 Hartford Road) The Cheney Office Building, constructed in 1910, replaced previous office space. New employees would come to this building to complete paperwork before starting their jobs. A long sidewalk, not visible on the map, curves down the hill from the mansions on the Great Lawn to the mills and the Office Building. Unlike mill operations in some other New England towns, the mills and their owners were in close proximity.

After the demise of Cheney Brothers silk operations, this building housed at different times the electric company; Manchester Community College; and today, the engineering firm of Fuss & O'Neill, which maintains a gallery of vintage Cheney mill photos on the first floor of the building. Fuss & O'Neill has invited the Historical Society to visit their building when we lead history walks in the District.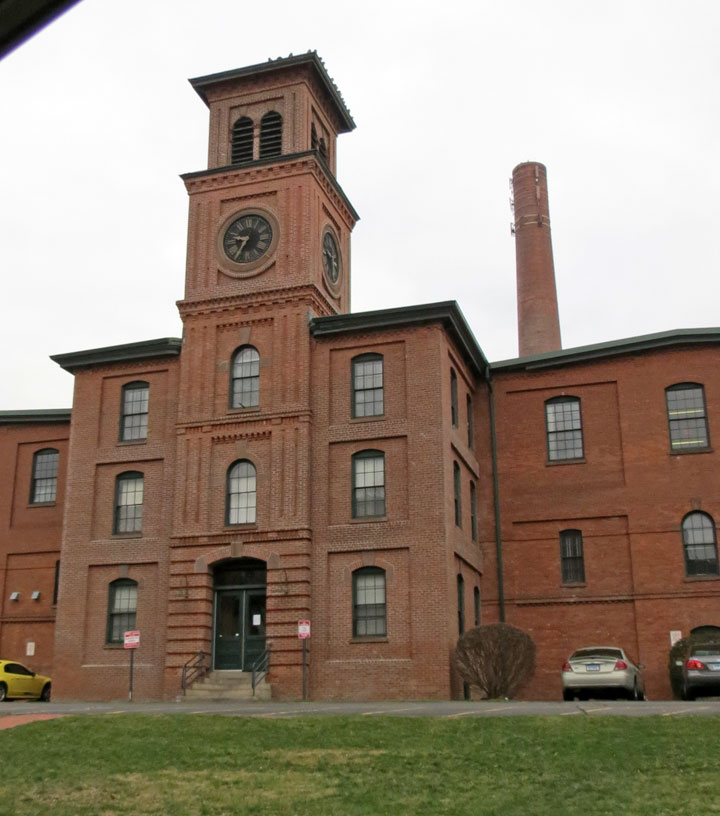 Spinning Mill or "Clock Tower Mill"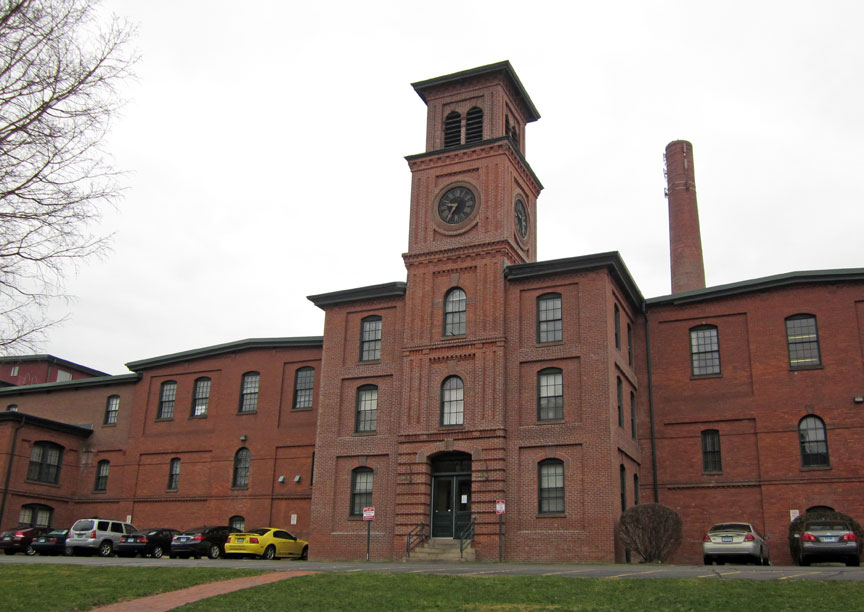 (185 Pine Street) This 1872 mill complex is huge, facing Elm Street and extending a long way up Forest Street. Its famous clock tower is at the southwest corner of the mill and it has green lawn and trees around it.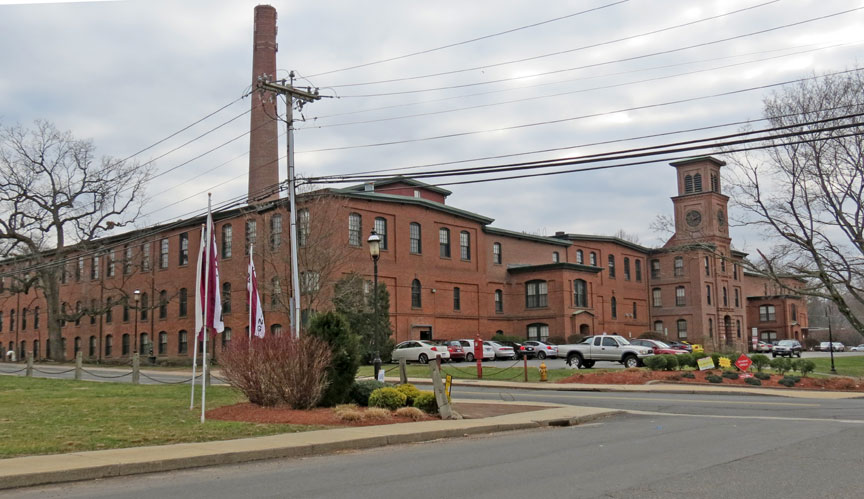 In 1935, when this mill was empty due to the Depression and other economic factors, Cheney Brothers developed plans to raze it because of the $7,000 annual tax on just this one building.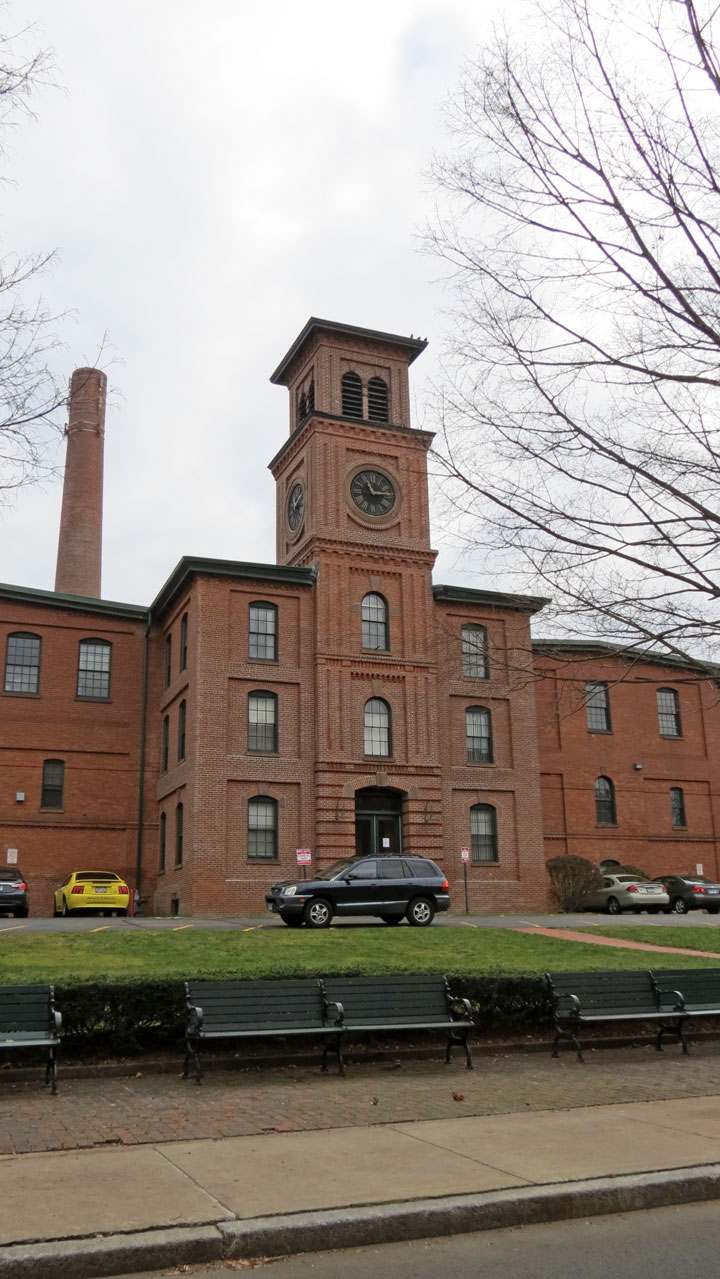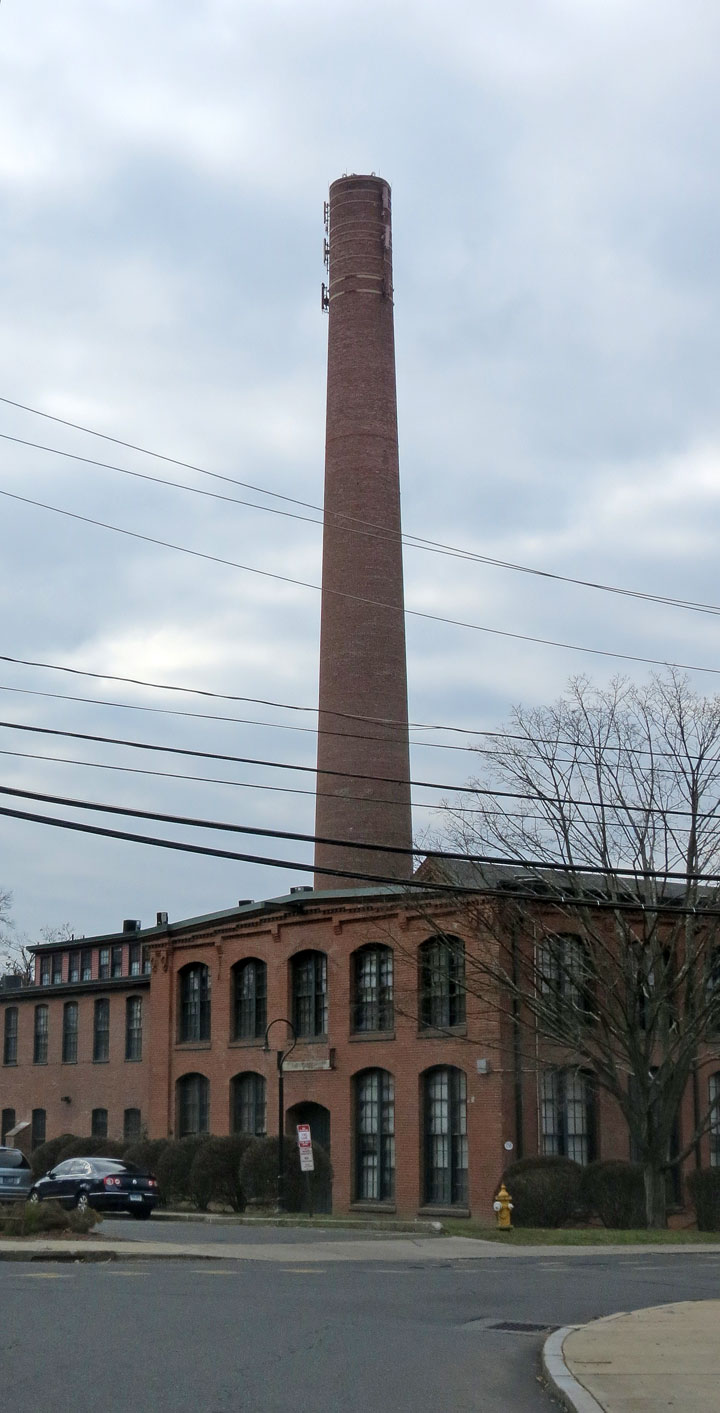 Fortunately, the Town Selectmen responded with a plan to reduce the taxes. In 1938, Pioneer Parachute got its start in this mill. Today it serves as apartments.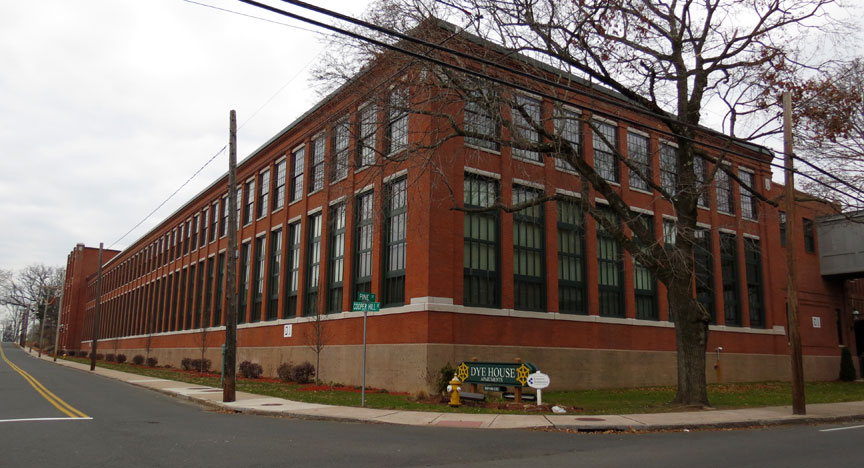 Dye House
(190 Pine Street) This "new" Dye House was built in 1914, and the dyeing operation, formerly located in a building south of Hartford Road, was moved here. The Dye House wasn't part of the project to convert mills to apartments in the 1980s, but in 2009 a construction company undertook the work of making this into residential apartments.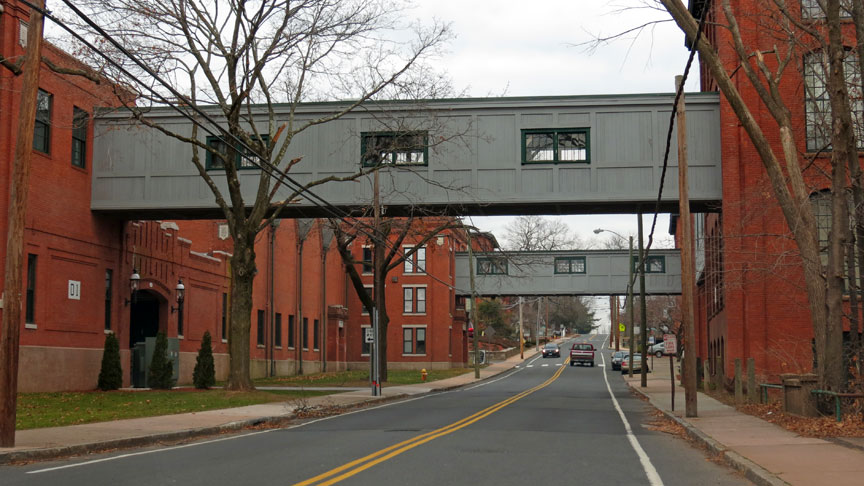 (182 Pine Street) The Velvet Weave Shed was built in 1914 and connects via an overhead walkway to the Velvet Mill across the street. Today the Velvet Weave Shed serves as a parking area for cars of the tenants in the apartments.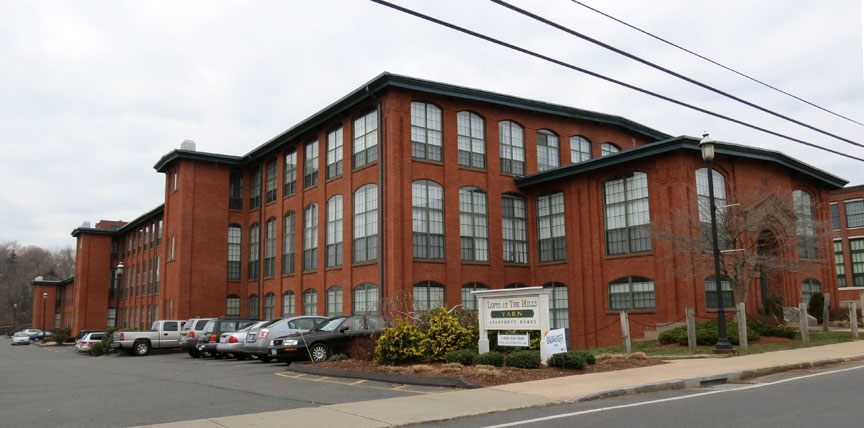 Yarn Mill
(91 Elm Street) The Yarn Mill was built in 1911. By that time, Cheney Brothers had closed their mills in Hartford, CT, (1909) and work was brought to Manchester. This was a boon to Manchester, as it provided even more jobs.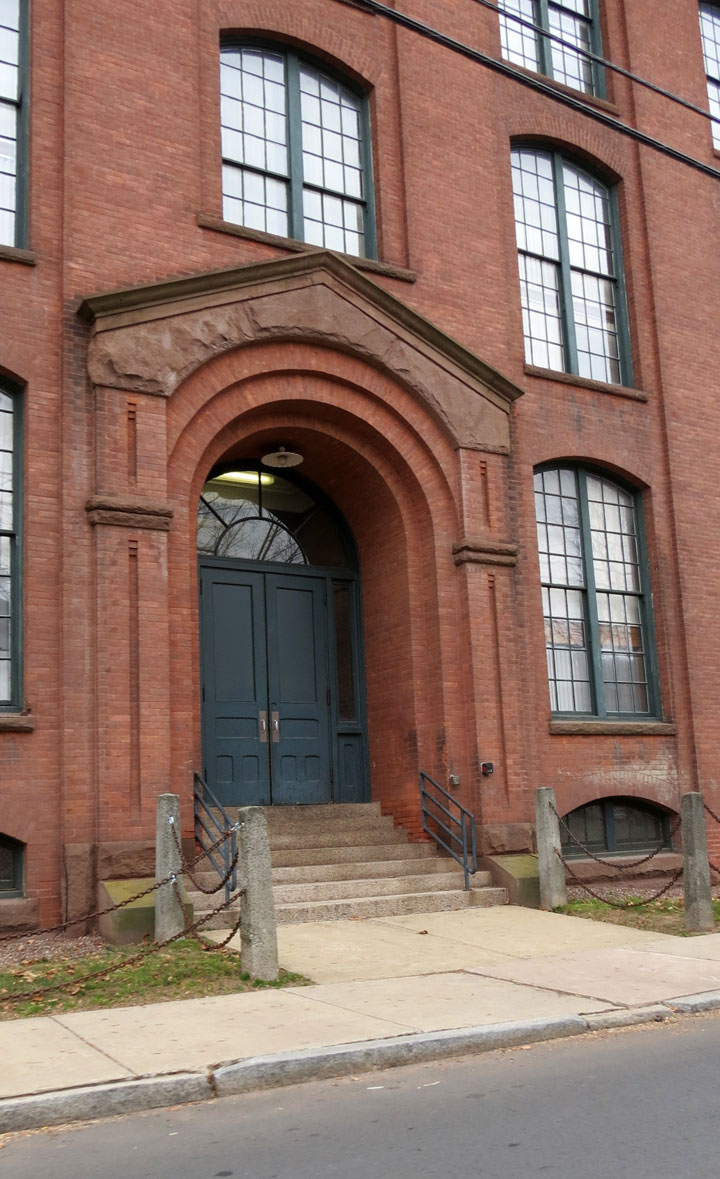 After Cheney Brothers closed, the Yarn Mill was used for many other enterprises, including King's Department Store (a large discount store), and small businesses such as craftsmen, furniture repairers, etc. Today this mill serves as apartments.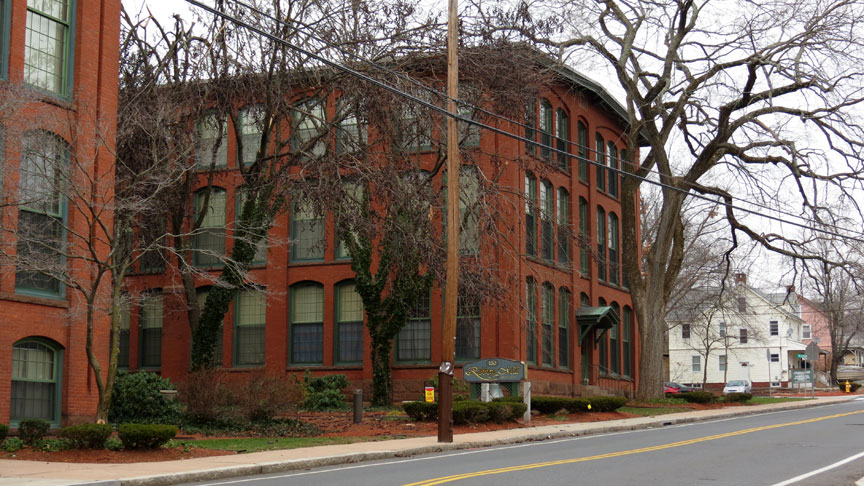 Ribbon Mill
(150 Pine Street) The Ribbon Mill was built in two phases in 1907-1909. A turbine engine was installed in the Engine Room to provide power to the Ribbon Mill. It was the first turbine engine in Manchester. The building has 100,000 square feet. Beginning in 1936, Manchester Modes, a local firm that made ladies' fashions, rented and later bought this mill. The Ellis family owned Manchester Modes as well as textile operations in New Britain. Today it serves as apartments.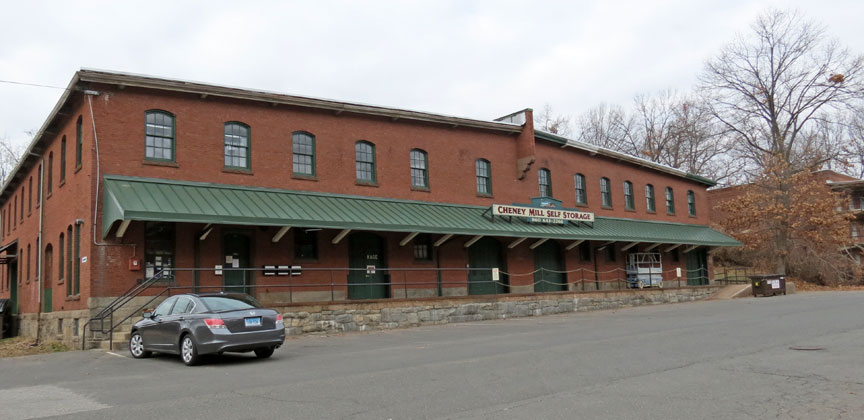 (110 Hartford Road) The Silk Vaults were built in 1919 along the Cheney Railroad. There had been an attempted silk heist in 1919, and William Madden, the security supervisor at Cheney Brothers, was murdered. It was determined that a gang of silk thieves from New Jersey had perpetrated the plot. Today, the Silk Vaults have become a self-storage facility.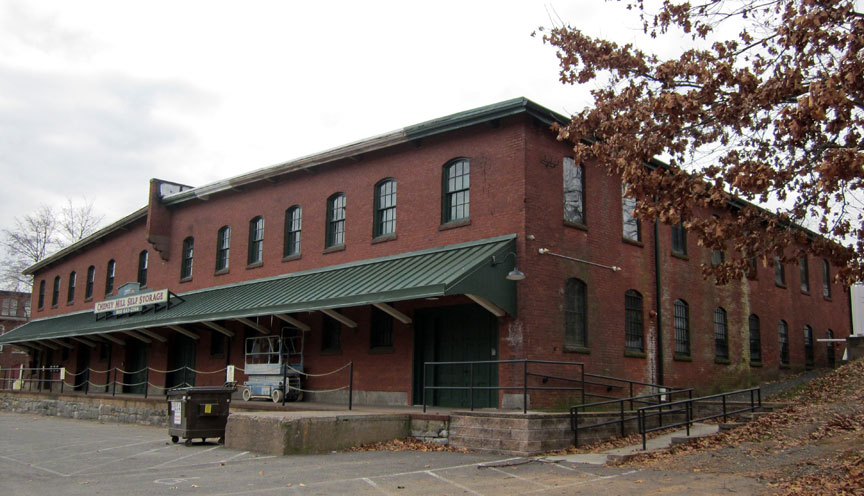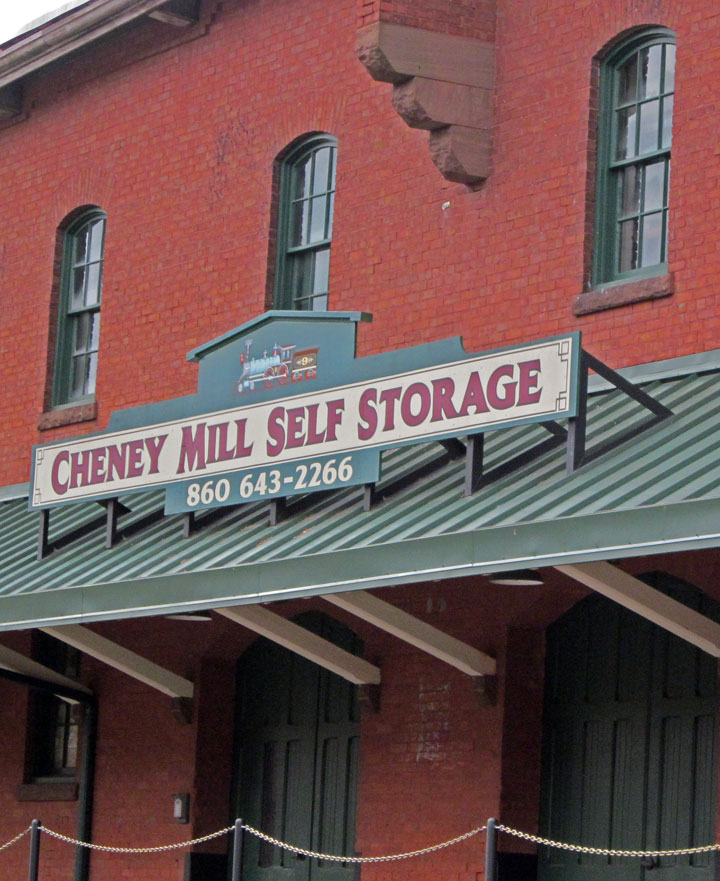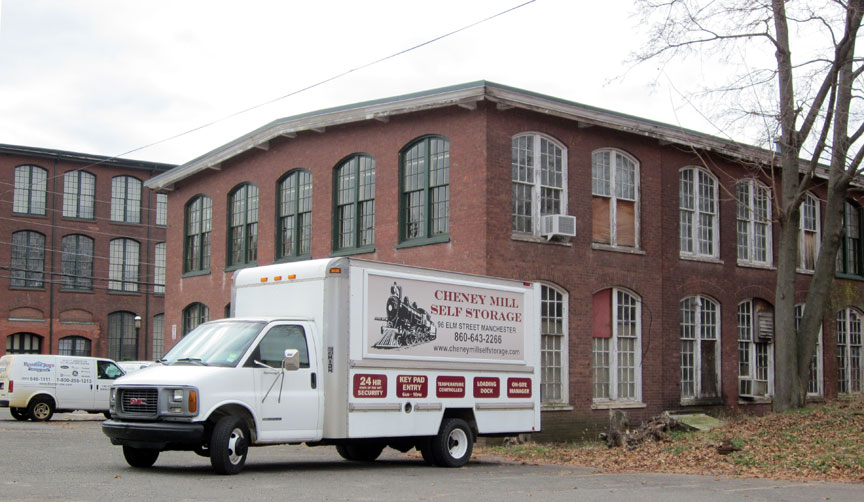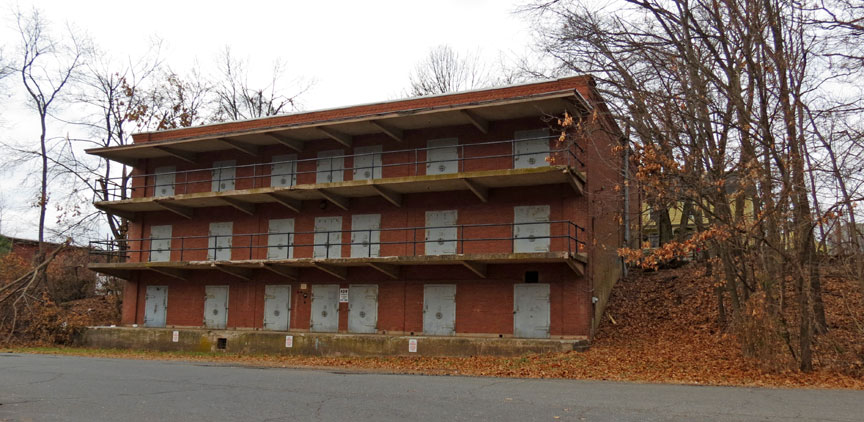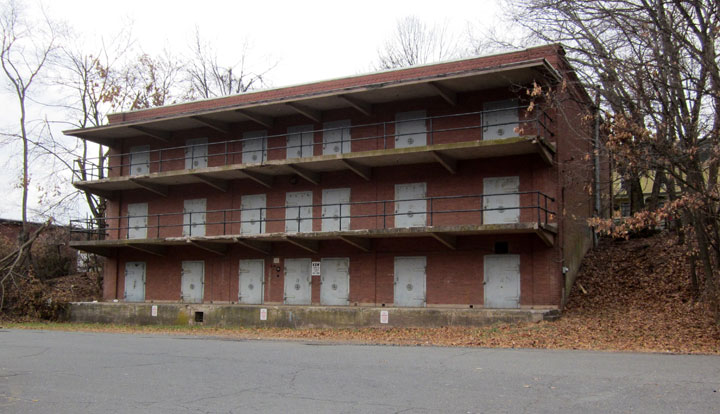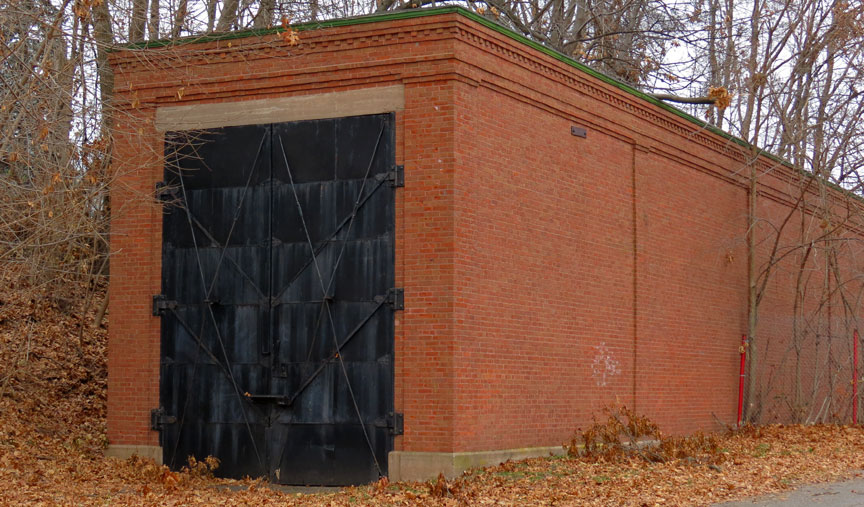 Railroad Shed
The South Manchester Railroad (SMRR) was built by Cheney brothers in 1869. According to "Silk Along Steel," Thomas Lewis's history of the railroad, this was the largest privately-owned passenger and freight railroad in the country. It was also one of the shortest passenger lines, providing service to Cheney workers and families similar to that provided by trolleys of the period. The railroad's passenger service ended in 1933, but freight still rolled along the rails up into the 1980s.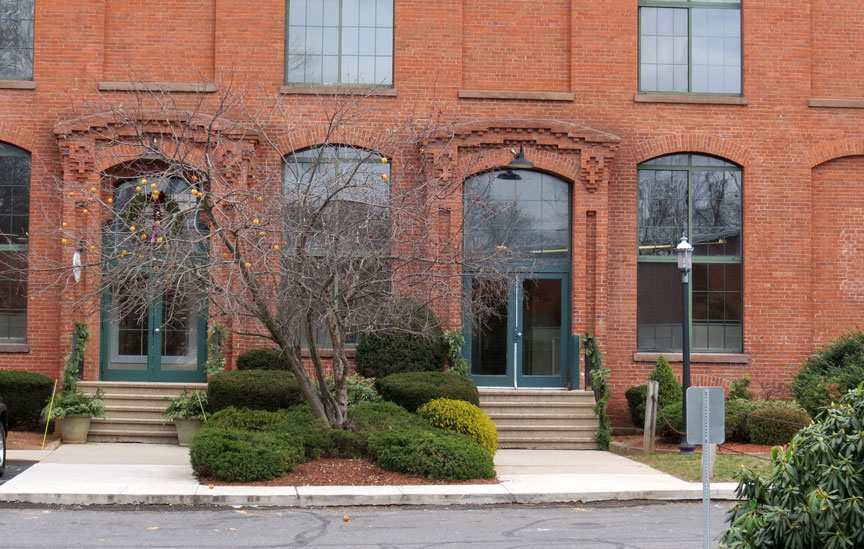 The Weaving Mill
(91 Elm Street) The Weaving Mill was built in 1886-1887, close by to the Cheney Railroad. A November 19, 1886 Hartford Courant article says, "The silk business was never more flourishing than now, and the mills are run to their full capacity." The weaving mill now serves as apartments.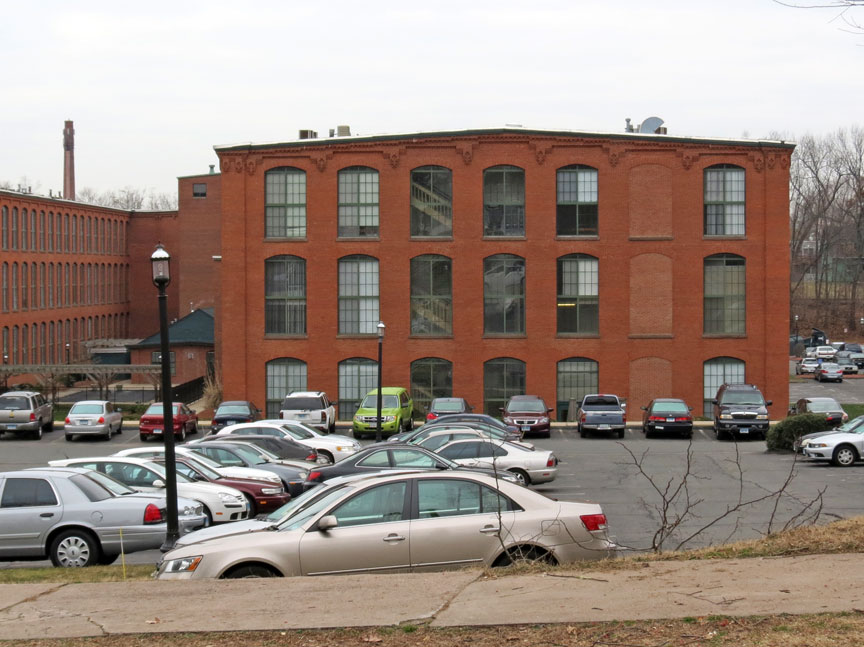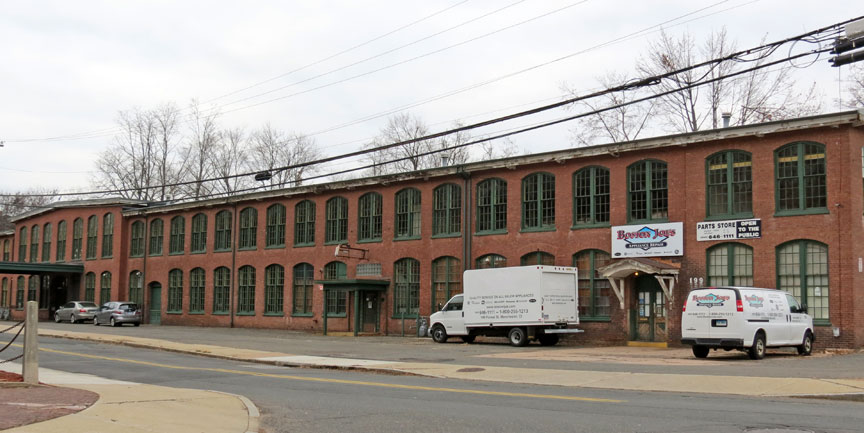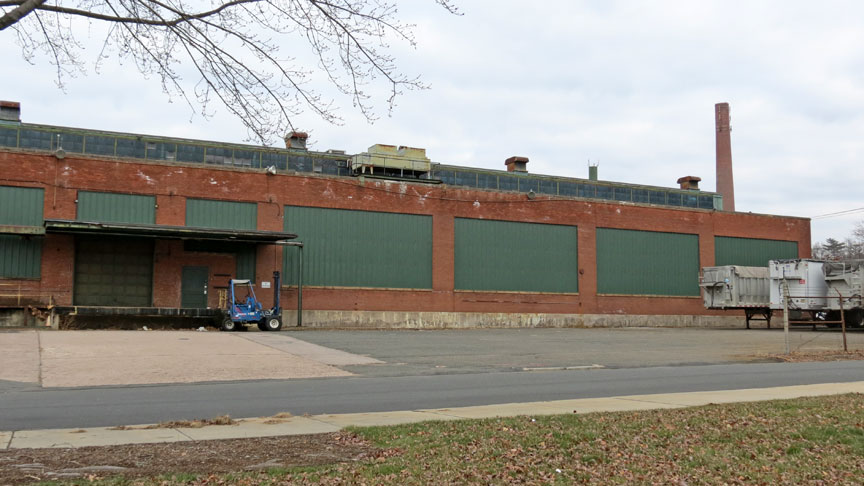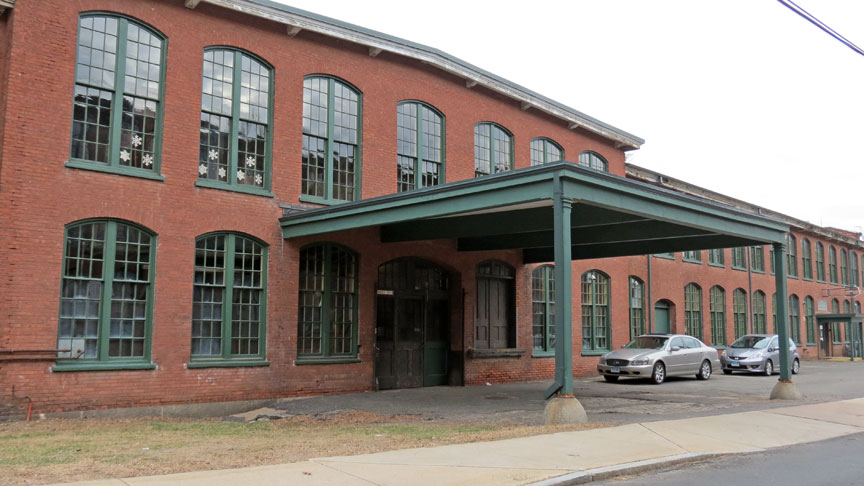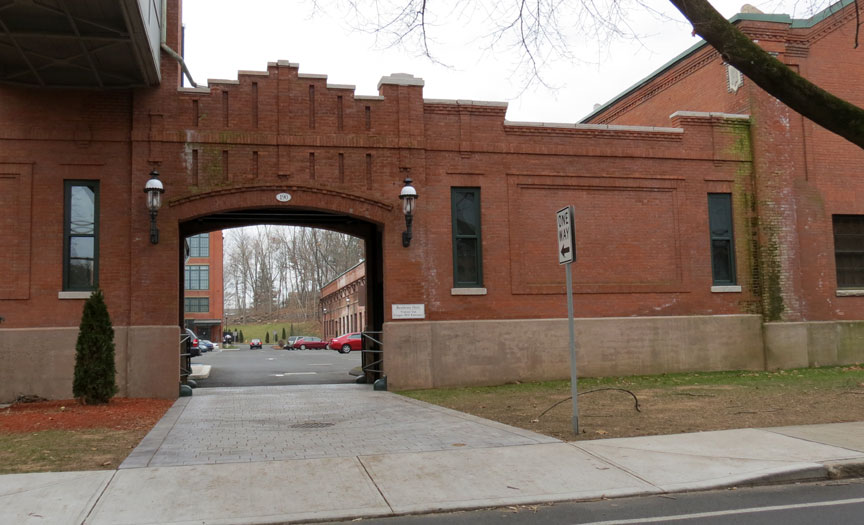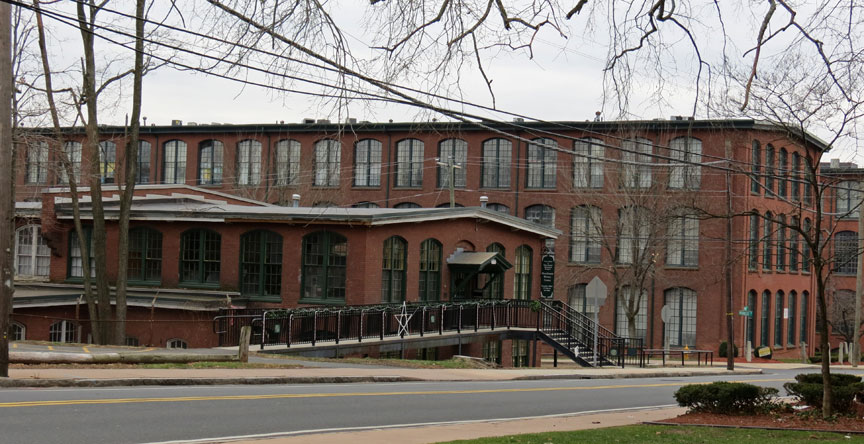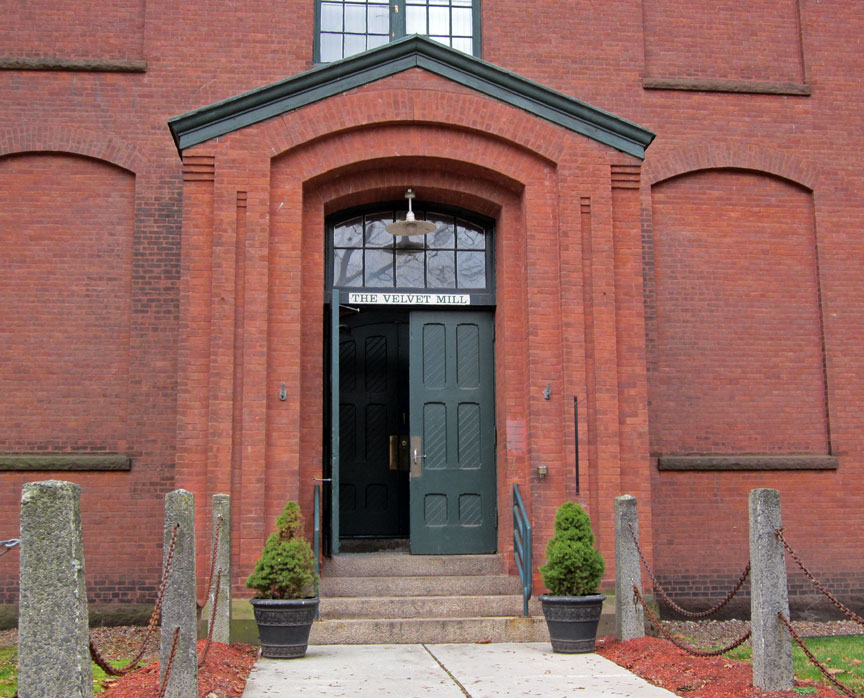 The Velvet Mill
(185 Pine Street) The Velvet Mill, with its grassy courtyards, was built in 1901, and has entrances on both Pine and Elm Streets. The Cheney recruitment brochures refer to park-like grounds, and certainly compared to Lawrence and Lowell, Massachusetts, mills, this work area would have been far more pleasant. The stone used in this building came from the defunct Union Mills in the North End that Cheney Brothers bought. The velvet operation continued to prosper even after the silk mills' decline. This building today serves as apartments.
---
Ward Cheney (23 February 1813 Manchester, Connecticut - 22 March 1876) was a pioneer manufacturer of silk fabrics.
Ward Cheney was principal founder of the house of Cheney Brothers, and was most active in its business management. He first engaged in the dry-goods business in Providence, Rhode Island, with his brother Charles. When Charles moved to Ohio, Ward returned to South Manchester and found several brothers raising a Chinese mulberry, Morus multicaulis. The success of the experiments led he and brothers Frank and Rush to start a silk culturing operation in Burlington, New Jersey. In 1838 he and his brothers Ralph, Rush and Frank established the manufacturing firm of Cheney Brothers in South Manchester.

Cheney Brothers had many obstacles with which to contend, and the factory was suspended after three or four years, but was revived in 1841. The business was finally organized as a joint-stock company, retaining the firm name, and Ward became president of the corporation. The brothers worked harmoniously in building up by slow steps an extensive business, with mills at South Manchester and Hartford, employing 2,500 operatives. The sewing silks manufactured by them were considered by competent judges superior to the best qualities made in Europe, and found a special demand for use in sewing machines on account of strength, uniformity of twist, and fine finish. They afterward made great progress in weaving silk goods with power-looms, and made printed as well as plain-dyed fabrics.

On their father's farm, the brothers established the model manufacturing village of South Manchester, with cottage homes, and a spacious and architecturally elegant hall and theatre where dramatic and other entertainments were given gratis and religious exercises were held on Sundays. The village also had a school, a library and reading room, boarding houses, and pleasure grounds. Here all the brothers had their homes, and their relations with their workmen afforded a rare instance of cordiality and affection. From time to time skilled operatives were brought over from England and settled in South Manchester.

Ward Cheney was known in business circles as a generous and progressive man, and frequently aided young men beginning mercantile life. He was president of the Silk Association of America.

His brother Seth Wells Cheney was an artist. His brother John Cheney excelled as an engraver of heads. His fine engraving work was praised by curator S. R. Koehler at the Museum of Fine Arts, Boston, but the interest in line engraving was in decline.

Brothers who joined Ward at Cheney Brothers were Charles, Ralph, Rush and Frank:

Charles Cheney (26 December 1803 - 20 June 1874) went to Tolland, Connecticut as a clerk when he was about fourteen years old, and before he was of age engaged in mercantile business on his own account in Providence. In 1834, he moved to Ohio and established himself as a farmer at Mount Healthy, near Cincinnati, Ohio, where he remained eleven years, during which period he became interested in the anti-slavery movement. In 1847 he joined his brothers at Cheney Brothers in South Manchester. He spent a considerable portion of his time in Hartford, where they had also extensive manufactories. He served in the legislature for one or two terms, and was distinguished for his public spirit and generous charities.

Ralph Cheney (13 January 1806 - 16 September 1869) As well as joining his brothers in the silk enterprise, he was fond of agricultural pursuits, and devoted most of his life to farming.

Rush Cheney (25 April 1815 - 7 June 1882) He possessed inventive talent and capability in the application of mechanical principles to manufacturing; and thus contributed a very important element to the building up of the manufacture of silk fabric, in which he was engaged most of his life.

Frank Cheney (b. 5 July 1817) A natural mechanic, he joined with his brother Rush in the invention and construction of machinery which made the family business successful.

Sons of the brothers who joined the enterprise were Frank Woodbridge and Arthur:

Frank Woodbridge Cheney (b. 5 June 1832) was a son of Charles. After graduation at Brown University in 1854, he joined the Cheney Brothers operations at Hartford. He volunteered for the Civil War in 1862, and became lieutenant colonel of the 16th Connecticut Volunteers. The regiment went to the front on 29 August, 1,010 strong but undisciplined and almost wholly ignorant of drill. The Confederates were beginning the invasion of Maryland that ended in repulse at Antietam, and all available troops were hurried forward to meet them irrespective of experience as soldiers. On 12 September, Frank Cheney led his regiment of recruits in a skirmish that proved preliminary to the battle of Antietam, in which engagement he was severely wounded, late in the afternoon, while endeavoring to rally his men, who, never having had a battalion drill, had been thrown into disorder by the enemy's fire. Cheney's wound proved so serious that he was obliged to retire from the service on 24 December 1862. He travelled in Europe, China, and Japan, studying the silk industries of those countries, and joined Cheney Brothers as its treasurer.

Arthur Cheney (14 January 1837 - December 1878) was the youngest of Ward's three children. He interested himself in the drama and built the Globe Theatre, Boston, originally called Selwyn's Theatre. It was managed with varying success by Selwyn, Floyd, and others, and, when it was burned, was rebuilt by Arthur and carried on at a loss.
---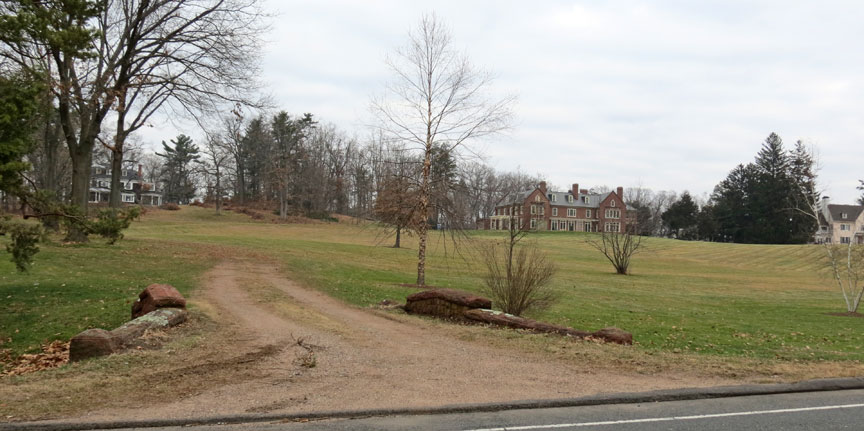 The Great Lawn
79 Hartford Road The broad sweep of the Great Lawn looks much the same as during the heyday of the Cheney silk business (about 1860 to 1930). The Cheney family opened the lawn to the public, who came to pick dandelions for cooked greens; to find worms for use as fish-bait; and in winter to ski, sled, and toboggan. Beginning in 1942, the mansions on the Great Lawn were sold to non-Cheney families; and today none are owned by either the Cheneys or their descendents.


Over the years there have been proposals to build condominiums on the lawn, which the Historical Society has opposed.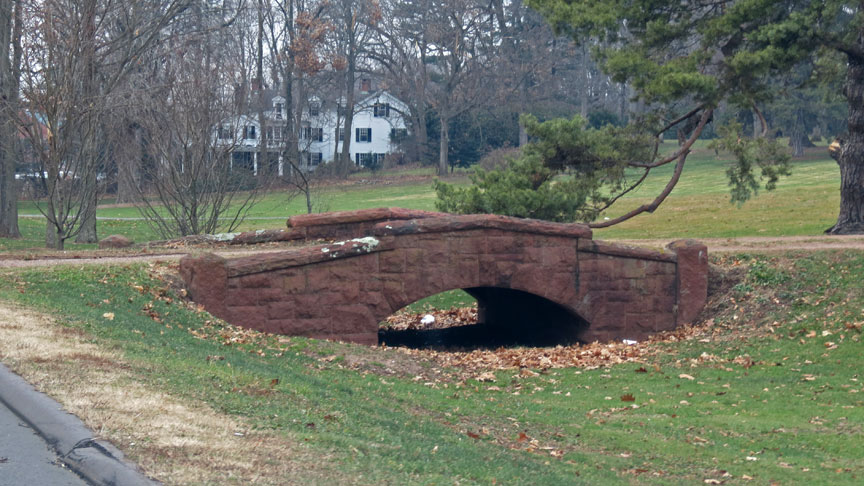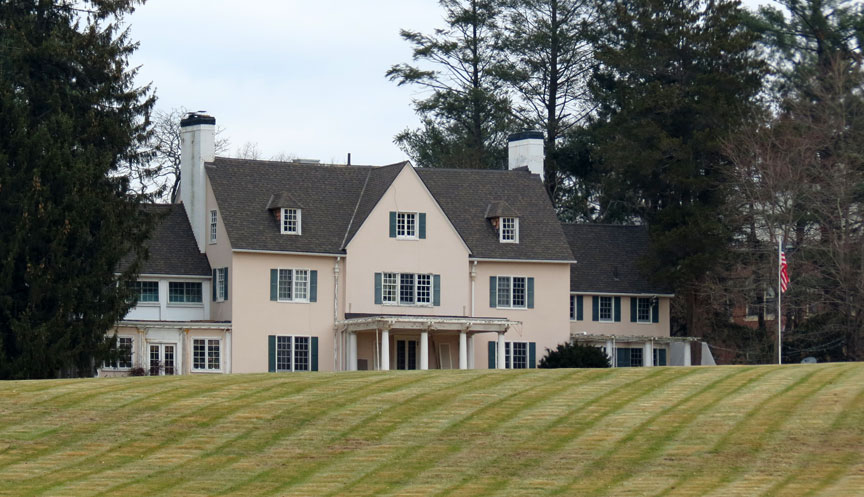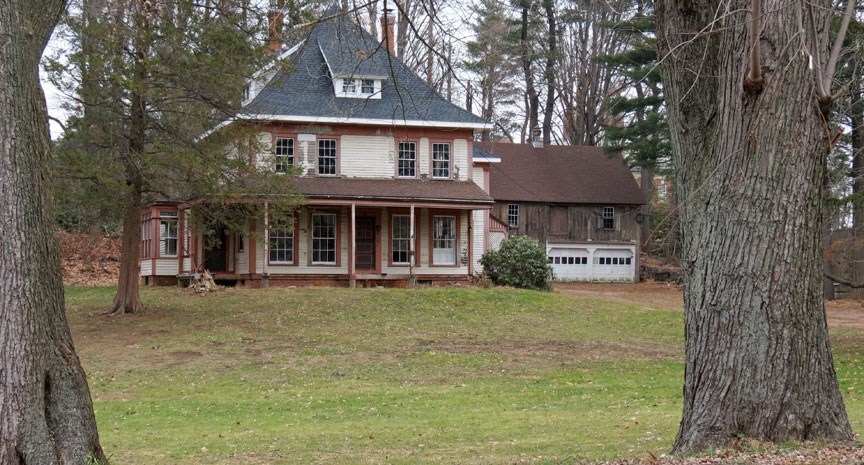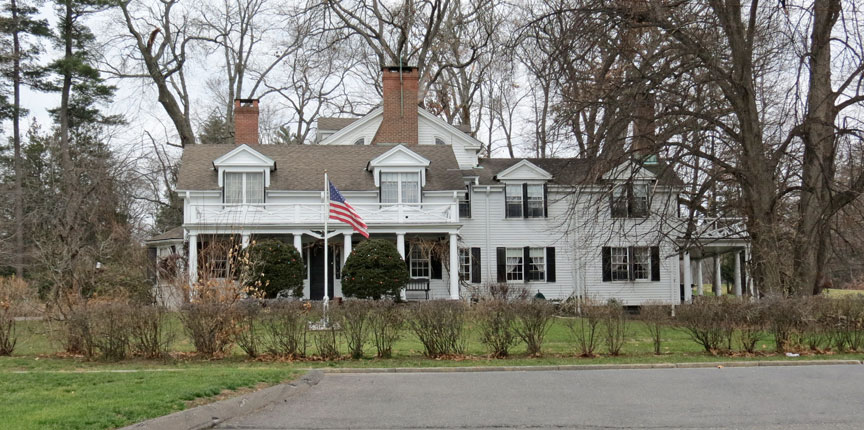 The Town of Manchester purchased nine acres of the lawn (the portion with the largest frontage on Hartford Road) in 2005 for open space to preserve this historic area. The rest of the Great Lawn is owned by the mansion owners. The Historical Society leads walks in this area, but stays on town-owned property unless invited by home-owners to come visit.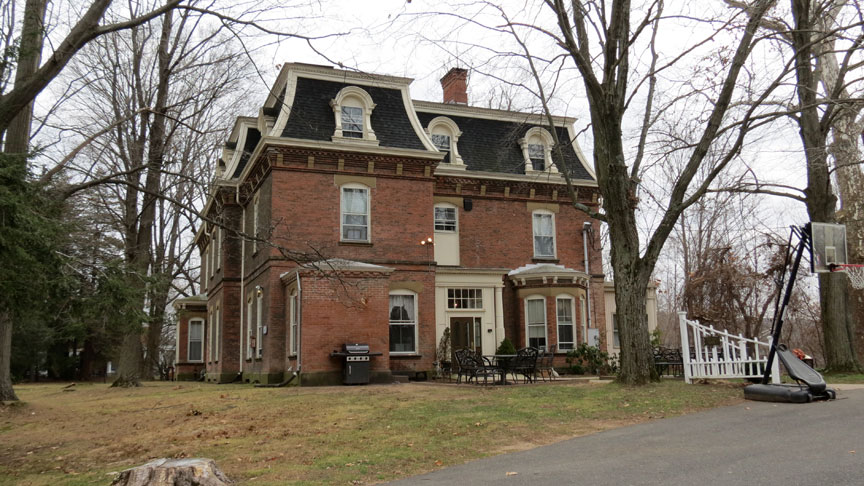 (48 Hartford Road) This three-story mansard-roofed brick house was designed by Hammatt Billings, who was also the architect of Cheney Hall. The mansion was built about 1866 for Frank and Susan Cheney, parents of philanthropist Mary Cheney (1855-1934) who lived there until her death. Mary Cheney kept a large garden as if it were a public park, open to all who wished to visit. Miss Mary's garden was designed by Charles Adams Platt, noted artist and architect, and was maintained by a staff of gardeners.
---
Howell Cheney (1 January 1870, Hartford, Connecticut - 20 August 1957) was a member of the Cheney manufacturing dynasty. The Cheneys had long been the first family of South Manchester.

He was graduated from Yale University in 1892 with an AB and again in 1898 with an MA. He was a member of Psi Upsilon and Skull and Bones. In 1893, he entered the family silk manufacturing firm, Cheney Brothers. He would remain with this firm until 1935, serving as its secretary and director from 1925 to 1935. He was a trustee of the Manchester Savings Bank, from 1900 to 1905; director of the National Association of Manufacturers, from 1912 to 1915; director of the National Chamber of Commerce; and President of the Manufactures Association of Hartford County, from 1922 to 1925.

In 1915 he founded Howell Cheney Technical High School in Manchester. The school is now located at 791 West Middle Turpnike and offers ten vocations for high school students to choose from while they also complete a regular high school adademic program.

He was a member of the Connecticut Board of Education, from 1909 to 1919; state director of the National War Savings Committee, from 1918 to 1919; Secretary-Treasurer of the Connecticut Economic Council; and member of the Board of Appeals of the Selective Service System, from 1941 to 1945. Cheney also served as Chairman of the School Committee of South Manchester, from 1898 to 1939; member of the National Child Labour Committee, in 1914; Chairman of the Connecticut Unemployment Committee, from 1913 to 1938; Chairman of the High School Commission of Manchester, form 1927 to 1933; Chairman of the Committee on Junior Education and Employment; member of the Connecticut Committee on Consolidation of State Commissions; and Chairman of the Committee on State Prisons Systems.

Although Cheney was a former member of the National Child Labour Committee, he was attacked by them in 1926, when he suggested that children should be able to leave school and go into industry at the age of fourteen.

Cheney was a Trustee of Mt. Holyoke College, from 1912 to 1926 and 1930 to 1940; Trustee of the American School for the Deaf, in 1913; member of the Yale Corporation, from 1914 to 1938; Trustee of the Milton Academy; and Chairman of the Board of Trustees of Hartford Junior College.

He died in 1957 in Pinellas County, Florida.
Text from Wikipedia
---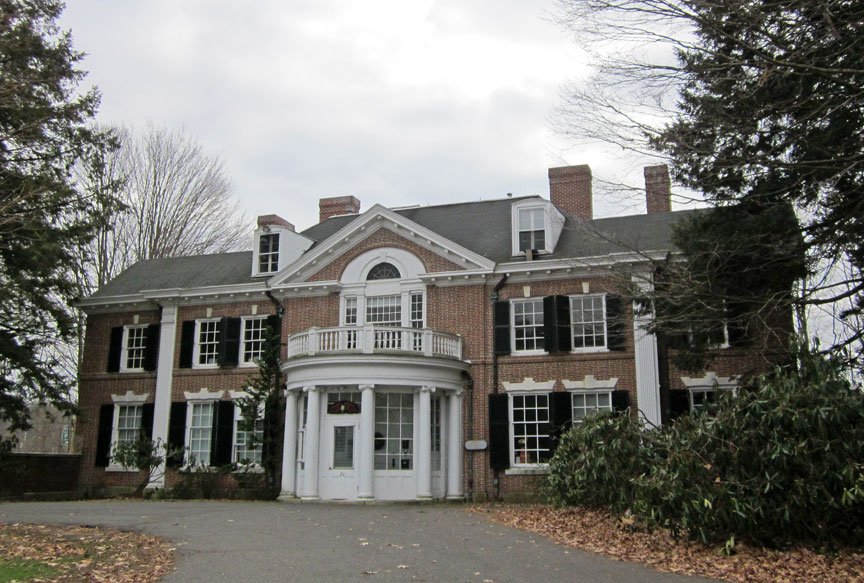 Frank Cheney, Jr. Mansion
(20 Hartford Road) The Frank Cheney, Jr. Mansion, is now converted to office space, including the Greater Manchester Chamber of Commerce. Built in 1901 with a third floor added in 1921, it is one of five mansions in the Great Lawn area that were designed or remodeled by Charles Adams Platt. Both this and the house next door (the Frank and Susan Cheney Mansion) are owned by the South United Methodist Church.
---
---