Istanbul

city overview
Istanbul, formerly Constantinople, city in northwestern Turkey, the only city in the world that sits astride two continents—Europe and Asia. Istanbul is the largest city in Turkey and the country's chief commercial and cultural center. With the finest natural harbor in the region, it is also an important trade hub. The city is the capital of Istanbul Province, which is bounded on the north by the Black Sea, on the south and southwest by the Sea of Marmara, on the east by Kocaeli Province, and on the west by Tekirdağ Province. The Bosporous, a narrow strait that links the Black Sea and the Sea of Marmara, separates Istanbul's European and Asian sections.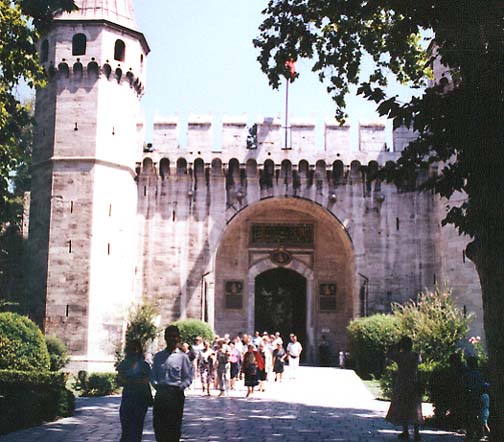 entrance to the great palace complex of Topkapı Sarayı
Istanbul was founded in the 7th century BC as Byzantium. In the 4th century AD it was renamed Constantinople by Roman emperor Constantine the Great. The city served as the capital of the Byzantine Empire until it was captured by the Ottomans in the 15th century and made the capital of the Ottoman Empire. The Ottomans called the city Istanbul for centuries, but it was not until 1930, seven years after Turkey gained independence, that İstanbul became its official name. According to some sources, the name İstanbul is derived from the Greek term stin poli, meaning "to the city" or "in the city."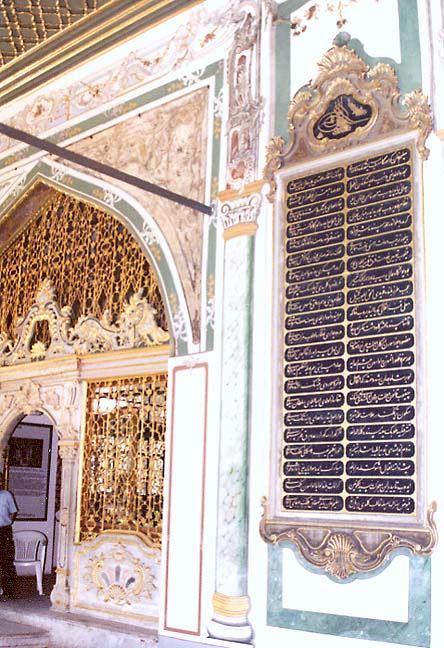 the palace
Stambul is dominated by the great palace complex of Topkapı Sarayı, begun by Sultan Muhammad II in 1459 and added to by later Ottoman sultans. The palace is now Turkey's most popular tourist attraction. Near Topkapı is Hagia Sophia (Ayasofya in Turkish), built in the 6th century as an Orthodox Christian church and later converted into a mosque. Farther west is Suleimaniye Mosque (built between 1550 and 1557), designed by the well-known Ottoman architect Sinan for Sultan Suleiman I. The Suleimaniye Mosque is widely considered İstanbul's finest Ottoman monument.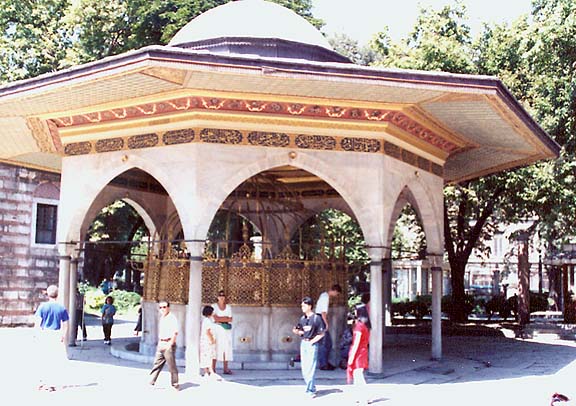 fountain for cleansing before prayers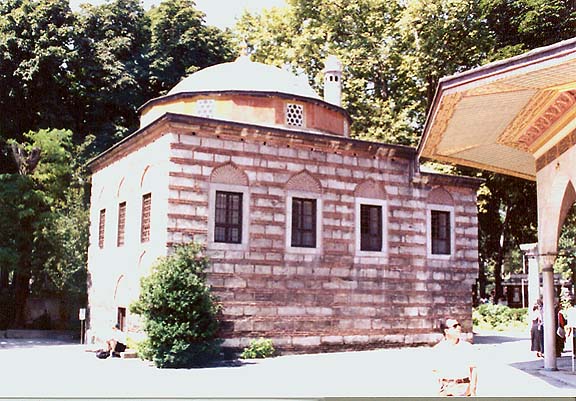 the nearby mosque

Other famous mosques in Stambul include the Blue Mosque of Sultan Ahmed I (built between 1609 and 1616), named for its blue-painted tile interior; the Mosque of Rustem Pasha (completed in 1561), famed for its Turkish tile work; and the Yeni Cami (New Mosque, 1597-1663). Other sites in Stambul include the famed KapalıÇarºı (a covered bazaar with hundreds of shops) and the Kariye Mosque (formerly the Church of Saint Savior in Chora), which contains some of the world's finest Byzantine mosaics and frescoes. Northwest of the city walls, along the Golden Horn, is the sacred Mosque of Eyüp Ensari (1458), which contains the burial site of Ensari, a leader of the Arab siege of Constantinople (674-678).
Text from Microsoft Encarta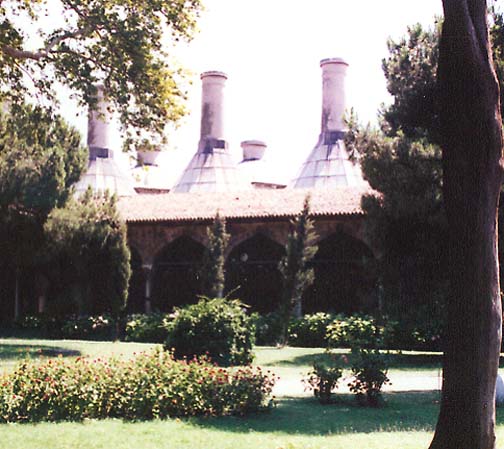 the kitchen vents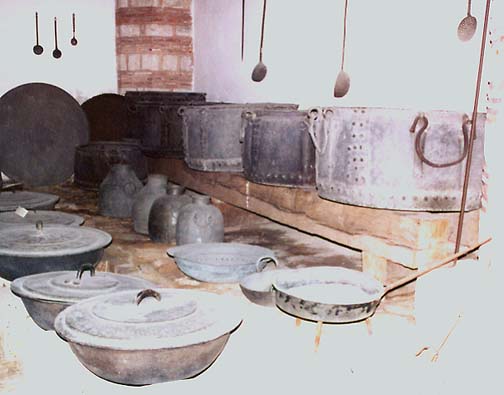 the kitchen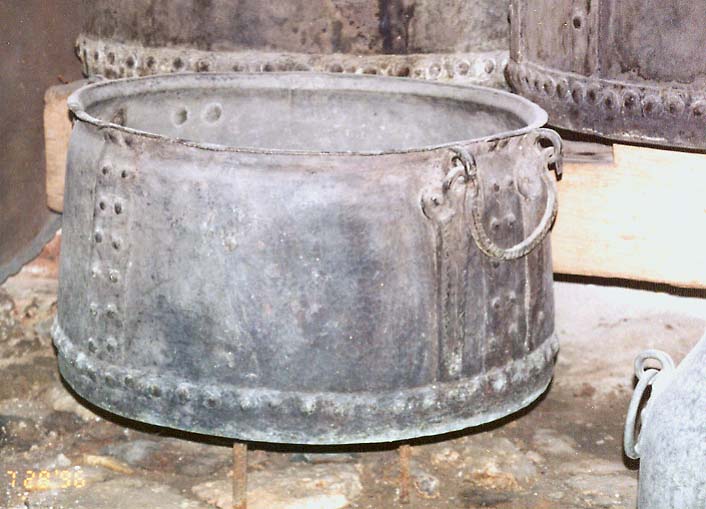 a large copper vat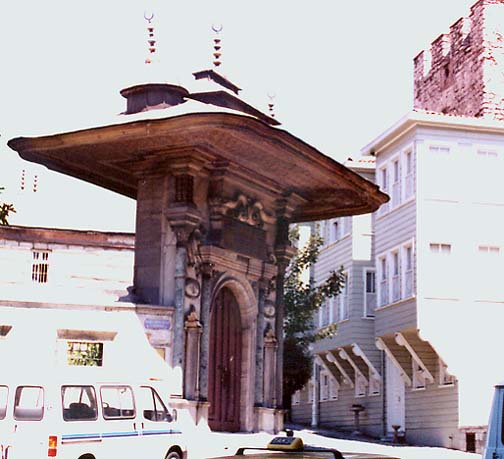 gateway to the complex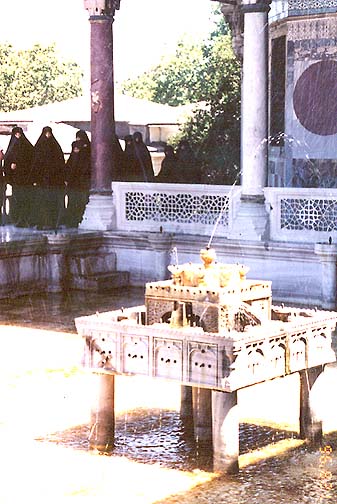 a garden fountain inside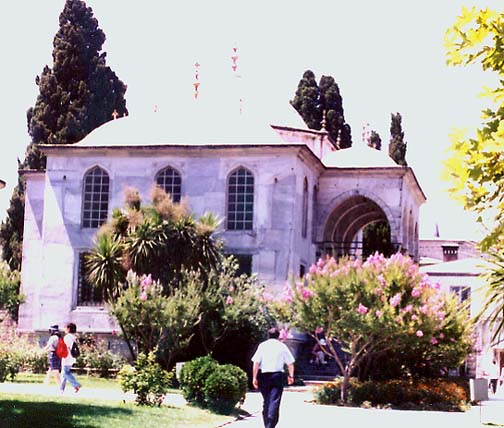 a mosque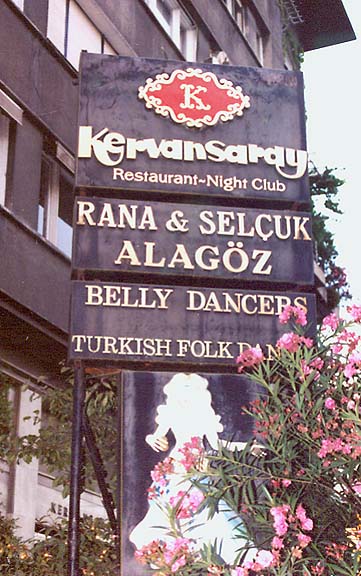 a tourist diversion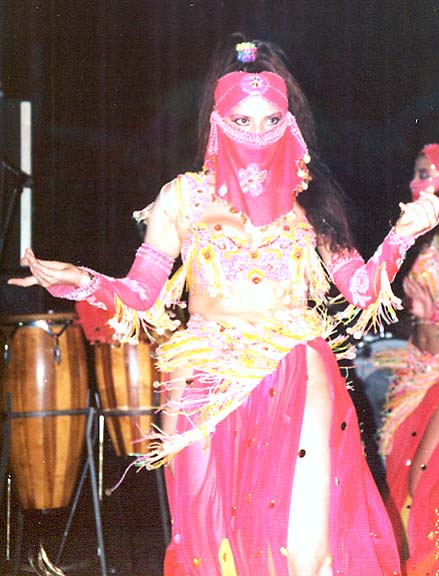 veiled dancer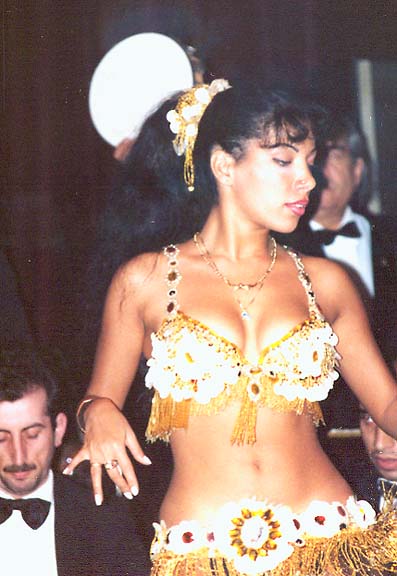 belly dancer

Return to Turkey in Europe page